Meanwhile, some 400 miles across the country, a Chin soldier stationed in Yangon also defected and has gone into hiding; all say they're defying orders to use lethal force against unarmed civilians.
By AFP
Shaking and clutching his T-shirt, Myanmar soldier Kyaw recalled the violence he said he was told to use on people in his own community – orders that triggered his escape to India.
Kyaw, whose name has been changed to protect his identity, was among 40 Myanmar nationals – mostly police officers – whom AFP met as they hid in an undisclosed location in India's northeastern state of Mizoram.
More than 180 people have been killed in Myanmar since the February 1 coup, according to the Assistance Association for Political Prisoners monitoring group, as the junta has cracked down on relentless democracy rallies across the country.
The violence has seen more than 300 Myanmar nationals – many of them police officers and their families, as well as two military personnel – enter Mizoram, a local helping with the border crossings told AFP on Monday.
Kyaw, a 24-year-old rifleman who said he had served in the military for around four years, is a member of the Chin, a mainly Christian minority from Myanmar's northwestern Chin State.
He told AFP he had been ordered to inflict lethal violence among the Chin and inform on them.
"The military was giving orders to kill innocent people, who are like my own mother and father," he told AFP.
"Why should I kill my own people."
He said it took him four days to get to Mizoram on a motorcycle and on foot.
After calling home when he reached India, the father-of-two said he found out that his family house had been searched and his father arrested.
Another rifleman AFP spoke to said he also feared for his family's safety.
"My friends shot at protesters and I was told to shoot as well … But I cannot kill my people. So, I ran away at night," the 21-year-old said.
Long trek to India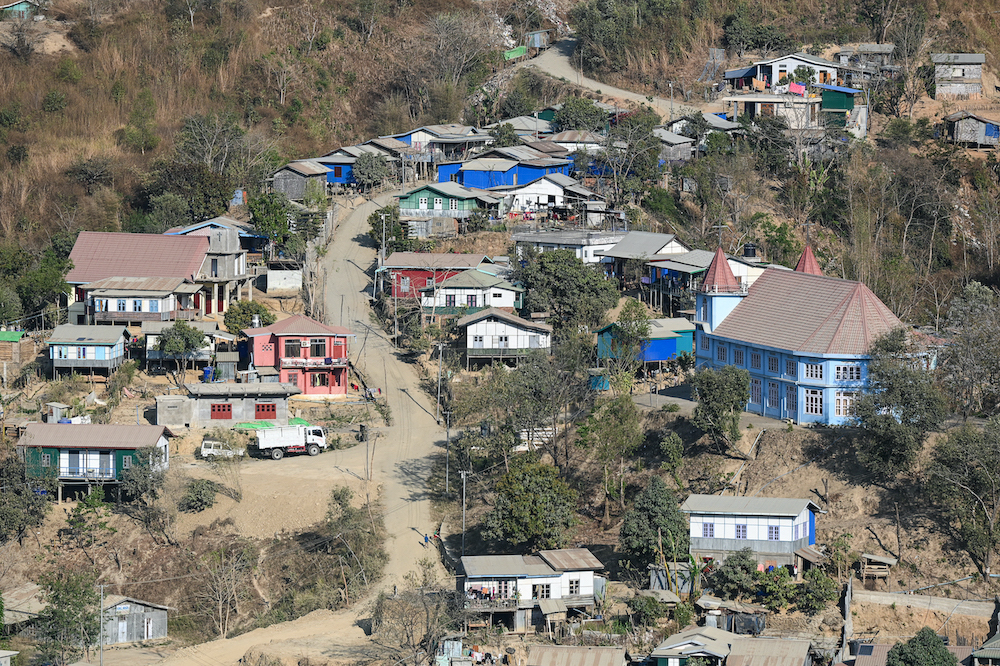 Others can take up to 10 days on foot to reach the remote and mountainous state along Myanmar's western border, including via a river, paddy fields, and sleeping in forests.
Those who make it are picked up by sympathetic locals, who help them get to relatives' homes or stay with others willing to shelter them from authorities.
But eight Myanmar citizens have been "pushed back", according to a statement last week by Assam Rifles, a national paramilitary force operating in the region.
Those AFP met said they had fled without their families because the journey was so difficult.
They arrived with just the clothes on their backs and what they could carry, and relied on locals who brought them food, blankets and cash.
One of them clutched a Burmese-language bible as they sat huddled together on mattresses and mats laid out on the floor of a partially constructed building.
'Shoot orders'
Twenty-four-year-old policewoman Chewa, whose name has also been changed, broke down in tears as she shared her story.
She said the soldiers were being given orders to shoot protesters, with police assigned to give extra security.
"Even though we are the police, we are still citizens like the people. I didn't want to listen to those kinds of orders, and I did not dare to shoot," she said.
Chewa said she did not witness any police officers shooting civilians, but saw protest leaders in a small town in the remote highlands of Chin State being arrested.
Chewa said she joined the Civil Disobedience Movement, involving tens of thousands of government workers across Myanmar. 
"I want democracy back," she said, her voice choking with emotion.
"I want the international community to help our country … I am one of the lower-level [officers] so I don't have any power to do much, so I joined the [movement] — that's as much as I can do," she said.
She said she feared for the welfare of her family, as she was the sole breadwinner.
Kyaw, Chewa and another police officer showed AFP their military or police ID cards to prove their identities.
AFP could not independently verify their specific claims. 
As the group sat in silence, sunlight streaming through open windows, they held their right hands up in a three-fingered salute, a gesture inspired by the "Hunger Games" films and used by protesters.
"I don't want to go back yet to Myanmar," Kyaw said, still shaking. 
"I am a soldier, so I am not safe there if I go back."
'Ashamed'
Meanwhile, some 400 miles across the country, a Chin soldier stationed in the Yangon has defected for similar reasons.
Dressed in his army uniform, Shing Ling also flashes a three-finger salute, this time in defiant social media posts he shared after deserting Myanmar's military to join the democracy movement.
The 30-year-old soldier posted the image on Facebook last week as security forces were staging increasingly lethal crackdowns against protesters near where he was stationed in the country's commercial capital.
His post racked up more than 1,000 shares as commenters praised his bravery, before his profile went private.
"I have felt so guilty and ashamed since February 1," Shing Ling told AFP from a hideout in Yangon. 
Despite feeling "shocked" about Aung San Suu Kyi's detention, it was the violence in Yangon's North Okkalapa Township in early March that became the catalyst for him to join the CDM.
"I was stationed really close to North Okkalapa, so it would be my gun that shoots unarmed people," he said. "I couldn't let that happen. That's why I decided to join."
On his public Instagram account, the Chin soldier has posted photos of himself wearing his military uniform since October 2018.
In his most recent post, he shared the image of him flashing the three-fingered salute after joining the nationwide movement.
Even with these isolated reports of police and soldiers' defection, it remains rare for them to publicly announce a change of allegiance while still in Myanmar, for fear of retaliation.
For soldiers, the punishment for desertion is the death penalty, under military law.
'Which will it be?'
An orphan originally from Chin, Shing Ling said he joined the military academy as a teenager to be part of an organisation that felt like family. 
"We were like brothers and we were warm to each other – I was happy there, it felt like home," he said. 
But disillusionment set in after the previous junta regime loosened its grip on power in 2011, opening Myanmar up to the world and allowing for a communications and internet revolution. 
The soldier said he learned about politics from Facebook – the most popular social media platform in Myanmar – where discussions widened his perspective on the military's role in society.
During the first democratically-contested elections in 2015, Shing Ling voted for Aung San Suu Kyi's National League for Democracy party, although he later switched allegiance to a smaller party after the NLD failed to live up to his hopes.
"The rest of my friends in the military did not dare vote [for the NLD] because they were scared if they did, their senior officers would not like it," he told AFP.
Since announcing his defection from the military on Facebook, the young soldier has cut ties with his battalion, changed his appearance and mobile SIM card, and is now living in a secret location in Yangon, the country's sprawling commercial hub.
He says he knows the junta will eventually find him.
"I expect the worst," he said.
But the deep sorrow he feels when seeing the crackdowns against unarmed civilians has strengthened his resolve, and he wants all his former comrades to answer the question: "If you have to choose between the military and the country, which will it be?"