Local enthusiasts and speculators are navigating scammers and payment problems to plough their money into cryptocurrencies such as Bitcoin.
By KYAW YE LYNN | FRONTIER
MA SU MYAT THANDAR spent nine years training to be a doctor: six years of study at the University of Medicine (Mandalay), a one-year internship at Mandalay General Hospital and two years of tenure in Lashio.
And then she gave it all up.
"I realised being a doctor didn't suit me. It's too good for me. What I mean is, I am not that honest or patient. I'm not willing to make sacrifices for others," said the 36-year-old mother of two.
Most would consider her crazy. Doctors are held in high esteem in Myanmar and, as in many other countries, they typically pull in above-average wages. But most are required to work at state hospitals and make their money from taking second jobs or consultancies at private hospitals and clinics.
"When you look at them, you can tell straightaway that they don't have much free time," Su Myat Thandar said. "I wanted to have a good income without having to give too much time. So I started looking for a new career."
First she ran a mini-store in Mandalay for nearly two years. The business didn't go well, prompting criticism from friends and relatives who couldn't understand why she'd turned her back on medicine. "Many people see being a medical doctor as one of the best careers. They wondered why I didn't want to pursue it."
Then she was introduced to multi-level marketing and foreign exchange trading by a friend who lived in Malaysia. Forex trading was difficult due to the slow internet speed and foreign currency restrictions under the military regime, while Su Myat Thandar shied away from MLM because she felt it was a scam that "cheated poor people".
Then, in 2012, the same friend told her about Bitcoin. The following September, she invested when the cryptocurrency was trading at below US$150. Within four months she'd sold her Bitcoins for more than $1,000 each, booking a huge profit.
Su Myat Thandar cashed in at the right time; it would be more than three years before Bitcoin again broke the $1,000 barrier. She has continued to trade though and claims to have made "a good amount" of money. More recently, as awareness of Bitcoin has increased, she's become an agent.
People in Myanmar who want to buy Bitcoins typically face a problem: they have no way of buying them, because most do not have a Visa or MasterCard, and local accounts are difficult to link up to an "e-wallet" – an account for cryptocurrencies.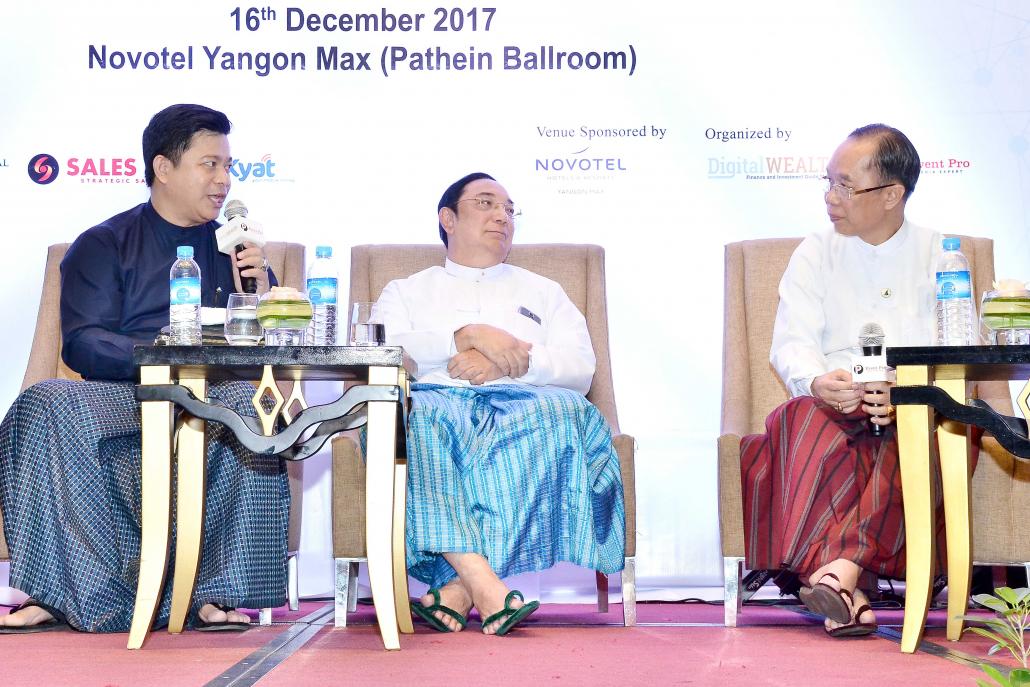 Instead, they trade through people like Su Myat Thandar who have a bank account overseas. Buyers transfer money to her account, and then she puts the Bitcoins into their e-wallet. They can then buy and sell Bitcoin, or use it to trade other cryptocurrencies; if they want to sell up, they transfer Bitcoins back to Su Myat Thandar, who transfers the equivalent US dollars or kyat into their local bank account.
She makes her profit on the foreign exchange: for example, if the selling rate is K1,350 to the US dollar, she will typically charge K1,400.
"Now I have a good income and can also spend much time with family," Su Myat Thandar said. "People here who want to invest or trade Bitcoin or other cryptocurrencies go through us."
The birth of a currency
Bitcoin was the first of what would eventually become known as cryptocurrencies. These are virtual or digital currencies, which do not exist in a physical form. Control is decentralised – there's no central bank or Federal Reserve – and they typically employ blockchain technology, under which all transactions are recorded on an encrypted public ledger.
The rise of the pioneering Bitcoin has been meteoric, from a starting price of about one-tenth of a US cent USD in 2009 to a record high of around $19,500 in December 2017. The massive increases over the past six months – not only for Bitcoin, but many other cryptocurrencies – have prompted bubble concerns.
Since mid-December, Bitcoin has lost about half of its value, with other cryptocurrencies experiencing similar slides. There were further falls for all major cryptocurrencies on January 26 after a major exchange, the Tokyo-based Coincheck, confirmed that hackers had stolen US$400 million of the cryptocurrency XEM.
Regulators have taken varying approaches to cryptocurrencies. Some have legalised their use and trade, while others have banned or restricted them. Myanmar, like many countries, has no mechanism or legal framework to regulate cryptocurrencies. There are also no formal exchanges, but Bitcoin and other cryptocurrencies can be bought through agents like Su Myat Thandar.
As the most popular social site in Myanmar, Facebook has served as a hub for enthusiasts, who use it to share information, and find agents to purchase and trade a range of cryptocurrencies, including Bitcoin, Ethereum and Ripple.
But the enthusiasm is clearly carrying over into the real world. Public seminars in Yangon about cryptocurrencies are regularly attracting hundreds of people; in mid-December, more than 1,000 people attended a public talk at Novotel Hotel. Promoted by magazine Digital Wealth, it was titled "Fintech + Digital Currency"; the speakers included former deputy finance minister U Maung Maung Thein and Dr Jason Corbett, managing partner at Bangkok-based law firm Silk Legal.
Corbett warned attendees to be cautious when investing in the cryptocurrencies, pointing to the volatile nature of the market and prices.
He told Frontier that Myanmar couldn't avoid cryptocurrencies completely but could do more to regulate the trade.
"As I understand it, the cryptocurrency trade is not totally new to the country, and many people were already in the business," he said. "The problem is, I think, that the government officials and regulators have a lack of knowledge on cryptocurrency."
As the excitement around cryptocurrencies has grown in recent years, the field has also attracted more than its share of scammers. For every Bitcoin, there are dozens of cryptocurrencies that appear to be simply Ponzi or "pump and dump" schemes, where the price of the coin is artificially inflated.
On January 16, the crypto exchange BitConnect announced it was closing down amid growing concerns that it was operating a Ponzi scheme. Through its BitConnect Coin it had been luring investors with guaranteed returns of up to 40 percent a month; shortly before its closure the company's coin had a market capitalization of US$2 billion. The backers have since been promoting a new currency, BitConnectX, including in Southeast Asia.
U Maung Maung Thein told Frontier last year that alt-coins were simply a scam. Speaking at the December seminar, as cryptocurrency prices hit their peak, he had apparently softened his view.
"Bitcoin and some other coins can be used in many other countries, and it will probably become the major currency," he claimed. "So we must learn about Bitcoin. Like it or not, we have to deal with them in near future.
"But please be aware of scams, and don't make a big investment in [cryptocurrencies] … it's not stable. If you look at [Bitcoin's] price over the past few months, you'll see how volatile it is."
The dark underbelly
Most of the attendees at cryptocurrency events in Myanmar are from the multi-level marketing field. They are known as "leaders"; they invest early and earn high commissions from the people they recruit into the schemes. MLM typically involves the selling of physical goods, but there is significant crossover with recruitment-based investment scams such as Ponzi schemes.
In the audience at the Novotel was a soft-spoken man from Mandalay named U Win Ko. A 12-year veteran of the MLM industry, he has for the past six months been promoting a "cryptocurrency" scheme named FirstCoin. On his Facebook page he claims to be making K100 million ($75,000) a month from trading cryptocurrencies and introducing new members to FirstCoin.
Investors can take part in two ways: by buying FirstCoins, which are traded on two public exchanges, or by joining the FirstCoin Club. Both are guaranteed to return a high profit, he claims.
A few days before the Novotel seminar, Frontier attended a presentation Win Ko gave at Meliá Yangon to about 15 prospective investors.
He explained the investment options, including the four FirstCoin Club packages. These range from "basic" – investing $200 to $1,999 for a guaranteed 3 percent return per month – to VIP: a $25,000-plus investment, delivering a monthly return on investment of 7.5 percent and a one-time bonus of 10 percent.
The principal is locked in the account for six months, and the returns are paid in FirstCoin. These can be changed into Bitcoin and then cash. Win Ko claimed to have purchased a VIP package in August and been paid his return each month since. He also receives a 10 percent commission for each investor he can sign up.
"In buy/sell, you need to be clever. But if you invest as a club member, you will definitely make a big profit in six months," Win Ko told the group.
He claimed that the price of all cryptocurrencies would "definitely go up" because many organisations, including terrorist groups, were using them to bypass government controls on traditional currencies.
"Bitcoins and other coins hit their record prices in the weeks after US President Trump declared Jerusalem as Israel's capital. Do you know why? Because there will be fighting and terrorists are buying weapons. They use coins for the payment, so the demand is rising," Win Ko said at the meeting.
"It shows that we don't need to look at the companies that are creating the coins. We just need to invest and make the good profit. Because coins are the future currency. The longer time you invest your money, the bigger profit you will earn."
Warnings about FirstCoin have been circulating for some time. While FirstCoin is a real cryptocurrency, its purpose appears to be to add legitimacy to FirstCoin Club, which has some characteristics of a Ponzi scheme.
The FirstCoin Club website is registered to a Terence Andrew Tirant of Dynamic Global Marketing Ltd based in Dubai. The company seems to exist only on paper, if at all. The FirstCoin website doesn't disclose the full names of its creators, but they appear to be from Eastern Europe.
The coin is almost completely pre-mined: 109,999,999 of the 110,000,000 FirstCoins were transferred upon its creation. This important because it means there is no incentive to "mine" FirstCoins – that is, to verify transactions through solving a mathematical problem, after which the transactions are added to the FirstCoin blockchain. With Bitcoin, mining is rewarded through the issuing of more Bitcoins. But FirstCoin has no more coins with which to reward miners.
When some attendees asked Win Ko if he knew how FirstCoin Club generated revenue to pay the returns, he gave a very confident answer.
"I don't know, and honestly we don't need to know what they are doing," he said. "But I am sure they are going to pay us high returns, and more and more people are going to invest. Then the FirstCoin price will go up and we will enjoy the profit."
'Greater fools'
Some argue that the best way that the government can respond to cryptocurrencies like Bitcoin is to legalise and regulate them.
U Aung Bo Bo Lin, director of Blockchain Development & Research Company, said he hopes to see licensed exchanges where people can buy Bitcoin – much as they buy foreign currencies from exchange counters now.
"Then the government can regulate or tax [transactions] at the exchange," he told Frontier. "No one or no government can control the purchase and trade of cryptocurrencies."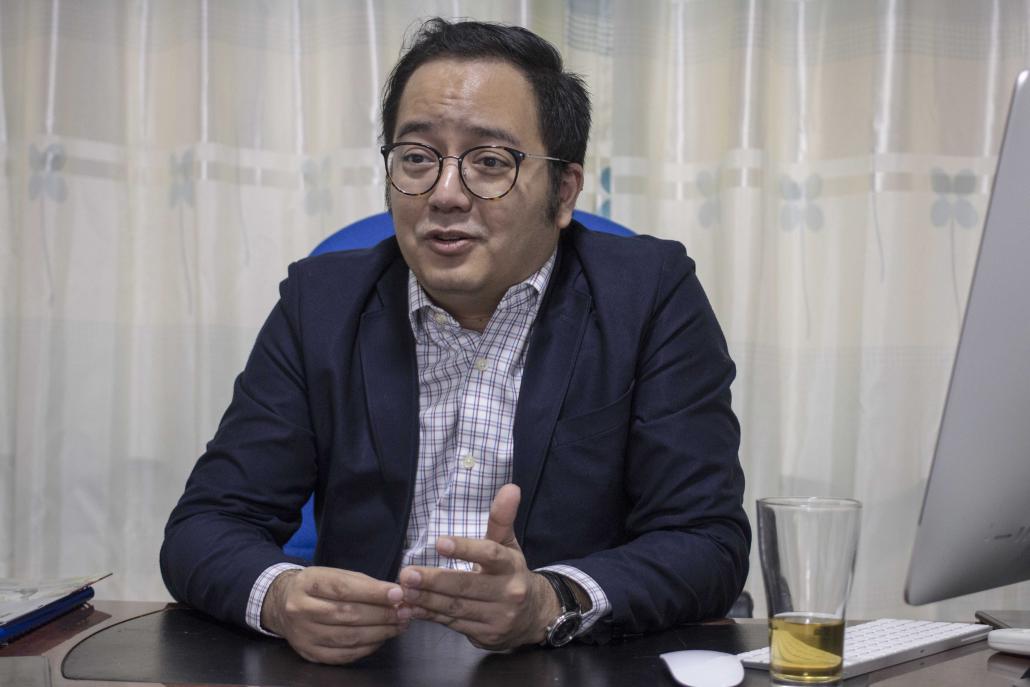 He warned that if the government ignores the trade it will just take place informally instead.
"Cryptocurrency is now in the grey zone here," he said. "This makes it easier for scammers to cheat people … That's why we want to have an official exchange for cryptocurrencies."
For now it seems that cryptocurrencies are still a long way from the radar of regulators, who are grappling with issues such as updating prudential rules for banks and expanding mobile money use. On December 7, Frontier emailed Daw May Toe Win, the deputy director general of the Central Bank's Financial Institutions Regulation & Anti-Money Laundering Department, to request an interview. She eventually asked Frontier to send questions, but had not replied at deadline.
But others are sceptical that digital currencies with no physical equivalent have a value at all. U Aung Kyaw Moe, founder and CEO of Singapore-based payment service provider 2C2P, which provides electronic payment systems for Myanmar businesses, said the future of cryptocurrencies is less clear than proponents claim.
Investors in cryptocurrencies are simply hoping to find "greater fools", he said – a reference to greater fool theory, which says that it's justifiable to pay an inflated price for something if you can reasonably expect to sell it on later at a profit to a "greater fool".
"When someone buys such coins, what does he know? He knows nothing, but just hopes to make profit by selling it at a higher price. So it's a kind of gambling," he said. "It's all about speculating on the price."
The December crash has burned many of these speculators. But Su Myat Thandar says she's not concerned by the recent price drop. She's not sure exactly why it happened – it may have been because of a proposed crackdown on trading in South Korea, she says – but she's confident prices will soon recover.
"I'm sure Bitcoin will go up in February because a lot of overseas Chinese will buy Bitcoins during the New Year period to give as a gift," she said. "And my customers are happy as they can buy [coins] at unexpectedly low prices."