The Ministry of Education plans to begin classes for senior students on July 21 but faces an uphill battle to get schools ready in line with strict health guidelines.
By YE MON | FRONTIER
Almost two months later than scheduled, Myanmar is, cautiously, reopening its schools. Only grades 10 and 11 will return to classrooms at first, and on a staggered schedule with strict hygiene and physical distancing rules that will transform the 2020-21 academic year.
When COVID-19 was confirmed in Myanmar in late March, classes at state schools had already wrapped up for the 2019-20 academic year. In normal times students would have returned to the classroom in the first week of June, but the threat of the coronavirus prompted the government to push back the start of the school year.
With 286 confirmed cases of COVID-19 as of June 19, and none of them basic education students, the Ministry of Education has said it will allow student registrations from July 13 to 17, with the top two grades to begin classes on July 21. A date has not yet been set for the other grades.
Education officials say older students will be allowed to return first because they are better able to follow the new rules. Grade 11 is also a priority because it culminates in matriculation exams, which are the sole opportunity to qualify for admission to university.
Returning students will face temperature screening on entry and will each receive two masks and two face shields. Canteens remain shuttered, meaning students will eat at their tables spaced six feet apart in classes of 20, according to Ministry of Health and Sports measures. Classrooms will also be sprayed regularly with disinfectant.
To comply with these rules, the education ministry on June 12 said it had created four class schedules, and assigned each high school to a specific schedule based on factors such as the size of the school and number of students.
The ministry said 617 high schools will operate as normal for both grades, and 2,471 schools will rotate weeks between grades 10 and 11. Another 2,401 schools will divide the grades between morning and afternoon sessions, and 144 schools will rotate the grades every three days.
Principals, though, have called for more teachers, equipment and washbasins to accommodate the plan. With the health ministry continuing to warn the public to stay alert to the threat of COVID-19, there are also increasing concerns among parents who want to postpone the reopening date until the risk of an outbreak recedes.
Initial studies indicate children are at low risk of becoming ill from the virus, although it is unclear whether they contribute significantly to transmission, which would potentially put their relatives and teachers at risk.
Speaking to Frontier on June 3, director-general U Ko Lay Win from the Department of Basic Education said the education ministry would "close the school immediately" if a student attending classes tests positive for the virus. Any student who shows symptoms will be tested, he added.
Parents are not legally obligated to send their children to school, but health ministry spokesperson Dr Than Naing Soe insisted that students would be safe. He pointed to low rates of local transmission – most recent cases have been detected in people returning from abroad – and the efficacy of preventative measures.
"I don't see the situation getting worse," he said on the spread of the virus, adding that the ministry is "preparing the best for the prevention activities".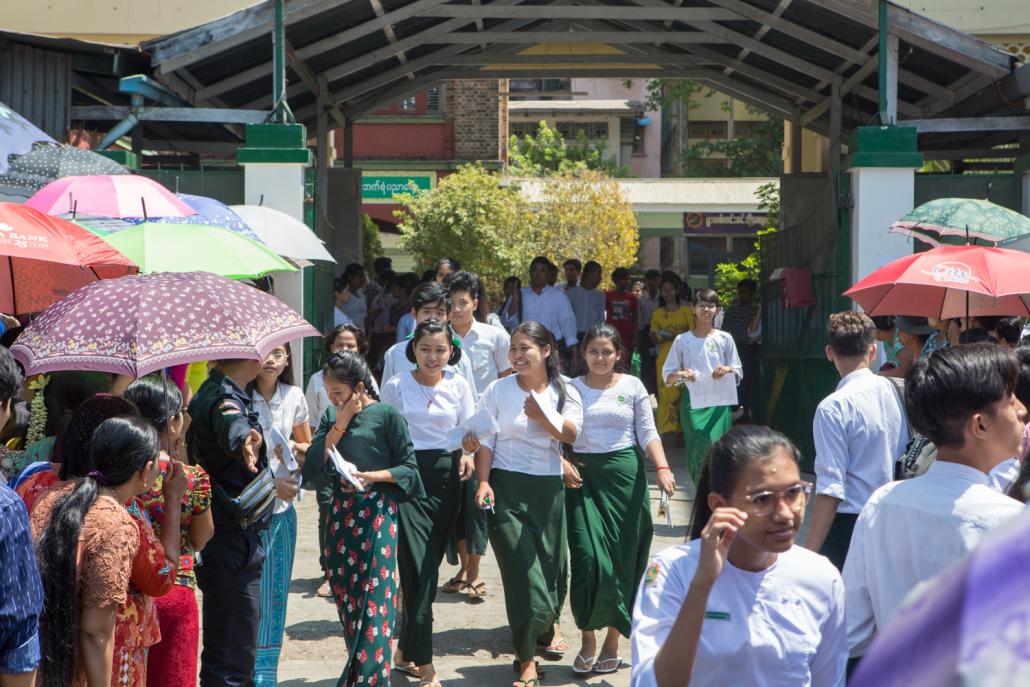 New hires or double shifts
Before the pandemic it was normal for at least 40 students to squeeze into each classroom but under the new measures, schools will have to cut that number in half. This has created an urgent need for more staff qualified specifically to teach students aged 15 to 17.
Daw Win Yee Mon, principal of Basic Education High School 1 in Yangon's South Okkalapa Township, told Frontier on June 8 that she can teach 400 grade 10 and 11 students split into 20 classes only if she gets three more teachers added to her 11-strong team.
"When Grade 11 comes in, the school will be closed to Grade 10," she said. "When Grade 10 comes in, Grade 11 classes will be closed. We have to continue like that, which is why we need more teachers. I'm asking the Ministry of Education for that."
The limit on classroom numbers is likely to exacerbate Myanmar's enduring shortage of state school teachers. The statutory retirement age for teachers is 60, though Myanmar Teachers Federation secretary U Zaw Myo Hlaing said retired teachers should be asked to return to schools given the current demand.
However, people over the age of 60 and those with underlying health conditions are most at risk of COVID-19.
"The teacher shortage needs to be resolved quickly," Zaw Myo Hlaing said. "Otherwise, the schools will be in trouble."
Education minister U Myo Thein Gyi told MPs in Nay Pyi Taw late last month that the ministry would recruit 14,000 fresh graduates from university and teacher training institutions to fill the gap.
But lawmakers are sceptical that the education ministry will be able to reopen schools on July 21 in line with health ministry guidelines.
Amyotha Hluttaw Education Promotion Committee secretary U Kyaw Toke (National League for Democracy, Mandalay-7) told Frontier on May 10 that more classrooms, chairs and tables were also needed.
"The schools need to be reopened but the preparations cannot be completed in time," said Kyaw Toke.
Principals say that teachers could be forced to work double shifts if the schools face staff shortages, and some may also have to work six days a week if the class schedules are separated.
However, Daw Khin Thuzar Sein, an education officer from Yangon's Botahtaung Township, said schools in Botahtaung do not require additional staff or furniture. She added that there was a consensus among teachers that schools should reopen.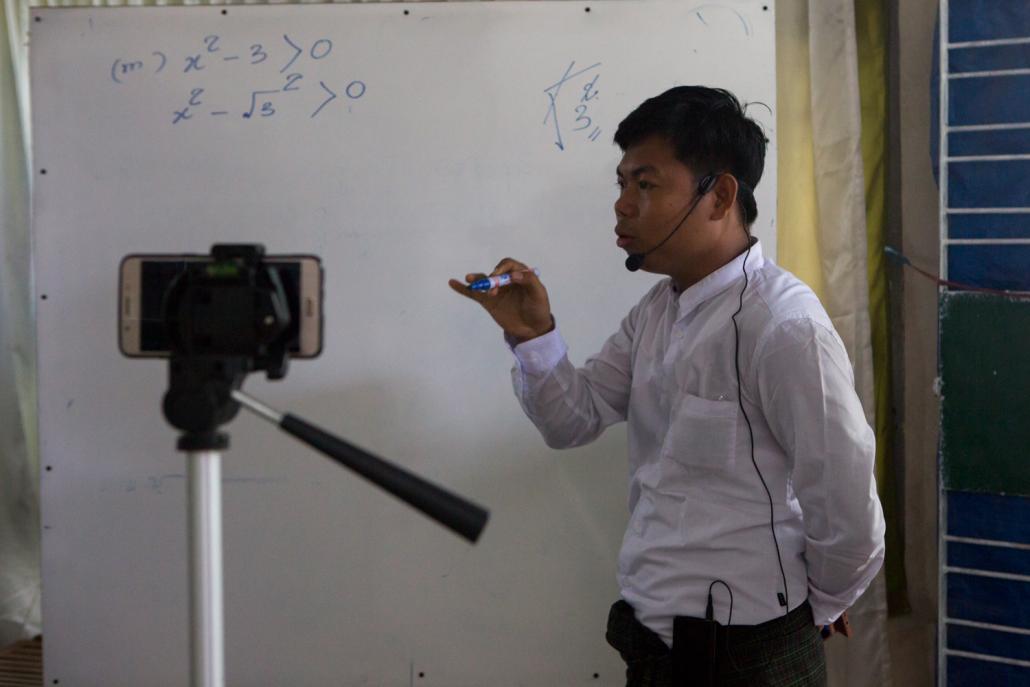 Zoom classes for some
With health ministry measures compulsory across the education sector, private schools are also facing a teacher shortage. U Wunna Tun, principal of the Grindstone private school in Yangon's Htantabin Township, said that if he can't find more qualified teachers his existing staff might be asked to double their workload.
The cancellation of in-person classes has prompted many private schools, including Grindstone, to roll out Zoom timetables in order to keep Grade 11 students on track.
"We are concerned that we won't be able to teach all of the lessons to the students in time," said Wunna Tun on the school's embrace of Zoom, the videoconferencing software that allows classes to continue remotely using the internet.
Some parents welcomed online teaching, but most of the students who were asked by Frontier wanted to be back in the classroom.
Grindstone student Ma Hnin Wut Hmone, 17, said she found it easier to focus when she was in the classroom.
"It's not that I don't like online learning; I just prefer the traditional methods," she said.
Although senior government spokesperson U Zaw Htay said at a press conference in May that online teaching was also being considered for state schools, the low number of COVID-19 cases since then has prompted the education ministry to instead focus on reopening schools.
Daw Thin Su Khaing, the mother of a Grade 9 state school student, said she doubted government schools could provide online teaching anyway because both schools and students often lacked computers and smartphones.
But she was worried by possibility of her child getting infected in the classroom. "I would prefer online teaching more than [normal classes]," Thin Su Khaing said. "The middle schools could be reopened by August. I hope infection rates go down by then."