After a controversy over terminology and a year's preparation, the ambitious Yangon Art Expo has helped to create greater international interest in contemporary Myanmar art.
By JARED DOWNING | FRONTIER
Photos NYEIN SU WAI KYAW SOE
U AUNG MIN of Yangon's Magic Art Gallery declared last week's Yangon Art Expo the best exhibition of Myanmar art for 100 years.
Objectivity may have been elusive when the high-end art collector made his pronouncement, because he was surrounded by works from four generations of Myanmar artists displayed in a space on top of Junction City Tower that offers panoramic views of Yangon.
"Our country has tens of thousands of painters. There are only 30 or 40 that I have collected for a long time, and [several] of them are here," said Aung Min, beaming.
The event, organised by an Italian non-government organisation, Culture2All, was designed to be Myanmar's first world-class, museum-style exhibition for contemporary art, displaying the best the country has to offer across styles, generations and regions. Culture2All president Mr Mauro Salvemini dubbed it Myanmar's "business card" for the global art scene.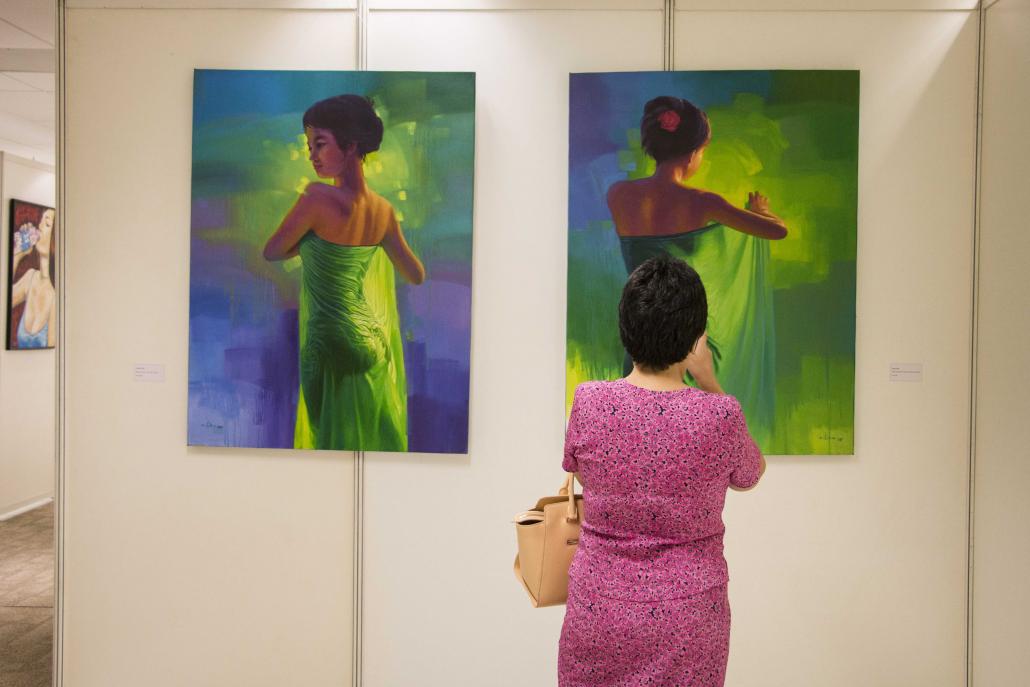 That is a lofty claim, and some critics downplayed it during the Expo's year-long planning stage. But at the least it provided a rare opportunity for art fans to see, say, the verdant, organic shapes of surrealist U Thee Zar displayed alongside the impressionist scenes of traditional Myanmar by old master U Lun Gywe.
It would take Aung Min another visit or two at the week-long event to make up his mind, but in the end he was sure to spend thousands or even tens of thousands of dollars buying the next gems for his personal collection.
Young brushes and old masters
The works of 72 artists, mostly paintings but with some installations, were arranged in non-linear "islands", as Salvemini called them.
There were islands for abstract expressionists, impressionists, realists, street artists and "visual poetry", which are arrangements of typed words on a printed page.
The offerings included Ko Zwe Yan Naing's mixed collage portrait of Salvador Dali, photorealistic wine glasses painted by Ko Aung Htoo, and a street-style mural by the graffiti team known as Western Crew. 
"We don't like to do a linear layout of the exhibition, where the first artists are in the best place," said event curator Ms Eugenia Battisti. "It's the same for all the artists."
The works were for sale, and if the arrangement was egalitarian, the prices of the works were not, ranging from a thousand dollars or two for some newcomers, to tens of thousands for the old masters.
"The most important thing is not this price," Salvemini said, regarding a work by U Lun Gywe that sold for $35,000, "but his date of birth. This master was born in 1930 … We have four generations of artists here."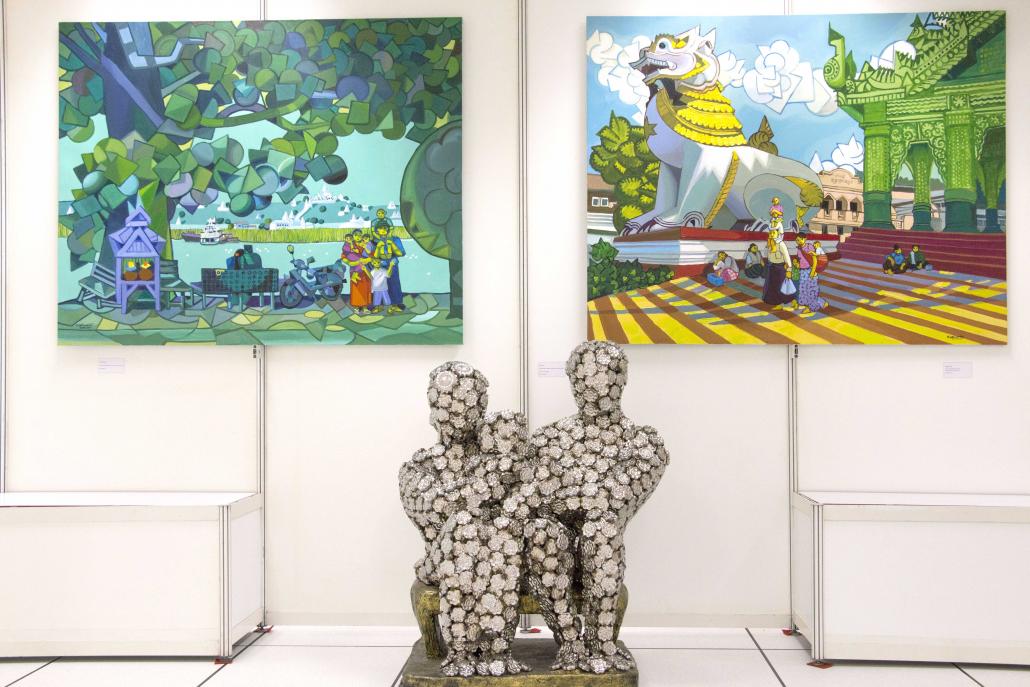 Salvemini regrets that the price tags might distract from what he argues is a purely cultural, not commercial, mission. He emphasised that artists set the prices for their work and that neither artists nor visitors paid to participate in or attend the free event. Yangon Art Expo was supported by corporate sponsors, and government and civil society organisation partners, including the Ministry of Religious Affairs and Culture, the Italian embassy and the Concilio Europeo dell'Arte.
In lieu of a commission, artists were encouraged to donate a percentage of their sales to Culture2All's Cultural Heritage and Villages project to preserve less well-known cultural sites.
Salvemini said the expo's inspiration was the 2016 Milan Triennale, a longstanding cultural exhibition that last year featured the work of 10 artists from Myanmar. It was one of the first times in the modern era that Myanmar art had been displayed in a true institutional context, rather than a commercial show or competition.
"We started to think of how do to something in Myanmar, for Myanmar," he said.
Island in the art world
Culture2All initially promoted the expo as a "biennale", a term that means "every other year" but carries much more weight in the art world. Biennales and triennales tend to be large-scale international events that display the cutting edge in multiple artistic media.
The use of "biennale" caused a bit of a backlash in Yangon, with some artists complaining that the Culture2All event, featuring mostly painters and with only about a year of preparation, was not worthy of the title. In the end, Culture2All not only changed the name, but restructured the event entirely, downscaling it to a more intimate affair with 72 artists instead of the originally-planned 200.
But even if the Yangon Art Expo could not reach the lofty heights of a "biennale", participating artist Ko Khin Maung Zaw said it was a huge step forward to have a non-profit, museum-style showing in Myanmar.  
His watercolour paintings were among the Myanmar works featured at the Milan event. Although he was not able to visit Italy, he has attended exhibitions throughout Asia at which his creations were displayed.
"When I visited all those countries, I feel so sorry for my country, because we don't have much infrastructure for our art community. Especially in public museums, private museums and spaces for international art events," he said.
Contemporary art, long stunted by the cultural isolation and the censorship of the military regime, is only beginning to bloom in Myanmar, but it has yet to truly emerge in the global art world, said Ms Gill Pattison, co-founder of River Gallery in Yangon.
"A major issue for Myanmar artists is that there is so little awareness of them and their works beyond these shores, with the exception of a very few established artists who have been able to build international reputations," Pattison explained.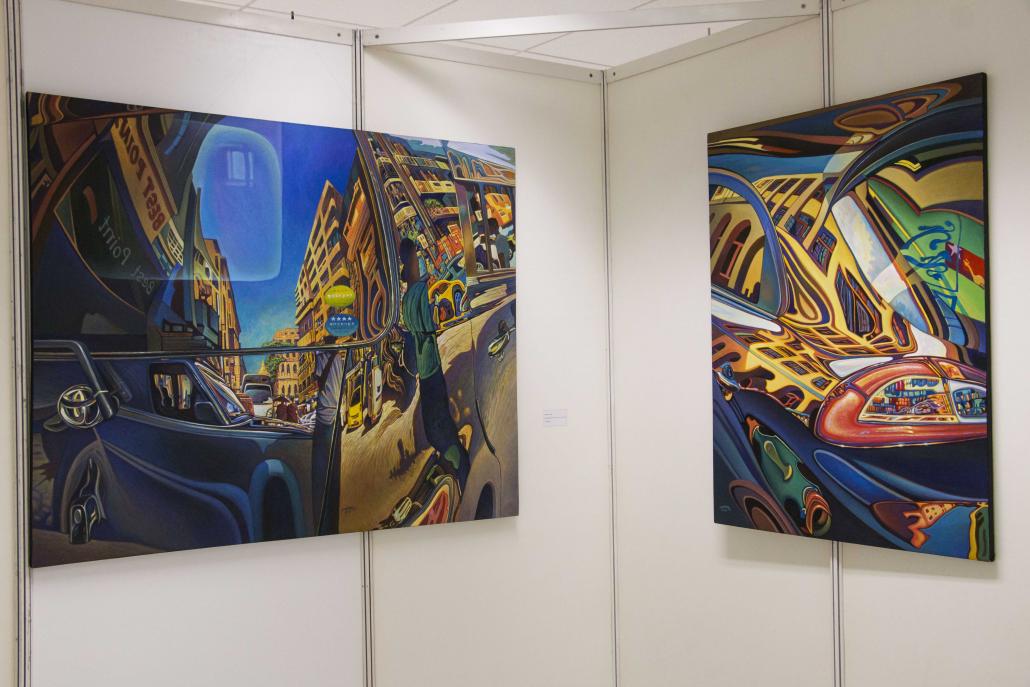 Although she regrets the "biennale" controversy, Pattison called the event "a good attempt to gather works of some more well-known contemporary artists".
But if Myanmar's art is to be taken seriously on an international level, there will have to be a shift in the country's approach to art.
The expo's non-commercial spirit is a good step, she said, but Myanmar art is still very much an industry, and not a public or academic institution. 
"As the art ecosystem is still at a very undeveloped state in Myanmar, I would urge external foundations and groups … to focus on curatorship, scholarship and disseminating information about the Myanmar art scene," Pattison said.
Salvemini and Battisti believe that for now, the Yangon Art Expo will be a serviceable artistic business card for Myanmar, but they hope more non-commercial events will follow and dream of a contemporary art museum in Yangon.
Until then, the price tags will remain, and Aung Min will leave with treasures for his collection.