With new facilities, imported equipment and foreign expertise, a state-owned enterprise is expanding its pharmaceutical business – and even moving into export markets.
By KYAW YE LYNN | FRONTIER
Pointing to a tablet-coating machine, a woman employee in protective clothing proudly notes that no other pharmaceutical maker in the country has such advanced equipment.
"This is imported from Germany and is super expensive," she says, referring to a Glatt SC Smart film coating machine. "Only we can use it," she boasts.
You'd probably expect the woman to be working in the private sector, perhaps at a factory built in the past few years with foreign investment.
But the plant in Yangon Region's Insein Township is run by state-owned Myanmar Pharmaceutical Industry Enterprise and opened in 2017.
The enterprise has always had a strong reputation for producing high-quality pharmaceutical products – in the same compound as the MPIE factory is a former Burma Pharmaceutical Industry plant, which opened in 1957 – but during the 1990s and 2000s it steadily lost market share to local producers and imported products.
By the end of 2015, the state-owned enterprise was supplying only 10 percent of the domestic pharmaceuticals market, managing director U Ko Ko Aung told Frontier in an interview in his office in Nay Pyi Taw on May 21.

"We struggled to meet domestic demand because of government policies," he said. "Most drugs were available from neighbouring countries with cheap prices, so previous governments didn't pay attention to upgrading facilities and boosting production … so the domestic demand gap was filled by imported drugs."
Change was already afoot, however. Two years earlier, the Ministry of Industry had decided to boost drug production and ease reliance on imported medicines, especially from neighbouring countries, and began investing significantly in new plant and equipment, and upgrading existing facilities.
Three upgraded and new plants – at Insein and Hlegu townships in Yangon, and Kyaukse Township in Mandalay Region – went into operation in 2016 and since then the volume and range of pharmaceuticals made by MPIE has steadily increased. It has announced plans to produce cancer and HIV drugs, and a rabies vaccine.
MPIE also reverted to using the "BPI" brand rather than "MPF", which stood for Myanmar Pharmaceutical Factory and had been introduced by the military regime.
Ko Ko Aung said that in 2017 MPIE manufactured 170 different pharmaceutical products, with a total value of K30 billion. When output by value rose more than 63 percent the next year, to K49 billion, MPIE saw its market share increase to 15 percent. It plans to make 193 different pharmaceutical products worth K60 billion in 2019, Ko Ko Aung said.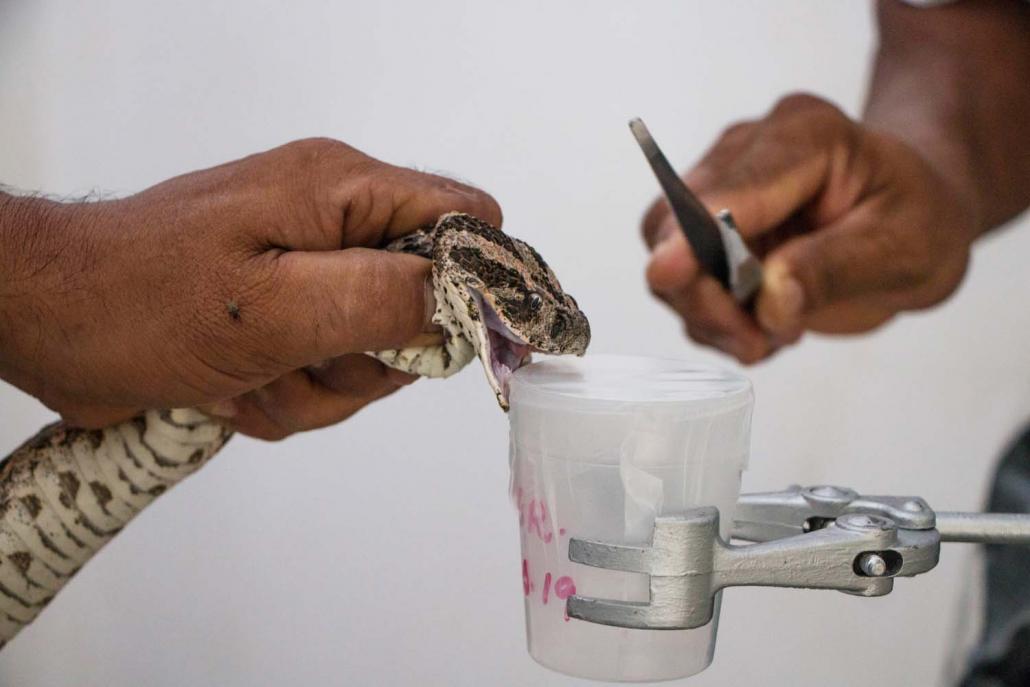 Targeting export markets
MPIE has even been tentatively expanding into export markets with snake antivenom.
Snake bite is a major cause of death in rural areas of Myanmar. While official figures from 2014 showed 630 deaths, a more recent survey conducted in two rural Mandalay Region townships, the results of which were published in the journal Neglected Tropical Diseases, suggested that the real number of casualties could be twice as high.
MPIE production of antivenom, meanwhile, has lagged well behind demand. Most of its antivenom was produced from horses, but both the horses and snakes used for the process were often in poor health. Horse mortality was high, which both increased the cost of production but also slowed it down.   
Ko Ko Aung said that in 2012 and 2013, the health ministry wanted to buy 70,000 ampoules (small sealed vials) of antivenom a year, but at the time MPIE could produce no more than 20,000 ampoules a year.
The antivenom was also in liquid form, which has a shorter lifespan than the freeze-dried version and needs to be stored at an ultra-low temperature at all times – a problem in rural Myanmar, where electricity supply is often unreliable.
To meet the shortfall, antivenom was imported from India, but there was a problem.
"Because the snake species in India are different to those in Myanmar, the imported antivenom was sometimes not effective in treating snake bite here," Ko Ko Aung said.
When Daw Aung San Suu Kyi visited Australia as opposition leader in 2013 she sought Australia's assistance to address the problem.
A four-year Myanmar Snakebite Project was then launched in 2014 to improve production and availability of antivenom, as well as building the capacity of the health system to provide treatment for patients.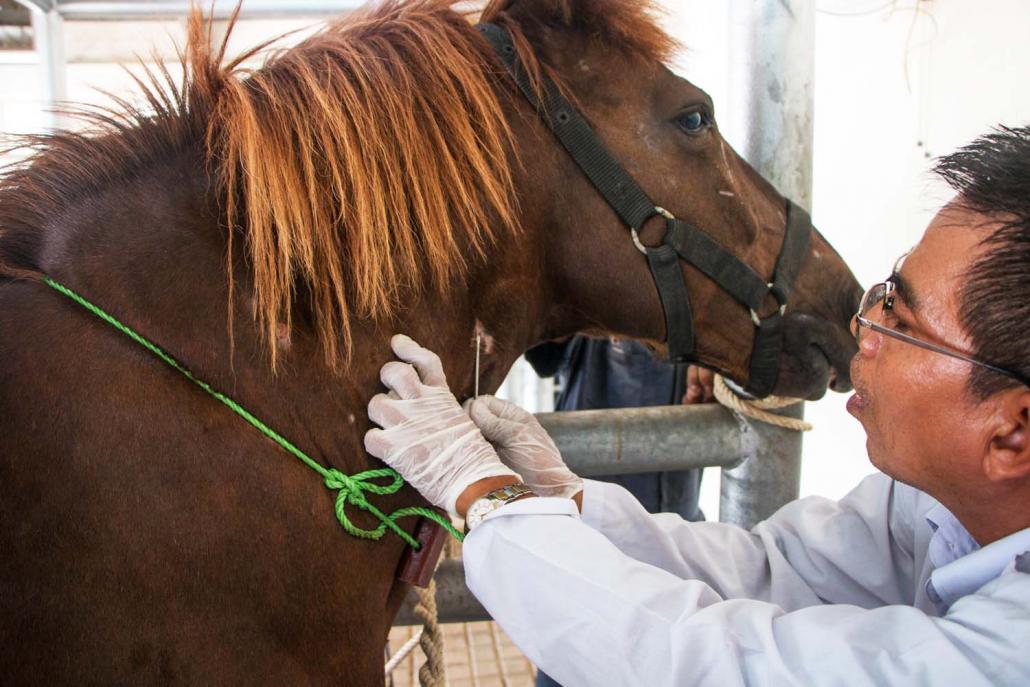 Funded by Australia's Department of Foreign Affairs and Trade, the project also included in-kind support from Australian companies and institutions, and a number of volunteer experts.
"We have received all necessary assistance from Australia since 2014," Ko Ko Aung said, adding that MPIE had also received support from some other countries.
By making changes to the way antivenom was produced, such as by collecting more and better information on horse health, the Myanmar Snakebite Project helped to dramatically reduce horse mortality within three years, which then resulted in lower production costs and increased output.
After two years, the project focused on helping MPIE to produce freeze-dried antivenom and improve quality control. The freeze dryer, purchased with Australian support, came online in 2017.
Since the completion of the antivenom project in early 2018, MPIE has been able to surpass domestic demand. It began exporting antivenom to Laos and Cambodia last year after trials showed its product was effective for treating snakebite in those countries.
"We exported 500 ampoules to Laos and Cambodia in 2018," said Ko Ko Aung, adding that it expected to export 5,000 ampoules this year.
While the total value of these exports is small, he said it was "a milestone for MPIE".
"We are happy and proud to expand our business, even with a very small thing," he said.
Laos and Cambodia had for many years relied on Thailand as a source of antivenom but had started switching to the Myanmar product due to its price and quality, he said.
MPIE could produce antivenom more cheaply than most private companies, he said, and had access to state financing to invest in equipment.
"We can compete with Thai manufacturers because we are well-prepared," he said.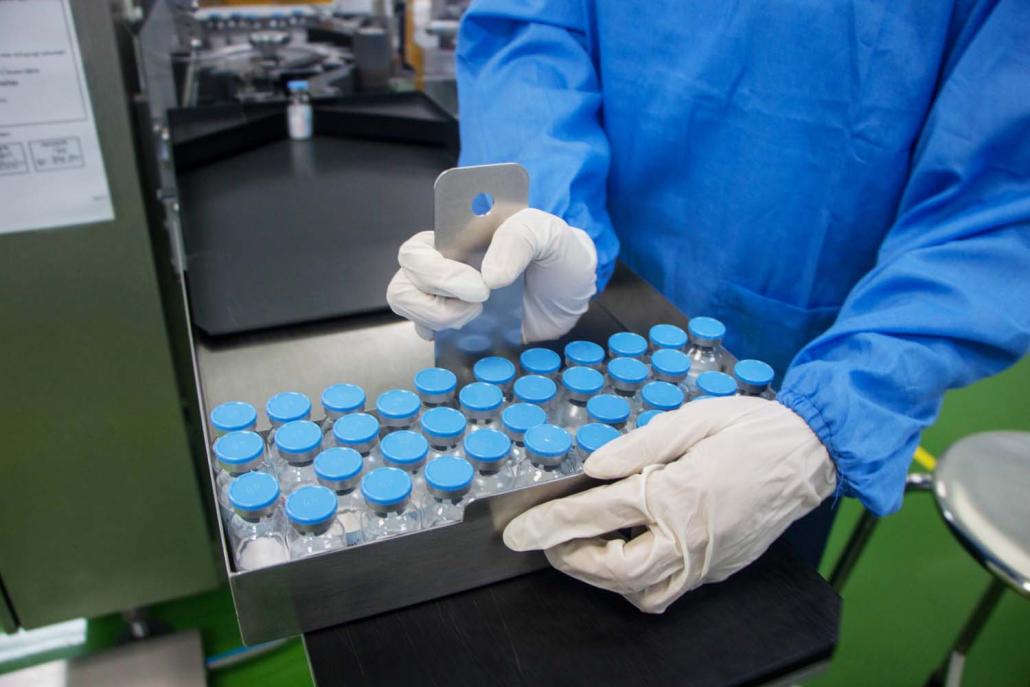 A profitable enterprise
Unlike many state-owned enterprises in Myanmar, MPIE has managed to maintain its reputation for quality over the decades. Concern over the proliferation of fake and sub-standard medicines imported illegally meant that customers would often choose the state enterprise's products even if they cost more than imported alternatives.
This has provided a solid foundation for MPIE to invest and expand its markets both domestically and abroad.
In 2018 it was awarded ISO 9001:2015 certificates, an international standard for quality management, from the Joint Accreditation System of Australia and New Zealand for manufacturing and from the United Kingdom Accreditation Service for distribution. Ko Ko Aung said MPIE was also trying to make the pre-qualified suppliers list of the World Health Organization, which would make it easier to export more products.
Outside the extractives sector, Myanmar state-owned enterprises tend to be a significant drain on the budget. Ko Ko Aung said that while MPIE still receives a budget allocation, its revenue exceeds its operating expenses. This means it is well placed to one day be transformed into a public company, he said.
If that happened, the SOE would seek expansion through a joint venture with a foreign pharmaceutical company, he said.
"But it would be only with a high-profile Western company," he said.
Meanwhile, MPIE is pursuing the government policy of increasing production to reduce reliance on medicines imported from India, China, Thailand and Bangladesh.
"Medicines worth about US$500 million are legally imported annually," Ko Ko Aung said, adding that large amounts of drugs were also imported illegally.
"We are now able to manufacture most of the medicine types used in the country except for a few kinds such as anti-cancer drugs," he said. "So we are also competing with imported medicines on the local market."
Unlike the private companies importing foreign pharmaceuticals that have big advertising budgets, MPIE relies on the prestige of its BPI trademark on the domestic market, Ko Ko Aung said.
"Everyone in the country knows BPI products are high quality," he said. "What we need to do is make them more accessible."
TOP PHOTO: An employee at the Myanmar Pharmaceutical Industry Enterprise points to a piece of machinery in a new antivenom production facility in Insein Township. (Thuya Zaw | Frontier)