By KYAW LIN HTOON | FRONTIER
LASHIO — Hundreds of mourners attended the funeral in Lashio on August 17 of the head of an emergency response group hailed as a "philanthropist hero" after he was killed while on a mission to rescue victims of heavy fighting in northern Shan State.
U Tun Myint, 57, chairman of the Lashio Youth Support Social Association, suffered a fatal shrapnel wound to the head, and two of his colleagues were injured, when their van was hit and overturned by an explosion earlier the same day.
Tun Myint, who was driving the van, was killed instantly in the attack, which was blamed on the Ta'ang National Liberation Army. It followed days of fighting and sabotage attacks involving the ethnic armed group and two of its Northern Alliance allies, and the Tatmadaw.
Peace activists and conflict monitors condemned the attack on a clearly-marked rescue vehicle, saying it amounted to a breach of the Geneva Convention.
Among those at the dusk funeral at Lashio's Muslim cemetery on August 17 was U Aung Than, a leader of the Islamic community in the town.
"We have been friends since we were young and nothing can replace his loss," Aung Than said, adding that he wished for an end to civil conflict in the region.
Aung Than mentioned that government spokesperson U Zaw Htay had responded to recent days of attacks in northern Shan and Mandalay Region by saying the government had opened the door to peace.
"But, the situation of our people is that we still have to close all the doors and stay inside our homes [when there is fighting]. They should solve these problems as soon as possible by holding talks instead of shooting each other," he told Frontier.
"We have lost a valuable person who was on his way to help others," said Tun Myint's grieving widow, Daw Tin Tin Aye, who condemned the "reckless" attack. "They should give more consideration to whether the target is good or bad," she said, referring to those behind the attack, which occurred near Ho Pate village, on the road to Hseni, about 20 kilometres from Lashio.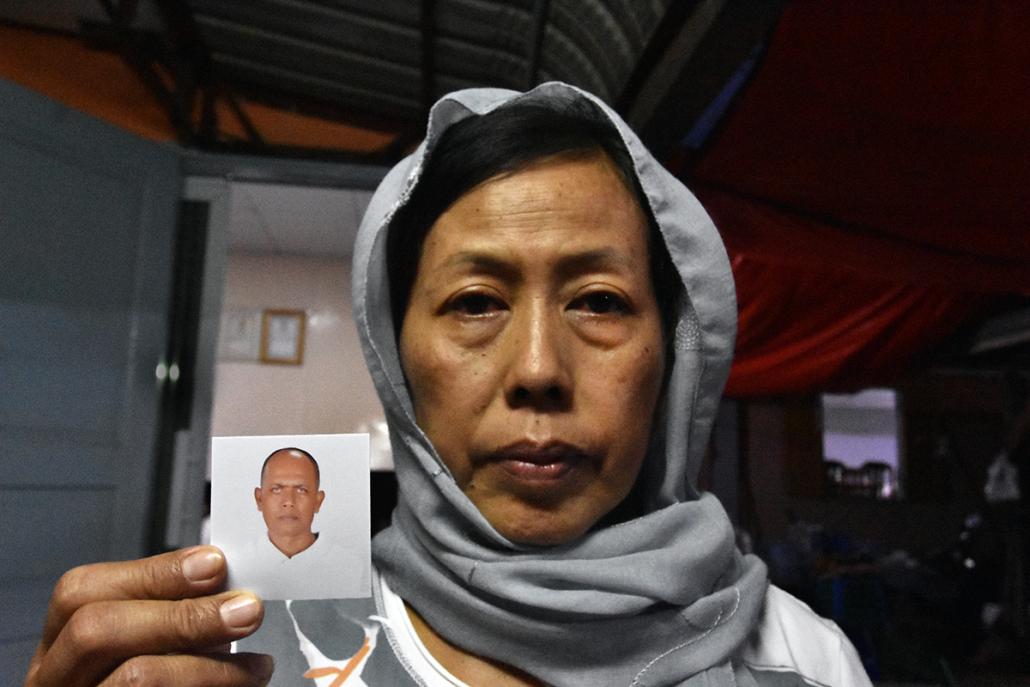 Tin Tin Aye said her husband had left home to open his iron products shop at 7am but had called later to say he had to travel to a village to rescue some villagers injured in the fighting.
Tun Myint called again at about 9am to say that the situation was dangerous and that he and his team were returning to Lashio. It was the last time they spoke.
Sai Lin Thit, 20, who was the only passenger among the three in the van not to be hospitalized with injuries, recalled an explosion, after which Tun Myint swerved to the left and the vehicle rolled on its side.
Lin Thit told Frontier he remembered the sound of rifle fire and exploding rocket-propelled grenades. However, reports that Tun Myint was the victim of sniper fire have been disputed by other accounts.
Frontier spoke to people who went to the scene of the attack a few hours after it occurred, who said they saw evidence that the blast was caused by an improvised explosive device, or IED.
They said a wire to which an IED was connected had led deep into the nearby forest.
Police Captain Myint Kyaw of Lashio Township Police Station said Tun Myint had suffered two shrapnel wounds to the head, one of which was fatal.
He confirmed that no bullet wounds were found on the body of Tun Myint, who the day after his death was honoured by Yangon's Free Funeral Service Society, which described him as a "philanthropist hero".
The recent fighting in northern Shan involving the TNLA and its Northern Alliance partners, the Arakan Army and the Myanmar National Democratic Alliance Army, has affected a swathe of territory in northern Shan and parts of neighbouring Mandalay Region.
The incident that cost Tun Myint's life came after the Tatmadaw blamed the TNLA for an attack on a battalion at Kyaukme late on August 16 that left no casualties.
On August 15, coordinated attacks by the three Northern Alliance allies on the Tatmadaw's Defence Services Technological Academy at Pyin Oo Lwin in Mandalay Region and northern Shan's Nawnghkio Township claimed the lives of 15 security personnel and civilians.
In Lashio District, the deteriorating security situation has forced citizens from more than five villages to seek refuge in Lashio town's Mansu monastery, which is accommodating about 1,000 people and is said to be in need of more relief supplies and other support.
The monastery has often been used as a temporary IDP camp when there is fighting in the area.