Politically engaged monks have been active in Myanmar since before independence but their role in the November election is unlikely to be as divisive as it was in 2015.
By PYAE SONE AUNG | FRONTIER
"I am more hurt by insults directed at Mother Suu than those directed at the Buddha," the bio on Buddhist monk U Thawbita's Facebook page reads.
Thawbita, popularly known as Alinkakyawl Sayadaw, told Frontier during a late August interview at the Mingalar Myanmar monastery, in Patheingyi Township on the northern outskirts of Mandalay, that he will be campaigning for the National League for Democracy this year, as he did in 2015.
In his 30s, Thawbita is known for his steadfast support and admiration for the NLD leader, State Counsellor Daw Aung San Suu Kyi, pictures of whom are proudly displayed in his quarters at the monastery.
Thawbita's backing for the NLD has made him popular with the party's legions of supporters. It has also made him a controversial figure among some political activists in Mandalay because of what they see as his unquestioning support of the state counsellor, even when it comes to subjects like Myanmar's case at the International Court of Justice.
Meanwhile, the monk's forthright criticism of Aung San Suu Kyi's political adversary, the military, has landed him in legal trouble. He is currently out on bail while facing a criminal defamation suit in a Mandalay court under section 66(d) of the Telecommunications Law. The suit was filed by a lieutenant colonel in the Tatmadaw in response to a series of Facebook posts, including one in which Thawbita likened commander-in-chief Senior General Min Aung Hlaing to a cow. If convicted, he could spend up to two years in prison.
Though most Buddhist monks avoid politics and limit their public role to offering spiritual guidance, a sizeable proportion of the monkhood, or Sangha, choose to involve themselves in national affairs. In general terms, these monks in Myanmar can be classified into three groups. The first are those who openly support the NLD. The second are those who participated in the monk-led protests in 2007 known as the Saffron Revolution and in the national uprising in 1988 but are critical of Aung San Suu Kyi's rapprochement with the military. The third are ultranationalists who belonged to Ma Ba Tha, the Burmese acronym for the Association for the Protection of Race and Religion, before it was ordered to disband in May 2017 by the supreme clerical authority, the State Sangha Maha Nayaka Committee. The committee's decision came weeks after it banned the ultranationalist monk U Wirathu from delivering sermons for a year because of his inflammatory anti-Muslim rhetoric.
Unusually for a member of the Sangha, Thawbita has rubbed shoulders with all three groups of politically engaged monks. He became involved in the Saffron Revolution after Tatmadaw soldiers viciously beat a group of monks while dispersing their protest march in Pakkoku in early September 2007 – an incident that caused widespread revulsion and helped to bring tens of thousands of people onto the streets in cities throughout the country. The Tatmadaw had presented itself as having great admiration and respect for the Sangha; its brutal treatment of protesting monks filled the general public with disgust.
In 2007, Thawbita marched in Mandalay. "I chanted the Dhamma and prayed for the wellbeing of the people as we walked in the processions joining hands with monks and lay supporters," he recalled. The Saffron Revolution protesters demanded that the ruling military junta apologise for physically abusing monks, lower commodity and fuel prices and, ambitiously, the end of dictatorship.
Initially enticed by Ma Ba Tha's stated mission to propagate Buddhism, as well as its charity work, Thawbita attended one of the group's founding conferences in Mandalay, convened by Wirathu in June 2013. He showed Frontier the membership card he received at the conference, which included his photo and personal details. However, Thawbita said he quit the organisation when he learnt of its anti-Muslim, nationalist tendencies.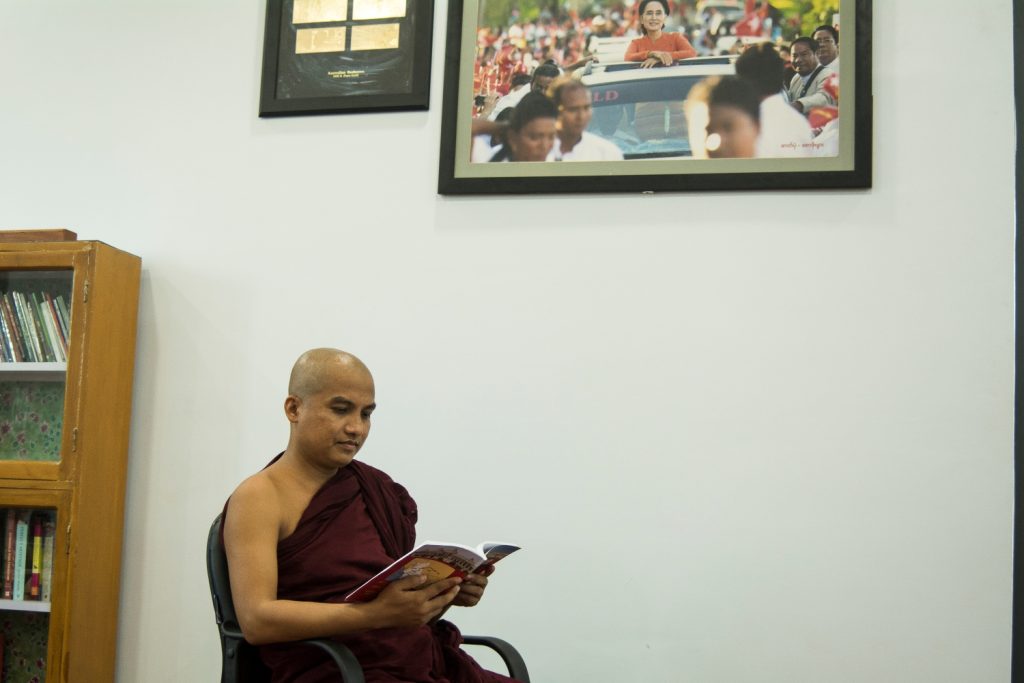 A divided Sangha
Theravada Buddhist monks are required by tradition to renounce the material world and shun involvement in secular affairs. But despite being barred from voting in elections, monks have a long tradition of political activism in Myanmar. They were prominent in the struggle against British rule and since independence many have been active in resisting authoritarianism, as they demonstrated in 1988 and 2007.
Activist monks have justified their involvement in politics by highlighting their role in preserving and propagating Buddhism, which depends on the symbiotic relationship between the Sangha and laity. The food, shelter, medicine and robes that devotees offer to monks enable them to sustain the teachings of the Buddha from which the laity derive spiritual comfort. Suffering and hardship arising from economic mismanagement under military rule affected the ability of devotees to support the monkhood. This situation motivated many monks to become involved in politics in the hope that they could help break the yoke of authoritarianism and bring about a democracy in which economic prosperity would help to maintain Buddhism.
The Burmese term for "boycott", thabeiq hmauq, is associated with activist monks because of its etymological connection to one of the most powerful acts of censure by members of the Sangha. It involves turning their bowls upside down to refuse offerings from those not considered worthy. In 2007, monks marched with their bowls upside down to symbolically demonstrate their refusal to accept offerings from members of the ruling junta and their families.
Activist monks were as likely as lay people to be arrested, jailed and tortured during the decades of military dictatorship. The junta's torturers would have them swiftly disrobed and addressed them only by their layman's name rather than monastic title. U Kawira, popularly known as Galoneni Sayadaw, incurred the wrath of the dictatorship by leading a "boycott committee" in Upper Myanmar during the 1988 national uprising. This committee, like others in the country at the time, directed civil affairs and organised security during the temporary collapse of government administration.
"I was arrested, disrobed and sentenced to death by a military court," Galoneni Sayadaw told Frontier at the Ngwe Ngar monastery in Mandalay. His death sentence was commuted to 20 years' imprisonment. "I served the sentence in full.".
However, the most politically active monks in recent years have been supporters of Ma Ba Tha, at the opposite end of Myanmar's political spectrum. The association was established by 125 prominent monks in early 2014 after a series of conferences in Yangon and Mandalay, which Wirathu helped to facilitate. He had been sentenced to 25 years' imprisonment in 2003 for outraging religious feelings over his hate speech against Muslims, but was pardoned by the military government in January 2012, the year when Rakhine State was twice wracked by communal violence.
Attracted by its name, vision and mission, which included charity work, propagating Buddhist teachings and operating Dhamma schools, large numbers of monks and laity joined Ma Ba Tha, which campaigned strongly against the NLD in 2015.
It was well known that Ma Ba Tha was patronised and funded by members of the Tatmadaw and the USDP. This was indirectly confirmed by U Ya Za, from Mandalay's Daw Ye monastery, who was active in the Saffron Revolution and later became a member of Ma Ba Tha. "So what if Ma Ba Tha was funded by the USDP? It's a charity organisation. Everyone was welcome to support Ma Ba Tha's mission and it is not fair to criticise the giving of donations to a Buddhist organisation," the monk told Frontier.
The close relationship between the USDP government of President U Thein Sein and Ma Ba Tha was highlighted by the enactment during 2015 of the four so-called "race and religion" laws that discriminated against Muslims, and which the association had strongly advocated.
During the election campaign period in 2015, Ma Ba Tha organised a string of public rallies across the country to celebrate the passage of the four laws. At these events, which drew tens of thousands of participants, Ma Ba Tha leaders made statements supportive of the Tatmadaw and USDP. They also attacked Aung San Suu Kyi for having married a foreigner and warned that the NLD had strong affiliations with Muslims, meaning that a-myo, batha and thathana (race, religion and the Buddha's teachings) would be threatened if the party was elected to government. Aung San Suu Kyi's British husband, Mr Michael Aris, a specialist in Tibetan Buddhism, died of cancer in March 1999, aged 53.
Communal feelings were so heightened in 2015, after Buddhist-Muslim rioting in Rakhine in 2012 and in other parts of the country in 2013, that the NLD chose not to select any Muslim candidates for the election that year, a decision that party spokesperson Monywa Aung Shin has attributed to "political reality" in the face of invective from Ma Ba Tha. "The party did not fear any organisation or individual but decided not to choose Muslim candidates because of the political situation at the time," he told Frontier on August 3.
The NLD's landslide victory was a humiliation for both the USDP and Ma Ba Tha. It showed the people's support for the NLD far exceeded that for Ma Ba Tha and its ultra-nationalist message. The NLD's triumph did not by itself signify a rejection of anti-Muslim bigotry, which the NLD has never directly confronted, but it nonetheless seemed to mark the beginning of the end for Ma Ba Tha.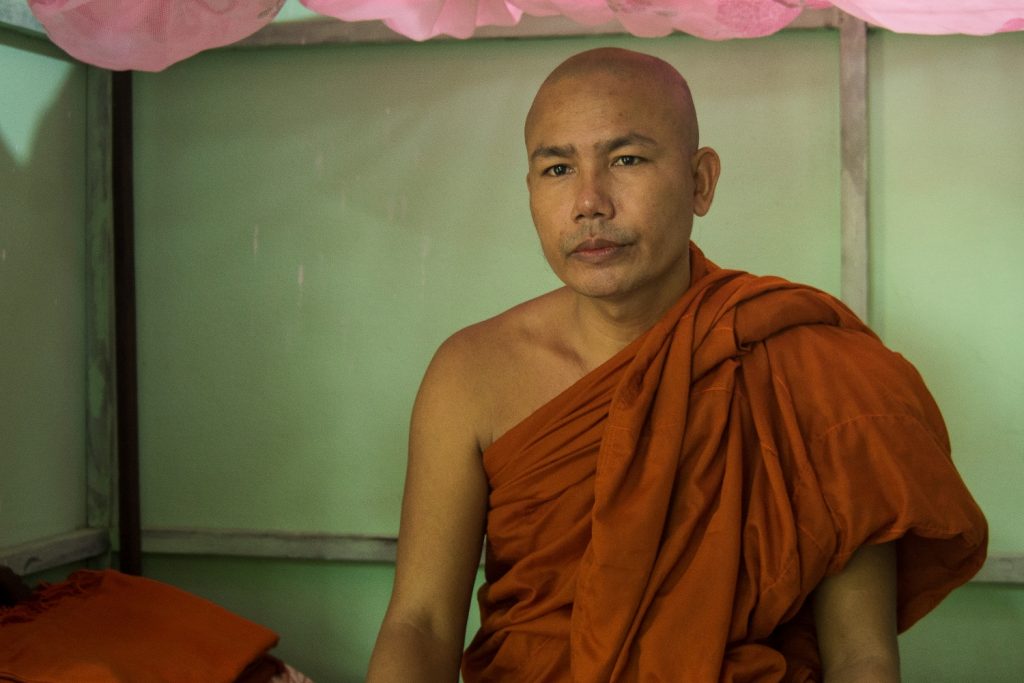 Is Ma Ba Tha gone for good?
"Ma Ba Tha was doomed from the beginning because its intentions were insincere," Kawira said. He said Ma Ba Tha's leaders were dishonest, politically motivated monks who used religion to create communal conflicts that served their interests.
"They became rich and powerful because of Ma Ba Tha, and this was their intention," he said. "Despite the name and mission of the association, Ma Ba Tha is a disgrace to Buddhism and a plague to all religions in this country."
Despite being humiliated by the NLD victory in 2015, Ma Ba Tha continued to foment hate speech against Muslims in general and Rohingya in particular on social media and in nationalist publications. Posts and articles defended the Tatmadaw's brutal "clearance operation" in Rakhine in 2017, which a top Union Nations human rights official described as a "textbook example" of ethnic cleansing.
As Wirathu continued to criticise Aung San Suu Kyi using language unbecoming of a monk, Ma Ba Tha's popularity began to wane, a likely factor in the decision by the State Sangha Maha Nayaka Committee in May 2017 to order the group to disband.
Among the monks who opposed the treatment of Ma Ba Tha was Ya Zar. In August of 2017 he was arrested for taking part in a demonstration in central Mandalay against the NLD government over its treatment of Ma Ba Tha. "We were holding a sit-in protest that was violently dispersed at 2am and I think it is fair to say that the NLD is dangerous for Buddhism because it oppresses monks," he said.
After the ban, Ma Ba Tha effectively rebranded itself as the Buddha Dhamma Parahita Foundation, with many of the same monks in leading roles. Despite ostensibly having more of a parahita (charity) focus, the group publicly criticised the government on nationalist lines, in much the same way as Ma Ba Tha had done. The State Sangha Maha Nayaka Committee consequently ordered it to disband in 2018.
Wirathu achieved notoriety in international media because of his inflammatory language, but it is not widely known that one of Ma Ba Tha's former leading members is one of the country's most influential monks, Ashin Nyanissara. Popularly known as Sitagu Sayadaw, he is widely admired for his outreach and charity work and took part in the 1988 uprising. Nonetheless, the former Ma Ba Tha vice chair has occasionally heaped stigma on Muslims, for instance by once stating, "Buddhists are hosts and Muslims are guests; the guests must obey the hosts". He also made comments supportive of Buddhism being made the national religion, and more progressive Buddhists have shunned him as a role model.
In November 2017, during the height of the Rohingya crisis, Sitagu Sayadaw delivered a sermon at the Tatmadaw's Bayintnaung garrison and military training school in Kayin State during which he cited a passage from the fifth century Sri Lankan chronicle, the Mahavamsa, which has been interpreted as justifying the slaughter of non-Buddhists.
After a Yangon court issued a warrant for Wirathu's arrest for sedition over his slandering of Aung San Suu Kyi, Sitagu Sayadaw said while leaving a public sermon in Mandalay on May 28, 2019, "Where is Wirathu? He is my comrade."
Wirathu's whereabouts have been unknown since he became a fugitive from justice after the warrant was issued.
Senior scholarly monks who openly support Aung San Suu Kyi and the NLD have played an important role in countering the influence of Ma Ba Tha.
Among them is U Arriyawuntha, abbot of Mandalay's Myawaddy Mingyi monastery and popularly known as Myawaddy Sayadaw, who has taken the rare step of publicly criticising Sitagu Sayadaw for making discriminatory comments.
"Most monks are intimidated by the fame and authority of Sitagu Sayadaw," he told Frontier in an interview on August 25. "Scholarly monks such as myself who can provide well-constructed criticism that accords with Buddhist philosophy are much needed."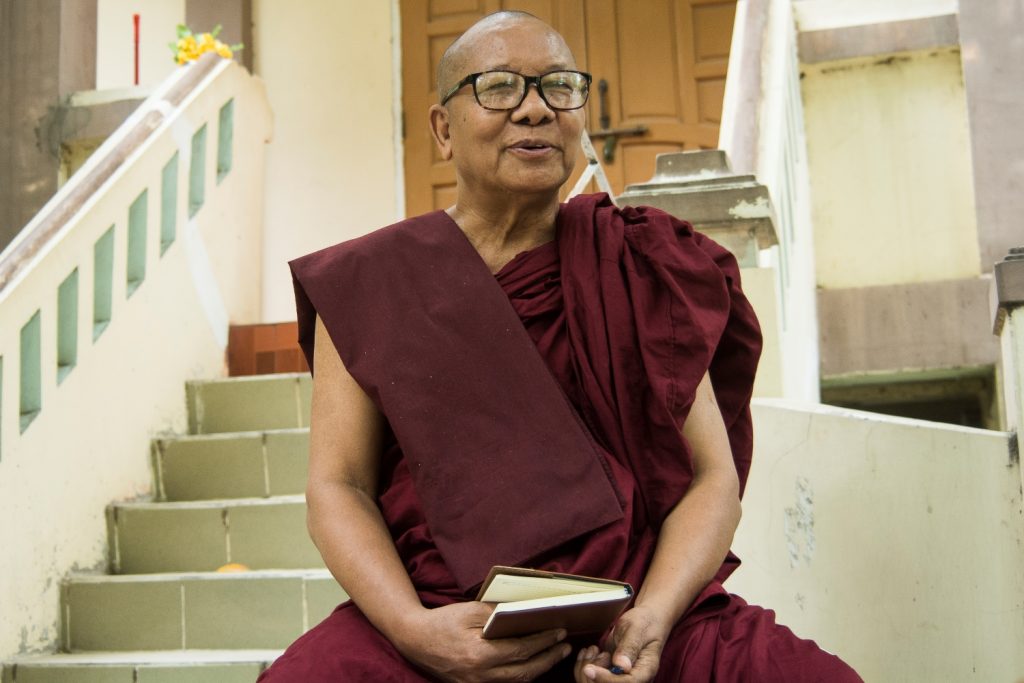 With Wirathu on the run and its leadership unable to organise openly, it is unlikely that Ma Ba Tha will re-emerge ahead of the November election.
Galoneni Sayadaw, Myawaddy Sayadaw and Thawbita are confident that Ma Ba Tha is gone for good. "It is finished; it could not achieve its aims in 2015 even though its patron, the USDP, was in power," said Myawaddy Sayadaw.
Thawbita said there might be lingering appeal for Ma Ba Tha in Kayin State, where its leadership was based before it was banned.
However, many of Ma Ba Tha's leading monks continue to be locally influential abbots at monasteries across the country and can disseminate a nationalist message to their followers with ease. On a trip in September to Pyawbwe Township, a rare stronghold of the USDP in southern Mandalay Region, Frontier was told that many of the village monasteries were headed by former members of Ma Ba Tha. A villager said he had stopped attending his village monastery because "the abbot is giving sermons about nationalism and politics". Moreover, Buddhist nationalism still has a prominent proponent in the form of Sitagu Sayadaw, among other monks who have the generous backing of the Tatmadaw.
Former Ma Ba Tha monk Ya Za said members of the banned group were lying low and focusing on charity work, but suggested they still tried to influence voters to support parties and candidates with nationalist platforms. "I urge voters to support candidates who will work in the best interests of race, religion and the Buddha's teachings," he said.