Shorter, modern hairstyles are cutting into the profits of Yangon's longstanding hair market.
By PETER JANSSEN | FRONTIER
"Wait, don't cut it. It's shorter than you said it would be," said an irritated Ko Phyo Maung Maung, 31, bringing to an abrupt end his wife's haircut after one snip. Barbers at Insein market pay to cut their customers' hair, rather than the other way round, and some clients change their minds at the last minute. "He didn't allow me to do it but we still need the money," said Ma Naw May Thet Htoo, 24, Ko Phyo Maung Maung's wife.
The couple had married a week earlier and desperately needed money to pay the rent on the small room that costs them K47,000 (about US$36.50) a month. The rented room was a necessary but unexpected expense because their parents and families disapproved of the union. "My sister is so angry at me she refused to lend us money," said Ma Naw May Thet Htoo, a Christian who works for the Fisheries Department. Her husband, a garment salesman, is a Buddhist.
With nowhere else to turn for quick money, Ma Naw May Thet Htoo thought of the Insein hair market, where you can earn K20,000 or more for about 20 inches of your hair in the time it takes to cut it off. But it requires a certain sacrifice of physical beauty. "We'll figure something else out," said Ko Phyo Maung Maung, putting his arm over his wife's shoulder as they left the market in the northern Yangon township best known for notorious Insein prison.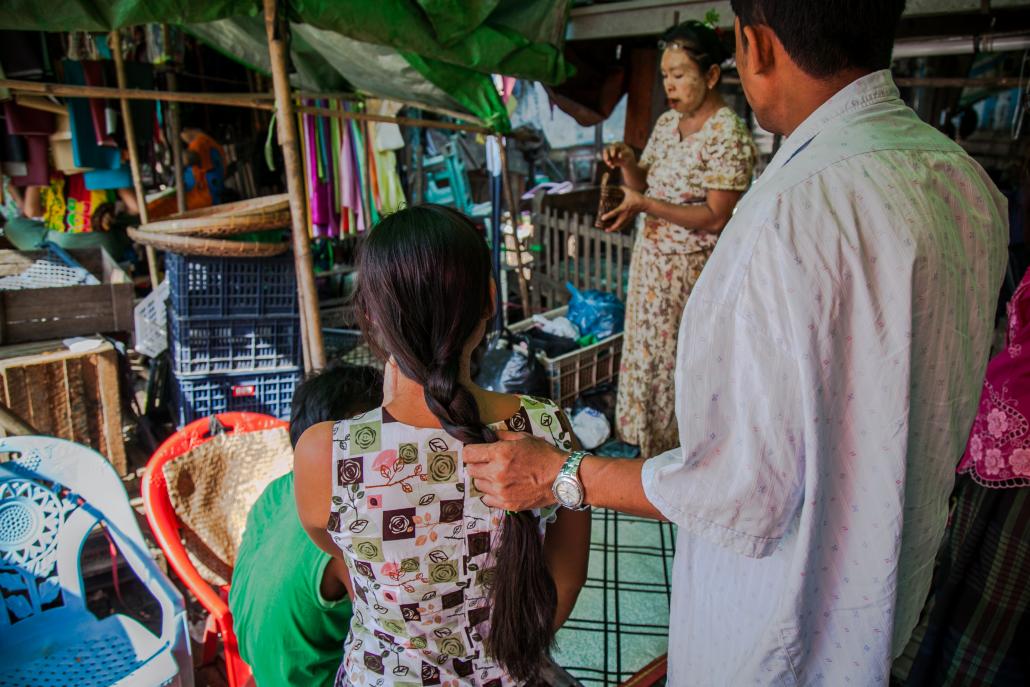 Insein market is Yangon's main trading centre for hair, a sought-after commodity among the swiftly-ageing and follicle-challenged citizens of Asia, and even Africa and Europe. In a country where small loans are notoriously difficult to arrange in the formal market, selling hair has long been a means of raising quick cash to pay the rent and buy medicine, baby food and other necessities.
In predominantly Buddhist Myanmar, sacrificing hair has also been a respected means of raising money to make donations for temples and monasteries. Women take pride in shearing their beautiful locks as a sign of humility and self-sacrifice for the sake of religion. "We have been collecting loose hair from our combs for the last year," said Daw Khin Ohn Myint, an elderly matron who lives with her husband and two female relatives. "We will use the money to buy robes for nuns to mark the end of Kathein (Buddhist Lent)."
The bundles of hair are weighed on scales at the Ba Thein hair shop, as they are at other barbers at Insein market. The unit of weight used is a viss, equal to 1.63 kilograms or 3.6 pounds. An ancient 5 viss weight at the shop is stamped "Made in Burma", harking to the days before the junta changed the name of the country to Myanmar in 1989. Daw Khin Ohn Myint was paid K15,000 for her ball of hair weighing less than one-tenth of a viss. It was enough to buy three nuns' robes.
"When you get about 600 to 700 kilograms of hair you send it to Muse by car. I've never heard of Indians buying hair, just Chinese."
In 2009, about 100,000 Myanmar women famously donated 2,400kg of hair to raise funds to repair 16 bridges on a 26-kilometre road leading to the isolated Alaungdaw Kathapa Pagoda in Sagaing Region. Most of the women who go to Insein market to be parted with their tresses are motivated by economic necessity. "Out of 20 customers who come here, maybe 15 do it because they need the money, and the other five do it for making merit," said Daw Aye Aye Thein, 52, the owner of the Ba Thein hair shop, that sports the advertisement, "Buy Hair at a Good Price."
Daw Aye Aye Thein, who has been in the hair trade for the past seven years, does not pretend to be in the merit-making business, although she dutifully gives K100 notes to the monks and nuns who pass her shop with their alms bowls. "I donate about K1,000 out of my earnings a day," she said, estimating her daily profit from buying and selling hair at between K5,000 and K10,000, well above the daily minimum wage of K3,000. "This is an easy way to take care of my family of five," she said of her career choice. Her only son, Ko Aung Myint Oo, 25, helps out in the shop, weighing the hair on the antique scales and setting the prices, determined by length, weight, colour, softness and curliness. The going price for one-tenth of a viss is about K20,000. A viss fetches about K200,000.
There are about 10 hair buying businesses at Insein market and competition is stiff. "It gets harder every year," said Daw Aye Cho, 40, a hair merchant. "There is more competition and fewer customers with really long hair. When I get a customer with really long hair, more than 40 inches, I call up the buyers and sell it right away," Daw Aye Cho said. Ko Aung Myint Oo agreed that it is becoming harder to buy longer hair in swiftly modernising Yangon. "Last year we had about 20 samples of hair over 40 inches long. This year we've had only five," he said.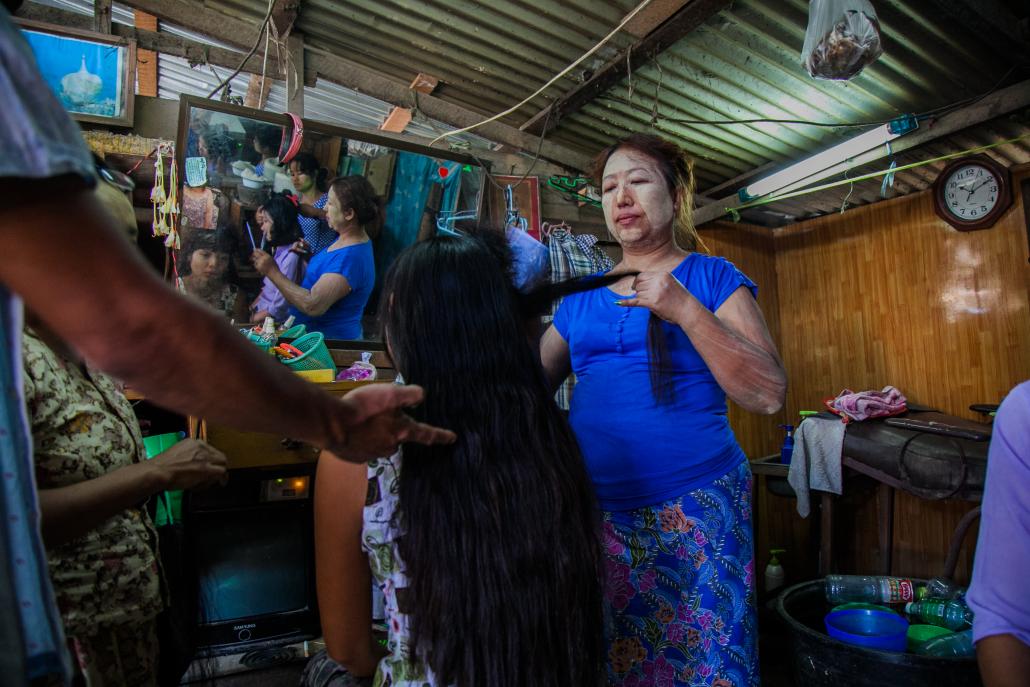 Myanmar women were once famed for hair waist-length or longer, deemed one of the key attributes of female beauty. The others are fleshiness, fair skin, good bone structure and elegance, according to Myanmar love lore. Nowadays, at least in Yangon, women are opting for more practical hair lengths as they take on factory and office jobs and are influenced by foreign fashion trends, especially from Japan and South Korea. "I hardly ever get a customer with long hair anymore, maybe two or three per year," said Ma Ei, owner of the Adorable One hair dresser salon at Insein market. "Most women keep their hair shorter because it's easier to take care of."
Most of the hair harvested in Myanmar, either in Yangon or Mandalay, is destined for the insatiable China market via the Shan State border town of Muse. "When you get about 600 to 700 kilograms of hair you send it to Muse by car," said U Kyaw, 46, a hair merchant middleman who buys from the Insein shops. "I've never heard of Indians buying hair, just Chinese," said U Kyaw, who has been in the business for 20 years.
A new marketing vehicle for the industry has been the internet, which is used to arrange sales with buyers throughout the world. "My best selling season is the two months before Chinese New Year," said U Min Zaw Oo, managing director of the Tet Nay Lin Co., Ltd, which advertises hair sales online. The company was established in 2008. Like his street-based colleagues, U Min Zaw Oo has been hit by the scarcity of longer hair in recent years. Since 2010 he has focused more on shorter hair for African clients. Merchants In China buy shorter hair to make fake mustaches and eyebrows, he told Frontier.
Title photo: U Kyaw, hair merchant, assesing the day's haul at Insein market. (Nay Mone / Frontier)