A prominent filmmaker behind bars for lampooning the Tatmadaw may become best known for nurturing a new generation of movie artists.
By BEN DUNANT | FRONTIER
"This country was built with jealousy
In 1947, Galon U Saw was jealous of U Aung San
As of 2016, Galon U Saws are still jealous of U Aung Sans."
So wrote U Min Htin Ko Ko Gyi, the 56-year-old filmmaker and founder of the Human Rights Human Dignity International Film Festival, in a poem called Jealous Nation that circulated on Facebook in late 2016.
For those with more than a basic grasp of Myanmar's history, the filmmaker was not being especially subtle. "Galon" U Saw was an ambitious politician who served as prime minister under British colonial rule and was hanged for allegedly directing the assassination of his rival, independence hero Bogyoke Aung San, in July 1947.
The name of U Saw, who rose to prominence at a time when Burma's burgeoning domestic politics was defined by ruthless factionalism, has survived as a byword for all that is most cutthroat and grasping in Myanmar's political culture, whereas Aung San is still promoted as a symbol of unity and enlightened rule.
In 2016, the hero's daughter, Daw Aung San Suu Kyi, fulfilled what many in Myanmar considered to be her destiny as Aung San's heir when she become the de facto head of government following the landslide election victory of her party, the National League for Democracy. However, her powers as State Counsellor are circumscribed by the Tatmadaw, which still clings jealously to several key powers and prosecutes wars with little civilian oversight.
The Tatmadaw's lingering power has been felt keenly in recent months, with a slew of criminal complaints lodged by military officers against citizens who have publicly criticised the armed forces. Pliant courts have briskly prosecuted these cases, with judges refusing bail for defendants. The current inmates of Yangon's Insein Prison include seven members of a youth theatre troupe, Peacock Generation, who had satirised the Tatmadaw in street-side poetry performances during the Thingyan festival in mid-April, as well as Min Htin Ko Ko Gyi.
The filmmaker was arrested in Yangon on April 12 after Lieutenant-Colonel Lin Htun of Yangon Command filed a complaint against him in retaliation for a recent series of Facebook posts that lampooned the Tatmadaw and decried its continued role in politics. Min Htin Ko Ko Gyi was in a frail condition, having undergone surgery for liver cancer at the start of the year, and his supporters fear that his health may deteriorate in prison.
The filmmaker and the performance poets, who belong to very different generations, face charges under the same colonial-era statute, section 505a of the Penal Code, which criminalises anyone inciting an armed service member to mutiny or disregard their duties and entails a maximum two-year prison sentence.
During a session at Insein Township Court on May 23, Min Htin Ko Ko Gyi was alert, despite his chronic ill health. Seated handcuffed between two police officers, and easily recognisable with his trademark goatee, ponytail and black thick-framed spectacles, he listened attentively to the proceedings and spoke occasionally to his lawyer. The courtroom was stiflingly hot and cramped, with space for fewer than a dozen spectators, among them friends and staff from Western embassies.
With lime-green paint flaking from the walls and songbirds darting in and out of the upper windows, the room seemed to reflect the decay of the judiciary under military rule. Across the inner yard of the British-built courthouse, the centrepiece of which is a wire-fenced pen of impounded motorbikes going to rust, was the section of the building that hosts Yangon's Northern District Court, where Reuters journalists Ko Kyaw Soe Oo and Ko Wa Lone were tried and sentenced last year. Several dozen supporters and journalists had gathered in the yard, as they did during the Reuters trial. Police officers had pushed Min Htin Ko Ko Gyi hastily through this crowd when he arrived in a prison van.
Printouts of the Facebook posts that sparked the case against Min Htin Ko Ko Gyi were put before the judge, who cooled himself with a wicker fan while the defence lawyer, U Robert San Aung, grilled a young Tatmadaw officer in the witness dock about his knowledge of classic Myanmar poetry. No, the army captain said, barely audible above the clatter of the clerk's typewriter; he was not aware of the poems of Thakin Kodaw Hmaing or the literary genre of myitta sa. Robert San Aung argued that Min Htin Ko Ko Gyi's acerbic posts should be considered as part of the myitta sa tradition of criticising the powerful while expressing devotion to the country.
"Daw Sein Aye is the mother who gave birth to cheaters, thieves and killers," read one Facebook post by Min Htin Ko Ko Gyi dated February 15, "Daw Sein Aye" being a possible reference to the Defence Services Academy in Pyin Oo Lwin, where elite Tatmadaw officers are trained, and which shares an acronym with Daw Sein Aye, a generic Burmese woman's name.
A friend and a former student of Min Htin Ko Ko Gyi's, both filmmakers, told Frontier that they had feared he would meet trouble, given how forthright he had become on Facebook in criticising the Tatmadaw. Mr Moses Marks, who is from Yangon but lives abroad, said he "wasn't surprised at all" when he heard of his arrest; he and other friends had implored Min Htin Ko Ko Gyi to tone down his online criticism, to no avail. Ko Pyae Zaw Phyo, the 30-year-old former student whose film The Dark Cinema debuted in cinemas in April, said because Min Htin Ko Ko Gyi is "a well known person", he expected that his words would have consequences.
However, according to Pyae Zaw Phyo and two other of Min Htin Ko Ko Gyi's former film students, he is foremost an artist rather than an activist. Despite his longstanding reverence for Aung San Suu Kyi, and his continued close friendship with senior figures in the 1988 democracy movement such as Paw Oo Tun, better known by the alias Min Ko Naing, and "Zarganar" U Thura, Min Htin Ko Ko Gyi has been more preoccupied with nurturing a new generation of stellar filmmakers than political activists.
At the Human Dignity Film Institute that he founded in Yangon, Min Htin Ko Ko Gyi taught 36 students between 2013 and 2015. Ko Kaung Sint, 24, who was part of the initial batch at the institute and is directing his first feature film, said Min Htin Ko Ko Gyi would never direct his students to probe a particular social issue. Instead, he would encourage them to pursue their own ideas and dabble in any genre, even if it were the slapstick comedy that is the mainstay of lowbrow popular cinema in Myanmar, so long as it was done with conviction. "If you make a comedy, you should be serious about comedy," Kaung Sint said to Frontier, recalling the attitude of his mentor.
Ma Kyal Yi Lin Six, 33, described her former teacher as an "artistic" man of few words, often lost in thought, who is stubborn in his principles but is "very patient with his students". She told Frontier that his 2010 documentary Inn Thi (meaning "lake fruit", but whose English title is The Floating Tomatoes), about the lives of tomato cultivators on Inle Lake in Shan State and the threat posed by the excessive use of chemicals on the lake's floating gardens, had initially inspired her to make documentaries because of its focus on the struggles faced by ordinary people. Kaung Sint said that despite Min Htin Ko Ko Gyi's austere manner, his generosity was unfailing. "We could always sleep at his office," he said.
Pyae Zaw Phyo said Min Htin Ko Ko Gyi had worked hard to help him, Kaung Sint and another student filmmaker Ko Phyo Zayar Kyaw secure funding to make the feature-length documentary Kant Lant Pyat ("Across"), about the twin oil and gas pipelines that traverse Myanmar from the Rakhine State coast to China's Yunnan Province. The 2015 film featured local perspectives on land appropriation and environmental risks linked to the major strategic project.
Min Htin Ko Ko Gyi's students also helped him put on the Human Rights Human Dignity film festival, which ran annually between 2013 and 2017 and featured foreign-made documentaries as well as Myanmar documentaries, shorts and animations. They also helped take the festival on tour throughout the country. Large crowds came out in places such as Bilin in Mon State and Salin in Magway Region to watch films about sensitive topics ranging from land grabs to child abuse.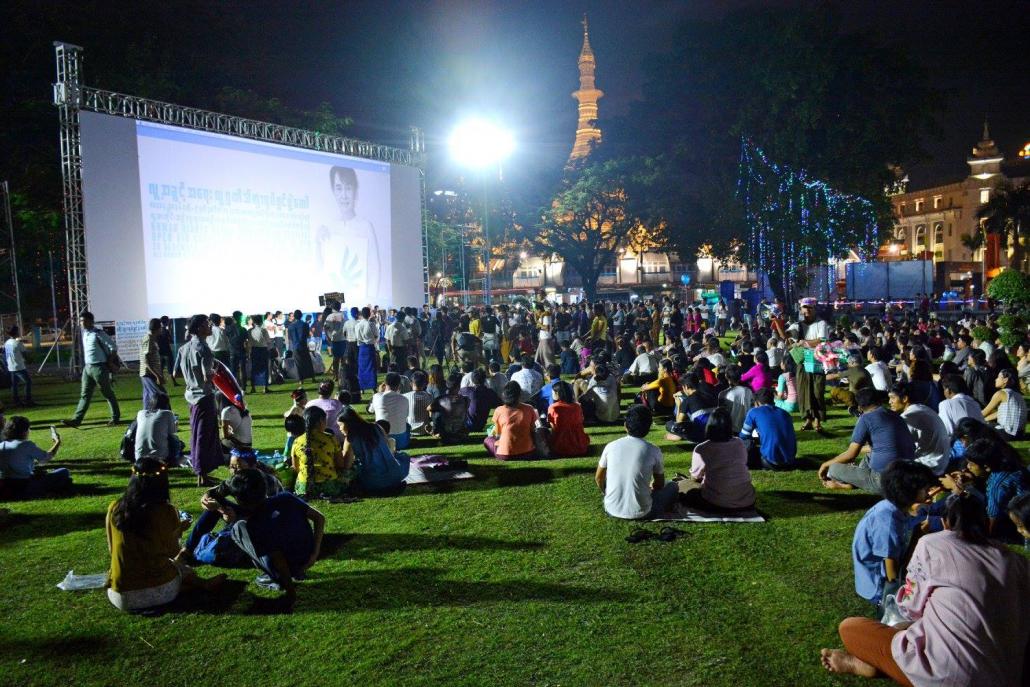 "Sometimes we were worried that because the films lacked celebrities, no one would come," Pyae Zaw Phyo said. "But they came and enjoyed the films, and could see their own problems [onscreen]." A screening of the film Kant Lant Pyat in Kyaukme, a township in Shan State that the China-bound pipelines pass through, was particularly memorable; after the screening Pyae Zaw Phyo and his co-directors were hit by a barrage of questions from locals in the audience who had previously been told little about the pipeline project.
He said that though local government officials were often inquisitive about the film screenings, and Special Branch police officers would sit through them scribbling notes, the travelling festival proceeded each year without any serious repercussions, making it a landmark for artistic freedom.
Min Htin Ko Ko Gyi's students said he largely kept quiet about two high-profile projects – a documentary about Aung San Suu Kyi that began in 2012 with brief filming sessions built around her busy schedule, and a biopic of her father Aung San, in which Min Htin Ko Ko Gyi was involved as a writer and director. Pyae Zaw Phyo said that the Human Rights Human Dignity festival wound down after 2017 in large part because of his increased workload connected to the Aung San film, but that he had since left the project, which is being led by a high-level government committee.
While the Aung San Suu Kyi project remains dormant, his filmmaking was showcased in Yangon on June 4 at an event organised by former students and colleagues and attended by luminaries in the worlds of film and political activism, including his old friend Min Ko Naing. A marathon screening of 30 short films, each based on a different article of the Universal Declaration of Human Rights, grounded the often-abstract human rights principles in the Myanmar context.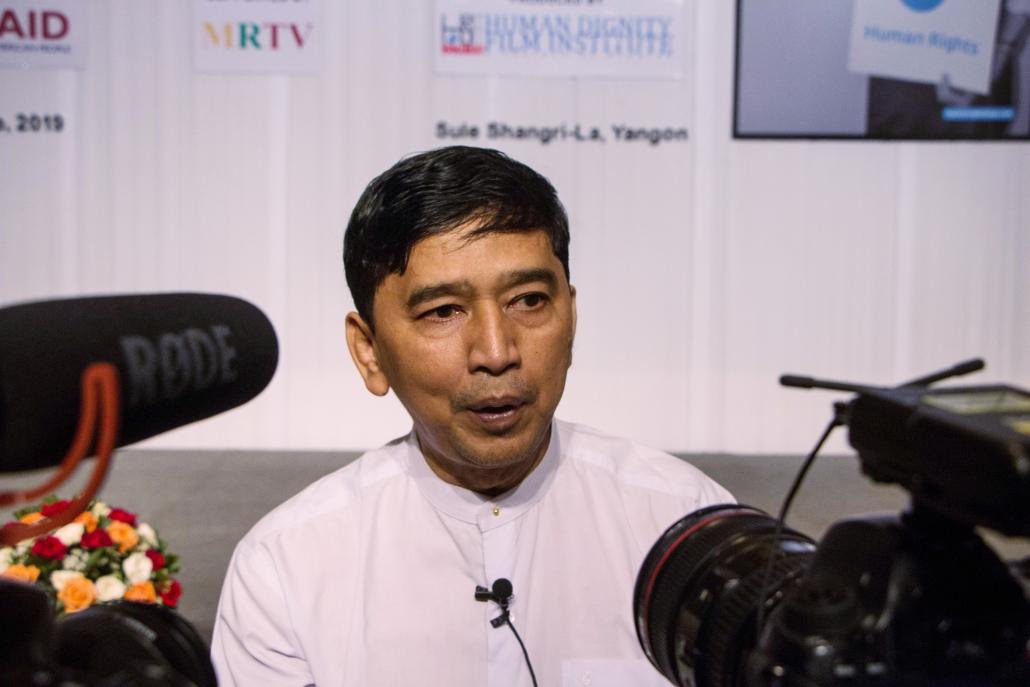 The films, which Min Htin Ko Ko Gyi wrote and directed last year, presented several national institutions as being riddled with corruption and injustice, and the courts were not spared. In one film, a dissident accused of treason is tried in a closed "special" court. Refusing to retain a lawyer because he believes it will do him no good, he is duly sentenced to death. In another, a man walks out of a police van in handcuffs, shouting, "The laws in Myanmar are not fair or just!" As he is escorted into the court, another man is taken out of an expensive-looking private car, and his lawyer assures him that all the "strings" are being "pulled" to ensure his release.
A statement "to the international community", released in Min Htin Ko Ko Gyi's name on May 22, said that the case against him made it "clear that the military is meddling in the legal matters of the country in an unlawful manner", adding, "no criticism should be made against Daw Aung San Suu Kyi for not getting involved".
Although stuck behind bars, and despite grave concerns about his health, the filmmaker appears determined to stick by the defiant words that invited the Tatmadaw's anger, and to keep calling out the Tatmadaw's jealous grip on power.
"We worry about his health," said Moses Marks, speaking to Frontier on June 12 after visiting him in prison. "But mentally, he's fine. He's ready to face anything."
TOP PHOTO: A handcuffed U Min Htin Ko Ko Gyi is escorted by police at Insein Township Court on June 20. (Thuya Zaw | Frontier)