Bankers say they are facing threats of nationalisation or forced reopening as the military regime grapples with an industry-wide strike, but a lack of physical cash also looms as a potential crisis point.
By FRONTIER
The military government and Central Bank of Myanmar are ramping up threats against banks to break a strike that has brought the sector to a standstill, with the country's largest private bank indicating it is facing threats of nationalisation or a forced reopening.
In recent weeks state media has carried repeated warnings that recalcitrant banks will face "legal action", while a purported letter from Senior General Min Aung Hlaing's State Administration Council to the Central Bank that leaked online says private banks that fail to reopen could be forced to transfer some accounts to military and state-run institutions.
The letter also hints at further action against banks that fail to comply, saying it "will not take responsibility for any consequences".
More recently, the Central Bank has written to banks warning them they will face escalating financial penalties if they don't open at least 50 percent of branches this week, industry sources say.
The pressure is having some effect, with most local private banks slowly starting to reopen a handful of branches. However, the majority remain closed and services are limited, with caps on customers and withdrawal amounts.
KBZ, which is the country's largest local private bank with around 40 percent of total assets, had just five branches officially open in Yangon on March 23, out of 144 listed on its website. Each branch was serving 50 customers each through a token system, according to the bank.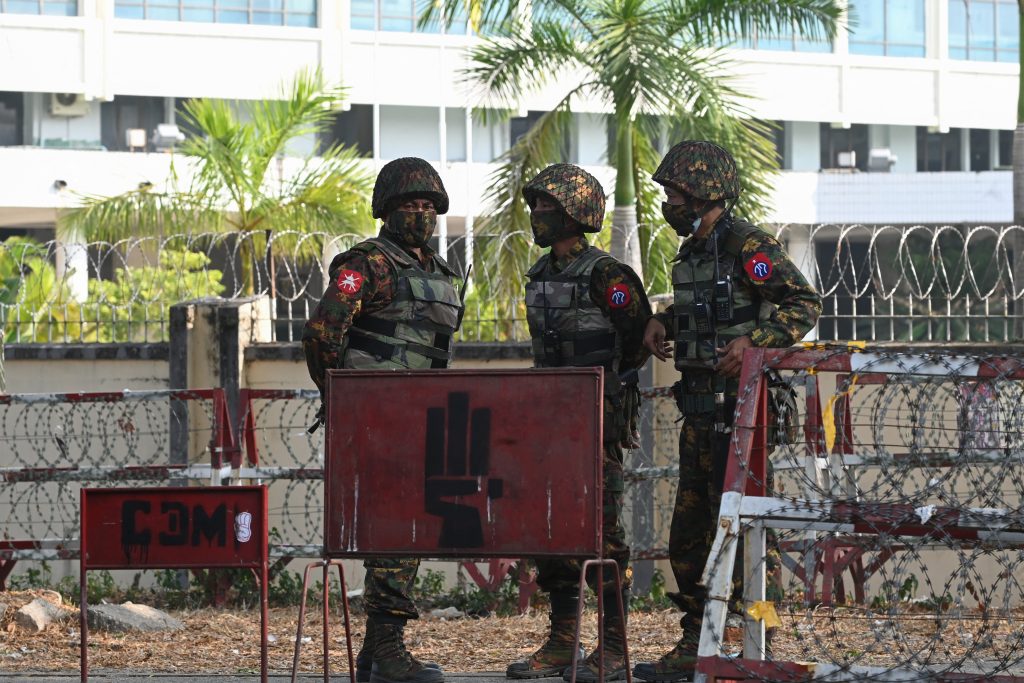 Threats and warnings
Nearly all of Myanmar's private banks have been closed since February 8, when rank-and-file workers joined the Civil Disobedience Movement calling for an end to military rule. The closure of close to 2,000 private bank branches has made international payments, withdrawals and interbank transfers all but impossible, leaving customers reliant on internet banking and ATMs.
The shutdown has had a huge impact on the broader economy, affecting everything from international trade to payroll, and left many businesses and individuals short of cash. The closure of bank branches has also been a visible expression of grassroots opposition to the February 1 coup, undermining the legitimacy and authority of the regime.
But since the start of March the military and regulators have grown more aggressive in their demands for banks to reopen.
On March 5, the Central Bank wrote to private banks insisting that "in some major cities the situation is favourable for banks to reopen", and instructed them to make preparations for reopening from March 8.
However, the only institutions to reopen on any scale appear to be state-run Myanma Economic Bank and military-owned Innwa Bank. Even Myawaddy, another military-owned bank, has remained mostly shut. 
The exceptions have been in Rakhine State, which has been largely unaffected by the protests, and the capital Nay Pyi Taw, where a handful of private bank branches reopened.
On March 9, the SAC then wrote the Central Bank, saying that farmers were facing problems because traders were unable to pay them due to the bank closures. To "ease the difficulties" of farmers, it ordered the Central Bank "to arrange a plan for traders to take money out of their accounts at private banks which have not yet reopened", and to do this through MEB, Innwa Bank and Myawaddy Bank. It also told the Central Bank to take "action" to ensure private banks resume offering services "immediately".
Speaking at a press conference on March 11, Deputy Minister for Information Brigadier-General Zaw Min Tun said the SAC had been "discussing" with the CBM and private banks how to reopen "as soon as possible".
Central Bank Deputy Governor U Win Thaw declined to comment on the March 9 letter. "I don't want to say anything at the moment. It's not a good time to say everything I want to say. I will give a comment when I can," he said.
On March 12, the state-run Kyemon newspaper then carried banners on its front page warning that "banks need to operate in accordance with rules and regulations and action must be taken against non-compliant banks in accordance with the law".
That same day, the country's largest private bank, KBZ, sent a letter to its 18,000-strong workforce suggesting that it is facing the prospect of nationalisation or the Central Bank forcibly reopening its branches.
"While we remain committed to respecting our employees' freedom of expression, we are also in a no-win situation where if we do not open, the regulator will step in and open the bank for us," said the letter, which was provided to Frontier by several staff.
"We understand that many of you would prefer if we don't reopen. However, the reality is that your interests and our customers' interests are best served if we take the route of opening the bank ourselves, not by an external party, and remain as a private bank."
A spokesperson for KBZ declined to comment further on the letter or the bank's situation. 
Section 36(d) of the constitution forbids the nationalisation of private businesses, and a senior executive at another bank told Frontier they did not think the military would actually follow through on the threats.
"I think [nationalisation] is more a threat than a real risk," the source said. "It serves no economic interest for the country or for the military. They would then have to run the bank and they wouldn't be able to … it would cripple the economy."
The source said the Central Bank seemed to be doing its best to act as a buffer between the military and the private banks. "I've personally found the CBM to be sensible," they said. "Their action has been quite mild. They've communicated the need to open branches but they haven't been very forceful."
Nevertheless, some banking experts have expressed alarm at the Central Bank's attempts to force local private banks into reopening, accusing it of siding with the military regime rather than remaining independent as it is supposed to be under the Central Bank of Myanmar Law.
One former banker said the CBM should have "taken a stand" against the military's interference in the sector. "They're supposed to be a regulator and supposed to be impartial, but now they're picking a side."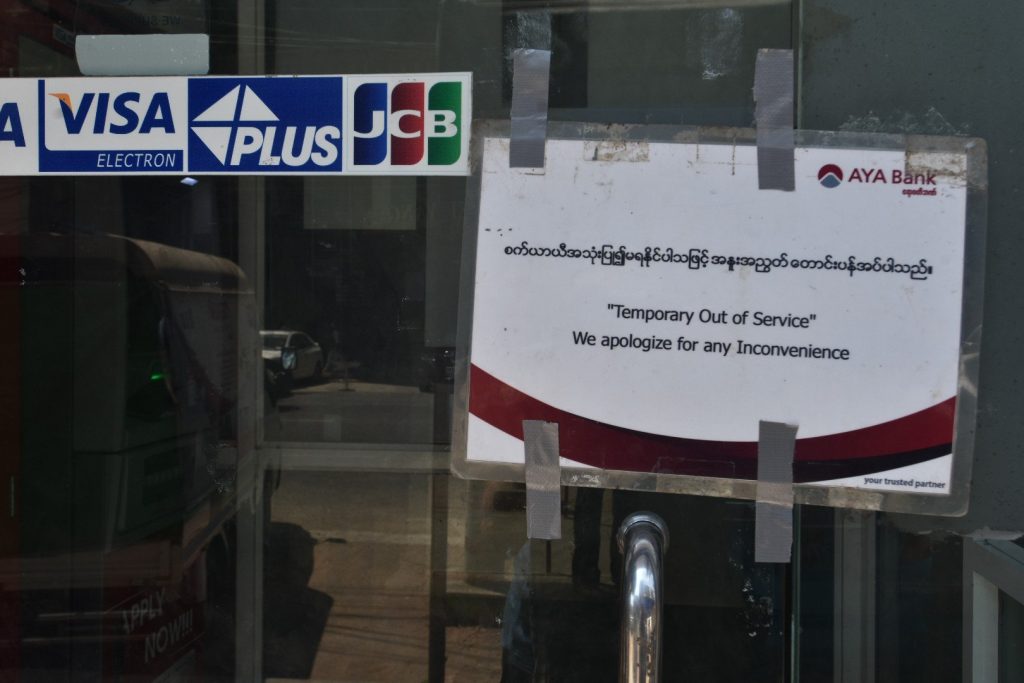 Staff push back
Even if banks want to reopen more branches they will face huge challenges, not least of all in convincing staff to come back. Several told Frontier they had no intention of going back to work while the military was still in charge.
Others do want to return to work, but are worried about being publicly shamed by online activists, who believe that crippling the banking system could help force the military from power.
To prepare for reopening, KBZ last week sent a survey to staff informing them they could take three days of paid leave, from March 15 to 17, but if they refuse to work beyond that they will be placed on unpaid leave.
Similarly, AYA Bank sent a notice to staff on March 17 advising them to inform the bank by March 21 if they would be able to return to work. Those who choose not to work will receive three days of paid leave, after which they will be put on unpaid leave. After 30 days of unpaid leave, staff "will be dealt with according to the labour law", the letter said, suggesting their employment may be terminated.
Frontier spoke to several KBZ staff and all said they responded they would not be returning to work.
Some were emphatic that they would not return while the military was in charge. "F*ck the coup and all its affiliates," one said.
For others, the decision was more difficult. One said the March 12 letter to staff seemed like a "warning", and differed in tone from an earlier "invitation" to work from March 3 to 5.
"I'm not sure what to do. I want to continue in CDM but I'm not sure what will happen if I do. I'm worried about not having my salary or even getting fired," said one employee, who eventually decided not to return to work.
"I've decided to continue participating in CDM. So far I haven't been fired, but I don't know what will happen in future," said another staffer, who declined to give the name of their bank. "I understand that CDM is important for the country's future, so I'm going to participate as much as I can."
Another bank worker, who also asked not to mention the name of their employer, said they hadn't received any information from their employer about returning to work. "So far we've been paid. I'm still working a little bit from home, but it's hard when there's no internet access," he said. "As well as staff, you also need a reliable internet connection to open the branches again."
One staffer from Myanma Apex Bank said that many of the workers needed to open branches are on CDM. "Even the workers from the call centre are taking part in CDM. At the moment we're not sure when we'll be able to reopen our branches," he said.
Although few branches of any bank have reopened, Win Thaw insisted to Frontier that the number was "gradually increasing". "Banks have to consider the security issues and their employees have also joined CDM. But they want to resume banking services because they have to spend a lot of money on staff salaries and branches," he said. "So, they are organising staff and reopening branches as much as they can."
Speaking at a press conference in Nay Pyi Taw on March 11, a Central Bank official said that 490 branches – around a quarter of all private bank branches – had already reopened.
But industry sources disputed this, with one telling Frontier that the number that had opened by that point was "likely less than 10pc", including those of the two military banks.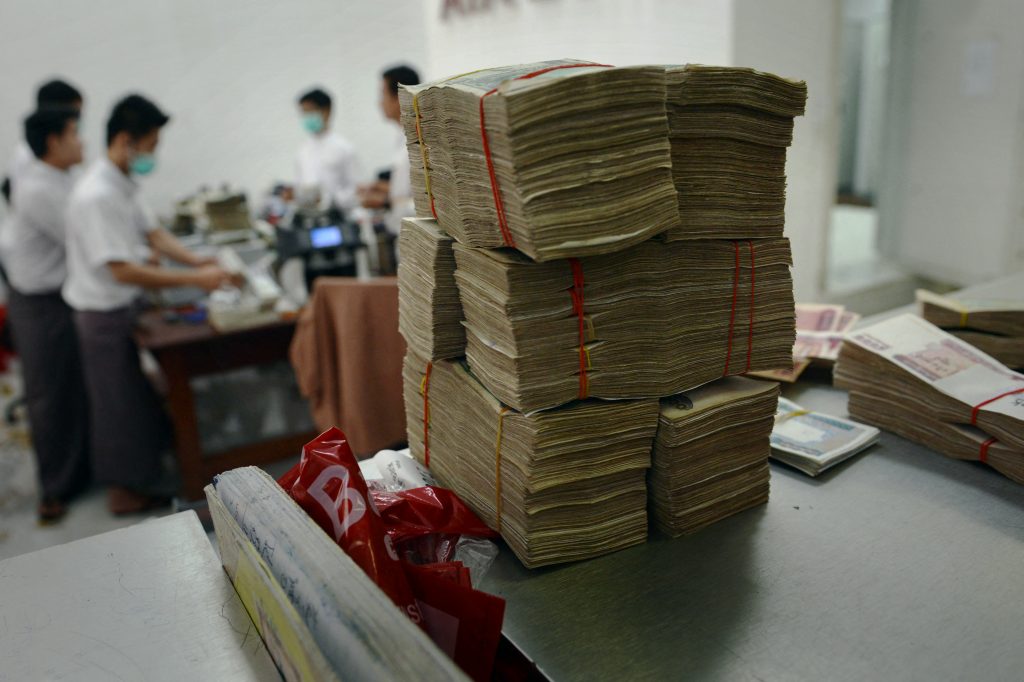 Cash shortages?
Another difficulty is meeting demand from depositors, many of whom are likely to try and withdraw money as soon as they get the chance.
When Myawaddy Bank tried to remain open after other private banks closed, it was overwhelmed with customers trying to withdraw money, and had to put in place limits on the number of customers its branches would service a day and the amount they could withdraw. Eventually it closed completely.
At the end of February, the Central Bank put in place cash withdrawal limits of K2 million a week for individuals and K20 million for businesses and organisations, but even with these limits, banks may struggle to stay liquid.
Sources in the industry say the Central Bank does not seem willing or able to offer liquidity support in the case of a bank run, but that reopening without such support could potentially leave them unable to meet depositors' demands.
At the March 11 press conference, deputy minister Zaw Min Tun insisted that there was no truth to rumours the banks were running out of money. "Money isn't kept in the banks – it's in different locations where it should be," he said. "But banks have enough money. They have trillions of kyat and there's no need to worry about that."
One banker said that while local private banks were generally capitalised enough to survive an immediate rush for deposits – particularly given the withdrawal limits – a lack of physical cash was causing major headaches.
In the current circumstances "no one is putting money back into the banking system", he said. "Everyone is holding onto cash for their own businesses. A lot of cash has been taken out of circulation and put under mattresses."
But the Central Bank has also so far been unable to provide banks with cash in sufficient quantities. "I'm not sure if it's because of CDM at the Central Bank or the logistical challenges of moving [cash] around, but when we request to withdraw money it's always less than what's needed.
"Banks might not have the physical cash to deliver to customers when needed … If there is a banking crisis, I think that's where it's going to come from."