Defectors and prisoners of war can be a valuable source of information to resistance forces, but intel can be difficult to verify, and they sometimes become a burden to their hosts.
By FRONTIER
Ko Thet* had wanted to desert the military since 2016 but it was only five years later, after the coup, that he could finally seize the opportunity – thanks in part to a tip from his mother.
As an ethnic minority, he felt ostracised in the Bamar-dominated Tatmadaw but rose to the rank of captain and aircraft engineer, gaining valuable experience he has since shared with anti-junta forces. These days, he's putting his training to good use as a sniper in the Cobra Column, a resistance group in Kayin State under the joint command of the parallel National Unity Government and the Karen National Union, one of Myanmar's oldest and largest ethnic armed groups.
"I only joined the military to receive an education, but I never really felt like I fit in. Before the coup, I was too scared to leave. I knew that the military would try and stop me. But after the coup, there were so many people who wanted to defect that I finally saw my chance to get out," Ko Thet told Frontier.
It was his mother who provided the key, telling him to get on social media and contact People's Embrace, an organisation founded in May 2021 by defectors. With their help, Ko Thet slipped away from his base in eastern Bago Region that September, and eventually reached Kayin State.
In the first few months after the February 2021 coup, unprecedented and well publicised desertions from the security forces gave many hope that police and soldiers would stand with the people, dooming the new regime. But defections occurred at an individual level, rather than a unit level, which many conflict analysts say is necessary to precipitate an institutional collapse.
The number of defections from the military fell sharply last year. Out of the roughly 10,000 defections counted by People's Embrace up to October last year, about 8,000 occurred in 2021. For the police force, around 1,000 defected in 2022 compared to 2,000 the year before.
However, those who have defected, or been captured in combat, still prove useful to the resistance. They provide intelligence on the military, train new recruits, help make and source weapons and occasionally fight on the frontlines.
But they also pose their own challenges. Many resistance groups remain wary of defectors, making it difficult to find effective ways to use their knowledge and experience. And while both defectors and prisoners of war can provide crucial information, they often become a burden to their captors.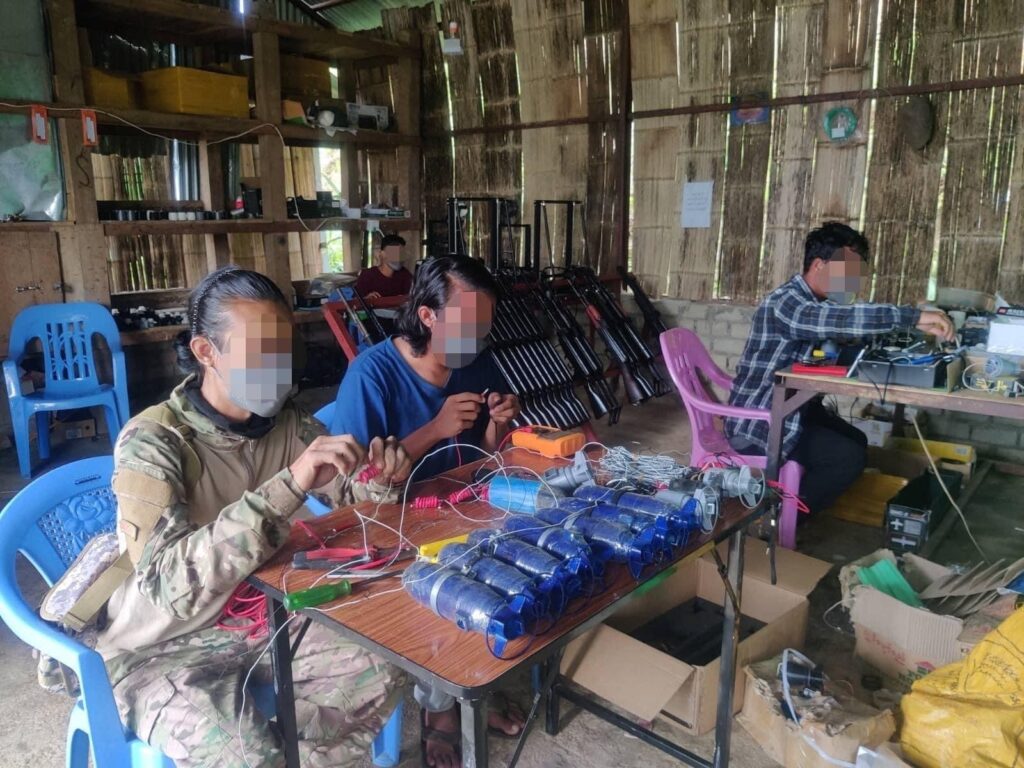 On the frontlines
Putting defecting soldiers on the frontlines is a high-risk, high-reward strategy. Their experience could make them the most well-trained effective members of a resistance group, but distrust still runs deep.
Bo Nagar, leader of the Myanmar Royal Dragon Army in Sagaing Region, told Frontier that they have accepted about 10 ex-soldiers but mostly use them to train other fighters. He said they "don't use them on the frontlines so that they don't face any unwanted consequences".
The Karenni Nationalities Defence Force, also formed after the coup, typically doesn't deploy defectors to the frontlines either, according to its chair Khun Bedu.
"We keep them in a separate area. Only in rare cases do we ask them to go to the frontlines with us, but in most cases, they are checking landmines. Most of them remain in the background," Khun Bedu told Frontier.
Among the estimated 10,000 deserters, the NUG's Ministry of Defence estimates that 500 defectors have joined the armed resistance across the country.
Lin Htet Aung, a former army captain and a spokesperson for People's Embrace, told Frontier that defectors undergo a "thorough background check" to verify their identity and ensure that they are not a threat to the resistance.
He said People's Embrace has helped about 2,500 soldiers leave the military, most of whom deserted within the first year of the coup. The rest abandoned their bases on their own or, more commonly, defected directly to an ethnic armed group or a People's Defence Force, the decentralised armed wing of the NUG.
"During the checks, the defectors have to give details about when they joined the military and how they left, what they know about the military, their serial numbers, and they have to show us videos and pictures from inside their military compound," explained Lin Htet Aung. "If a soldier is cagey about sharing any of this information, that raises red flags and we block him. But very few times have there been concerns that defectors are spies."
In a high-profile, but seemingly rare incident, one of the highest-ranking defectors, a lieutenant-colonel, turned himself back in to the military after deserting his post in February last year.
The Chin National Front, an ethnic armed group based in Chin State that is closely allied to the NUG, said it does allow soldiers to fight and has never had a problem with spies. Vice chair Dr Sui Khar said the group has accepted around 45 soldiers, none of whom turned out to be double agents, but three no longer wanted to stay with the CNF and "discreetly left their camps".
"If they want to fight, then we put them in our basic military training. But it is mostly lower-level soldiers who want to fight – the higher-ranking officers normally don't," Sui Khar told Frontier.
The Arakan Army, which is based in Rakhine State and claims to have received more than 100 defectors, has had a different experience.
A high-level official who spoke on the condition of anonymity said defectors "are more or less useful depending on rank, experience, expertise, willingness to cooperate", but said it's usually "educated officers choosing to join the resistance side" while "low ranking deserters with less education prefer to get away".
Using them in battle depends on their will and "level of trustworthiness", he said.
Colonel Saw Yan Naing, commander of Battalion 27 under Brigade 6 of the Karen National Liberation Army, one of the KNU's armed wings, explained to Frontier that there is still a lack of organisation in dealing with former soldiers. The KNU has received more than 300 defectors since the coup.
"The KNLA doesn't have a policy on how to receive defectors because it was so uncommon before the coup. Instead, we follow the policy that the NUG developed, but there are some problems with how defectors are being managed – there are too many mouths to feed and there isn't enough money," the colonel said. "It can also be challenging because some of these soldiers are badly behaved and when they defect they don't follow the instructions of the NUG, they just do what they want."
Nonetheless the KNU allows defectors to join its frontlines "if they are excited and eager to fight", according to the group's foreign secretary and spokesperson Padoh Saw Taw Nee.
A source of intel
Some defectors have been especially helpful to the resistance as sources of intelligence and in combat training.
Higher-ranking defectors like Ko Thet have provided important insight into military operations and weapon production and procurement. Ko Thet, who specialised in maintaining aircraft, said his training allows him to help "prepare the resistance and civilians for air strikes by explaining how different aircraft operate and how far they can reach."
Yan Naing noted that the ex-soldiers can be particularly useful in offering insight into the morale of their former comrades.
"Defections from the military are a very good thing because it reduces the military's strength and the defectors can tell us about the military's planned operations. They can also tell us about the situation on the ground – how soldiers are feeling," said Yan Naing. "We can use what we know about their emotions to launch psychological warfare and also to have a better understanding of where the military might be weak."
However, most defectors are from the lower ranks with limited access to intelligence. According to Lin Htet Aung, fewer than 100 of the 10,000 defectors have been a captain or higher.
For the KNDF, Khun Bedu said that among the 20 defectors they have received, the highest ranking was a sergeant. In his experience, these lower-level soldiers cannot provide much information beyond "where their battalions are stationed and how many soldiers are based there". But they are still useful in contacting more people on the inside.
La Yaung*, a former lieutenant in the navy who defected in March 2021 and now works in arms production for the resistance, agrees that securing access to those still serving in the Tatmadaw is an important asset among defectors.
"I'm still in contact with about 10 soldiers inside the military, the highest-ranking among them is a captain," he said. "Most of them don't like the military but they are too afraid to leave. Instead, they can feed me information about weapon production and military movements, such as where they are planning upcoming attacks, and I can share this information with the NUG."
Lin Htet Aung of People's Embrace says he is in contact with as many as 100 soldiers inside the military every month, though the number fluctuates and it's not always the same people reaching out.
"Many people are afraid to leave the military because of the threat to their families. But it can be a win-win situation to have these people on the inside who can feed us information – their families can stay safe and they can give us insider information," he said.
Once Lin Htet Aung receives these tips, he corroborates them with other relevant military and resistance sources before passing it onto the NUG and the PDF head office. If the information is specific to a geographic area, he also reaches out to resistance groups operating there.
For the KNU, intelligence received from defectors was instrumental in seizing two outposts in Kawkareik and Kyainseikgyi townships in the group's Brigade 6 area in mid-2022, said Taw Nee. He explained that defectors were able to provide the ethnic armed group with valuable information about how the outposts had been built and the number of troops stationed in each, which allowed the KNU fighters to successfully occupy both.
But Taw Nee also notes that the KNU is "still very weak in verifying intelligence". While Lin Htet Aung said that approximately "90 percent" of the information they receive from inside sources about the military is correct, groups like the KNU remain on high alert.
"One thing to be careful about is that the military can disguise itself and give false information from the inside, or the military may employ counterintelligence under the name of CDM," explained Taw Nee, the KNU spokesperson. "Since our revolution has been going on for decades, we have to handle situations like this very carefully."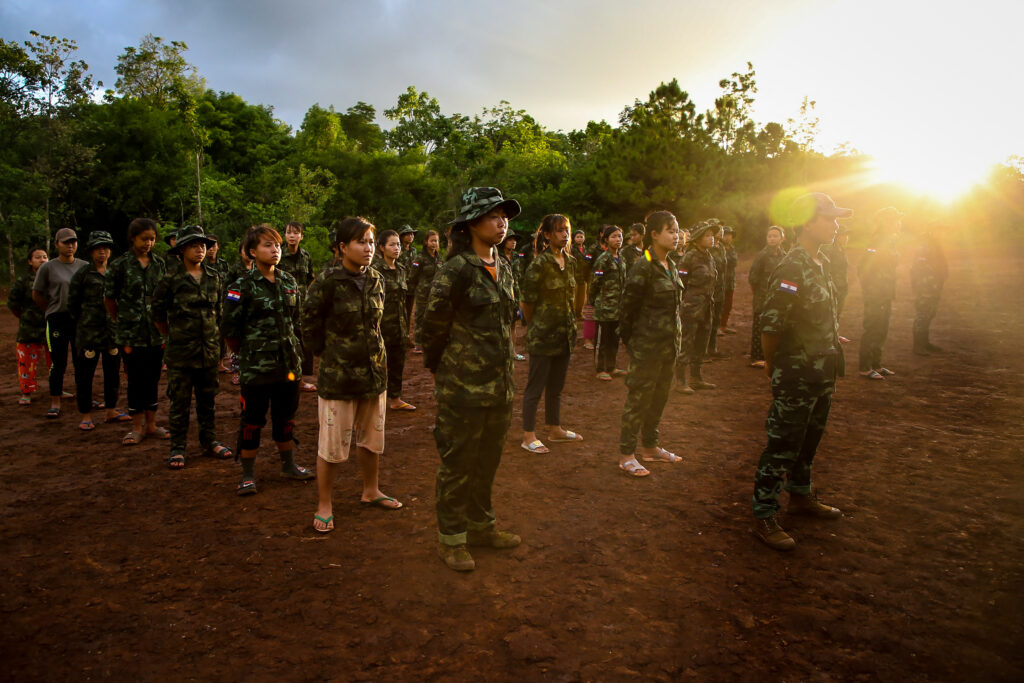 A boon or a burden?
Prisoners of war, often captured during fighting, can also be a useful source of information, but pose their own challenges.
Some groups like the KNU, which has captured a number of senior officers, including one lieutenant colonel, have successfully extracted useful information from POWs. But holding prisoners for long periods is difficult, even for the KNU, which has a more established and systematic prison system compared to many of the other armed groups.
"Most of the information that we get out of the prisoners is from their phones, especially for the high-ranking officers. Often soldiers will have documents on their phones that tell us things like when they are expecting weapon and artillery shipments, and where they are being stored. One of the most important things we find on the soldiers' phones are battle reviews and assessments, which offers insight into how the military plans operations and can help us in predicting future attacks," said Yan Naing.
He said all POWs are first taken to an ad hoc jail for seven to 10 days where they are handcuffed, interrogated and undergo a medical examination. Afterwards, they are transferred to the KNU district police.
"For low-ranking officers, it usually only takes one or two days before they start talking, but for the high-ranking officers it can take several weeks or even months before they tell us anything," he said.
"Sometimes we can learn a lot from these conversations. For example, about three or four months ago, one of the detained soldiers told us that an entire military battalion in his camp didn't want to fight anymore and had stopped listening to their commander," Yan Naing said. "This kind of information tells us that there are lots of soldiers who are very unhappy in the military."
While the battalion changed its commander and presumably was able to control the soldiers again, Yan Naing said hearing about this kind of discontent helps motivate the KNU fighters.
But the KNU lacks space to accommodate all the soldiers it has captured and has had to release some for purely logistical reasons.
For example, Taw Nee said in March 2021, KNLA Brigade 5 captured eight prisoners, including a captain. But the next month, the KNLA fighters were forced to move to evade Tatmadaw airstrikes, and it became too difficult to hold the prisoners.
"Of course we are worried that they will go back to the military, but we don't have another option," he said.
The CNF is also stretched thin with just about "10 to 15" soldiers in its custody, according to Sui Khar who says their "prisons" are very small.
"We allow them to exercise for their health and we ensure sanitation and food and water, and if they need to go to the hospital, they can go to a clinic run by the CNF," he said. While the CNF has received a few high-ranking defectors from the military, all of its prisoners have been from lower ranks and many "don't even know the name of their own commander," he said.
The KNDF also has only around 15 low-ranking soldiers in its custody, according to vice chair Khun Bedu. The group previously tried to leverage its POWs in a prisoner exchange with the military, but it fell through as the junta officials in Kayah State, where the KNDF is based, did not have the authority to make such a deal, Khun Bedu said.
La Yaung, the former navy lieutenant, insists that it remains crucial to keep encouraging defections in order to weaken the military's manpower, and this is ultimately more important than the intelligence gathered.
"It is important for people inside the military to feed information to the resistance but even though this is helpful, it would be better if everyone who wanted to help the resistance just left the military," he said. "We can see the military is losing manpower, and if these defections continue then the military will become even weaker."
*Denotes use of a pseudonym for security reasons.