Thousands of factory jobs have been lost and border trade with China has been decimated as Myanmar reels from the impact of the coronavirus pandemic –​ all without a single confirmed case in the country.
By KYAW LIN HTOON | FRONTIER
ALTHOUGH MYANMAR remained one of the rare countries without confirmed cases of COVID-19 on March 13, the national economy has not been immune to the impact of the coronavirus since it emerged in the Chinese city of Wuhan late last year.
In Myanmar, thousands of workers have been laid off as factories close or suspend operations, and the country faces the grim prospect of more big job losses, a further decline in trade, a fall in tourist arrivals, and a general downturn in the economy.
Garment factories have been particularly hard hit by a lose-lose situation. Raw materials supplied from China have been affected by factory closures there as well as supply chain disruptions, and demand for garments has slumped in Europe, the United States and other markets.
On March 11, as travel bans and other drastic measures were being imposed by an increasing number of countries, the World Health Organization confirmed that the spread of COVID-19 was a pandemic. Although authorities in China have largely managed to bring the virus under control, cases are growing exponentially in many countries, particularly in Europe.
While cautioning that the impact of coronavirus was uncertain, the Asian Development Bank warned on March 6 that the virus outbreak could cost the global economy hundreds of billions of dollars. It forecast that developing Asian economies (excluding China) would lose anywhere from US$15.6 billion under a best-case scenario to $42.2 billion if travel bans and lower consumption continue for six months or more.
U Thura Soe Paing, managing director of consulting firm All Myanmar Advisors, said it was "only natural" that Myanmar had been affected by the economic crisis, particularly as it is increasingly integrated into the global economy.
"We are particularly affected by the developments in China which is by far the largest trading partner. The good news is that China is normalising," he said.
He added that Myanmar was "resilient" and would come out of the crisis stronger. "The current crisis will be a temporary one and has not really affected the fundamentals of the Myanmar economy."
Factories shutter as more face closure
But some sectors have been hard hit by the COVID-19 outbreak, particularly Myanmar's garment producers, fruit exporters and tour operators.
Noting that arrivals from China make up more than a quarter of all tourist visitors to Myanmar, the ADB forecast that COVID-19 would cost the country at least $106 million in lost tourism revenues, and possibly as much as $319 million – around 0.5 percent of GDP.
Perhaps more concerning is the impact on garment factories, which are Myanmar's leading export earner at $4.6 billion in 2018-19.
U Soe Myint, chair of the Myanmar Garment Entrepreneurs Association, said 20 factories, all owned by Chinese investors, had already closed, leaving more than 10,000 workers jobless.
The government on March 13 agreed to form a committee to support those who have lost their jobs until the industry recovers, he said.
Even at factories that are still operating, Soe Myint said most workers have seen a drop in their monthly wage because owners have cut back on overtime, which can account for up to one-third of their monthly pay packet.
Ministry of Labour, Immigration and Population officials could not be reached for comment, but labour rights groups at the industrial zones in Yangon's Shwepyithar and Hlaing Tharyar townships told Frontier on March 9 and 10 that they expected at least 30 factories to close because of the raw materials shortages or a lack of orders.
They said each factory has at least 500 workers and the closure of 30 factories would leave more than 15,000 people jobless, many of them the only income-earner in their family.
Media reports in early March said about 50 South Korean-owned garment factories were facing closure because of raw materials shortages.
The job losses have alarmed labour rights activists, partly because of concern at the possibility that some factories were using COVID-19 as an excuse to shutter workplaces.
In early March, 12 labour rights groups formed a committee to support demands that the government check factories to ensure that the reasons given for closing or suspending operations were genuine.
The groups include Action Labor Rights, which is also concerned about the lack of a social safety net in Myanmar to support laid-off workers.
"This is a lesson for the government, since our country provides no financial support to those who lose their jobs in a crisis situation, such as this epidemic," said U Thurein Aung, a founding member of Action Labor Rights. "The coronavirus has highlighted that we need to start providing such support."
Thurein Aung and the leaders of some other labour rights groups are also demanding that the government try to ensure that laid-off workers are reinstated in their former positions at the same salary.
Among the factories affected by uncertainty over raw materials supplies are three at Hlaing Tharyar operated by Lat War Co Ltd, owned by a central executive member of the Myanmar Garment Manufacturers Association, Dr Khin Maung Aye.
In a statement posted to Facebook on March 6, Lat War said it would be suspending operations at its No. 2 garment factory at Hlaing Tharyar for an unlimited period from April 6.
The notice is in line with Labour Law regulations requiring employers to give one month's notice of ceasing operations and to meet severance pay obligations.
"Work will stop on April 6 and to make preparation and to look for new jobs, workers do not need to come to work [before then]," the notice said, adding that they would receive entitlements as per Myanmar's labour laws.
Soe Myint from the MGMA said he was optimistic the situation would improve in the coming months, because manufacturers in China are beginning to resume production of the raw materials that Myanmar garment factories need.
"It won't be a full recovery, but the situation will be much better than it is now," he said.
Out of work
The laid-off workers at Hlaing Tharyar include Ma Mar Mar Khaing, 30, an executive member of the labour union at the Hunter Myanmar garment factory, which announced on February 13 that it would cease operations on March 15. The decision affects 970 workers.
"Because of the Thingyan water festival next month it is hard to find another job," Mar Mar Khaing told Frontier. "In Hlaing Tharyar, the garment and shoe factories are closing one after another, so we haven't been able to find new jobs yet. Some workers have already left for other regions."
Mar Mar Khaing, from Nyaung-U Township in Mandalay Region, supports her parents and two younger siblings, who are students. Mar Mar Khaing's monthly salary was K260,000 and her termination pay was about K500,000.
Mar Mar Khaing is fortunate to have had an employer who observed the Labour Law.
More than 460 workers at the Chinese-owned Myanmar Royal Apollo Co Ltd garment factory at Shwepyithar have been left in dire straits after it declared bankruptcy.
The notification of bankruptcy was posted on the Facebook page of Yangon Region Hluttaw MP Daw Sandar Min (National League for Democracy, Seikgyikanaungto-1) on March 9.
The letter said that the factory opened in May 2016 with an investment of K400 million (about $290,000 at current exchange rates) but had suffered net losses of K400 million as of March 5.
Yangon Region Hluttaw MP U Yan Aung Min (NLD, Shwepyithar-1) said the factory had been sealed by the authorities and its equipment and other assets would be sold at auction to raise funds that would go towards compensating the workers, who have been unpaid since March 5 after the factory owners allegedly fled. Yan Aung Min said the process could take months.
The situation highlighted the need for the Myanmar Investment Commission to closely examine investment applications from the outset, said Daw Myo Myo Aye, founder of the Solidarity Trade Union of Myanmar. The government should also check prospective foreign investors and their capital capability, she said, adding that the Department of Labour also needed to have detailed information about every factory.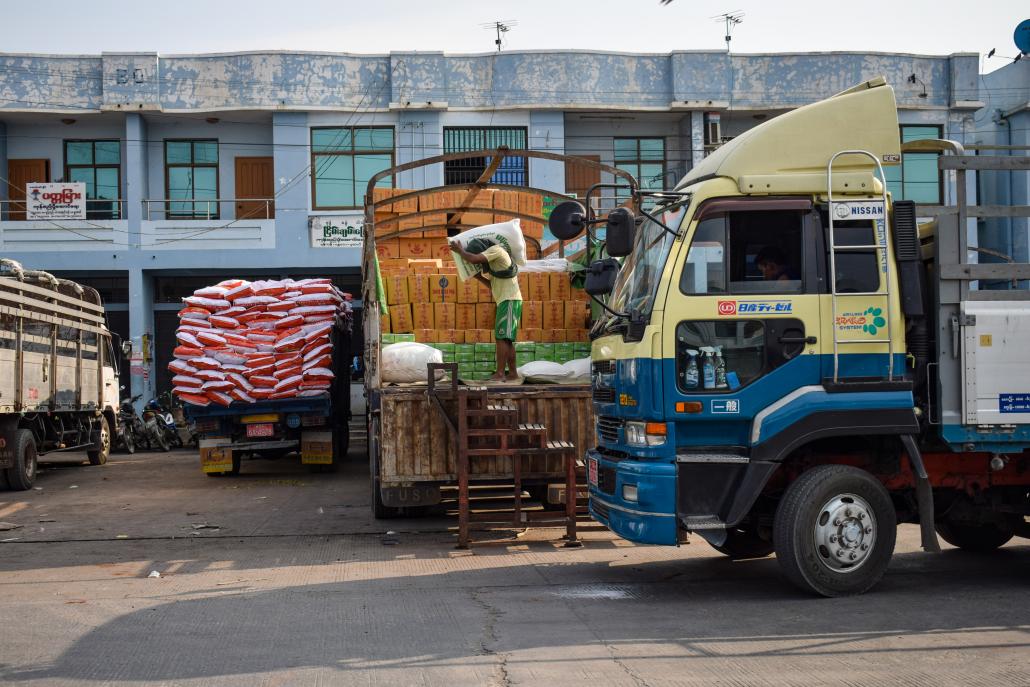 Border trade
Further north, fruit exports to China through Muse in northern Shan State – Myanmar's busiest border crossing – have also been hard hit by COVID-19.
While the border is open, transport restrictions imposed in China to counter the spread of COVID-19 make it difficult to supply markets throughout the country. As a result there are few buyers – mostly those distributing in Yunnan province, which borders Myanmar –­ and the weaker demand was keeping prices low, said market sources.
"All of the watermelon and muskmelon farmers and traders have been suffering from the impact of the coronavirus since the eve of Chinese New Year," said Daw Sandar Myo, secretary of the Myanmar Fruit, Flower and Vegetable Producer and Exporter Association.
It is essential to deliver watermelons and muskmelons to markets as soon as possible after harvesting to ensure they remain fresh.
Many growers have opted to let the fruit rot in the fields rather than take the risk of sending it to the border, because they may not even be able to recoup the transportation cost.
The association estimates that lost earnings from watermelon and muskmelon exports could exceed US$158 million, Sandar Myo said.
"These fruits cannot be stored for more than a week," she said. "It will not be easy for watermelon and muskmelon farmers who have lost earnings to grow next season and the government will need to help them to recover by lending money."
Echoing her comment, U Naing Win, chair of the Myanmar Watermelon and Muskmelon Producers and Exporters Association, said many growers would certainly need help to secure agricultural loans because they have lost their investment in this season's harvest and were heavily in debt.
"It will be hard for them to even breathe without financial assistance," he told Frontier.
The downturn in trade at Muse has also badly affected logistics companies, such as those that operate from the Pyigyi Mingalar Cargo Express Complex in Mandalay.
Among them is the Htay Htay Aung fruit transport business operated for the past 15 years by U Soe Win, 48. He describes the situation as "unprecedented".
"For over a month I've only been able to send one or two trucks of fruit a day [to the border]," he told Frontier. "Before the coronavirus it was at least 10 trucks a day."
He said other truck owners were exploring transporting goods to the border gate with Thailand at Myawaddy and the border gate with India at Tamu.
Soe Win was speaking on March 8, two days before India announced it was shutting the land border with Myanmar because of the pandemic.
"I don't know what to do other than wishing that this crisis was over," he said.
Response kicks in
As the economic effects of COVID-19 take hold, the government and monetary authorities have come under increasing pressure to take steps to mitigate the fallout.
The Central Bank of Myanmar on March 12 followed the lead of many of its counterparts around the world, announcing the first cut to interest rates in more than eight years.
Effective from April 1, the Central Bank rate will fall from 10pc to 9.5pc, while the maximum rate for collateralised loans will fall to 12.5pc from 13pc. The minimum deposit rate has also been shaved by 0.5pc, to 7.5pc, while the interest on uncollateralised loans will drop to 15.5pc
The last time the bank changed interest rates was in September 2011, when it cut its rate from 12pc to 10pc.
The interest rate directive, signed by Deputy Governor U Soe Thein, follows the Central Bank's decision to buy up 9 million US dollars to stabilise the exchange rate on March 10.
The bank has bought tens of millions of US dollars since the start of the year in a bid to weaken the kyat, which began strengthening against the dollar in late 2019 from a low of K1,530.
This appreciation gathered pace from late February, possibly because of the effects of the coronavirus on supply and demand for dollars. On March 10 the Central Bank was forced to hold two currency auctions to halt the kyat's rise after money changers began offering US dollars for K1,280. Its decision to buy an extra $6 million that day, after earlier purchasing $3 million, appeared to do the trick, and the kyat has since stabilised at around K1,400.
Business groups have welcomed these initiatives but also urged the government to take more decisive action. On March 12, the country's peak business body, the Union of Myanmar Federation of Chambers of Commerce and Industry, called for the creation of a national-level committee including representatives from the private sector to address the economic and social impact of the outbreak.
The UMFCCI has also put forward a range of possible responses to support the economy, state media reported, including issuing struggling businesses soft loans through private banks, ensuring workers receive their full entitlements under the law, delaying an increase to the minimum wage, speeding up customs clearance of raw materials for factories, and issuing regulations to deal with factories that have to break contracts with buyers due to a lack of supplies.
At an emergency meeting in Nay Pyi Taw on March 12, senior government officials including State Counsellor Daw Aung San Suu Kyi discussed the need to swiftly find "solutions for the State to assist and minimize losses incurred by employers and employees of factories and workshops that have to close down".
Frontier understands the government is keen to take further action, including providing liquidity to banks to help local businesses, and is in talks with both the UMFCCI and Central Bank on a response. It also supports further cuts to interest rates ­– particularly deposit rates – but is mindful of the need to respect the independence of the Central Bank.
Thura Soe Paing said the Central Bank's steps to both stabilise the currency and reduce interest rates were positive. "The reduction in the CBM rate is hopefully the first of several steps that will reduce the cost of capital to small and medium enterprises," he said.
For workers who have lost jobs, these measures will be scant consolation. Mar Mar Khaing, the former employee at the Hunter Myanmar garment factory, is understandably apprehensive about the future. She sent some of her compensation payout to her parents and hopes that she has kept enough to support her until she finds another job.
"I wish the government could help us as quickly as possible to overcome this disaster," she said. "I'm not asking for myself but as a union leader concerned for my other younger, jobless former colleagues."
Thingyan 'cancelled', panic buying ensues
To halt the potential spread of coronavirus, government officials also decided during an emergency cabinet meeting in Nay Pyi Taw on March 12 to cancel official Thingyan celebrations and other large state events.
Deputy Minister for Information U Aung Hla Tun wrote in a post on Facebook that night that "major events and festivities with a large crowd attendance (including Thingyan pavilions and cinemas) will be cancelled" until the end of April. The government plans to take further preventative measures, he added.
He also urged the public not to believe fake news, misinformation and rumours, and said the government will take action against people who spread such information online.
In an indication of how quickly false information can spark panic, a recording about the coronavirus that purportedly came from the office of the health minister and circulated on Facebook's Messenger application caused quite a stir. The Ministry of Health and Sports declared almost immediately that the recording was fabricated to cause public panic, but the damage seemed to have been done. Social media users posted pictures of people flooding grocery stores on the night of March 12, particularly supermarket chain City Mart, to engage in some panic buying.
Around midnight City Mart issued a statement saying it would take measures to stop panic buying or stockpiling, by not allowing customers to buy large amounts of certain products. It didn't specify which products. The statement urged the public not to panic, but did not clarify whether the supermarket chain was facing shortages of items due to supply chain disruptions or stockpiling.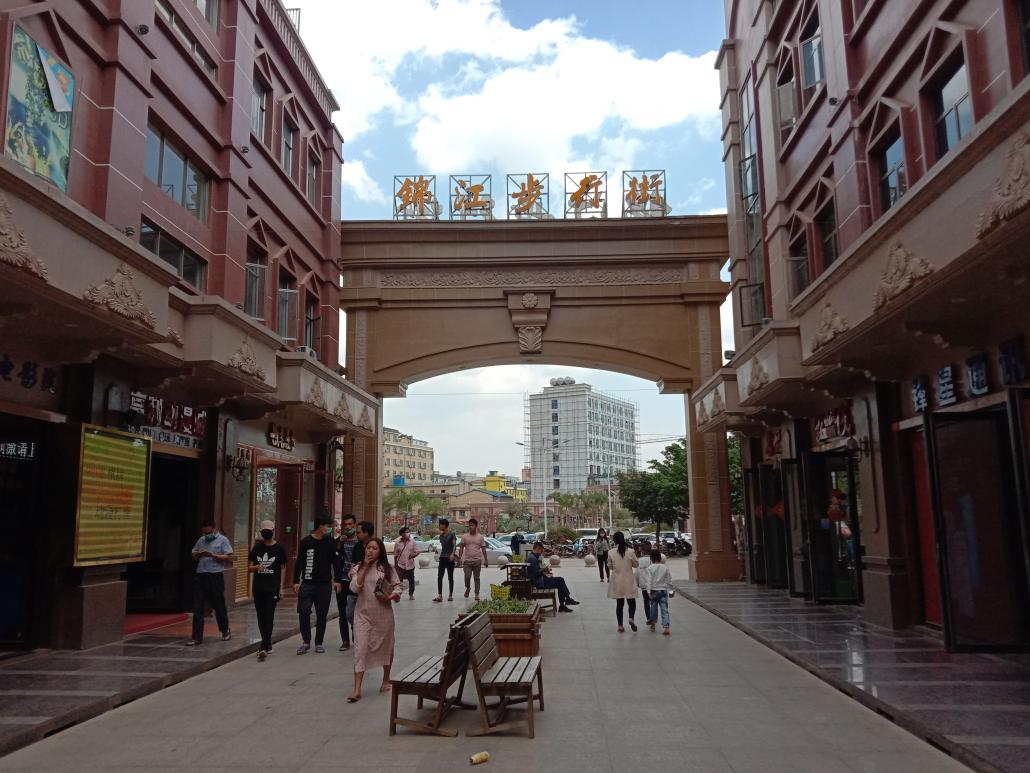 Deserted streets and quiet casino tables
Meanwhile, in Laukkai, the administrative hub of the Kokang Self-Administered Zone in northern Shan State, bordering China, a very different moods prevails as Myanmar's giant neighbour appears to climb slowly back to normalcy.
Despite the mask on his face, Laukkai resident Ko Aung Thu seems nonplussed about the coronavirus threat that emerged just over the border.
"I was afraid when I first heard about it, but now everything is like normal," said the former Yangon resident, who migrated to the Kokang SAZ for work.
Dozens of other Laukkai residents echoed his response to Frontier, saying that they had been afraid when the disease first gained international prominence, during Chinese New Year, but now had little concern.
"I joined the army because I'm not afraid to die, so I'm not afraid of the virus," said U Myint Aung, a former Tatmadaw officer who is now assistant director of the Department of Urban and Housing Development. "But I take care of my health. I don't go to crowded places."
The relaxed attitude of Laukkai residents also reflects the fact that China's strict measures to control the virus have been effective, and very few new cases are being recorded in the country.
But the virus has inflicted a visible social and economic toll on Laukkai, which sits just a few kilometres from the border with China.
Many shops remain shuttered because their wealthy owners went back to China for New Year celebrations in February and have been unable to return to Laukkai because of travel restrictions.
Without the usual stream of visitors from over the border, the streets are largely empty. This has hit the casinos and hotels in Laukkai hard, as they depend on gamblers from China.
When Frontier visited three local casinos, there were still many people, both staff and gamblers, on the floor, but locals said numbers were down significantly. All visitors to the casinos were required to wear a face mask and staff were checking the temperature of visitors at the entrances.
The two official border gates in Laukkai township ­­– Yanlon Kyaing and Nan Phar Haw – both remain open, and when Frontier visited they were busy with trucks bound for China laden with sugarcane from the recent harvest.
Near the border gates are bus lines that run to Lashio, the largest city in northern Shan State. "We run every day if there are passengers," said bus driver Ko Aung Thein.
Those crossing the border have to undergo a temperature check by health staff or other officials. Anybody who returns a reading of 38 Celsius or higher is put under surveillance.
At the district hospital in Laukkai, a room has been set aside to quarantine suspected coronavirus patients, but a health worker told Frontier that no suspicious cases had been found to date.
Nevertheless, instructions from the Ministry of Health and Sports have been translated into the Chinese dialect spoken in Kokang and health education is being provided in cooperation with the Kokang Border Guard Force, the health worker added.
Education announcements are being made in both Burmese and Chinese through loudspeakers.
But less medically orientated security measures continue to take precedence in Laukkai, which has occasionally seen heavy fighting since early 2015 and remains subject to a 9:30pm curfew. The single checkpoint for COVID-19 at the entrance to Laukkai is dwarfed by four Tatmadaw inspection gates.
– Reporting from Laukkai by Nanda
Top photo: Women sew garments at a factory in Yangon's industrial suburb of Hlaing Tharyar. (Nyein Su Wai Kyaw Soe | Frontier)