A group of reporters had to keep their questions short on a recent visit to northern Rakhine State in the company of camera-toting, plain-clothed security officials.
By HTUN KHAING | FRONTIER
THERE WASN'T MUCH time for asking questions when a group of reporters on a government-sponsored trip to northern Rakhine State visited Inn Din village, in Maungdaw Township, where 10 Muslim men were massacred last September.
The 13 reporters on the trip, from March 29 to 31, travelled a dusty, bumpy road for hours to reach Inn Din, a focus of international attention after Reuters newsagency reported the massacre in comprehensive detail on February 8. The expose was published nearly two months after Yangon-based Reuters reporters, Ko Wa Lone and Ko Kyaw Soe Oo, were arrested and detained while investigating the massacre, and each faces a maximum 14 years in jail if convicted for breaching the Official Secrets Act.
On March 31, Frontier travelled with four other reporters in the last car of the convoy to arrive at Inn Din, leaving only a few, precious minutes to gather information.
The accompanying officials urged the reporters on the trip to work fast so they would not miss the return flight to Yangon from the state capital, Sittwe. A brief interview with a source put forward by the government gave the reporters little insight into what had happened at Inn Din.
State-run newspapers reported the next day that the reporters had been able to meet residents freely and ask questions. But this wasn't the case. Although the government minders did not impose restrictions on what could be asked at Inn Din, or warn the reporters to be careful about they wrote, the group had only a few minutes at each stop to ask questions. The difficulty of doing our job effectively – that is, getting to the bottom of really what happened at Inn Din, and elsewhere in northern Rakhine – was made even more difficult by the looming presence of security officials in plainclothes, who filmed the exchanges between local people and reporters. The interviewees, especially those who were Muslim, were clearly intimidated.
Travelling from Sittwe to Maungdaw on the morning of March 30, the group was able to observe much-needed infrastructure projects that the government has launched in Rakhine in the aftermath of the refugee crisis triggered by attacks on security posts by fighters from the Arakan Rohingya Salvation Army in the state's north late last August.
The coast road from Angumaw to Maungdaw is being upgraded and the telecommunications network is being expanded. The projects are among the biggest to be undertaken by the Union government in Rakhine, one of Myanmar's poorest and least developed regions.
The drive to Maungdaw passes blackened, twisted corrugated iron roofing, flattened trees and other constant reminders of the arson that accompanied the violence. Another reminder is the upgraded security fencing around police stations attacked by ARSA in August.
At a briefing in Maungdaw, the district administrator, U Ye Htut, promised that the reporters could gather news freely and said he would respond to "false" international accusations regarding the clearance operations. Myanmar's military has been accused of using disproportionate force in its campaign in northern Rakhine, including arson, torture and extrajudicial killing, but officials have denied most of the charges.
Ye Htut said action taken by the government over those involved in the massacre at Inn Din was an example of its readiness to prosecute security officials for breaking the law. He was referring to the news, announced in February, that four Tatmadaw officers, three soldiers and three policemen, as well as six villagers, were accountable for the massacre. On April 10, after we returned from the trip, a statement published on Commander-in-chief Min Aung Hlaing's office Facebook page said seven soldiers would be sentenced to 10 years in prison for their role in the killings.
Ye Htut denied accusations made by rights groups that Muslim villages destroyed by fire had been bulldozed.
"We haven't bulldozed [their land]. We cannot leaved the burned land as it is. We have to make preparation for the returnees," he said.
Myanmar says it is willing to begin the process of repatriating refugees from Bangladesh, and that those who are "accepted" –those who can prove they lived in Myanmar before the August violence – will be granted a National Verification Certificate, which allows an individual to begin the process of applying for citizenship.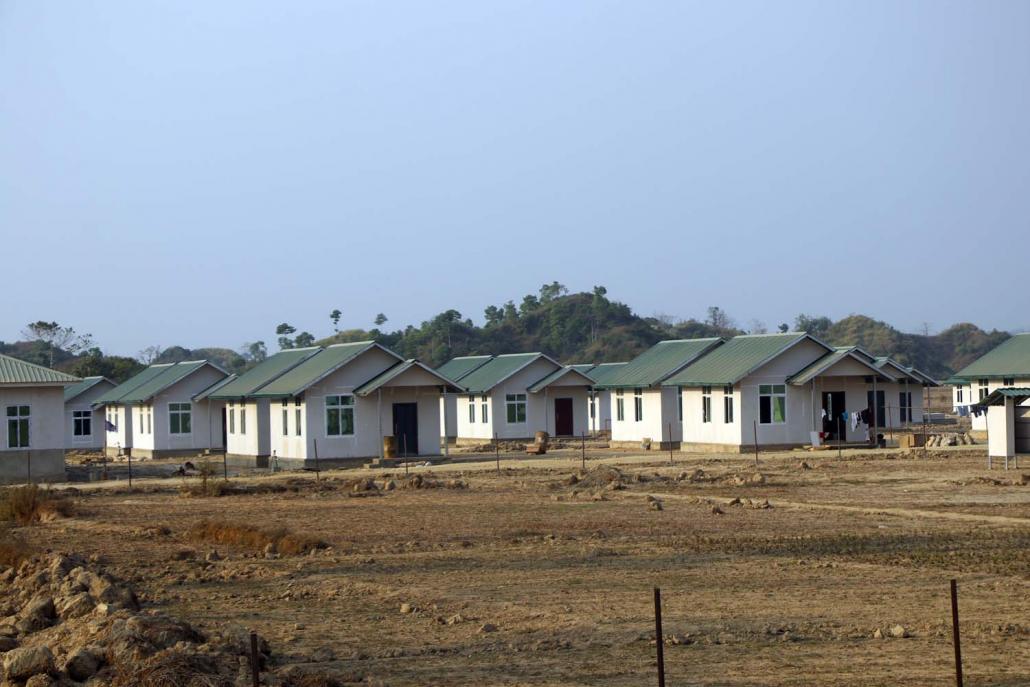 In February 2015, the then-government, led by U Thein Sein, issued a directive urging those holding "temporary identity certificates" to return them before they expired in May of that year. An undated statement published by the President's Office said that of the 397,497 people who returned their temporary certificates in Rakhine State, only 6,077 were granted NVCs.
Ye Htut said that "non-Myanmar" people living near the border with China accepted the NVC, but Muslims in Rakhine State – mainly those who identify as Rohingya – do not.
"Other races accept the card, but this race does not. It is not acceptable," said Ye Htut., in the meeting with reporters that lasted more than one hour, and which he referred to the group as "Bengali" throughout.
After the briefing, the reporters were taken to Ngan Chaung, a Muslim community in Maungdaw Township, whose residents did not flee to Bangladesh because last year's conflict did not reach their village.
The next stop, a few hours drive away in northern Maungdaw, was at Thit Tone Nar Gwa Son village tract, where a new village is being built for the Mro, one of the seven official Rakhine ethnic nationalities, along with the Muslim Kaman. Villages are also being built for refugees currently in Bangladesh.
Among the Mro assembled by the government to meet the reporters was a man who said he was a former resident of Bangladesh. U Aung Naing, 30, said he had fled to Myanmar after Bangladeshis threatened him with revenge over the treatment of Rohingya.
Aung Naing said it had taken his family six days to reach the border with Myanmar. He said that although his parents were citizens of Bangladesh, he was not, and neither was he recognised as a citizen of Myanmar. He acknowledged being born in Bangladesh, but said he was educated to matriculation level in Myanmar.
On March 30, the journalist group began its day with a trip to Taung Pyo Let Wae, where the government has built a reception centre for refugees returning by land from Bangladesh. Officials said it had been ready to receive 150 Muslims a day since January 23, under an agreement with Bangladesh on the return of verified refugees. Earlier this week, Myanmar claimed that a family of five were the first to be repatriated under the programme, although this was disputed by Dhaka.
Speaking to reporters in London, Bangladeshi Prime Minister Sheikh Hasina rejected Myanmar's account.
"They were living in the borderlands, with some of their family members in their camps," she said, reported Reuters. "Myanmar wants to show the world they are taking them back. It's a good sign. If they want, then why only one family? We have already submitted the names of 8,000 families, but they've not taken them back," she said.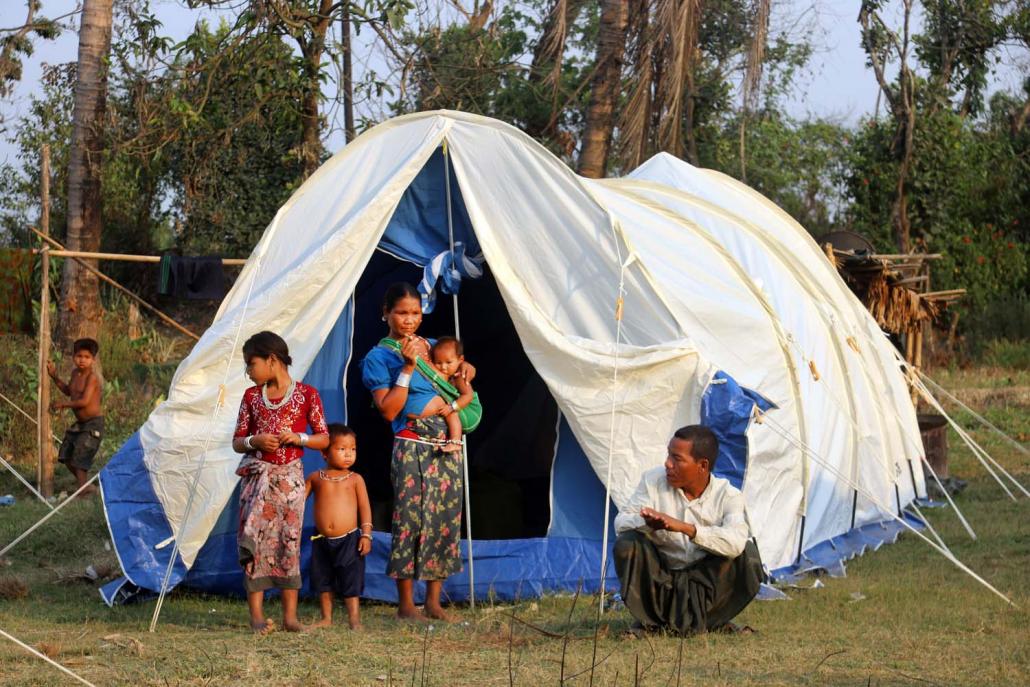 The next stop on the guided tour was to view a strip of Myanmar territory, beyond the fence marking the border with Bangladesh, where several thousand Rohingya have been living in limbo since last August.
Officials repeatedly instructed the reporters to use the term "border line" to describe the area, and warned them to avoid describing the buffer zone as a "zero line".
The constant attention of camera-toting plainclothes security officials was wearing thin by the time the group stopped for lunch near Kyee Kan Pyin, a security post attacked during the first series of raids by Islamic militants in October 2016.
When a security official accompanying the convoy tried to film the reporters eating their lunch an argument ensued. He agreed to stop taking photos and the reporters were able to finish a quick meal in peace.
TOP PHOTO: Maungdaw district administrator U Ye Htut. (Htun Khaing | Frontier)