The environmental activists who campaigned to defend the nation's forests are now hiding in them to save their lives and fearful of the destruction that the future and a rapacious military may bring.
By ESTHER WAH*
In the years before 2020, I travelled with friends around Southeast Asia meeting members of other indigenous communities, learning how they were protecting and sustaining their lands and forests.
We learned about indigenous community conserved areas, and the struggles and successes of forest-dependent communities to gain recognition for their peoples, lands and cultures.
We brought these lessons back to our communities and territories in southern Myanmar and started to implement them and campaign for our own models of locally-crafted conservation.
We began to see how we could change our region for the better, how we could create new spaces of liberation for our communities, and how we could protect our beloved forests from the impending threats of dirty development.
Now, since the coup, these dreams have been shattered.
There are many risks on the ground, we are unable to travel freely, and war has broken out again across our lands. Most of my friends in Myanmar are hiding in the forests, and have been learning how to defend themselves should the military launch attacks on their areas.
They are unable to travel because of endless checkpoints and security risks and are no longer able continue working openly as earth rights defenders.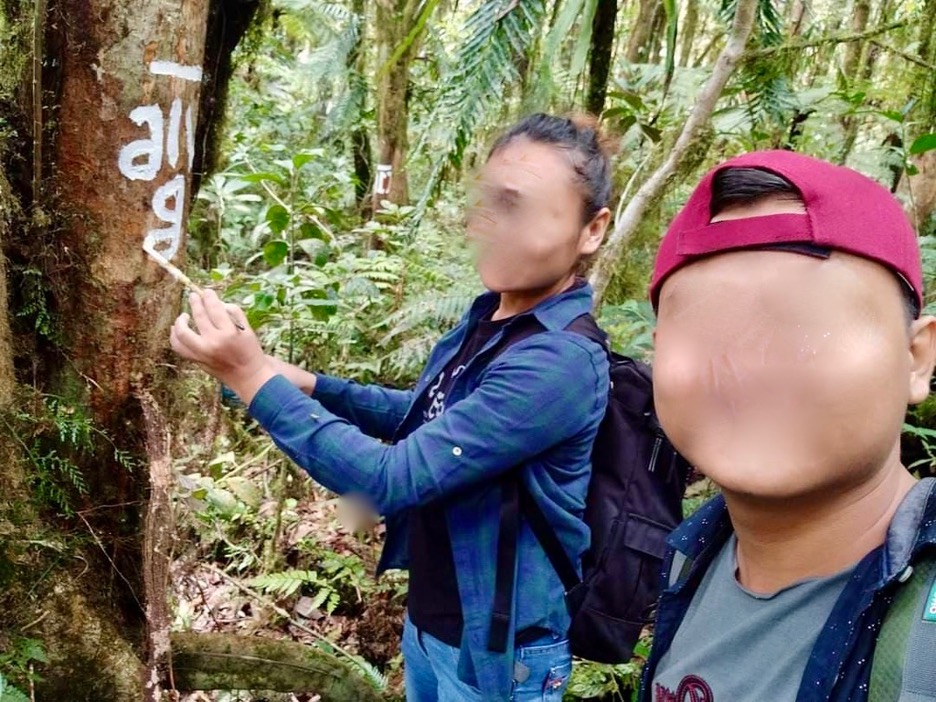 'We fear that our environment will be destroyed'
I have been speaking with a friend from the forest, Kheh Thoo*, about the difficulties that environmental defenders like us are facing in post-coup Myanmar, and the future of the forests in our region. Here is what he had to say:
Esther Wah: In our Karen lands in southern Myanmar, we have some of the most important forests and biodiversity in Southeast Asia. Our communities, which have protected the forest from many different threats, depend on it for shelter, medicine, food, building materials; for everything. In this time of revolution when we have seen many rapid changes, can you speak about the benefits that the forest brings us, and the dangers for the future of our forest?

Kheh Thoo: The forest is of great importance to us in this revolution, because people such as elected members of parliament, those who joined the Civil Disobedience Movement, earth rights defenders, and revolutionaries, have all taken refuge and sought protection in the forest. It is because of the forest that they are free and alive.

After the military coup, we can no longer do our conservation work as we used to do. As we love the environment and live in harmony with nature, we fear that our environment will be destroyed. We saw that some of our biodiversity has already been damaged. There are more social conflicts and divisions, too, so we cannot do conservation work at the movement. 

Climate change is on the rise and I want everyone to be careful and conserve the environment. Without the forest, human rights abuses will be worse. For example, forests and rivers are protecting those who have suffered human rights abuses or are fleeing from the regime, they provide them with shelter, food, safety. Without the forest,  a lot of these people would have died since the coup. Elsewhere, they cannot escape. They are free because there is still a forest. So, the environment and the forest mean a lot to human rights.

Esther Wah: Land and resource exploitation is occurring throughout the country, in the form of mining and logging. These resource extraction activities were taking place before the coup, but the situation is different now because communities and civil society organisations are no longer able to raise accusations in public about land rights abuses and violations of law. People are afraid to raise their concerns because they fear being arrested and killed if they speak out. What are your experiences?

Kheh Thoo: Mining projects are operating but we cannot engage in dialogue with the companies anymore. They do what they want. In the past, we could go and talk to them if the water was polluted or if they were causing problems for us. Now we don't know who we can report to. In the mangrove forests, fish and prawns are being illegally harvested and treated with chemicals that they did not dare to use before. Mangrove trees are being cut down and made into charcoal; although these things happened before, it is on a completely different scale from what it used to be. Wildlife numbers are falling in some areas because extraction is out of control. There is a lot of wildlife shooting and trading along the border areas but it is rare in community conservation areas.

Esther Wah: The military coup on February 1, 2021, shattered all of our dreams and lives. We cannot do the work we did before, and we can see that our forest, our life, is being destroyed, while our communities are being terrorised. 

More than 21 environmental defenders from our networks have been arrested, and everyone else has had to go into hiding or been forced to fight for their lives and their futures. As an environmental defender, tell me about your experiences since the coup.

Kheh Thoo: I fled to the forest after the coup. I want our generation and future generations to be free from authoritarian military rule. I do not want anyone in any country to experience this, because we have been facing many problems for so many years. Social conflicts are occurring everywhere and it is becoming very difficult to resolve them. 

There are worries that we will have to fight if the military comes to where we are. Living without feeling safe affects us mentally and physically. I cannot move or talk freely. Even though I saw things that are not right I did not know where to go and report. I can no longer do what I want to do. I live with fear and anxiety every day. 

As a human being, I want to be free, not to be overwhelmed by fear. I want to be free from fear. As a young man, living with fear and anxiety made me lack knowledge, skills and abilities. What we learned in the past and the abilities I acquired in the past, can no longer be used. I feel like we have run out of gas emotionally. 

After the rule of law is gone, our lives are only 50/50, by which I mean a 50 percent chance that we will live, and a 50 percent chance that we will die. If they bomb us with planes we could die at any moment. I have no freedom of mind and no freedom of body. Day and night I live with anxiety and fear. If we make a mistake or someone else comes and makes a mistake, we will not be able to solve it; it will be too late.
The hope for an uncertain future
With no freedom to defend, there has been more environmental destruction, more logging, and more mining. Companies and businesspeople are free to take what they want from our territories, protected by the military that wages war on our people.
To protect our forests, our lands, and our biodiversity, we must be liberated from the military – we must be free to defend.
In the wake of the military coup, the future of environmental defenders and the forests that they protect are uncertain. If the military wins, both the forest and those who protect it will be gone. Those of us who are forest defenders are not only fighting for our own communities and territories; we stand with indigenous peoples and forest defenders throughout the world who are fighting to protect and defend their forests.
We are the protectors of the planet and we are on the frontline of the global fight against climate change and corporate greed. In this fight, we face great challenges. The military wants to take our lands and forests and turn them into bullets to kill us, or to sell and buy yachts or mansions to sate their unending greed. If we are going to protect this planet, we must put an end to the fascism that is destroying it. Our fight for the future of our forests, is now a fight against the fascist Myanmar army.
While the world turns away from Myanmar, considering it an internal issue of a country that no longer matters on the global stage, our struggles for justice, freedom and a halt to climate change and environmental destruction, are interconnected with those across the rest of the world.
The world must stop ignoring our struggles, and stand in solidarity with our fight for liberation because our liberation is connected to the liberation for all.
* Esther Wah and Kheh Thoo are pseudonyms. Their names have been changed for their safety.