Determined voters have overlooked the threat of COVID-19 to turn out in large numbers across the country, although some were concerned at the lack of social distancing at polling stations.
By FRONTIER
Fears that COVID-19 would result in a low turnout in Myanmar's November 8 general election appear to have been unfounded, with voters seizing the opportunity to elect candidates to represent them for the next five years.
Long queues had already formed at many polling stations before they opened at 6am. Voters were quickly processed at many stations, but waits of several hours – or even longer – were also reported.
There were also numerous reports of procedural hiccups at polling stations, such as voter list errors, incorrect ballots and defective stamps, although the problems did not seem to be widespread.
More seriously, a representative of a Union Solidarity and Development Party candidate in Ye Township, Mon State, was arrested with what appeared to be fake ballots and a stamp outside a polling station.
The high turnout is expected to result in a strong showing for the National League for Democracy, which had already been tipped to secure the 322 seats it needs in the national parliament to secure the presidency and form the next government.
Monitoring group People's Alliance for Credible Elections, which deployed almost 1,200 short-term observers to stations in all 14 states and regions, reported few problems throughout the day. It commended polling station officials and local election sub-commissions for their efforts to open polling stations on time and to implement COVID-19 prevention measures.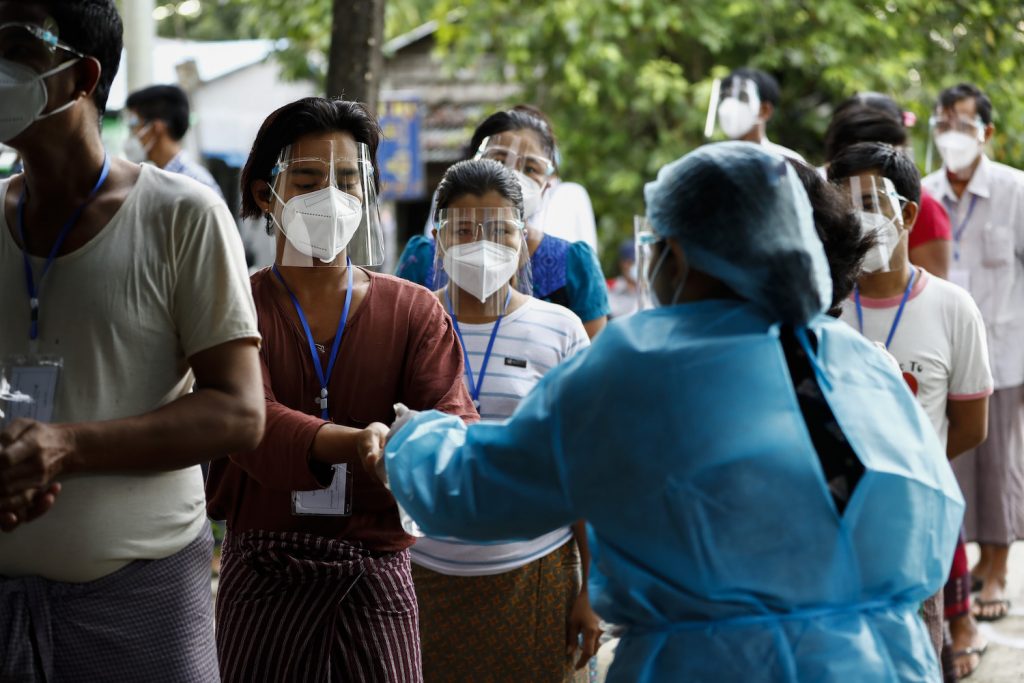 However, the long queues made social distancing difficult at some polling stations. Voters appreciated the squirts of hand sanitiser from polling station personnel wearing masks and face shields and clad in PPE suits as they waited in queues, but also expressed concern that the election could lead to a spike in COVID-19 cases.
Health officials insisted prior to voting getting underway that adequate safety precautions would be in place. The government spent US$28 million buying personal protective equipment from China for use on election day. The equipment began arriving via air deliveries at the end of October and was distributed to every state and region,
"We've made sure there's no risk of infection during voting," Ministry of Health and Sports spokesperson Dr Than Naing Soe told Frontier yesterday. "It will be safe for voters."
The lack of social distancing though was evident at polling centres in Yangon's Dala Township, one of which had 11,000 registered voters.
"They are very eager to vote. Therefore, there are difficulties getting them to obey social distancing," U Thet Khaing, chairman of the Kyan Sit Thar ward election sub-commission, told Frontier.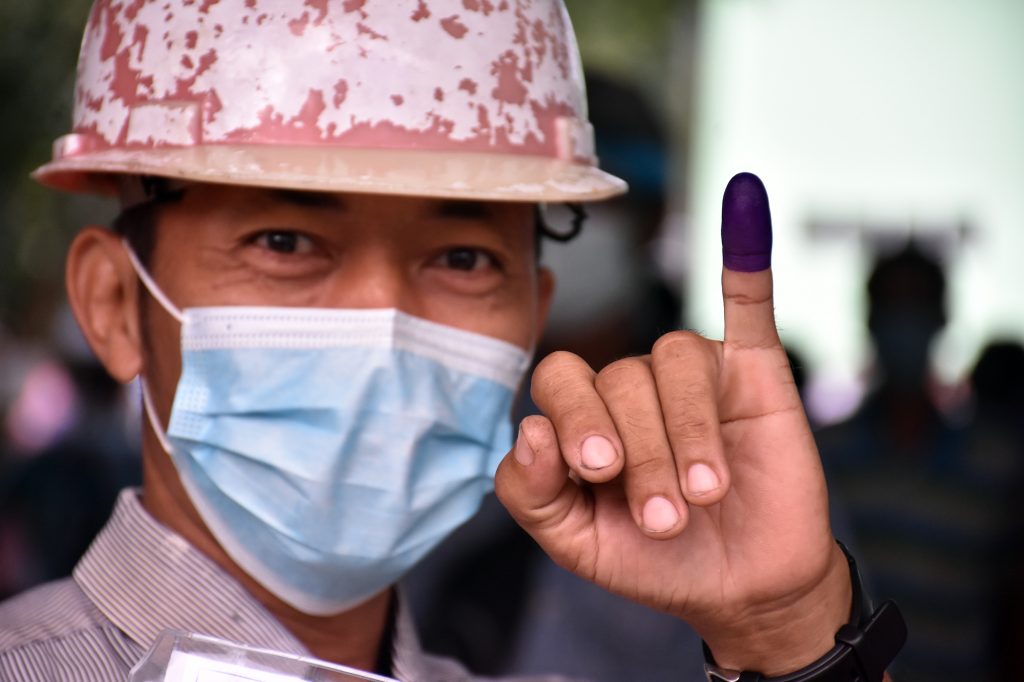 For most voters, though, it seemed the desire to vote outweighed the risk from COVID-19.
"I am afraid of COVID, but I have to turn out and vote for the sake of the country," Daw Mya Han, a voter from Kan Tharyar village in Myeik Township, Tanintharyi Region in Myanmar's deep south.
Voter lists, which had generated so much controversy in the run-up to the election, continue to create headaches, with some citizens irate at discovering they had not been listed. "I was born in this ward – why isn't my name on the list? I'm furious," shouted one woman at a polling station in Dala Township's Kyan Sit Thar ward.
Election officials said it was obvious that some voters had not bothered to check their names on the preliminary voter lists when they were displayed, initially for a three-week period from late July to mid-August and later in the first two weeks of October.
Queue management tested voters' patience at some polling stations in the Kachin State capital, Myitkyina, with officials at one location ordering people to vote in groups, based on their serial number on voter lists, rather than their place in the queue, and at another where there were accusations of preferential treatment for Tatmadaw personnel and their families.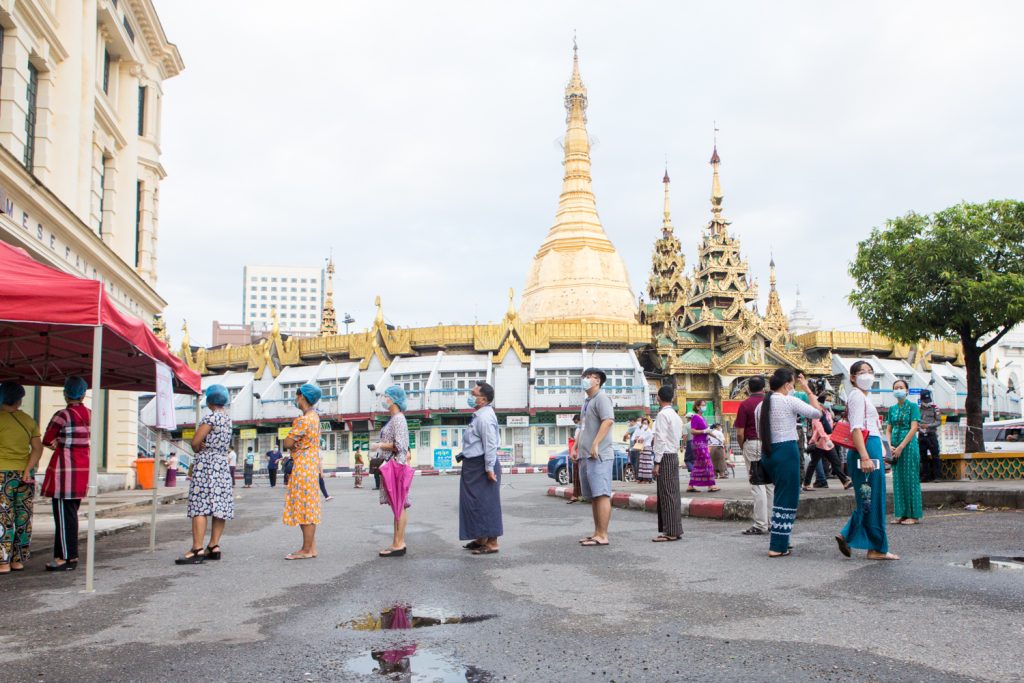 In Yangon's Seikgyikanaungto Township, voters began shouting and jostling for position at a polling centre after being forced to wait for up to nine hours to cast their ballots.
Election sub-commission officials and candidates said the long wait was because three polling stations, each with around 1,500 voters, have been set up inside a single precinct, Seikgyikanaungto's Basic Education Primary School 2.
"I have been waiting here since 10 am and I'm not even close to the start of the queue," said Daw Aye Win, 49. "I'm worried I won't be able to vote because I will not get to the front by 4pm when the station closes."
Tatmadaw voters are for the first time this year voting at polling stations outside their bases, under a change to election by-laws made earlier this year. A Tatmadaw voter in Magway Region described the change as "a good plan".
It's an opinion that might not be shared by Tatmadaw Commander-in-Chief Senior General Min Aung Hlaing, who voted at a polling station in Nay Pyi Taw's Zayathiri Township, a rare USDP stronghold where about a quarter of the 82,200 registered voters are military personnel and their families.
Min Aung Hlaing told reporters he voted for the party that safeguards race, religion and the teachings of the Buddha, as well as the Tatmadaw's three "national causes".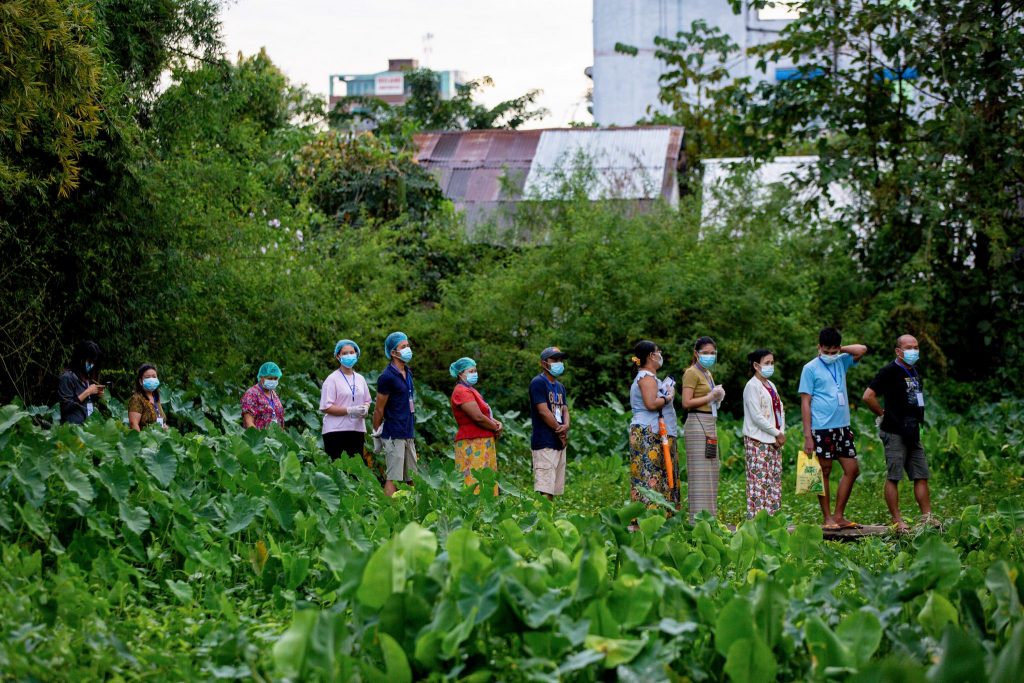 In Yangon's South Okkalapa Township, 88 Generation activist U Ko Ko Gyi seemed to be bracing for the defeat of the People's Party he formed in 2018 with other former student leaders.
Acknowledging that the party is new and stood little chance under Myanmar's first-past-the-post electoral system, Ko Ko Gyi said he was focused on the long-term picture and wanted the people to reflect on "why the election is important".
South Okkalapa resident Daw Moe Moe Aye, 40, said she was personally a fan of Ko Ko Gyi, but had voted for a different party.
"I think he is a good guy with smart perspective on political issues," she said. "But in the election, we don't think about the individual, we just think about the party … I voted from my heart for the party that I believe in."
For continued updates on the election, follow Frontier's liveblog.