On November 22, a fundraising event, Music for Myanmar, will be held at Yangon's Chatrium Hotel, hosted by Link for Aid. The charity's founder, travel writer Ms Pamela McCourt Francescone, spoke to Frontier about the event and the organisation's work in Myanmar.
Could you talk about the work you do with Link for Aid and your involvement in Myanmar?
I first came to Myanmar to work as a travel writer and write about the country in 2008. I came to write about the country, fell in love with it and decided I wanted to come back and help out. Through a contact I was put in touch with the Mary Chapman School for the Deaf, began raising money and came back the following year. We also have a project at the Parami Orphanage in Dala [Township, Yangon].
Part of what we do is to improve the children's sanitary conditions, and with the money raised we were also able to put a new roof on here [at the Mary Chapman School]. In Dala, last year our funds paid for a motorbike. That was for a project in which they rent out the motorbike in the local community on a daily or weekly basis. The money they get from renting it covers 70 percent of their rice costs every month.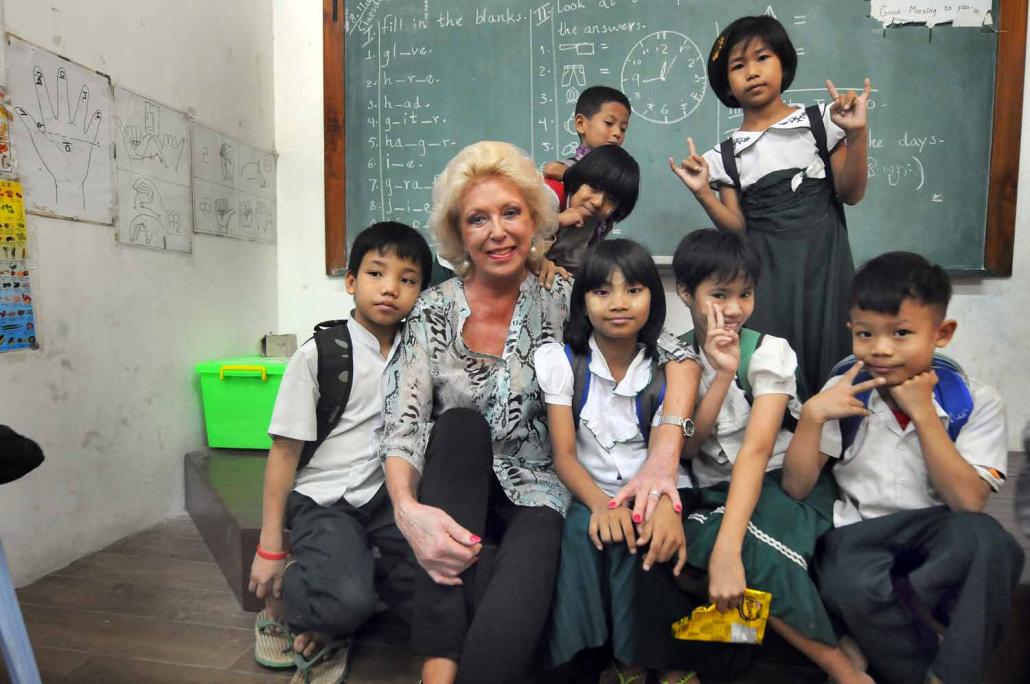 So it's interesting because it gives the children an idea of what they can do with a small investment, in that they can get a return on it and they are very proud of that project. We try to give the children access to learning, to give them access to whatever is going to serve them in life.
Why have you chosen to work with the Mary Chapman School for the Deaf?
The deaf kids are rather special as they face difficulties that other children here do not. The school is very well run and is expanding all the time. They have vocational training, and last year I sponsored some of the school leavers to take part in a motorcycle repair course. Again, [the aim is] to give them skills that they can go out and use.
Also, I'm planning to set up a mentoring program next year, working with local companies, and getting them to work with these children and help guide them into jobs.
A lot of these deaf children have trained as chefs and there is something like a dozen deaf children working in five-star kitchens in Yangon.
The interesting thing about Myanmar is that you can do a lot of good, and [you don't need] an awful lot of money.
Where does the Music for Myanmar event fit in to your activities?
Music has always played a very important role in my life so we [thought], why not bring classical music to Myanmar and help raise money for children at the same time? The first event was held in 2013, at what was then the Trader's Hotel, but now Sule Shangri-La.
Last year we held it at the Chatrium Hotel for the first time, and it was a full house there and it brought the house down. At this year's event, the third event, we will have the Irish violinist Héloïse Geoghegan and Italian pianist Giuseppe Andaloro. So it will be a very exciting concert with music ranging from Tchaikovsky to the magical Mozart and finishing with the wonderful tango composer Astor Piazzolla.
And I think people who are not familiar with the music will enjoy it also, and it will be followed by a dinner and a fashion show. And the money raised will be used in projects like this.
You mentioned that you first came to Myanmar in 2008. How has the country changed since then?
Well I think this little anecdote sums it up quite well. When we first arrived, I landed on an evening flight with a friend, and we were driving to the hotel and there were no lights on and there was no one on the street. My friend said to me, "You know what it is? Everyone's at home watching football." And of course that wasn't the reason, but it was the situation at the time.
I've seen a lot of wonderful improvements and I've seen some that I'm not too impressed by, but that's the nature of things happening so quickly here. I really do hope that they learn from the mistakes of other neighbouring countries as far as development and infrastructure go.
Editor's note: Frontier is a media partner for the "Music for Myanmar" event.