Myanmar aims to achieve national electricity coverage by 2030, but there are big questions about whether that goal can be achieved and what impact it could have on the environment and communities.
By JARED DOWNING | FRONTIER
When you think about development in Myanmar, consider that only one home in three will have power tonight. The rest will be lit with wax candles or gas lanterns, although almost all of them will be less than ten kilometres from the country's ageing high-voltage grid.
Those connected to the grid can expect to continue suffering more blackouts as the country's outdated hydroelectric and gas-fired power plants struggle, and fail, to keep up with surging demand. Myanmar can generate 4.6 gigawatts a year, about one-eighth of output in Thailand.
Demand for power in Myanmar has tripled in the last decade, but consumption is among the lowest in Asia.
The government has set out to provide power to everyone.  By 2030, it aims to quintuple its installed capacity – the maximum amount its infrastructure can theoretically generate – to 25 gigawatts. To achieve that objective it will need scores of new power plants, thousands of kilometres of transmission lines, and about US$30 billion.
There's uncertainty about how the National League for Democracy government will realise such an ambitious objective.
"The NLD does not have a current a master plan," said U Ken Tun, chief executive of Parami Energy.
Instead, it has at least three "master plans" at its disposal, formulated by the Japan International Cooperation Agency, the Asian Development Bank, and the World Bank, which has already provided US$400 for more transmission lines and small-scale rural electrification projects.
In its election manifesto last year, the NLD devoted just four paragraphs to electricity.
Its most definitive statement: "We will strive to provide access to electricity to all areas, both urban and rural."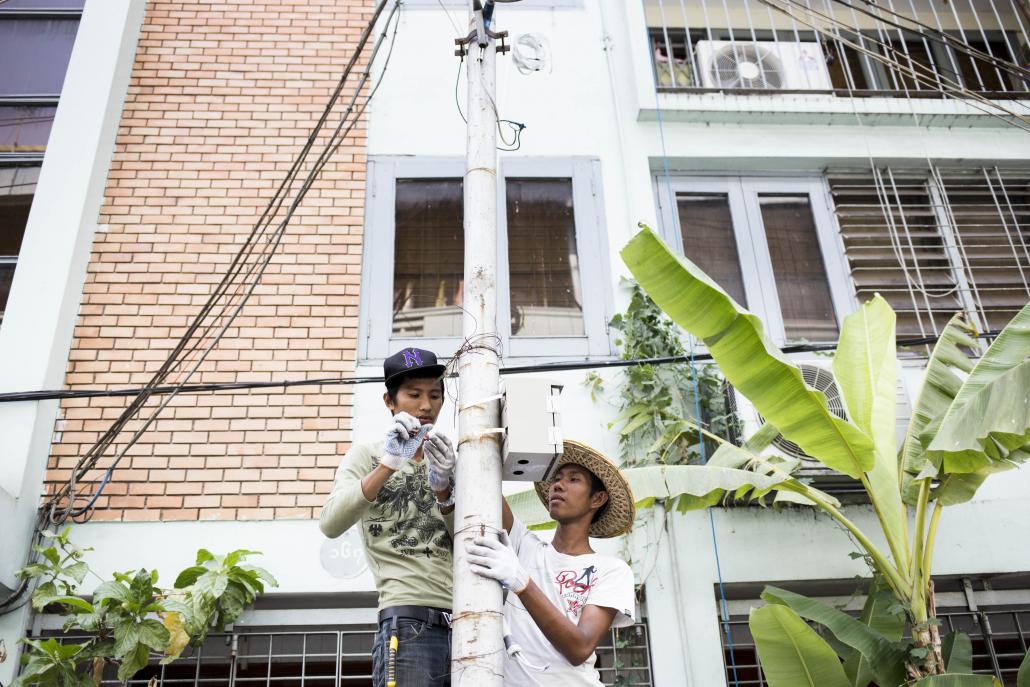 Laying power on the line
Myanmar's power grid comprises three components: generation (hydroelectricity and gas-fired power plants), transmission (high voltage lines to deliver the power) and distribution (providing electricity to individual consumers).
Myanmar aims to generate at least another 20 gigawatts, but it will be of little use if it cannot be delivered. In 2013, 17 percent of the power generated in Myanmar was lost because of outdated and poorly maintained infrastructure.
Myanmar has a modest transmission network, with lines crisscrossing the country at a maximum of 240 kilovolts, but most with a capacity of 66kV and 132kV. (By contrast, most of Thailand's lines are 230kV and can reach 500kV.) The transmission network is outdated, under-maintained and poorly structured, meaning that a downed tower or faulty insulator can have a ripple effect for hundreds of kilometres. A technical failure on April 19 caused a chain reaction that blacked out the country.
An equally pressing problem in Myanmar, where the national grid reaches 30 percent of the population, is at the household level, said U Myoe Myint, an energy specialist at the World Bank. He said 92 percent of the population lives within 10 kilometres of the grid and 99 percent is within 25 kilometres.
To help overcome this situation, the World Bank has designated most of its $400 million loan to installing more substations and low-to-medium voltage lines so the tendrils of the national grid can be extended to more of Myanmar's 60,000 villages.
Erecting 25 kilometres of transmission lines is not the same in the flatlands of the Ayeyarwady Delta as the rugged Chin Hills, Myoe Myint said. There are situations where transmission lines may not be worth the cost. This is partly why $80 million of the World Bank loan will go towards solar panels for homes, micro-hydro systems and small-scale distribution systems, also called microgrids or minigrids, which are designed to power a village or even a few households.
Even small-scale technology can vary wildly. Diesel generators might power some communities, and others might rely on solar panels for homes or micro-hydro systems, even within the same township. A telecoms company might install a microgrid to power a cellphone tower, which in turn might power a village.
"Minigrids are very difficult to generalise and our plan is that those mini grids are 'grid-ready' mini grids, so that if the national grid arrives in ten years, we can connect them," Myoe Myint said.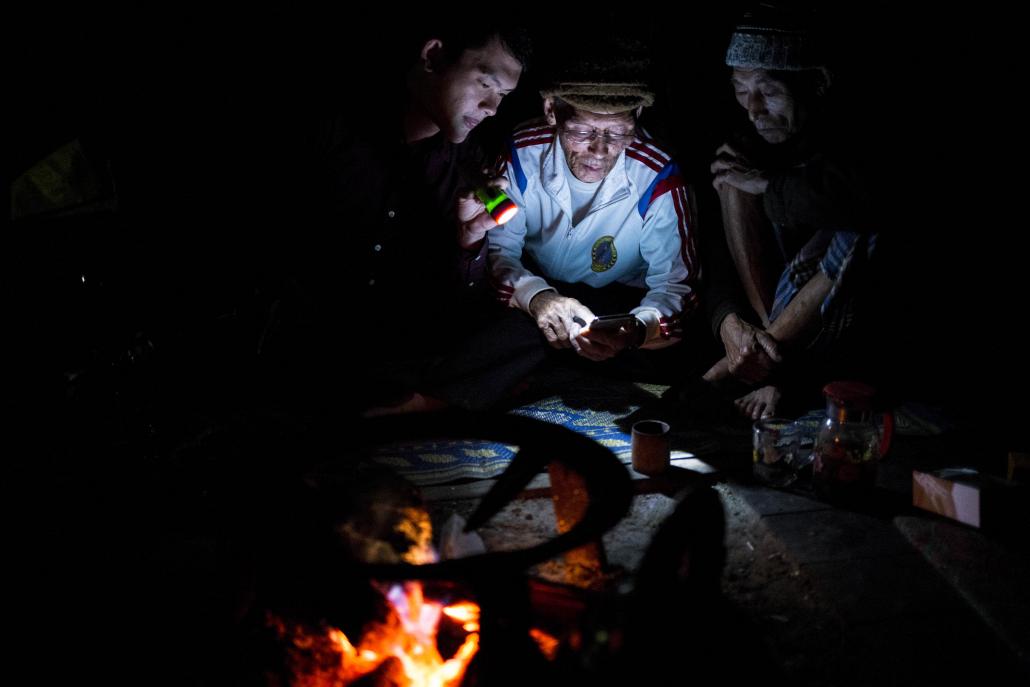 Water power
A bigger question than building new power lines and substations is generating an extra 20 gigawatts of power to distribute through them.
Most of Myanmar's 4.6 gigawatt capacity comes from 27 hydroelectric dams, with the balance generated by gas-fired plants, and a coal-fired facility in Shan State.
The most obvious choice, said Mr Billy Harkin, director of power generation company Energize Myanmar, is hydro.
"Myanmar is beautifully blessed for hydropower rivers," he said.
Harkin's company is mainly interested in hydropower projects, although for him, backing hydro in Myanmar shouldn't even be a question. Although expensive to build, they are clean, efficient and inexpensive to operate compared to coal or gas, he said.
Myanmar has four big rivers with up to 100 gigawatts of harnessable power, says the World Bank, enough to put the country on the same level as Norway, which derives 98 percent of its electricity from hydropower.
Harkin said Myanmar's extended dry season and extensive natural gas reserves meant that a more practical goal would be for the country to remain between 55 percent and 65 percent hydro, which would still make it a hydropower leader in Southeast Asia.
Achieving such a goal would require at least another 22 hydropower stations, with an average output of 300 MW each. Such a goal was achievable, though Myanmar would be more likely to build more than 22 plants, but of smaller capacity.
Harkin dismissed the debate over the environmental and social impact of dams as a waste of time.
"It only wastes valuable time, any debating whether Myanmar will or will not be the only country on the plant to not utilise its hydropower resource," he said.
Nevertheless, there is debate. The NLD manifesto says building large dams to produce hydropower "causes major environmental harm. For this reason, we will generate electricity from existing hydropower projects, and repair and maintain the existing dams to enable greater efficiency."
Although few parties disagree that hydro should play some part in Myanmar's energy future, it has a reputation for ravaging ecosystems and devastating communities.
Still, Harkin said the NLD is not anti-hydro, but is "anti-irresponsible hydro. Which is how it should be."
He believes most criticism is driven by an "emotional response" to hydropower technology and acknowledges that it would be impossible to dam a river without extensive social and environmental impact studies.
"The financing industry round the world wouldn't even fund a proposed new power station without an environmental-social impact test by an expert, independent third party," Harkin said.
Not everyone is as optimistic.
Mr Jean-Philippe Denruyter and U Shoon So Oo are energy specialists with the World Wildlife Fund, which has been focusing on renewable energy projects in the Greater Mekong Region. They do not doubt that hydro will play a significant role in power generation in Myanmar but have deep concerns about making it the foundation of the nation's energy mix.
They say the government lacks the capacity to evaluate pending impact surveys and that the studies themselves are inadequate. They say the government does not continually monitor and maintain the dams in operation, and any damage would take years or decades to become apparent.
Denruyter said the government also fails to take account of the "strategic level impact", which is the effect that a series, or cascade, of dams can have on an entire river basin.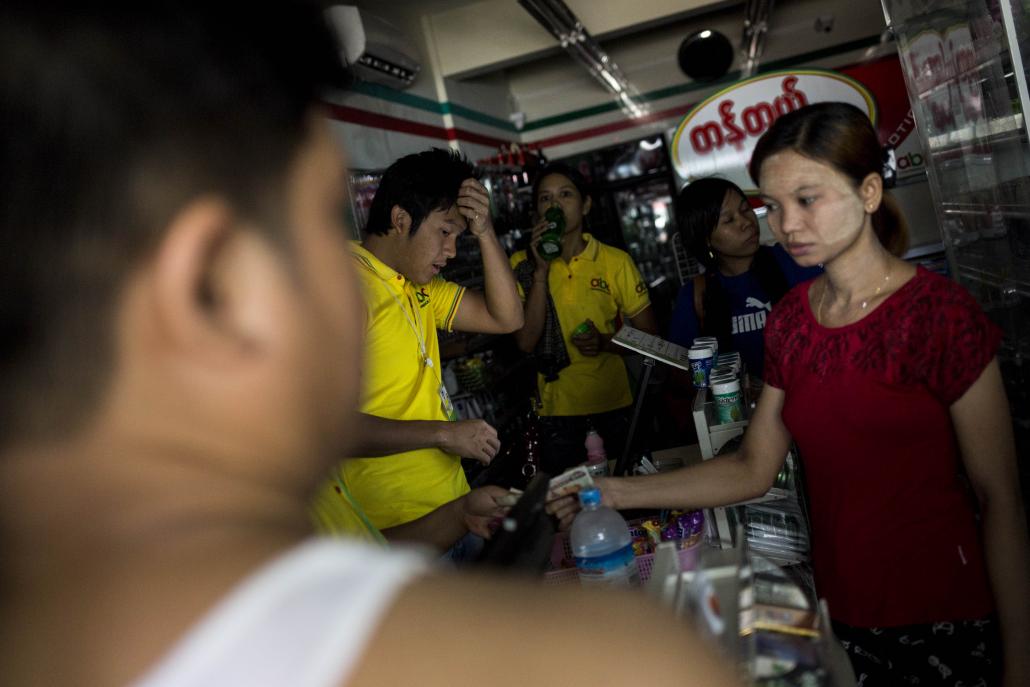 Paying for power
Denruyter's main concerns are not exclusively with the technology, but also the kind of large-scale centralised system big hydro schemes could support. "They've made quite ambitious assumptions on how much people will pay for electricity," he said.
The $30 billon national grid would require capital investment at a rate of $2 billion a year, which falls in line with ADB and World Bank growth forecasts. Presumably, by the time the $30 billion has been spent, Myanmar's population would have the spending power to buy it.  Hopefully Myanmar would also be able to export power to its neighbours. Harkin believes Myanmar could increase its export revenue by US$7.9 billion – a 69 percent increase – from electricity alone.
On the other hand, a national grid would almost certainly increase the cost of power. The ADB estimates that power costs for people off the grid (on minigrids or with home systems) range from K100 to K300 a kilowatt hour.
The national tariff, on the other hand, is K35, although the ADB estimates that without government subsidies, it would cost K125.
"These subsidies…strain fiscal capacity and discourage private power producers from investing and expanding operations, knowing that the tariff structure will not generate enough profit," said Shoon So Oo, who oversees electrification projects near Dawei, a region off the national grid.
"It would end up being the poor paying for the rich, not with their power bills, but with their tax dollars," he said.
Poor consumers in off-grid areas already pay more for power, he said, but they also consume far less than better off city residents, who benefit the most from public tariffs. Poor people might pay less for power up front, but more in the long run.
Myoe Myint said the World Bank and other partners are also concerned about making power profitable for investors while ensuring that the poor do not foot the bill.
"We have to adjust the financial viability to the affordability of the people," he said. "If government needs to give the subsidies to the poorer people, the subsidies should explicitly identify the subsidy and also make the funds available for that subsidies."
"Affordability" might mean variable tariffs in which a city dweller constantly running air-con and refrigerator would ultimately pay more than a farmer who uses fluorescent lights and maybe charges his cell phone. Or, it might be more direct, and involve free connections for poor consumers. The upfront cost of connecting electricity is about K100,000.
Regardless, Myoe Myint not only has faith in the government, but believes increased capital spending will likely result in more efficient technology and a higher return on investment.
He cited as an example a turbine replacement at a gas-fired plant that will be financed by the World Bank. "The replacement cost is more than $100 million. With that investment, the generation will become double," Myoe Myint said. "So using the same natural gas, the power plant will give double the power, and the capital expenditure will create a benefit."
Staying off the grid
Denruyter and Shoon So Oo say a solution is not necessarily about providing lots of cheap power and want Myanmar to change the way it thinks about electricity.
"The question is, do you really want to connect 80 percent of the population in the next 10 years? That's a huge investment. Do you want to take that risk as a government? Or do you want to develop microgrids?" said Denruyter.
The World Bank is already financing small-scale rural power systems as a quick fix. Why can't they be a part of the long-term solution?
Modern battery systems, combustion generators, solar cells and other microgrid technology is scalable and modular, say Denruyter and Shoon So Oo. They can supply as much power as a community needs, would represent a small-scale local investment instead of multi-million dollar international one, and it would be relatively easy to connect to the national grid, if the community chose.
Mr David Fullbrook, a senior consultant and strategist with DNV GL, a Norwegian-based certification company with expertise in technical assessment and risk management, calls the focus on small scale systems a "paradigm shift" that could open up new possibilities for renewable energy sources. In a recent commentary in the Irrawaddy, he wrote:
"Building a power system prizing efficiency around solar and wind means breaking with the legacies of earlier times when the environment and health impacts were not so well understood. If Myanmar chooses to break with the past, the door opens to the possibility of an energy leapfrog."
The NLD manifesto devoted one the four paragraphs of its energy policy to microgrid systems, and was cautiously optimistic about their potential.
Harkin is not.
"You could power 100 farms powered with 100 diesel generators, which is expensive and terrible for the environment. Or you could power 100 farms with a single, clean hydroelectric dam, he said.
Ken Tun suspects that in reality, a solution will be somewhere in the middle. The end result may be a single centralised system that incorporates smaller-scale systems instead of relatively few, massive hydroelectric dams or gas plants.
The government's strategy will likely evolve from year to year.
"They don't want to spend too much on fossil fuel, yet they don't want environmentally damaging hydropower, yet they want to fill the demand," Ken Tun said. "A country like Myanmar has to have a balanced portfolio arrangement. We need to have a combination of everything," he said. "I hope [from the NLD] to see a visionary plan that kills two or three birds with one stone."