A Yangon-based foundation says giving children more play time would benefit their overall development and build bridges between communities.
By ALFRED SKARTVEIT HELSKOG | FRONTIER
Parents in Myanmar often heap heavy pressure on their children to succeed at school. As a result, kids can spend their weekends prepping for exams by rote learning English expressions and solving equations rather than playing with their friends outside.
Daw Amy Nyunt, founder of the Play for Life Foundation, has a different vision for Myanmar's children. She believes they should spend more time outside, letting their imaginations run amok and building meaningful relationships.
Six-year-olds should not have to worry about grades, experts say. When too much pressure is put on young children, it can have lasting consequences for their mental health. A report by the American Academy of Pediatrics says that stress limits a child's cognitive development; when children are made to worry about grades and rankings, rather than playing and having fun with their friends, they are at a disadvantage later in life. Figures gathered by the Play For Life Foundation show that children who are allowed and encouraged to play are 44 percent more likely to graduate from high school.
Play prepares children for adulthood by allowing them to develop social skills that cannot be taught in a classroom. The AAP report says children learn how to communicate effectively and interact with one another through play; they learn how to read emotions and how to handle difficult situations. Children learn boundaries through play, distinguishing between acceptable and unacceptable behaviour.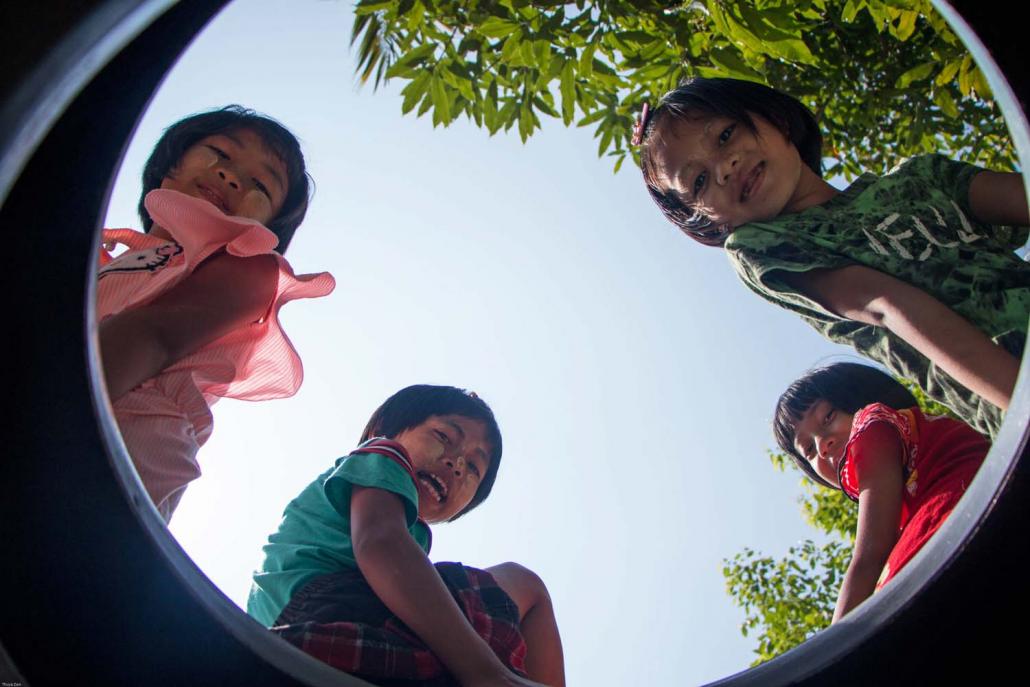 When Amy Nyunt was growing up, she had an abundance of unsupervised playtime. The same was not the case for most children her age in Myanmar, whether from rich or poor families. The foundation's executive secretary, Ms Ranessa Santos, said that poor families could not afford to keep their children idle, while in rich households, nannies were wary of allowing children to play for fear of being blamed for falls and injuries.
As an adult, Amy Nyunt moved with her husband and two children to Switzerland, where she encountered a society that encouraged children to play and have fun. She started to ponder how play is related to childhood development and what effect it has on a child's physical and mental well-being, and a vision for Myanmar arose: a society and culture in which children are allowed to be children.
Amy Nyunt oversees the Play For Life Foundation simultaneously with her business, Netsmart. The foundation was established in May last year and already has an impressive list of accomplishments. In its first 100 days, the foundation built four playgrounds, conducted ten play sessions in communities and held two community talks.
The foundation visits orphanages and schools for play sessions in which it organises games while also allowing children to play among themselves. The community talks are aimed at raising awareness of the benefits of play among parents and grandparents.
The foundation has ambitious goals. It aims to build a playground in each of Myanmar's 330 townships; to build bridges between different communities; to teach a million children to swim; and, ultimately, to incorporate play into the national education curriculum.
"My husband would tell me that whenever I got an idea, I would act on it," Amy Nyunt said, with a laugh.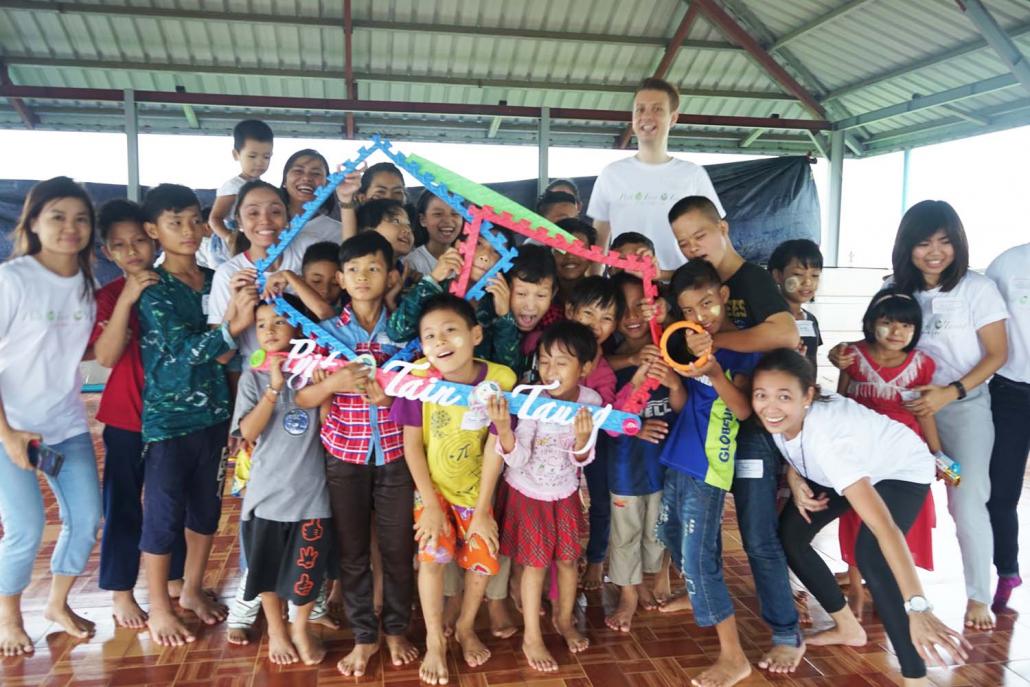 Still, there's a long way to go. When Frontier visited one of the new playgrounds, there were no children. Families in the area said the children's absence was due to imminent exams and their parents wanted them to be studying at home rather than playing.
The foundation teaches children how to swim because it could save lives. More than 300 people died from drowning in Yangon Region last year, many of them children.
"We teach them survival swimming, not posh breaststrokes and butterflies," said Santos, who oversees the foundation's daily operations.
In Myanmar, the military has touched every aspect of society and the education system is no exception. Education in Myanmar has taught children to answer questions but not to ask them. When the country was under junta rule, the last thing the military seemingly wanted was a populace that could think for itself.
Parent-child interaction in Myanmar can be limited. Parents often do not play with their children, or allow their children to play with other children, Santos claimed.
"Kids want to play, but as long as the adults will not allow them to play, our work will be less effective. That is why we are also working to raise awareness about the importance of play," said Santos.
The foundation arranges workshops, presentations and expert talks to raise awareness about the positive aspects of play. It invites parents and grandparents to attend and ask questions. In Myanmar, grandparents can play a big role in raising children. The foundation believes that they, too, need to see the importance of allowing their grandchildren to play.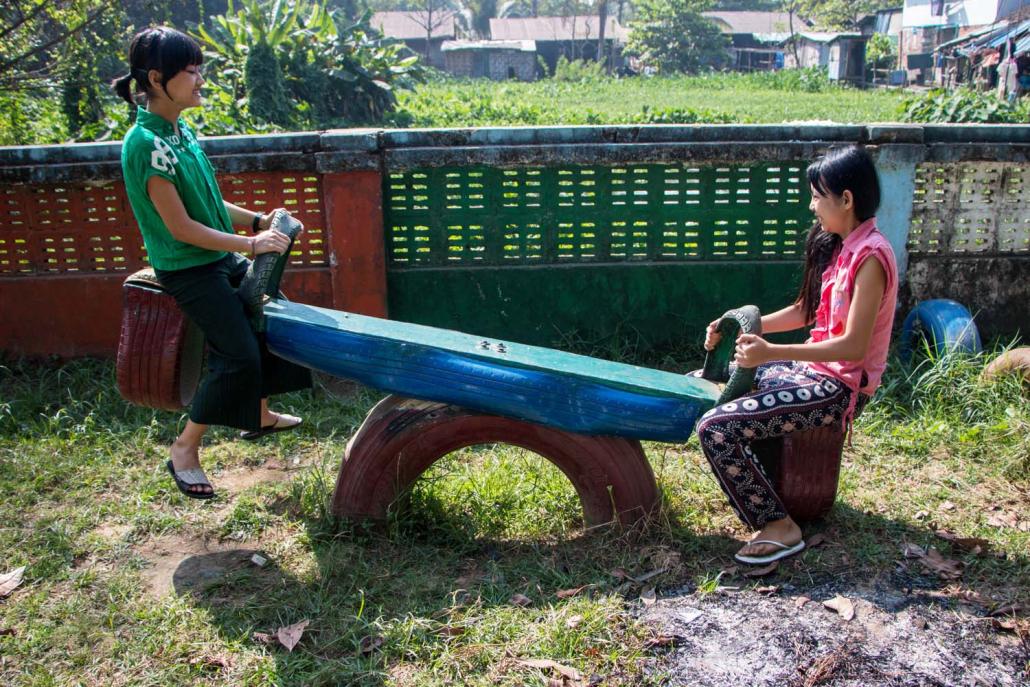 As a member of three international play organisations, the Play for Life Foundation must adhere to strict international standards. It is expected to be politically neutral and inclusive and cannot discriminate on the grounds of religion or ethnicity.
An early supporter of the foundation was Daw Su Su Lwin, wife of former president U Htin Kyaw, who has a background in education and is passionate about programs that seek to incorporate play into learning.  Su Su Lwin serves as an adviser to the foundation and has been active in raising funds. However, Daw Nyunt notes that the former first lady has political aspirations, which has limited her role in the foundation as it seeks to distance itself from politics.
In Myanmar, religious and ethnic tensions seem to have permeated every aspect of society, including children's play. The foundation aims to close the divide by bringing children of all backgrounds together in play. In Yangon, it plans to build a playground between a predominantly Buddhist township and a largely Muslim township where children from both communities can play together.
 "Children do not see colour or creed; all they see is a playmate," said Santos.
TOP PHOTO: A playground built by the Play for Life Foundation in Gyo Gone ward of Yangon's Insein Township. (Thuya Zaw | Frontier)