Members of ethnic communities say that being allowed to learn their own language in schools would help improve trust with the country's Bamar majority.
By CHAI SORN | FRONTIER
DURING THE struggle for independence from Britain, the Burmese people campaigned for the right to use the national language by chanting a slogan. "Bamar Sar Thi, Doh Sar. Burmar Zakar Thi, Doh Zakar [Bamar literature is our literature. Bamar language is our language]," they chanted. To speak our language was important to all of us.
The ethnic people in Myanmar today have similar feelings about their languages as did the people of the nation when we were all fighting together for independence.
Nai Hong Sar, an ethnic Mon who is vice chair of the United Nationalities Federal Council, an alliance of ethnic minority groups, addressed the mother-tongue issue at a recent news conference in Yangon. "The Burmese language has high priority in the education system, but ethnic languages do not – not even at the basic education level," he said.
Many leaders of national minorities are concerned that the priority given to Burmese in the education system and the government's reluctance to allow minorities to be taught in their mother tongues will eventually lead to the disappearance of ethnic languages.
"We all have a duty to love our people, literature and culture," said Hong Sar, who is also the vice chair of the New Mon State Party. "So, we will do the best to try to protect our literature and ensure it does not disappear. This is our duty."
Hong Sar said the struggle of ethnic people to preserve their languages was similar to that of the Bamar people during the colonial period. "The Bamar tried hard to protect and maintain their literature when the British were running the country, but now they do not understand the feelings of the ethnic people. It is sad," he said.
"Our ethnic literature is being abandoned and we feel like we are losing our rights, but the Bamar people generally do not understand our feelings. They need to understand."
Hong Sar also chairs the Ethnic Nationalities Affairs Center, which has listed teaching in mother tongues as one of nine social policy recommendations intended to support the peace process.
The report said that allowing teaching in mother tongues would help to build trust between ethnic minorities and the government.
The recommendation, echoing the findings of studies in multicultural countries throughout the world, said the ability of many ethnic children to learn was hampered because they were not taught in their mother tongue. They first had to overcome the challenge of learning Burmese, a language that many could not understand.
Hong Sar said the academic performance of ethnic minority children would improve if they were taught in their mother tongue, at least in their early years at school, instead of having to learn Burmese.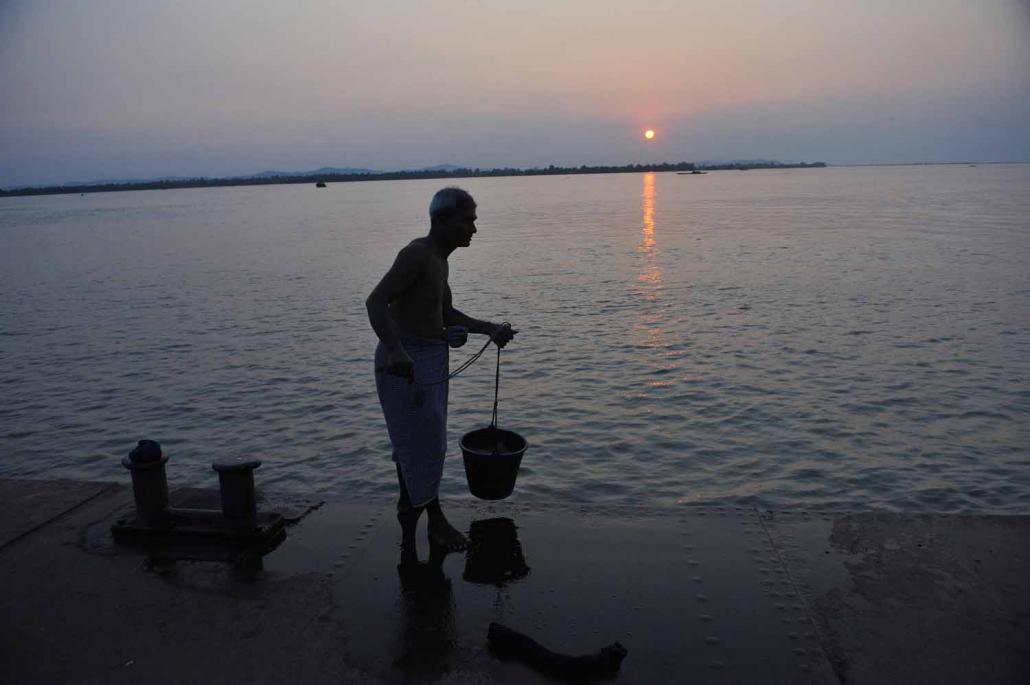 "Our ethnic children will be more confident about learning a second language after they have learned to read and write their mother language," he said, admitting that he had low marks when he was at school because he was not proficient in Burmese.
"We recommend in our report that ethnic children study their mother tongue at basic education level because it is difficult for them to begin learning in Burmese."
Hong Sar said the education of ethnic children should begin in their mother tongue before they learn Burmese as a second language and then an international language, such as English. "This would support their development through life," he said.
Opportunities
When the New Mon State Party was negotiating the bilateral ceasefire it signed with the government in February 2012 one of its demands was to allow the Mon language to be taught in the state's schools. The demand highlights the importance the Mon attach to their language and literature as one of the political rights over which they fought the government for nearly 50 years until the NMSP signed a first bilateral ceasefire in 1995.
At the news conference, Hong Sar recalled a conversation with the former government's chief negotiator, U Aung Min, after the peace process was launched in 2011 by President U Thein Sein.
Hong Sar said Aung Min had told him that Thein Sein's government would allow the Mon to study in Mon because there is only one Mon language. Aung Min then asked Hong Sar about teaching in Kayin, in which there are two languages.
Hong Sar said he told Aung Min: "It is your government's duty to allow the Karen to study in their language. The fact they have two languages is not a problem for your government because the Karen will solve that problem themselves. Your government should not restrict the teaching of their language."
Although political reform has taken place in Myanmar since 2011, ethnic minorities still lack the opportunity to study their mother tongues. This is despite Section 22(a) in the 2008 Constitution, which says the Union government shall assist in the development of the "language, literature, fine arts and culture of the National races".
The reality is different. In Mon State, the government allowed Mon children to learn their mother tongue, but not during school hours, between 9am and 3pm.
Mon is taught aftre unable to attend the classes because they have tuition after school. Mon community leaders have asked repeatedly for Mon to be taught during school hours but their requests to the previous government and the National League for Democracy government are yet to be granted.
Ethnic people had high expectations after the NLD's landslide victory more than a year ago. They had hoped that the party headed by Daw Aung San Suu Kyi would grant more rights to the national minorities, including the introduction of mother-tongue teaching at schools.
Their expectations were dashed on September 12 when the Amyotha Hluttaw voted down a proposal by the chamber's former speaker, U Khin Aung Myint (Union Solidarity and Development Party, Mandalay-8), to expand the teaching of ethnic minority languages.
The proposal was supported by Palaung, Chin and Kachin lawmakers, but was opposed by the Education Minister, U Myo Thein Gyi, who said moves to expand instruction in ethnic languages were contingent on establishing a durable peace. Some ethnic rights activists were outraged by the opposition to the move from NLD lawmakers, who apparently believed it was part of a USDP strategy to attract support from ethnic parties.
Addressing the Upper House during the debate, not long after the Panglong 21st Century Conference, Khin Aung Myint said it was the right time for the government to introduce the teaching of ethnic languages in schools.
He said the objective of his proposal was not to seek political advantage for the USDP but to contribute towards the peace process by helping to build trust with ethnic minorities.
Language lessons on the border
I AM MON but when I arrived at the Thai border 10 years ago I did not have a Mon name and I could not read the language of my people.
Fortunately, I met a teacher named Nai Ah Kar who taught me how to read and write in Mon. This is why I can now read and write in my mother tongue, as well as English, Thai and Burmese.
I had no opportunity to learn my mother tongue when I was young because the Myanmar authorities would not allow Mon to be taught at the village school. It has been the same for other ethnic minorities.
A question I am often asked, including by some ethnic minorities, is what are the benefits of being able to read and write in our mother tongue?
The main benefit is cultural preservation. For me, it was also easier to learn Thai. It's because Thai and Mon have many loan words from Pali, the ecclesiastical language of Theravada Buddhism.
I wish my Mon was better but when I was young we were not encouraged to study our mother tongue at a monastery, even though Mon monks wanted to teach our language.
The dominance of Burmese is clearly evident on Facebook in Myanmar, where it is rare to see ethnic languages.
I sometimes feel awkward when I have to use Burmese to communicate with Mon friends on Facebook. Why do we have to use Burmese when we are Mon? It is a difficult question but we know who to blame. It is the governments, both past and present, that have made it difficult for us to learn our mother languages.