The government has largely put labour reform on the backburner at a time when worker rights advocates say there's an urgent need to improve dispute settlement procedures.
By KYAW PHONE KYAW | FRONTIER
THE first crackdown on protesting workers under the National League for Democracy government occurred less than two months after it assumed power. On May 18, plywood factory workers and their supporters marching to Nay Pyi Taw from Sagaing Region were dispersed on the outskirts of the capital on May 18. About 70 protesters were detained and 15 remain in detention, including six workers.
They have been charged with four offences, including involvement in an illegal assembly, and incitement, and face more than six years' in jail if convicted. In an "urgent action" statement on July 18, rights watchdog Amnesty International said the 15 were prisoners of conscience and called for their immediate release from prison.
The government's response shocked many observers. But Ko Aung Thu Yein Tun, who heads the Yangon-based Nay Thu Yein law firm and is representing the six workers, said it was an accurate reflection of labour rights in Myanmar, which have changed little under the new government.
Labour protests on hold
One area where there has been improvement is the number of disagreements between workers and management, which has declined over the past four months. U Nyunt Win, the deputy director general of the Ministry of Labour, Immigration and Population, said this was because employers and employees were both waiting to see what approach the new government takes to labour rights.
Disputes are still occurring though, even if they don't attract as much publicity as the plywood factory workers' march on Nay Pyi Taw. One recent incident involved workers from the Lawun Htet Thar garment factory, in the Shwe Lin Ban industrial zone in Yangon's outer western Hlaing Thayar Township. They staged a protest on July 16, shortly after their workplace shut down, to demand the owner pay their compensation entitlements.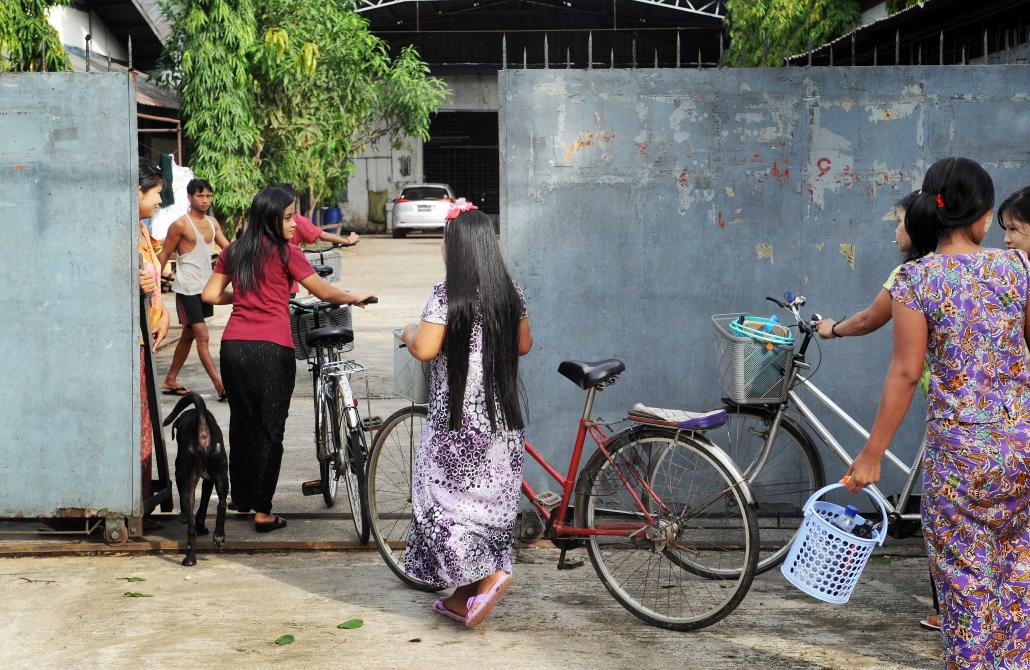 The disputes are mostly centred on Yangon's industrial zones, said Ko Naing Htay Lwin, a former labour union leader at the Ford Glory garment factory in the nearby Shwepyithar industrial zone in northwestern Yangon.
"There have been more than 10 disputes in the Shwepyithar industrial zone alone since the new government came to power," said Naing Htay Lwin. He and his former colleagues from the Ford Glory factory, site of a big sit-in protest last year that resulted in their dismissal, have formed a group called "Yaung Chi Oo" (Light of the Dawn), to help workers involved in labour disputes.
"Me and my friends who protested to the factory owners are jobless because all the factory owners know about our protest and spread news about us. That's why we want to help other workers, so that they can avoid situations like ours. Me and my friends are making a living as motorbike taxi drivers," Naing Htay Lwin said.
Ko Thu Zaw Kyi Win, a labour activist who was released from prison under the pardon declared by President U Htin Kyaw in April, said workplace disputes would continue as long as workers did not have confidence that their entitlements would be protected.
He cited the recent case of a foreign investor who established a factory and hired hundreds of workers. Three months later he closed the factory and left the country, leaving the workers with no legal redress for a situation that had caused serious financial difficulties.
"This is the sort of situation that stimulates workers to protest," said Thu Zaw Kyi Win.
Strengthening arbitration
Ko Thurain Aung, the director of advocacy group Action Labor Rights, said the new government needed to focus on improving the legal framework and strengthening enforcement.
"There are some labour laws that have to be amended by the new government because, as is well known, there are some [economic] sectors that abuse labour rights. I don't know why the amendments have not yet been made," he said.
He cited a number of weaknesses in the Labour Organization Law, which enables workers to form what are essentially unions. A labour organisation can be formed in a workplace if at least 10 percent of the workers there agree.
He said this low threshold had led to a proliferation of organisations, even within a single workplace. In some cases, factory owners also encourage friendly workers to form labour organisations, which they then favour over other, competing groups.
But worker rights groups say the law most urgently in need of change is the Settlement of Labour Disputes Law.
The law mandates the creation of dispute settlement bodies at the township, district, state and region, and union level, comprising representatives appointed by workers, employers and the ministry.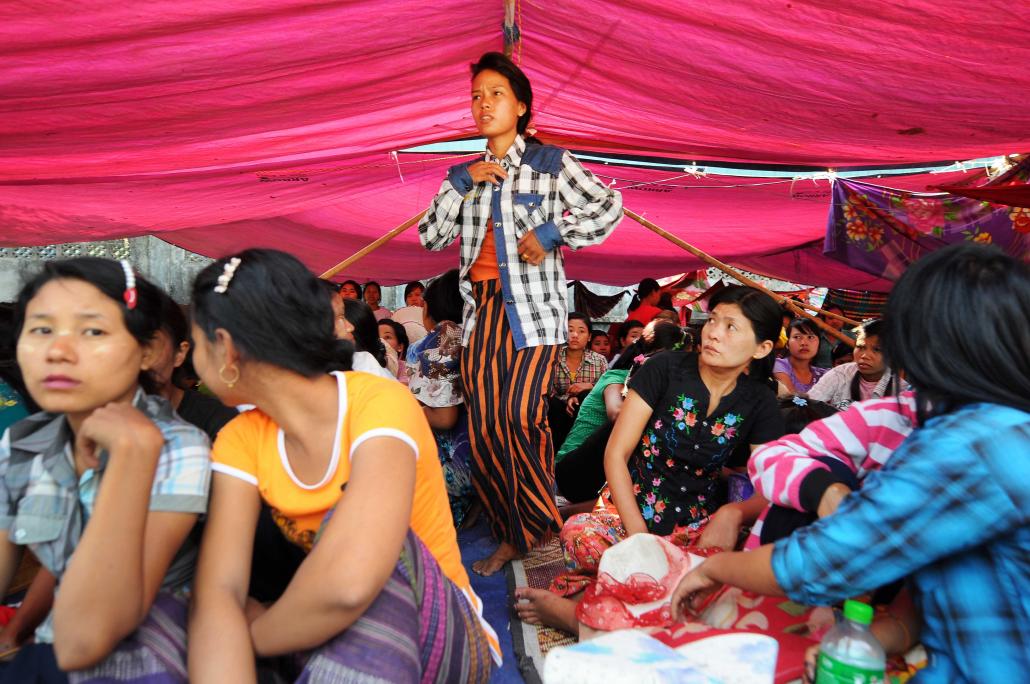 When employers and workers are unable to resolve a dispute through mediation, they submit a case for arbitration. But employers have regularly defied arbitration rulings, particularly those ordering them to rehire sacked workers, in which case the only legal remedy is a fine. Worker rights advocates have previously urged the introduction of prison terms for non-compliance, but amendments to the law in 2014 only increased the maximum fine.
Aung Thu Yein Tun said the inability to enforce decisions by arbitration councils against errant employers had destroyed workers' trust in the process for resolving disputes.
"The workers go for legal process but when the government fails to enforce the decisions after the process, even if the workers win … why should they put their faith in the legal process any more?" he said.
Thurain Aung said the law's provisions also mean that workers cannot directly file a complaint against an employer to police. Instead, it is the responsibility of the arbitration councils formed up the law. "This means they have lost their rights," he said.
Legal reform uncertain
U Nyunt Win, the deputy director general of the Ministry of Labour, Immigration and Population, told Frontier there was no immediate plan to amend the labour laws enacted during the former government's term.
He said this was because no civil society groups or other stakeholders had requested changes to the laws, which include not only the Labour Organization Law and the Settlement of Labour Disputes Law, but also the Social Security Law and the Minimum Wage Law.
"Our ministry has always listened to the voice from outside and we are working very closely with International Labor Organization, but there has been no advice … that the laws have to be amended," Nyunt Win said.
Instead, the ministry is focusing on new legislation, including a workplace safety and hygiene law and a foreign workers' law, he added.
But activists said it was a case of the bureaucracy being unwilling to cooperate with them on changes to the law.
"Government officials favour the big unions and the small unions are gradually losing their voice," said Ko Naing Zaw Kyi Win, an activist.
NLD MP U Sein Win, who chairs the Pyithu Hluttaw's farmer and labour affairs committee, said seven of the 16 labour laws were being reviewed. However, he could not say whether these include laws passed under the previous government.
"I forget the name of the laws because I don't know them by heart and I am not in my office now," he told Frontier.
Sein Win said any labour law that was reviewed by his committee and deemed in need of changing would be amended before the government's five-year term expired.
Some positive signs
However, workers and labour rights have been encouraged by the government's readiness to take action against prominent companies. Late last month, the Ministry of Labour, Immigration and Population took legal action against Premier Coffee after hundreds of workers at its factory in Yangon's Hlaing Tharyar industrial zone complained about not having days off or being paid for overtime.
Referring to migrant workers, Nyunt Win said the recent visit to Thailand by State Counsellor Daw Aung San Suu Kyi had demonstrated her interest in labour issues and would lead to improvements.
He said that negotiations with other countries on labour rights had become much smoother once they realised Aung San Suu Kyi was serious about promoting the issue.
"Before, we had difficulties resolving the migrant workers issues in Thailand, but now it is getting better," he said.
The situation of migrant workers in Thailand was a focus of Aung San Suu Kyi's visit, and the encouragement it gave them was reflected in positive comments on social media.
Ma Nilar, a worker from a garment factory in the Shwepyithar industrial zone, said that during the term of the new government, her factory's management has improved safety for workers and given them a half-day off on Saturdays. "For example, we are given earplugs when we work in a noisy area and special face masks when performing some other tasks," she said.
Top photo: Workers take a truck to their factory in Hlaing Tharyar Township in 2012. (Steve Tickner / Frontier)