Being displaced by conflict was bad enough, but now villagers in Kachin State are worried they will not be able to farm land when they eventually return home.
By HTUN KHAING | FRONTIER
COMPANIES ARE establishing banana plantations on land in Kachin State left idle and untended because of fighting between the Tatmadaw and the Kachin Independence Army, say farmers displaced by the conflict.
They say areas that were deserted amid heavy fighting after a 1994 ceasefire between the Tatmadaw and KIA collapsed in 2011 are busy again.
Border trade, which had fallen into the doldrums in Kachin for much of the past six years, has also revived and crossings are busy with trucks entering China loaded with products from Myanmar, particularly corn, banana, rice, watermelon and animal feed.
Many of the companies that have set up banana plantations are thought to be fronts for Chinese investors. U Gannes, a lawyer from Waingmaw Township in Kachin State, said the technical expertise and investment come from China, and all of the produce from the plantations is exported. Most of the labourers are migrants from Rakhine State.
In 2015, Gannes said he tried to resolve a dispute between residents and a banana company in Waingmaw. The residents were unhappy that trucks loaded with bananas were damaging the roads, and that the company was not employing local workers. Gannes said he negotiated an agreement with the Chinese owners, but the company broke the deal about six months later.
"Only Myanmar companies are allowed to invest in banana plantations but everyone knows many Chinese people are investing," Gannes.
The news that companies from China are investing in banana plantations is causing anxiety among the estimated 90,000 villagers living in IDP camps in Kachin, many of whom were farmers before their lives were disrupted by war.
Among them is U Dashi Lamaing, 48, who has lived in an IDP camp in the state capital, Myitkyina, since June 2011. He occasionally returns to his village in neighbouring Waingmaw Township, which shares a border with China, and was shocked to recently find a plantation had been established on part of his orange orchard.
"The banana plantation is encroaching on the lower part of my orange orchard," he told Frontier.
Dashi Lamaing was asked what he would do if his eight-acre (3.2-hectare) orchard was occupied when he is finally able to return home.
"What can I do?" he said.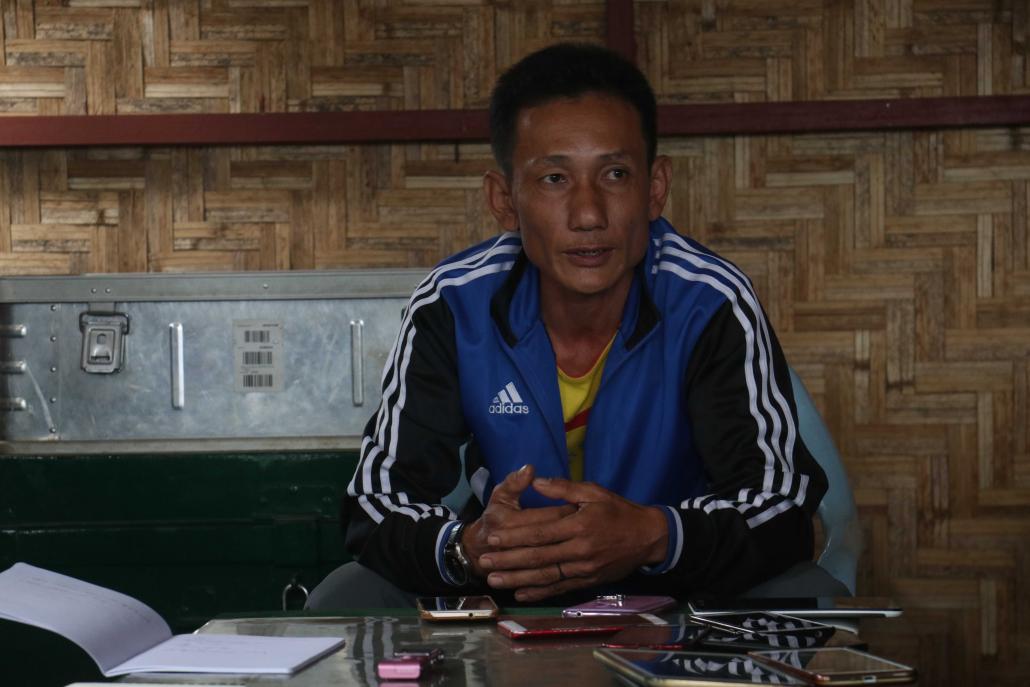 U Thein Soe, 52, has lived in Waingmaw Township's Tharkaya Thayattaw IDP camp since June 2012, when he was forced to flee his home by the conflict.
He is also worried about the fate of his farmland, which is near Kandawyan village on the Waingmaw-Bhamo road, about 65 kilometres (40 miles) from Waingmaw.
Thein Soe said local media had reported that the government has granted a 30-year lease to a private company to establish a banana plantation near his village.
He despairs at the prospect of losing his land.
"There is no one to protect us," he said.
The issue recently caught the attention of the KIA, after the Ministry of Agriculture, Livestock and Irrigation issued a statement that a private company and two individuals had applied to cultivate more than 9,000 acres of "vacant" land in Bhamo Township.
The notice said that if no objections were received by January 3 the land would be handed over to the companies.
On December 21, the KIA said in a statement that it was concerned the land might be owned by IDPs and other residents.
The group warned the investors who had applied to cultivate the land not to proceed with their projects. "If any problem arises, the investors will be responsible," the statement said.
Kachin State Hluttaw lawmaker U Naw Li (National League for Democracy, Waingmaw-2) said the state's chief minister had told him privately that the government had not given legal approval to plantations on land owned by IDPs.
In December, Naw Li submitted a question to the state assembly about the banana plantations, and the government responded that it would "find a way to solve the problem".
"When I visited IDPs camps I got a lot of complaints from IDPs about their land," Naw Li said. "We have started collecting information on how much land has been occupied, when the plantations were started and where they are located."
It's important to distinguish between the plantations established in recent times and those made possible by the peace dividend that followed the 1994 ceasefire agreement.
A variety of fragrant banana grown by tissue culture was successfully introduced to Kachin in 2006 as a substitute crop for opium. Ministry of Commerce figures show that farmers, in cooperation with companies, had established about 13,000 acres of fragrant bananas in Kachin by 2007. Ten years later, the Kachin State government says the area under cultivation has increased three-fold, to nearly 40,000 acres.
The fragrant bananas are popular with consumers in China. During the 2008 harvest a tonne sold for 4,000 yuan (about K828,000), but prices have halved since then.
Government figures show that by 2011-12, about 20,000 tonnes of fragrant banana was exported to China through the border crossing at Kan Pike Tee, about 80 kilometres (50 miles) east of Myitkyina along rough mountain roads. This made bananas the top export item that year at Kan Pike Tee based on official figures, although these are likely far lower than the value of timber and other goods smuggled illegally into China.
Exports through Kan Pike Tee began in 2009 but came to a halt in April 2012 when a bridge on the road between Myitkyina and the border crossing was blown up during fighting between the Tatmadaw and KIA.
Banana export volumes soon regained their previous levels after the bridge re-opened in 2013. They have also been helped by the opening of another crossing further south at Lwe Je, which is about 50km east of Bhamo.
In November alone, nearly 4,000 tonnes of bananas was exported to China through Kan Pike Tee and Lwe Je, the government figures show.
China is the world's seventh biggest buyer of foreign-grown bananas, with imports in 2016 worth US$585.5 million, show figures on the World's Top Exports website. Rising demand in China has coincided with the expansion of banana plantations in Kachin.
Thousands of acres near villages along the Ayeyarwady River in Kachin State have been acquired to grow bananas, the Commerce Journal, a publication of the Ministry of Commerce, reported on December 4.
It is not possible to know how much of the land was once farmed by villagers now languishing in the state's IDP camps.
However, the KIA's political wing, the Kachin Independence Organisation, issued a statement on November 25 warning that the illegal occupation of land by some companies and individuals to establish plantations must stop.
On November 29, the KIA's Colonel Zaw Gaung told Voice of America he had heard that companies were growing bananas on land along the Myitkyina-Bhamo road that belonged to villagers displaced by fighting and living in IDP camps.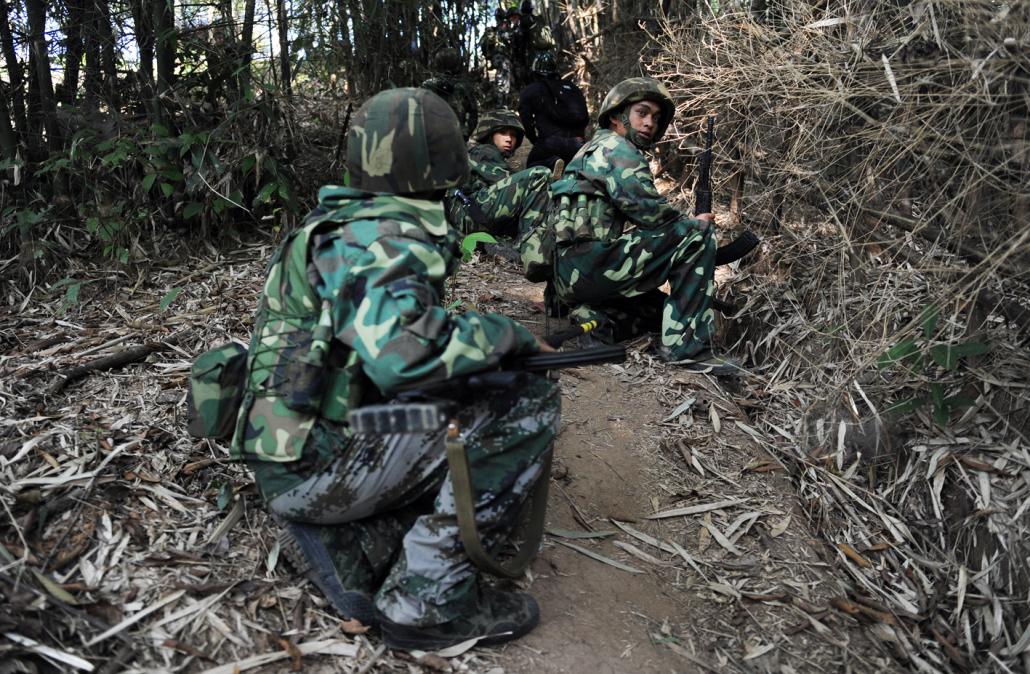 The Reverend Lama Yaw, of the Kachin Baptist Convention, said the Union government and all armed groups in Kachin – including ethnic armies and the Tatmadaw – had a responsibility to ensure that villagers displaced by war did not lose their land.
"There will be problems if the refugees return home and discover that their land has been taken," Lama Yaw told Frontier.
"The refugees are not able to object to the occupation of their land and if they go and see what is happening to it their lives will be in danger," he said.
Thein Soe said Tatmadaw troops had camped near the village where he had lived and he was optimistic they would not allow a banana plantation to be established on his land and those of his neighbours.
But other IDP camp residents said it was Tatmadaw discrimination against Kachin people that was allowing the plantations to flourish.
U Aung Lar, an IDP camp resident since 2011, who used to grow paddy on a farm in Gar Yar Yan village near Myitkyina, said that while it wasn't safe for Kachin people to go back to their villages, the security forces protect Chinese investments.
"Chinese and Kachin are not the same. They have money," said a despondent Aung Lar. "We cannot go back to where they are doing their business in peace."
TOP PHOTO: Steve Tickner | Frontier