By EMILY FISHBEIN | FRONTIER
MYITKYINA — For the second consecutive year, police in the Kachin State capital, Myitkyina, tried to block activities that marked the resumption of the Kachin civil war eight years ago and showed solidarity with people displaced by the conflict, and have also hit two organisers with criminal charges.
Fighting reignited between the Tatmadaw and the Kachin Independence Army on June 9, 2011, following a ceasefire that had held for 17 years. United Nations figures say that about 106,000 people remain displaced by the conflict in 169 camps in Kachin and northern Shan states, of which 37 percent are in areas beyond the control of the Myanmar government.
On Sunday, district police arrived at Sein Mya Ayeyar Park in Myitkyina's Yuzana ward and told the organisers Ko Pau Lau and Seng Nu Pan that a drama performance by conflict-displaced youth was not permitted to proceed. Although the organisers had notified the district administration more than 48 hours in advance that they would hold the event, as required by the Right to Peaceful Assembly and Peaceful Procession Law, the district police said the event could not proceed because they had not included the detail that a drama performance would take place.
An argument erupted between the activists and the police, with truckloads of internally displaced people, or IDPs, from camps in Myitkyina and Waingmaw townships looking on. It was eventually agreed to relocate the event to People's Square in central Myitkyina.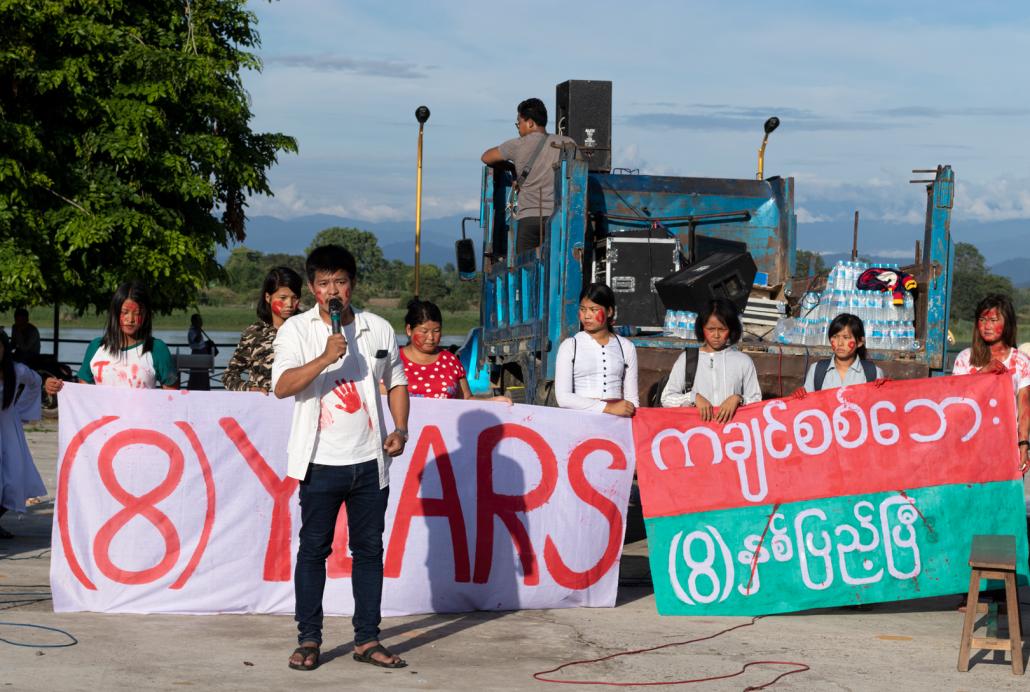 On June 10, township police charged Ko Pau Lu and Seng Nu Pan with holding an unauthorised protest. Under section 19 of the peaceful assembly law, they face a maximum penalty of three months imprisonment or a fine of K30,000, or both.
While the pair were being charged, supporters stood outside Myitkyina's No. 1 Township Police Station holding signs that said, "Are we guilty for asking to stop the war?" "Are we guilty for showing the IDPs feelings?" Ko Pau Lu and Seng Nu Pan pleaded not guilty at a court hearing on June 11. A further hearing has been scheduled for June 19.
Ko Pau Lu told Frontier that an "information gap" had contributed to a misunderstanding between them and the authorities about the nature of the June 9 event.
"From our side, it was just an event, but from the police side, it looked like assembly and a demonstration," he said. "The district police officer accused us of doing [some] kind of violence, even though we expressed our feelings peacefully."
During the event last year to mark the anniversary, police intervened in the middle of a performance and organisers had to negotiate with police before it was allowed to continue. Frontier sought comment from the township police but was informed that the person authorised to speak on the subject was not available.
Seng Nu Pan lamented the efforts to disrupt peaceful events. "Every time we make a demonstration, they accuse us," she said. "They always find a reason, say we are not permitted. Even though the government says we are a democratic country, their activities are not following a democratic system."
'We are tired of this war'
At the People's Square performance, IDP youth re-enacted the resumption of the conflict. The performance included an aerial bombing scene that evoked sobbing from both audience members and performers.
Among those who wept was Bawm Myaw, formerly from Awng Lawt village in Tanai Township. She fled her village last year during intensified fighting between the Tatmadaw and Kachin Independence Army that trapped 2,000 villagers for a month without access to humanitarian assistance.
"Despite the fact that the government has been forcing us to go back to our village, we don't have a sense of security yet," she told Frontier.
A performer at the event, 21-year-old Bawk Nu Awng from Maina IDP camp in Waingmaw Township, told of the discrimination she experiences as an IDP. "I am really tired of being discriminated against at school. Many people look down on me," she said. "It is disturbing that people still discriminate against IDPs. Today, I felt really emotional. I wish there was safety so I could return home."
In a speech after the performance, Seng Nu Pan said there had been an increase in the number of IDPs since the National League for Democracy government took office in 2016.
"We are tired of this war and the damage it has caused. We want the government to stop hurting people. IDPs will return to their villages only if the war stops and there is no political unrest," she said.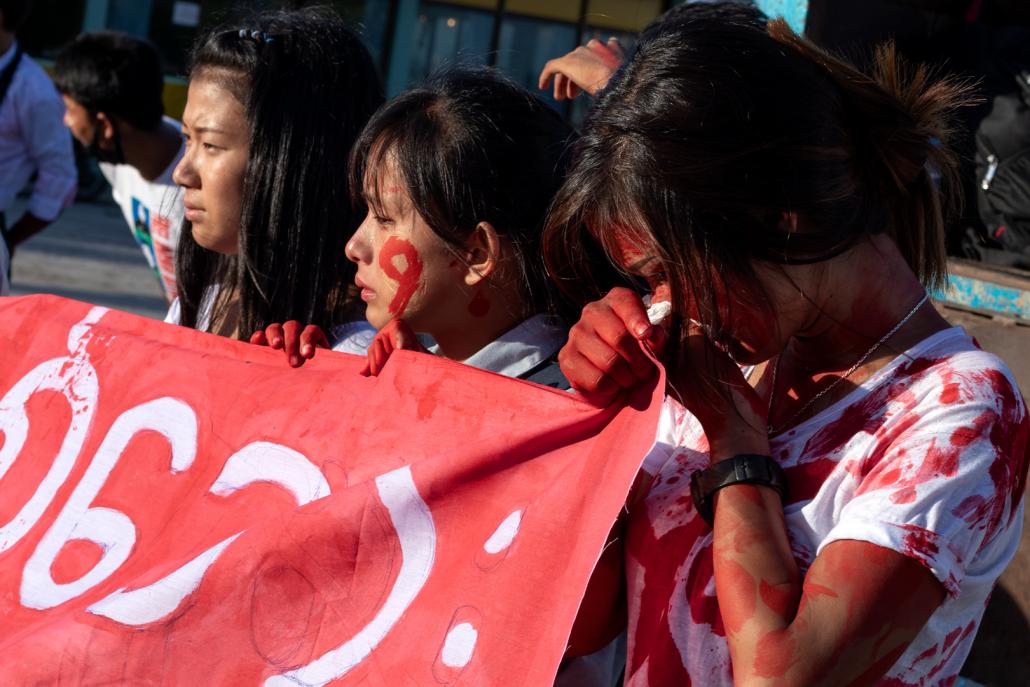 Ko Pau Lu told Frontier that key messages from civil society to the international community were to advocate for humanitarian access to vulnerable populations and to ensure that the resettlement of IDPs meets international standards for safety and dignity.
A review of the humanitarian situation published on June 6 by the UN Office for the Coordination of Humanitarian Affairs revealed that the government has not permitted UN agencies to deliver aid to thousands of displaced persons in non-government areas of Kachin and northern Shan since June 2016. Since January 2018, there were 30 applications by the UN to deliver aid to IDPs in areas of the two states outside government control, but none were approved, the report said.
There have been talks about IDP returns in recent months. In March, Chinese officials from neighbouring Yunnan Province met Kachin Baptist Convention president, Reverend Hkalam Samon, to ask him to support IDP returns. As reported by Frontier, the move comes at a time when China, which borders Kachin, seeks to pave the way for the establishment of a China-Myanmar Economic Corridor.
The first formal returns occurred from January to March, when 46 IDP families were accompanied by the Tatmadaw to their home village of Nam San Yang in Waingmaw Township. With concerns persisting about IDPs' long-term safety, the returns did not have the support of the Kachin Independence Organization, the political wing of the KIA, or the Kachin Humanitarian Concern Committee, a church and civil society group that promotes safe IDP returns.
In December last year, the Tatmadaw announced a unilateral four-month ceasefire covering military commands in Kachin and Shan States. On May 1, the Tatmadaw extended the ceasefire for another two months.