The junta's clumsy attempts to exploit COVID-19 and strengthen its control at the grassroots level by appointing compliant local officials are being thwarted by resistance that ranges from non-cooperation to assassinations.
By FRONTIER
Coup leader Senior General Min Aung Hlaing marked the six-month anniversary of his putsch on August 1 by announcing the formation of a provisional government with himself as prime minister – a move seen by many as an effort to strengthen and legitimise his rule.
As the junta consolidates its power at the top, it is also moving to strengthen its administrative reach at the grassroots level, partly through policy decisions involving the fight against COVID-19, which has spread rapidly throughout the country over the past month.
In a speech on July 12, Min Aung Hlaing had warned his opponents not to exploit the shortage of oxygen needed by those with the most serious cases of COVID-19. Yet the regime has done exactly that – it has sought to take political advantage from the most recent wave of infections by granting junta-appointed local authorities powers over oxygen distribution and movement restrictions.
Min Aung Hlaing's speech came two days after the military council introduced informal restrictions on the sale of oxygen. In Yangon, it followed that up on July 20 by further strengthening grassroots administration through the creation of township and ward-level "oxygen support committees" to issue recommendation letters to the public for buying oxygen and managing supplies. Township committees are headed by the township administrator and comprise other officials, community leaders and representatives of social welfare groups.
Since forming the committees, the junta has also introduced restrictions on private oxygen plants in Yangon Region, banning them from filling cylinders unless the customer has a recommendation letter from the local authorities.
Wishful thinking vs reality
On July 24, U Hla Soe, the chair of Yangon Region Administrative Council – appointed by the provisional government as the regional chief minister on August 1 – wrote on his social media page that the township oxygen support teams were formed in collaboration with local authorities and charity groups.
"Anyone can ask at township general administration department offices about receiving oxygen free of charge. They do not need a recommendation letter (from their ward or village tract administrator) or to pay money. They can get oxygen easily by filling in the patient's name, address and telephone number on the request form," Hla Soe wrote.
Authorities said the main reason for forming the committees was to reduce the number of outlets selling oxygen and ensure there was enough for patients in need.
However, a ward administrator in Yangon Region's Mayangone Township, who asked not to be identified, said the situation described by Hla Soe bears little resemblance to reality.
The administrator said he is being overwhelmed with requests for oxygen that he can't satisfy, because the township oxygen distribution committee is only allocating his ward one 40-litre cylinder a day. There are also some days when he receives nothing.
"How can I meet demand with a 40-litre cylinder a day?" he asked, adding that he was receiving requests to refill up to 25 cylinders daily. "I have to ask my friends and other sources if they can provide oxygen," he said.
According to the administrator, all the requests he receives are to refill cylinders and he has yet to be asked to provide a recommendation letter to buy from a private outlet.
"If I can't help with oxygen, I refer them to charity groups," he said, adding that one of the most reliable sources in Yangon is a social welfare group called Seitta Arrman.
"Volunteers from this group go around Yangon to find oxygen. When they do, they share it with the needy," he said.
A village tract official in Yangon Region's outer northern Hmawbi Township said he has not been allocated any oxygen by the township committee and has been issuing recommendation letters to volunteers or charity groups on request.
"I am yet to be asked by a resident for a recommendation letter. They ask for oxygen, but I can't help. So I refer them to local charity groups," said the official, who requested anonymity.
Even before all the new restrictions, it was extremely difficult to get oxygen tanks refilled because of the high demand during this third wave of infections. Occasional attacks by the junta's forces on people lining up at oxygen plants have also been reported.
Rather than effectively addressing the oxygen shortage, the formation of the township oxygen support teams has been criticised for making it more difficult for individuals and charity groups to acquire urgently needed medical oxygen.
Charity groups told Frontier that some factories refuse to sell oxygen without a recommendation letter from township administration committees. They are also often told by the factories that they must have a letter from a township doctor or local official to show that they have a genuine need for oxygen. On the other hand, some factories are selling oxygen to those without recommendation letters, but prioritising those with letters. The unpredictability of the situation is leading to even more resistance to working with the oxygen committees.
In Mayangone Township, Ko Aung Aung Oo and a group of friends are helping to provide oxygen to those in need and say demand is very high because of the junta's incompetence and the limited supply being allocated to the junta-appointed township oxygen distribution committees.
However, even those with recommendation letters from local authorities still find themselves having to queue for hours to receive oxygen from a plant, Aung Aung Oo said. Even many of the charity groups that have allied with township committees have to queue to get oxygen due to the high demand. So some, like Aung Aung Oo, don't bother with going through the process to get a recommendation letter.
"They just want to flex their power. If we can get oxygen without queuing just by showing a recommendation letter, we don't hesitate. It's just a piece of paper and it does not help to acquire oxygen. So, why should we waste time getting the letter," said Aung Aung Oo.
It's a similar situation outside of Yangon. U Kyaw Ko Ko, the leader in Mandalay Region's southern Meiktila Township of the Myosatthit Myat Parami Social Welfare Association, which is providing treatment to COVID-19 patients, said it makes its own arrangements to acquire oxygen. "We have not received help from the local authorities. We do everything ourselves, including acquiring oxygen," he told Frontier.
Factories under pressure
On July 28, township General Administration Departments ordered factories in Yangon Region to provide oxygen only to those with a recommendation letter from local authorities. Queues largely disappeared at oxygen plants after the order was issued. Some oxygen plants in Insein and South Okkalapa townships posted signs saying that anyone wanting to refill cylinders must have a recommendation from ward administrators.
The junta's apparent strategy of using oxygen distribution to regain control over local administration has created difficulties for some private oxygen factories. Previously, there were no formal restrictions applied on sales of oxygen, only informal directives to stop selling to individuals.
Factories owners told Frontier that their respective township administrative councils have told them that they must prioritise requests for oxygen from those affiliated with the SAC, including oxygen support committees, state-owned hospitals and quarantine centers.
After the township oxygen distribution committees were established, they allocated quotas based on the production capacity of the factories in their township. In addition to quotas, some factory owners were told by their township administrative council that the first priority for sales were government hospitals, followed in order by COVID-19 treatment centres, and sales to social welfare groups and individuals. Factories were also prohibited from selling outside their region or state.
With factory owners feeling the pressure from the soaring demand and the junta's rules and regulations, confusion reigns.
Some owners say there is no ban on the sale of oxygen to the public without a ward endorsement, but will require a doctor's recommendation for emergency cases that want to jump the queue ahead of those on the SAC's list of priorities.
"Some people say factories will not sell if they do not have a recommendation letter from a ward administrator, but that's not true," said an oxygen factory owner in Yangon who asked not to be named.
"We have to do it first for them [SAC's list of priority institutions]," he said, "We have to show evidence for why we paused providing oxygen to them and refilled emergency oxygen cylinders instead. So people should bring medical documents if the situation is an emergency."
The Mate Sate oxygen plant in Yangon's South Dagon Industrial Zone has the capacity to produce enough to fill 700 small cylinders (between 5 litres and 20 litres capacity) and 120 40-litre cylinders a day. It is supplying nearly 500 small cylinders to the oxygen distribution committees in six Yangon Region townships. It is also filling 40-litre cylinders for hospitals and COVID-19 treatment centres.
However, the factory's managing director, U Tin Aung Lwin, said the township distribution teams and their affiliated social welfare groups were unable to take the oxygen reserved for their use because they do not have enough cylinders to hold the oxygen.
"They are only able to refill about 350 cylinders a day, so we sell the rest to people who need it," he told Frontier on August 3.
Tin Aung Lwin said he was in a difficult position as a factory owner because he has to coordinate with junta-appointed authorities to facilitate the demands of both the military and the public.
"Factories are operating under their administration," he said, referring to the junta-appointed bodies. "We have to coordinate and negotiate with them for the welfare of the people. Sometimes we have to do as they say. We also sell to everyone without discrimination," he said. "In an emergency, it's better to have a doctor's recommendation of medical documents."
Although the junta is restricting the operations of private oxygen plants, it is selling oxygen from a military-owned plant in Yangon's Mingaladon Township without buyers having to show recommendation letters. State-run media has reported that the "Mindama Air Separation Oxygen Plant" owned by the Tatmadaw's Myanmar Economic Corporation is selling oxygen to the public.
In an interview with Tatmadaw-run Myawaddy Television on July 14, the head of the factory said anyone wanting oxygen needed to bring a cylinder but there was "no need to bring letters of recommendation". The factory was selling oxygen for 10-litre and 20-litre cylinders between 9am to 6pm to buyers who needed to show a Citizenship Scrutiny Card. Customers said the factory was selling oxygen refills for 5-litre and 10-litre cylinders for K2,000 and was not filling up 40 litre cylinders.
"We can buy oxygen cheaply here and many people are relying on the factory," said Ma Moe, 50, who was in a queue of about 100 people waiting to buy at the factory on August 2.
However, when asked many people do not know who owns the factory.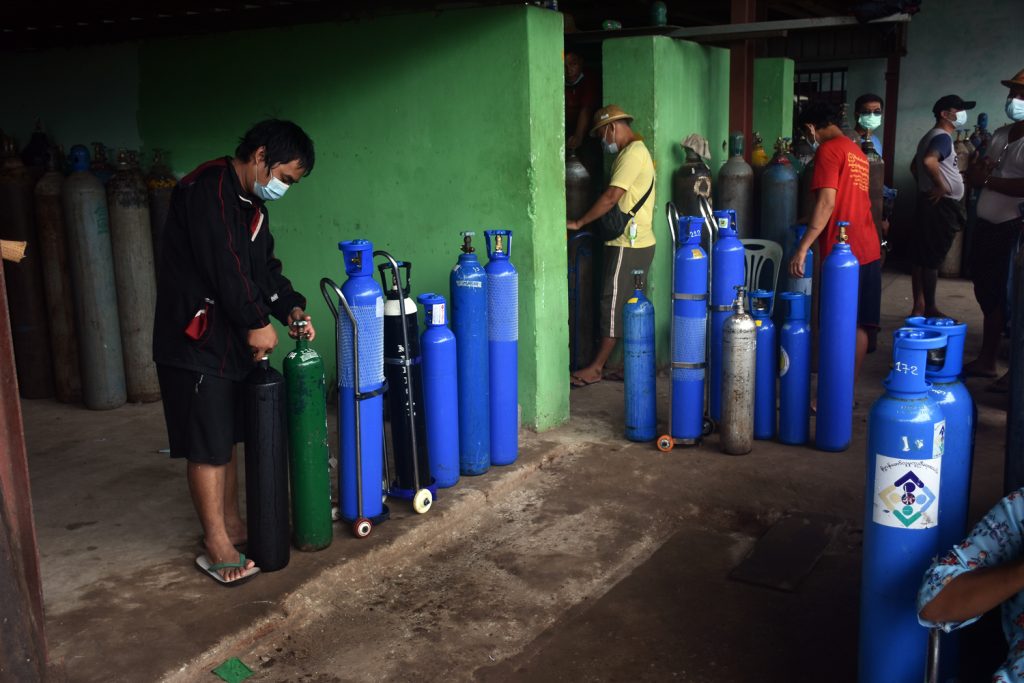 Restricting movement
Controlling access to oxygen is not the regime's only strategy for strengthening the power of its appointees at the community level. COVID-19 prevention is also being used to impose restrictions on freedom of movement.
In some townships throughout the country, residents need cards issued by junta-appointed ward or village tract officials for permission to travel. In those townships, residents have to show the card to gain entry to wards or village tracts and are only allowed to leave their home for limited periods. All shops except pharmacies must close at noon, after which time residents need a recommendation letter from a junta-appointed ward or village tract official to leave the area where they live.
These restrictions do not apply throughout the country, but only in areas where the ward or village tract administrators have been appointed by the junta. One such area is Yangon's outer northern Hmawbi Township, where the population includes a large number of military personnel. The travel card system is also reported to have been introduced in some townships in Bago and Mandalay regions, as well as Shan State. But people living in downtown Yangon say officials have not tried to introduce it there.
A junta-appointed ward administrator in Mandalay city's Aung Myay Thar Zan Township said the card system was being used to prevent the spread of the coronavirus. He said no action has been taken against residents who do not follow the rules.
"People are critical of whatever we do," he said. "But we are doing our best to prevent an epidemic. Oxygen is also being distributed through local social welfare groups. They get oxygen faster with my letter of recommendation."
Distrust and even hostility towards junta-appointed local officials is affecting the COVID-19 vaccination rollout as well. Many do not want vaccines if they are provided by the junta and their officials. On top of this, residents wanting to be inoculated are required to provide their CSC and household registration list.
"We have to give them our names to be vaccinated, so I decided not to be vaccinated under the military regime, and so has my mother. We have no reason to have anything to do with people working for the military," said a woman who owns a restaurant in Yangon's Ahlone Township, who asked not to be identified.
Terror and resignations
The junta's efforts to spread its tentacles of power and control over everyday people have been frustrated by the mass resignations of local administrators who fear joining a growing list of assassination victims.
One of the most significant such events occurred on July 4 in Sagaing Region's Kawlin Township when at least 10 village tract administrators and township General Administration Department officials resigned en masse in messages posted on social media.
The latest fear-driven resignations have included those of nine village heads in Sagaing Region's Pale Township who resigned in early August after receiving a warning from the People's Defence Force-Pale. It warned that they would be attacked for "betraying the people" if they continued to serve the regime.
In Butalin Township, also in Sagaing Region, five village tract administrators quit on August 1, saying they had received death threats.
Regime spokesperson General Zaw Min Tun told a news conference on July 12 that 173 ward and village tract administrators, USDP members and people accused of being military informers had been killed as of the end of June.
He admitted that the regime cannot provide full security for local officials and suggested they inform the relevant authorities when they travel and not travel alone. He said unarmed security groups were being established in wards and villages to provide information and warnings ahead of the violence, and that the groups had already been established in almost half of the country.
Elected officials purged
After it seized power on February 1, the regime council terminated the appointment of about 16,800 village tract and ward administrators who had been elected by their communities under reforms theat begun in 2012.
Some of them were reappointed but most were replaced by supporters of either the Tatmadaw or its proxy party, the Union Solidarity and Development Party. The appointments were met with widespread public opposition, which resulted in many of the appointees resigning within days of being appointed. As a result, some townships do not have ward or village tract administrators.
Regime-appointed administrators now receive a monthly salary of K50,000 plus K20,000 for office costs. They are required to submit detailed reports to township GAD offices, including on suspected resistance activists in their areas.
"Underground revolutionary activists are hiding in urban areas. The military does not have the capacity to get intelligence on their activities so it relies on administrators to gather information. We have to eliminate the administrators who are working as dalan," a member of a Yangon-based PDF told Frontier, using the Burmese term for informers.
The trust and cooperation that elected administrators had enjoyed in their communities was destroyed when they were replaced by junta appointees. This contributed to the military's flailing response to the third wave of the COVID-19 pandemic: one of the reasons the response to the first and second waves was more effective was because local officials had the strong support of the public.
A plea for understanding
A ward administrator in Mayangone Township who was reappointed after the coup admitted that he could not work as effectively as he had under the NLD government. "Some people want to help me but are afraid of being criticised by others and accused of working for the military if they help us," he said. "I am helping as much as I can. No matter what anyone says, I hope [residents] understand me."
It is clear that despite the efforts of the regime, it has failed to secure complete control over local administration since it seized power. Many local administrators seem to be taking care not to create problems for residents of their communities out of fear for their lives. The situation means that many 100-household and 10-household community officials are having to assume the responsibilities of administrators. Meanwhile, the regime is having difficulty filling vacant administrative roles.
It is also having to provide extra security for some administrators, especially known military supporters.
A ward administrator in Mandalay's Aung Myay Thar Zan Township who is known to enjoy good relations with the military told Frontier he is guarded at his office by 10 soldiers.
"We are doing good work, but no matter how good we are, there will always be those who want to attack us. So it is better to have security," said the administrator, who served previous military regimes but resigned in 2016 when the NLD introduced elections for local officials. He was reappointed by the regime in mid-February.
On July 27, an official in a sub-ward under his administration was shot and injured by a man who visited his office on the pretence of needing a recommendation letter.
"I have not yet received any death threat, but I'm very worried about my security after the shooting on July 27," said the administrator. "Anything can happen at any time."
Correction: An earlier version of this article said that 16,800 village tract and ward administrators removed by the regime were elected by their communities under reforms spearheaded by the NLD government in 2016 and 2017.