Restrictions imposed since the resumption of fighting with the Arakan Army have left Rakhine State dangerously short of medical supplies, which critics say is a form of collective punishment.
By FRONTIER
"Due to the shortage of medicines, we respectfully inform you that the remaining medicine will only be available for emergency patients," reads a notice scrawled on a whiteboard at a state-run cottage hospital in Rakhine State that went viral on social media.
The Myanmar military regime has reportedly been blocking medicine and pharmaceuticals from reaching Rakhine since mid-September, while also restricting general travel along most water routes and many land routes.
The move follows the resumption of fighting with the Arakan Army, which has plunged the state back into chaos after a 20-month informal ceasefire agreed to in November 2020.
Ko Kyaw Zan* from Rakhine's Rathedaung Township said ever since the February 2021 military coup, patients have had to pay for services at public hospitals that used to be provided free of charge. Meanwhile, the new medical blockade has created a shortage, ratcheting prices up even more, as he found when he accompanied his pregnant wife to the Rathedaung cottage hospital to give birth in mid-October.
"Now, in-patients have to buy the medicine they need from pharmacies outside the hospital because medicines are no longer provided free of charge," he told Frontier on November 15.
"At some pharmacies, certain medicines are out of stock. That's why we have to pay high prices," he said, claiming he had to pay for medicine and even surgical gloves out of pocket.
Daw Yin Yin Wai*, a 65-year-old-resident of Minbya Township, also in Rakhine, has been taking Vastarel MR for hypertension for about six years. She said in October, the price for a pack of 30 tablets rose from K10,500 to K18,000 (US$5 to $US8.66 at the official exchange rate) in most pharmacies. But more alarmingly, since the beginning of November, she hasn't been able to find the medication in any of the township's 30 pharmacies and only has enough supply to last until the end of the month.
"Patients with chronic diseases will suffer more if they can no longer take their regular medicines," she told Frontier this month. "There may be many deaths."
"The junta's ban on bringing in pharmaceutical products is indirectly killing Rakhine people by denying them access to medical care," said veteran Rakhine politician and former lawmaker U Pe Than, who went as far as to compare the restrictions to "genocide".
Supplies dwindle
Figures released by the junta's health ministry in August last year showed that Rakhine State has 72 state-run hospitals. The largest has 500 beds, but most of the facilities – 54 – are cottage hospitals, with around 16 beds each.
Residents, civil society workers and charity groups interviewed by Frontier confirmed that nearly all government hospitals, and especially cottage hospitals, have experienced acute medical shortages in recent weeks.
The superintendents of cottage hospitals in Minbya, Maungdaw, Mrauk-U and Rathedaung townships did not respond to requests for comment.
A doctor at a cottage hospital in Ponnagyun Township told Rakhine-based media outlet Development Media Group that restrictions on land travel in many townships have created a surge of patients at the Ponnagyun hospital, because they were unable to travel to the state capital Sittwe to seek treatment or buy medicine.
"I don't think the existing stocks will last for two weeks," he said.
It's a similar story at the state's pharmacies.
"About nine townships in the northern part of the state are badly affected by this. Although pharmacies are open, they don't have much medicine," an activist helping people displaced by the recent fighting told Frontier.
A limited number of pharmaceuticals are being supplied to the state by plane, said the manager of a Sittwe-based pharmaceutical company, who spoke on the condition of anonymity.
Ko Thein Tun*, who owns a pharmacy in Pauktaw Township, told Frontier this month that his stock of pharmaceuticals was down to about half, and he feared he might have to close his business next month.
The dire situation led around 40 pharmaceutical companies and pharmacies to write to the Rakhine Traders' Association on October 24 to appeal for help in negotiating with the junta to bring in supplies from outside Rakhine, warning of a looming supply crisis.
The association wrote to the Rakhine State Administration Council, the junta's local governing body, two days later, but as of November 18 had not heard back, according to RTA President U Tin Aung Oo. He told Frontier the RTA has asked pharmaceutical companies to write up a list of the most commonly used drugs, medicines and vaccines in order to submit to the Rakhine SAC for permission to deliver.
Meanwhile, the junta's healthcare officials continue to insist that the situation is under control. Rakhine State Health Department Director Dr Kyi Lwin told Frontier on November 14 that medicine was being distributed to government hospitals in need.
He said the Rakhine SAC would grant approval to deliver supplies to any state hospital if it submitted a list of what they needed. However, he did not give a clear answer when asked how many hospitals have received such shipments so far.
He blamed any shortages on the conflict, rather than an intentional plan to withhold supplies.
"We normally distribute medicines to the hospitals every month. However, there are restricted areas, such as war zones, and locations that are difficult to reach. Because of these restrictions we sometimes must wait days to receive permission from the state government to distribute medicines," Kyi Lwin said.
Frontier tried repeatedly to call Rakhine SAC spokesperson U Hla Thein for comment, but he did not answer his phone.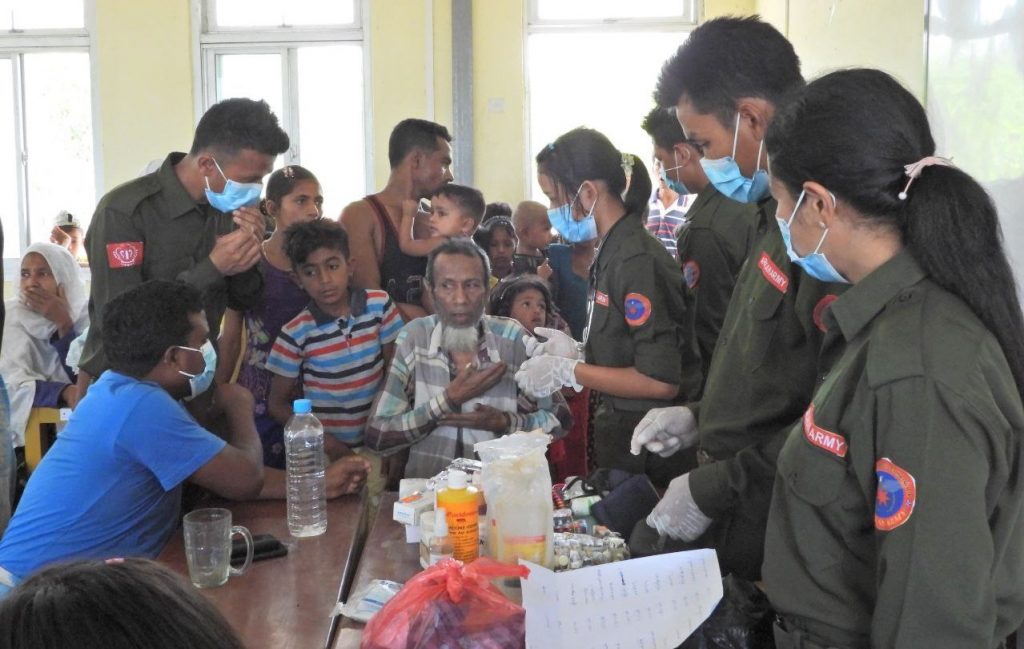 Junta 'wants residents to blame the AA'
But the activist assisting IDPs said the junta is blocking aid to prevent supplies from getting to the AA, and to make life difficult for locals so they will stop supporting the armed group.
"The junta is blocking aid in the state because it wants residents to blame the AA," he said.
The military has also detained numerous individuals involved in bringing pharmaceuticals into Rakhine, often accusing them of having ties to the AA. This is part of a broader arrest campaign seemingly intended to disrupt the AA's budding civilian administration, which has taken root across much of the state.
Multiple sources in Rakhine civil society and politics estimated to Frontier that around 500 people, including healthcare and social workers, have been arrested by the junta since the coup on suspicion of supporting or associating with the AA.
Rakhine outlet Narinjara has documented a series of high-profile healthcare-linked arrests in recent months. In late September, Dr Win Naing Soe was detained for nine days in Myebon Township after trying to send medicine to the Nga Pa Thone cottage hospital by boat. In early October, a pharmacy owner in Mrauk-U town was held overnight and questioned.
But not everybody is lucky to get a quick release. Nine boat owners were arrested on October 12 and charged under the Inland Water Transport Law for trying to deliver medical supplies from Sittwe to Rathedaung. And on October 15 in Maungdaw Township, soldiers reportedly detained four volunteer social workers from the Ga Ya Nar Network charity group, including the organisation's president. They remain in detention facing charges under the Unlawful Associations Act for allegedly supporting the AA.
"We help people of any race or any religion," a member of the charity group told Frontier on condition of anonymity, referring to Rakhine's mixed population of Rakhine Buddhists, Rohingya Muslims and smaller groups. "Locals may face a health crisis because all of our activities have stopped now."
The junta has also restricted international humanitarian access to at least six conflict-affected townships in central and northern Rakhine since September 15.
"The restrictions mean that we are unable to help displaced locals who need assistance. I have been very worried for them since we had to stop all our activities," said a Myanmar employee of the International Rescue Committee, a New York-based NGO.
Former MP Pe Than said the junta's actions show that it is not interested in fulfilling the role of a government, which it claims to be despite widespread rejection from the people of Myanmar.
"Governments are responsible for protecting peoples' health and peace. There should be no shortage of medical supplies in Rakhine State. This is not good government," he said.
* denotes the use of pseudonym for safety reasons