The media in Myanmar is the freest it has been in decades, but increasingly journalists are facing physical threats and attacks.
By HTUN KHAING | FRONTIER
"Boom!"
The sound of an explosion woke U Nyein Chan Aye, a freelance reporter in Bhamo, Kachin State, shortly after midnight on June 30.
Bhamo, a normally quiet town on the northern reaches of the Ayeyerwady River, was sent into a state of turmoil by the explosion. Rain fell heavily that night, adding to the menacing atmosphere.
As he got out of bed to investigate the explosion, Nyein Chan Aye received a phone call from the brother of his landlord, who said it had occurred in a nearby ward.
He left quickly to file a news story about the blast to his editors in Yangon. After completing his work, he returned home. He then discovered that the explosion he had heard earlier that morning was in fact in his own compound – the two explosions had occurred almost simultaneously.
"I have received threats in the past, but this is the first time someone has attempted to kill me," said Nyein Chan Aye, who contributes stories regularly as a freelancer to Hot News Journal.
Nyein Chan Aye is one of just a handful of reporters working in Bhamo, which is close to where Tatmadaw forces have battled Kachin Independence Army soldiers for more than five years. One of the focuses of his reporting is illegal trade, particularly timber and cattle. He is the only journalist in Bhamo to have received multiple death threats.
In 2014, a cigarette pack with a bullet inside it was hung on the fence in front of his house.
"I also receive threatening phone calls every now and then," he told Frontier.
Almost five decades of pre-publication censorship was lifted in August 2012 by former President U Thein Sein's reformist government and Myanmar's media landscape is freer than at any other time in recent history. The internet is no longer censored, the state monopoly on daily news has been broken and pretty much anyone can get a publishing licence.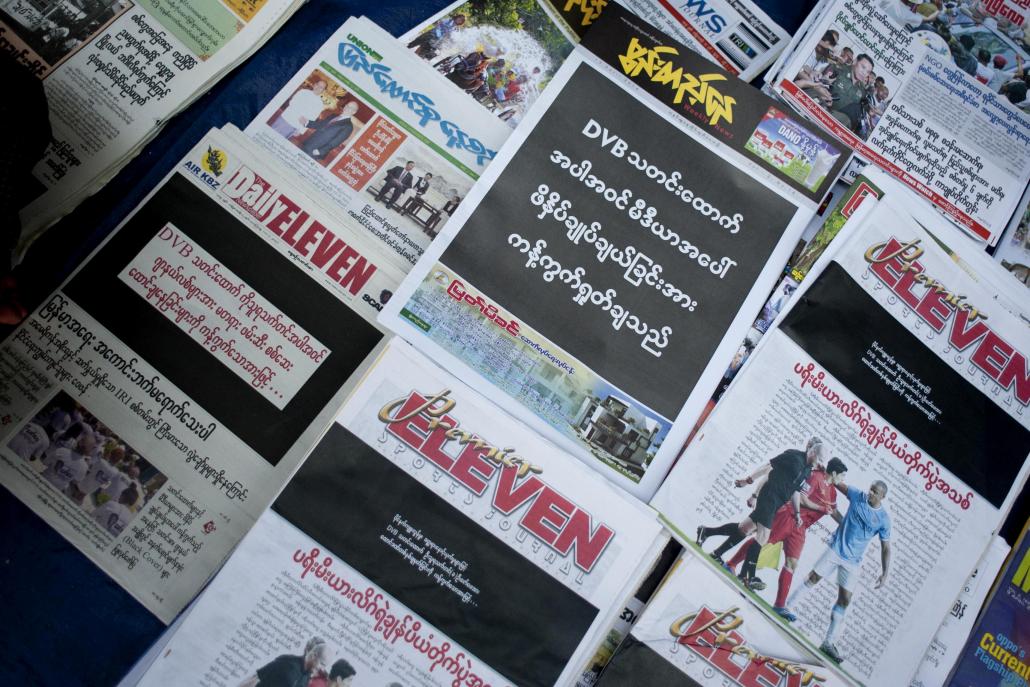 But this freedom has come at a price. A media with teeth can also provoke a backlash and in recent years journalists have reported a spike in threats and harassment. While not yet common, physical violence is not unheard of.
One case in particular highlights the dangers of reporting in a conflict zone. In September 2014, freelance journalist Ko Par Gyi disappeared in Kyaikmayaw Township, Mon State, while covering conflict between the Tatmadaw and a local armed group. His wife suspected he had been arrested by the military. More than four weeks after his disappearance, the Tatmadaw released a statement saying he had been shot and killed while trying to escape from custody. The military also accused Par Gyi, whose real name was Ko Aung Kyaw Naing, of working for an ethnic armed group. His is the only known case of a journalist being killed on the job in recent years.
Maran Htoi Awng, a reporter based in Myitkyina, Kachin State, said covering ethnic conflict across the state was a constant challenge.
Both sides – the Tatmadaw and KIA – regularly level accusations that the other is committing human rights violations or involved in illicit activities, such as drug trafficking or timber smuggling. These are difficult to investigate, and will often provoke an angry response. Ironically, confrontations between the armed groups tend to be the safest topics for journalists to cover, he said.
"The government will just sue you, but armed groups solve their problems with weapons," he said.
Both sides in the conflict are highly distrustful of journalists. Those who visit KIA territory will likely attract the attention of the military and other groups that dislike the KIA, while journalists with extensive government contacts will be perceived as pro-military.
"Looking for truthful news related to armed groups is difficult," said Maran Htoi Awng. "And if we go into their territory once and write a negative story, we can't go back."
But Kachin State is not the only challenging reporting environment. In the Rakhine State capital Sittwe, the house of U Min Min, chief editor of Root Investigation Agency, was bombed on March 10.
"Although it was a so-called 'sound bomb' [also known as a stun grenade], it was meant as a threat," said Min Min, showing Frontier photos of the scene at his house after the explosion. No one claimed responsibility for the attack and no arrests have been made.
Min Min, who is ethnic Rakhine, is under no illusions that the attack was because of his reporting. He has previously covered issues such as drug trafficking and nationalist groups in his home state, and written articles critical of the powerful Rakhine nationalist movement. He has also written about the casualties suffered by the Arakan Army in its battles against the Tatmadaw. These pieces have generated numerous threats.
Seven fake Facebook accounts for his news agency, RIA, have been established, all claiming that Min Min's reporting is a threat to Buddhism. Others have labeled him a traitor for his reporting on the Arakan Army. Some people have even claimed that he should no longer be allowed to call himself a Buddhist, he said.
"If you had a problem with the government, you would be able to solve that problem through the legal system, but there is very little you can do if people don't like what you are writing," he said.
After the bomb attack, Min Min chose to move to Yangon, from where he is now operating his news agency.
Threats and violence have been reported even in central areas of the country, although of a different nature.
U Myint Zaw Oo, the secretary of the Myanmar Journalist Network in Magwe, said reporters in his region were less likely to face attacks with weapons than in Shan, Kachin or Rakhine states. However, some journalists had still been threatened; in one case a group had been warned not to write about illegal oil production when they travelled to the region's oil fields.
"We are also constantly threatened by the law," he said. "Whether you are right or wrong isn't important. If you have to go to court you will have a lot of problems – you will be so busy with the case you won't be able to do any reporting."
In July 2014, during anti-Muslim riots in Myanmar's second largest city Mandalay, Irrawaddy journalist Ma Zarni Mann was threatened by a mob looking for Muslims while taking photos near the Zaycho Market.
She said she feared for her life as the men approached. "Some local people saved me, they told the men not to touch me. Finally they gave up but they took the SD card from my camera," Zarni Mann said. 
Incidents such as these prompted Amnesty International to warn of growing dangers for Myanmar's journalists. In a June 2015 briefing, Caught between state censorship and self-censorship, the group said the military, government and nationalist groups were the main threats. "Such cases have had a chilling effect on journalists and other media workers in Myanmar and have led to a climate in which self-censorship is widely practiced.
"Ensuring that journalists and other media workers are able to undertake their professional activities free from harassment, harm and the fear of prosecution and imprisonment is an essential component to the promotion and protection of human rights in Myanmar."
Top photo: Journalists protest after four reporters and the chief executive of Unity Journal were arrested in July 2014. (Teza Hlaing / Frontier)