From his prison cell, Reuters journalist Wa Lone has written a children's book about a schoolboy reporter who rescues his community from disaster.
By BEN DUNANT | FRONTIER
IT WAS Saturday evening in Yangon's Kyauktada Township, and a street-level shop room was bursting with noisy children. Drawn from central Yangon's mix of Buddhist, Muslim, Hindu and Christian households, twenty children of early school-going age were playing at being frogs, snakes and bats.
The storyteller directing the event, one of half a dozen adults present, was beginning to lose her voice. Kids darted to a table of wrapped sweets, while others took brightly illustrated storybooks from the shelves that lined the room. One of these was a newly released title, Jay Jay the Journalist, whose cover depicted a round-faced schoolboy stood next to a bicycle and clutching a camera.
At that moment, the book's author, 32-year-old journalist Ko Wa Lone, would have been settling in for the night in his cell in Insein Prison, 17 kilometres to the north.
Wa Lone and his colleague at the Reuters news agency, Ko Kyaw Soe Oo, 28, were each given seven-year prison sentences in September for obtaining "secret" government papers; but both had been behind bars since their arrest in December last year. Their plight has been decried globally as an attack on press freedom.
Despite his confinement and the separation from his first-born child, a daughter delivered in August, Wa Lone would have been pleased to know that, down in Kyauktada, a project he helped found four years before was spanning communal divides and delivering fun and wisdom to children untainted by the hatred and division he had documented in his reporting work in Rakhine State and elsewhere.
The downtown shop room has, since September 11, been the activity hub for the Third Story Project. Since 2014, the social enterprise has produced 40 children's books, in Burmese and a dozen ethnic languages, and disseminated more than 200,000 copies to schools, libraries and volunteer networks in two-thirds of Myanmar's 330 townships. The stories are varied – their protagonists range from songbirds to umbrellas – but all promote peace, diversity and tolerance.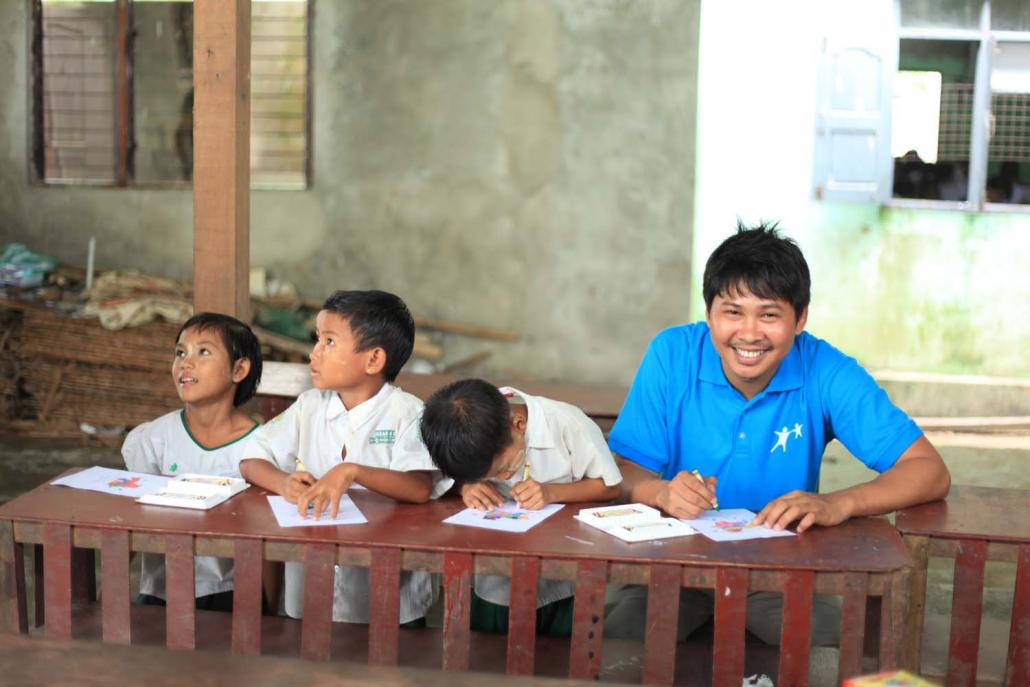 The seeds of Third Story, a partnership between the Myanmar Storytellers and the Benevolent Youth Association-Yangon, were sown at an informal English class at Yangon's Thone Htat ("three floor/storey") monastery in 2012. The class brought together young professionals and students committed to bettering their communities. Wa Lone, a village boy from Shwebo district in Upper Myanmar, then newly into a job with the Pyithu Khit newspaper, was a founding member.
Third Story project director Ma Ei Pwint Rhi Zan told Frontier that the decision to pool their creativity in a peace project was influenced by the escalating conflicts in Rakhine and Kachin states. She told of how, during a trip by members of the network to deliver aid to displaced Kachin communities, they realised that, "Though they were happy to see us and receive aid, what they really wanted was freedom and peace. We saw that donations were not solving the problem."
 Jay Jay the Journalist is Third Story's latest publication. Written by Wa Lone from his prison cell, in both Myanmar and English, and cheerfully illustrated by cartoonist Kar Gyi, the 22-page book stars schoolboy reporter Jay Jay. Armed with burning curiosity and a reporter's notebook, he investigates and exposes the source of pollution that is ruining the health and livelihoods of people in his village.
Defying the superstitions of his community, who put the environmental calamity down to malign spirits, and persevering despite a lack of support from his school peers – who find his endless questioning a nuisance – Jay Jay's ace reporting sparks community action, a public debate on how to better protect the environment, and the praise and respect of everyone around him.
This fate contrasts starkly with that of Wa Lone, who, at the time of his arrest, was investigating a massacre of ten Rohingya Muslim men and boys in Inn Din village of northern Rakhine in September last year, during a crackdown by the Myanmar army on Rohingya militants that drove more than 700,000 Rohingya into Bangladesh.
The Reuters investigation, published in February, prompted the military to confess to the massacre and was celebrated internationally as exemplary journalism. However, the debate over the Rakhine crisis is still deeply polarised, toxic attitudes prevail, and Wa Lone and Kyaw Soe Oo remain in prison. With many in Myanmar turned against critical media, following propaganda cues from the government, only a small, youthful network of activists have hit the streets to demand their release.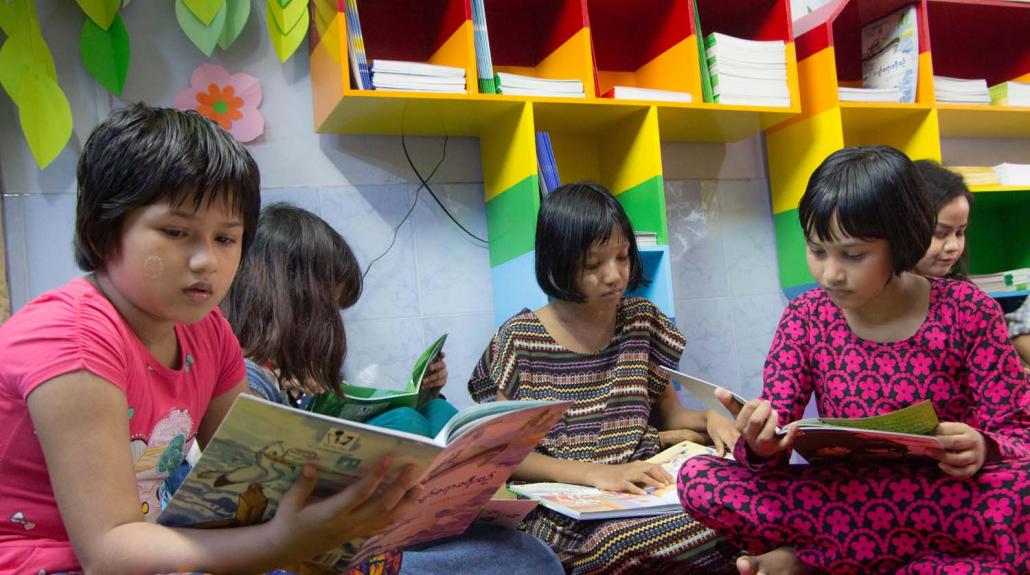 By taking children on an adventure, Jay Jay hopes to shape more positive attitudes towards a profession that Wa Lone believes is indispensable to a democratic society. More importantly, the book aims to "encourage children to ask more questions," Ei Pwint Rhi Zan said, in a society where critical thinking is often stifled.
Ei Pwint Rhi Zan said that Wa Lone got somewhat carried away with the first draft, composing an epic that had to be cut down considerably by editor Shwe Mi, to make it easier for young readers to digest. With drafts exchanged over family visits to Insein Prison, the book slowly took shape.
Ei Pwint Rhi Zan told Frontier that 6,000 copies had been printed. Though the book is now available to buy for K1,500 in bookshops and at the Third Story salesroom in Yangon (on 40th Street, between Anawrahta and Mahabandoola roads), two thirds of the print run is earmarked for donation to communities across Myanmar.
She said Third Story hoped to publish more Jay Jay adventures. Though Wa Lone was free to dream up Jay Jay's next assignment, Ei Pwint Rhi Zan had laid down a precondition for the next book: a strong female character.
Jay Jay is not Wa Lone's first book for Third Story. The Burmese language Oo Yin Hmuu ("The Gardener"), published in 2015, tells the story of a schoolteacher who inspires his pupils with a love of planting trees and conserving the environment.
Ms Mindy Walker, who taught English to Wa Lone and others at the Thone Htat monastery and continues to advise the Third Story Project, told Frontier that, though he "worked very hard to find funding to make the books and distribute them", Wa Lone "had to be pushed to create his own books since he didn't think of himself as a storyteller in the same way as our other authors."
"But he pulled from his own childhood experiences growing up in a small village to create two beautiful books," Walker said. "He wanted kids from a similar situation to have access to books but also to books with positive messages that may help to create a more peaceful Myanmar."
TOP PHOTO: Project director Ma Ei Pwint Rhi Zan, holding two books written by Ko Wa Lone, in the Third Story salesroom. (Thuya Zaw| Frontier)