Despite several setbacks and humiliations, the former junta general and one-time ally of Aung San Suu Kyi has never strayed far from the corridors of power.
By CLARE HAMMOND | FRONTIER
EARLY ON February 28, National League for Democracy MPs in the Union Parliament received an unexpected order from the party's chief whips. They were instructed to vote against renewing the mandate of the Legal Affairs and Special Cases Assessment Commission, a powerful parliamentary body chaired by U Shwe Mann, who until that morning was widely regarded as an ally of State Counsellor Daw Aung San Suu Kyi.
Amid the confusion, parliament opened 15 minutes late. Speaker U T Khun Myat asked the Pyidaungsu Hluttaw three times if it supported renewing the commission's term for another year, but each time his question met with silence. When he called a vote, the decision was unequivocal: 555 lawmakers voted against the motion. Only 20 voted in favour, with 10 abstentions.
"Until that day, almost everyone assumed the commission's term would be extended, as usual," U Min Khin, the former secretary of the NLD's Central Economic Committee, told Frontier. "So then the question arose, what happened?"
Three weeks earlier Shwe Mann, 71, registered a new political party, the Union Betterment Party, formed with 12 of his commission members. Overnight, from an ally of the NLD, he had become a rival, party MPs told Frontier. His commission's role of drafting laws and advising on special issues was no longer apolitical, they said, and so its existence could no longer be tolerated.
The commission has been divisive since it was created by the NLD in 2016, enabling Shwe Mann, a former Tatmadaw general who had become close to Aung San Suu Kyi, to hold a senior role in politics. Military lawmakers opposed the commission because they said it was unconstitutional, while some rights groups questioned why an unelected institution was drafting laws on behalf of the government.
The dissolution of the commission before Shwe Mann could voluntarily withdraw from his position as chair is the most public evidence of a breakdown in an alliance between Shwe Mann and Aung San Suu Kyi that was once seen as central to the NLD's political strategy.
Shwe Mann told Frontier in an emailed response to questions on March 11 that the vote was a surprise, but he said it was a good thing for him, for the NLD and for the people. "It is important to distinguish between politics and personal relations," he said.
The commission
Shwe Mann formed the Pyithu Hluttaw Commission for the Assessment of Legal Affairs and Special Issues in November 2011 after entering parliament following the victory of the military-backed Union Solidarity and Development Party in the 2010 election, which was boycotted by the NLD.
He was the third highest-ranked member in the military junta, but when the Pyidaungsu Hluttaw convened in February 2011 as an electoral college it chose former general U Thein Sein, ranked fourth in the junta, as president, and Shwe Mann was appointed Pyithu Hluttaw speaker.
The new commission was separate to the legislature but sat inside the parliamentary complex. It reported to Shwe Mann, who handpicked its members. Among them were technocrats, MPs, retired civil servants, soldiers and businesspeople, including his son, U Toe Naing Mann, an internet tycoon.
The commission's purpose was to support the nascent parliament by providing assistance to lawmakers. It advised on policy and legal amendments, and Shwe Mann drew on its technical expertise as he sought to establish the legislature as a rival power base to the President's Office. As the commission gained influence, parliament appeared to play an increasingly active role in the lawmaking process, by scrutinising bills, challenging the executive and holding lively debates.
Although the impression it created was of dynamism, in reality, Shwe Mann "created very limited space which posed no threat to him and he used that leverage against the executive," said Ko Htin Kyaw Aye, the founder of Ānanda Data, a collective that promotes civic engagement. As the commission's supporters praised its contribution to improving the capacity of MPs, detractors bemoaned what they saw as its lack of transparency.
Shwe Mann told Frontier that he tried his best to ensure parliament was vibrant and fully capacitated. He said he wanted to ensure there were good checks and balances between the three branches of the government. "However, the President was the head of the government and very powerful," he said. "Therefore it was challenging to oversee the executive."
When the NLD entered parliament after by-elections in 2012, Shwe Mann was "quick to bring Daw Aung San Suu Kyi by his side, by forming a high profile connection with her," Htin Kyaw Aye said. Shwe Mann supported Aung San Suu Kyi on sensitive issues, including an attempt to amend the constitution, which turned many in the ruling USDP and the military against him.
After Shwe Mann replaced Thein Sein as chair of the USDP, on a visit to Washington in October 2013, he spoke in an interview with Radio Free Asia about his ambition to be president. "I believe that if I became president, I could do more than the others to achieve unity among ethnic groups, national reconciliation, rule of law, regional stability, and peace," he was quoted as saying.
But it was not to be. Amid dramatic scenes in Nay Pyi Taw on August 12, 2015, just 27 days before the scheduled launch of the USDP's campaign for the election three months later, Shwe Mann was ousted as party chairman in what was described in the media as a party coup.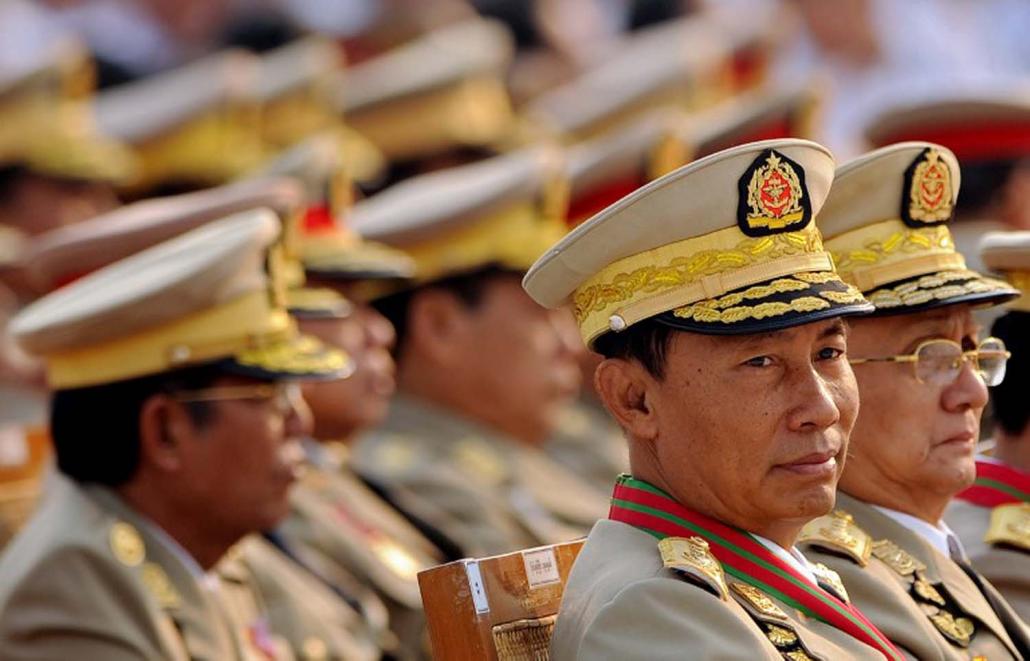 National rapprochement
On election night on November 8, 2015, Shwe Mann slipped a gun under his pillow and tried to sleep. Until the day of the vote he had believed he would triumph as the USDP's candidate for the Pyithu Hluttaw seat of Phyu, in Bago Region. As he later wrote in his book, The Lady, I and Affairs of State, his aides stopped calling as the evening progressed and he released he had lost. At 5.30am after a restless night, he called Aung San Suu Kyi, who offered reassurance. "Don't say you have lost," he quoted her as saying. "Please continue to communicate with me as before".
Ten days later, they issued a joint statement. They would cooperate to ensure the smooth formation of the new parliament, in the interest of "national rapprochement and reconciliation". Shwe Mann arranged workshops at parliament for MPs nominated to be state and regional chief ministers and parliamentary speakers. He helped Aung San Suu Kyi to coordinate accommodation, catering and transport for new NLD MPs, almost none of whom had previously held public office. He also acted as a mediator between Aung San Suu Kyi and former Senior General Than Shwe.
Some in the NLD were wary of Shwe Mann's relationship with Aung San Suu Kyi. They remembered how in 2007, as acting chair of the junta's National Security Council, Shwe Mann was responsible for crushing the protests known as the Saffron Revolution, when monks marched against military rule. There was also the junta's persecution of NLD members after the party's triumph in the 1990 election that the junta refused to recognise. NLD spokesperson U Win Htein told The Voice Daily in January 2016 that Shwe Mann's past was cause for concern, partly because "there are more than 100 [former] political prisoners among NLD MPs".
On February 1, 2016, before the NLD formed a government, Shwe Mann was asked to reorganise and lead the commission he had formed in 2011. Before accepting, he set out three conditions: he would not accept a salary, he would choose the members, and some of them would be "relevant individuals" from the NLD.
The Pyithu Hluttaw approved the 35-member commission three days later. Its members included retired USDP MPs and CEC members, retired senior Attorney General's Office officials, former civil servants, independent experts and sitting MPs. On March 1, the commission was elevated to a Union-level body with two core functions: drafting laws and advising parliament on special issues.
A legal vacuum
Shwe Mann quickly took the initiative, asking government ministries to submit a comprehensive list of laws they intended to change. He did this "for the people and the country and to understand the situation better," he told Frontier. The commission that April released a list of 142 laws and bills that it recommended should be revoked, enacted, amended or rewritten, and it assigned laws to different parliamentary committees.
"In this way the commission established its influence over the [parliamentary] committees and was able to drive them," Htin Kyaw Aye said. "The MPs had no idea what they were doing, so Shwe Mann was able to make himself important." Shwe Mann said this was not the case, telling Frontier he had "good will and wanted to help MPs in legislation through parliament".
There is no central, autonomous legislative drafting body in Myanmar and the commission filled the gap. Although it had no power to enact laws, MPs told Frontier its legal advice was taken seriously because of Shwe Mann's background as a powerful general and his relationship with Aung San Suu Kyi. The appointment of the NLD's unofficial disciplinarian Win Htein to the commission lent its advice weight, because MPs rarely voted against the party line. Shwe Mann told Frontier the commission's advice was taken seriously because it was legally sound and reasonable.
Faced with the daunting challenge of legal reform, U Aung Kyi Nyunt (NLD, Magway-4) told Frontier in December that he appreciated the commission's expertise. "As they have legal experts, it is useful to hear their suggestions on legal matters reported to the Union parliament," he said.
Lower house lawmaker Daw Khin Saw Wai (Arakan National Party, Rathedaung) said that Shwe Mann helped the NLD and its members. "Even though he could live away from this [responsibility] peacefully, he is working," she said, before the commission was disbanded. "He has been helping the NLD a lot, and without his help in parliament, it could not be better than it is."
But other MPs felt that the commission impeded on their roles. "Since the beginning there was a backlash among lawmakers against the Shwe Mann commission, because of its influence on legislation," Amyotha Hluttaw MP Daw Ei Ei Pyone, (NLD, Ayeyarwady-8) said on March 6.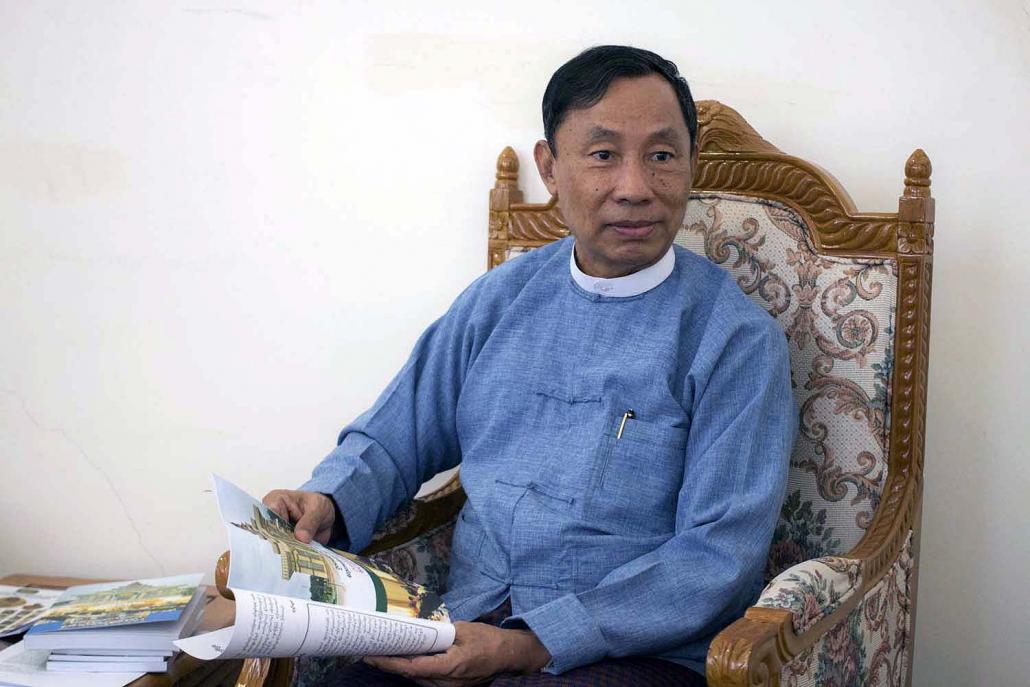 'Shrouded in secrecy'
The commission came under fire in November 2016 after Shwe Mann submitted a memo to parliament that rejected several progressive aspects of the National Land Use Policy, which was developed in consultation with civil society over four years and endorsed by the outgoing USDP government.  
Mr Sean Bain of the International Commission of Jurists said, "They sought to drive a spear through the National Land Use Policy by proposing the removal of so-called 'unfit and unrelevant facts', such as land rights for women and for farmers practicing shifting cultivation. "Thankfully the NLD endorsed the existing policy soon after, but for many folk this fiasco validated concerns about the vested interests of commissioners, particularly related to land and investment."
After the memo was submitted, civil society organisations and international campaign groups including Global Witness began researching the commission's legal mandate and the background of its members.
"Global Witness research on the commission discovered potential conflicts of interest between its members and their oversight of the land laws," Ms Ali Hines, a land rights specialist at the watchdog group told Frontier. "But the commission's work was shrouded in secrecy and it was impossible to back-up assumptions that it may have been protecting its own interests."
Shwe Mann told Frontier these allegations made it sound as if he was "very powerful and even undermining the parliament and the government. Use your own judgment to understand whether it makes sense," he said.
The World Rainforest Movement, in a February 2017 critique of the National Land Use Policy memo, wrote that Shwe Mann's family maintained significant economic interests around the country, including in agri-business. The "attack" on the National Land Use Policy, the group wrote, "Appears like part of a broader battle playing out between those craving for land and agrarian reform … and crony business interests who want to maintain the status quo."
Asked whether his family's significant economic interests, including in agri-business, constituted a conflict of interest while he was advising on land-related issues, Shwe Mann said that he and "other accused individuals" were ready to face legal challenges. "In order to resolve this issue, it is better to file the case at the court if there is any doubt," he said to Frontier.
After the memo was released, some groups involved in land rights told Frontier they stopped working with the commission and began dealing directly with parliamentary committees instead.
Others said they became wary of working with the commission when it drafted bills such as the Law on International Non-Governmental Organizations, released for comment in December 2017, which sought to restrict the activities of INGOs. The Privatization Law, circulated the following month, would have created a commission to privatise state assets, resulting in a "Russian-style selling of assets to individuals", one member of a non-profit group said to Frontier.
Asked by Frontier in August 2018 about concerns over the commission's involvement in the Privatisation Law and the INGO Law, Shwe Mann was critical of ministries that he said preferred to work and operate without laws and secondary legislation. "That is a way of tyranny. As long as there are people who want to run and operate businesses and government functions as tyrants, we will never get a true and genuine democracy," he said.
Whenever the special commission discussed a bill, he said, it invited feedback from civil society and the public and this had happened during consultations for the draft INGO Law.  "We invited different stakeholders including foreign diplomats," he said. "We stand like this; this is our belief, our stance, so, we can say we are accountable and also we are transparent."
Scapegoat?
On January 2, 2019, former commission member Nang Wah Nu asked Shwe Mann about a rumour that was gaining ground in the land rights community. She told Frontier she had heard that his commission was responsible for an amendment to the law governing vacant, fallow and virgin land that threatened to turn millions of farmers into criminal trespassers.
The implications of the amendment were seemingly so at odds with the NLD's election promise to protect the tenure of smallholder farmers and address the causes of armed conflict, that some looked beyond the party to apportion blame.
Wah Nu, whose Kyun Ta Htaung Myae Foundation works on land rights in Shan State, said she had a good and very open relationship with Shwe Mann. He told her, she said, that he did not recommend the amendments and had no power to stop them being passed, a position which he reiterated to Frontier. In fact, he said, his commission recommended that the controversial provision be changed immediately.
Although several prominent land rights activists told Frontier they believed the commission was responsible for the amendment, Ko April Kyu Kyu of Kyun Ta Htaung Myae warned that when civil society and NGOs were too focused on the commission, "They missed the other stakeholders who were really responsible." The commission was easy to blame, he said, but, "My opinion is the government wanted the amendment because Myanmar's land policies are in chaos, and it wants to promote foreign investment."
Htin Kyaw Aye agreed. "I think the NLD is responsible for [the amendment]," he said. "The NLD is increasingly listening to the business community instead of civil society and the people; that's the tragic thing," he said. More broadly, while Shwe Mann and the members of his commission "had bad ideas" on land reform, he said, uncertainty and confusion about the commission's powers often made it a scapegoat.
"I always put the blame on the NLD, because even though [draft bills] might have come from Shwe Mann, the final decision was always made by the NLD," he said.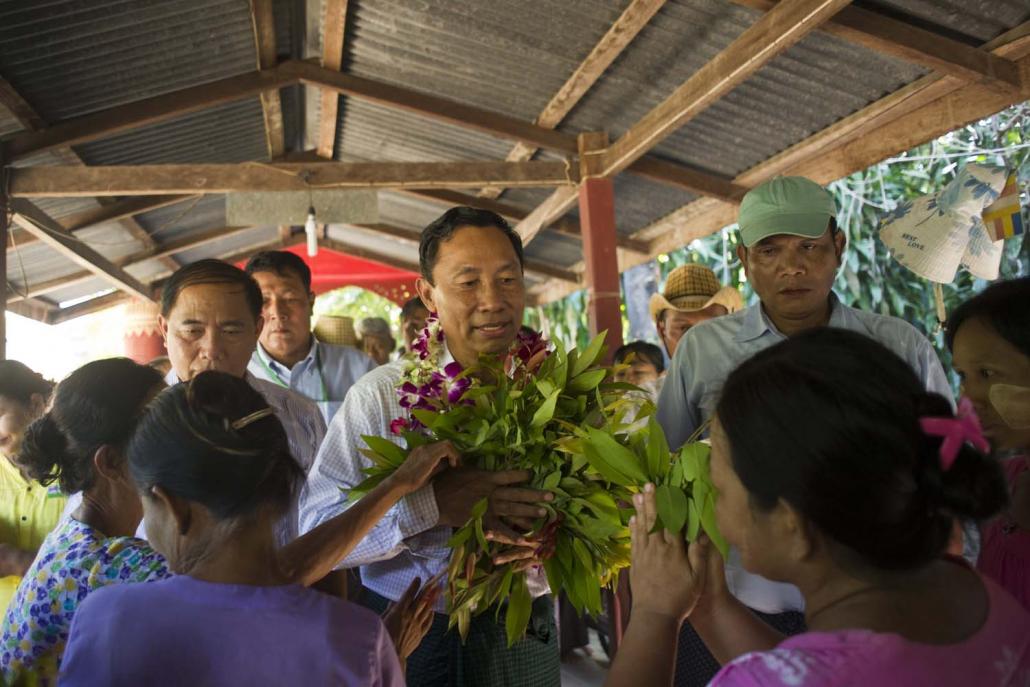 A final decision
After the NLD took office and State Counsellor Aung San Suu Kyi became increasingly involved in running the government, she relied less on Shwe Mann and surrounded herself instead with members of the executive, such as Minister for the State Counsellor's Office U Kyaw Tint Swe.
MPs told Frontier that over the past year Shwe Mann met less frequently with Aung San Suu Kyi, and that she was less inclined to heed his advice. Shwe Mann said this was correct. "Advice is just a suggestion," he said. "It can be taken or ignored. Daw Aung San Suu Kyi is a leader so she decides what advice she wants to follow."
Shwe Mann's decision to form his own party may have prompted the vote to disband the commission, but NLD MP Ei Ei Pyone said that when senior party members decided not to extend its term, "We also welcomed it".
Bain of ICJ said he also welcomed the decision. "Many of their recommendations were starkly at odds with the NLD's stated rule of law commitments and the State's international human rights law obligations," he said.
Shwe Mann said time would tell "the true intention and usefulness of the commission". Although it was not an elected institution, he said, it was delegated and appointed by the institution that was elected by the people.
Asked whether his Union Betterment Party would form an alliance with the NLD, now that the commission was dissolved, Shwe Mann said that this would be revealed in time.
"UBP does not have rivals and it perceives everyone as colleagues," he said.
— Additional reporting by Su Myat Mon
TOP PHOTO: Shwe Mann and Aung San Suu Kyi shake hands at parliament in Nay Pyi Taw in November 2015. (AFP)