Landmines have blighted thousands of innocent civilians' lives in Myanmar, which remains one of the few countries yet to sign a 1997 treaty banning their use.
By OLIVER SLOW | FRONTIER
AS PREPARATIONS continue for the third 21st Century Panglong Union Peace Conference later this month, and as conflict continues to rage in northern Shan and Kachin states, the innocent victims of 70 years of civil war continue to mount.
Last week, five men were seriously injured by landmines in the northern Shan town of Mongko, in Muse Township, while they were collecting fire wood.
The Irrawaddy reported that two men were injured after stepping on landmines and the other three were hurt when they went to their assistance. The five men were treated at a hospital in Mansi, the report said.
There were 298 reported landmine casualties in Myanmar in 2016, almost double the 161 recorded the previous year, says the 2017 Landmine and Cluster Munition Monitor report, compiled by the International Campaign to Ban Landmines and released last month. There were 251 recorded landmine casualties in 2014.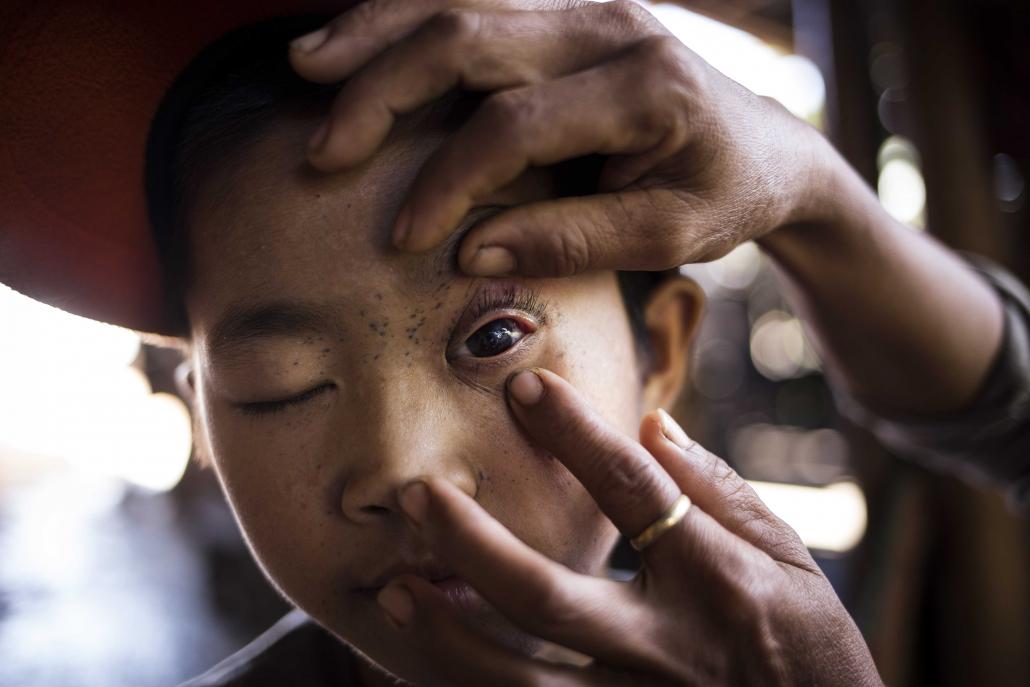 At least 71 of Myanmar's 330 townships were believed to have some form of landmine contamination, the report said. In 2016, the number of reported casualties in Shan and Kachin states, among the most contaminated by landmines, was 23 and 15, respectively.
"Far more casualties are coming out of northern Shan State than we've ever reported on, and it makes up almost half of our casualties [in] this year['s report]," said Mr Yeshua Moser-Puangsuwan, the Monitor's research coordinator in Myanmar, who presented the report in Yangon on January 10. "This is an underreported story as far as we are concerned."
The report says that of the 3,991 reported landmine casualties in Myanmar between 1999 and 2016, 3,385 were injured, 488 died and 118 were classified as "unknown".
The data shows that about 85 percent of landmine victims survive, but Moser-Puangsuwan said the figures were misleading.
"We get most of our information from medical assistance groups, and guess what? They don't give medical assistance to dead people. Therefore, our data shows an unusually high number of survivors. The dead mostly remain faceless and uncounted," he said.
"For civilians in mine-affected areas in Myanmar, the most dangerous thing they can do is go foraging in the jungle, looking for food, or medicine. This is what is killing and injuring them; just doing ordinary activities that people need to do in order to survive."
The report said the Tatmadaw laid new landmines in 2016 and 2017, most notably in northern Rakhine State. The landmines were laid during the security operations that followed attacks by the Arakan Rohingya Salvation Army in October 2016 and August 2017.
Many media outlets, including Frontier, and human rights groups such as Amnesty International and Human Rights Watch, spoke to people who witnessed Tatmadaw troops laying landmines near the border with Bangladesh.
At the report launch, Moser-Puangsuwan showed clips from a video obtained by Frontier during a visit to refugee camps in Bangladesh in September that showed Muslim refugees removing landmines near the border. The clips also showed a woman being carried across a creek in Myanmar after a landmine shredded both her legs.
Since the October 2016 attacks, the government has accused ARSA of laying landmines, and photos purporting to be evidence of the allegation have been published in state-run media.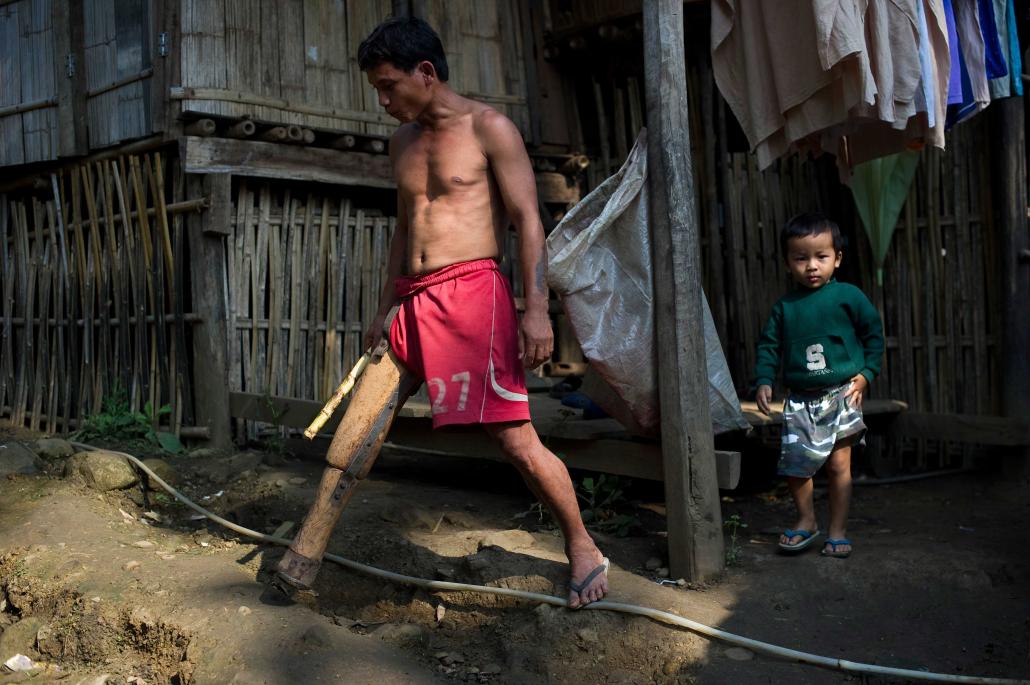 Moser-Puangsuwan has analysed the photos and is sceptical about the government's accusations.
"We have carefully examined every photo that has been published and none of them meet the technical definition of a landmine," he said.
"We would like you, the media, to look at the pictures [the Tatmadaw] gives you and be a little more analytical in whether you accept what they say or not."
Moser-Puangsuwan said the devices pictured in state-run media were remotely-detonated and not activated by the victim.
"So these are not landmines, they are radio-controlled bombs," he said.
"We are not saying that ARSA does not use landmines, we do not know that. But from every photograph we have seen in the media, they use remotely-detonated bombs."
Although some demining organisations have been allowed to conduct surveys in Myanmar, clearance operations were yet to begin.
The Nationwide Ceasefire Agreement signed by the government and eight ethnic armed groups in October 2015 commits signatories to stop laying landmines and to undertake de-mining activities to clear mines laid by troops from all sides.
Moser-Puangsuwan said that although neither the Tatmadaw nor the eight NCA signatories appear to have violated the NCA, the agreement should incorporate language that explicitly bans landmines.
"The [NCA] does not commit the parties to a landmine ban, and therefore we feel it falls short of what is required," he said.
He added that there was no known timeline for landmine clearance to begin in Myanmar and the groups that had signed the NCA had listed areas they do not want to be cleared for strategic military reasons.
"As far as we are concerned, there are areas that are of no military interest to anyone that could be cleared tomorrow and it is criminal that those areas are not cleared now and returned to productive and safe use," he said.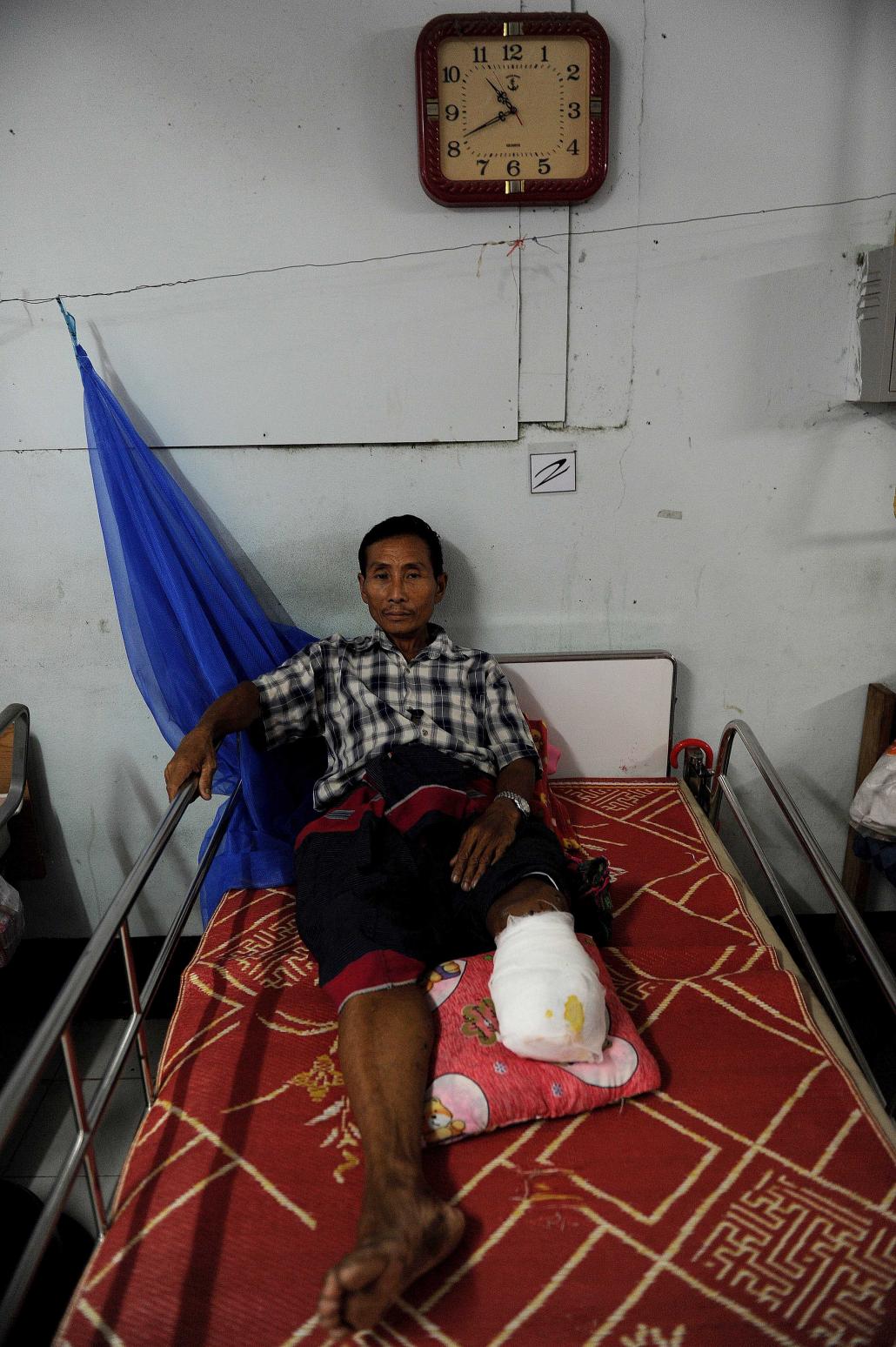 Moser-Puangsuwan added that landmine clearance could also improve public trust in the peace process, by providing "a tangible peace dividend" to people living in mine-affected areas.
In December, the demining organisations Halo Trust, Mines Advisory Group and Norwegian People's Aid, released their annual Clearing the Mines survey that ranks mine-affected countries according to their efforts to eradicate the devices.
For the second consecutive year, Myanmar ranked last in the survey, which relied on 10 indicators, including clearance operations, funding and how much a country demonstrates an understanding of its landmine contamination.
"The government's refusal to allow mine clearance [prevents] a peace dividend from being realised, and new mine-laying [amounts] to a serious violation of international human rights law," the report said.
As of December 1, 162 countries, more than 80 percent of the world's nations, had ratified or acceded to the 1997 Mine Ban Treaty, and 119 countries had signed, ratified, or acceded to the 2008 Convention on Cluster Munitions. Myanmar is yet to join either treaty.
Other countries yet to sign the Mine Ban Treaty include China, India, Russia and the United States.
Moser-Puangsuwan said that one of the few positives from this year's report was that for the first time, the government was reviewing its landmine policy.
"We, of course, have no idea what that review will be or how long it will take, but we hope that it results in a decision to join the Mine Ban Treaty," he said.
Late last year, Myanmar wrote to the International Campaign to Ban Landmines to advise that the Tatmadaw Commander-in-Chief had announced a ban on any use of landmines.
Moser-Puangsuwan said the development was encouraging, but that questions remained.
"Is this statement time-bound? Is it geographically-bound? How has this order been sent along the chain of command to make sure everyone gets it? Has the Tatmadaw begun removing landmines on the front line?" he said.
The report said 17 armed ethnic groups were also using landmines, mainly in Kachin, Kayin, Rakhine and Shan states.
"Landmines cannot be used discriminately, because they are indiscriminate in their nature," Moser-Puangsuwan said. "They can affect anyone; people should not use landmines to settle their differences."
TOP PHOTO: Ann Wang | Frontier