A Dutch tattoo artist and his team have been in Myanmar as part of an innovative global project to publicise the Universal Declaration of Human Rights.
Words & Photos VICTORIA MILKO | FRONTIER
An occasional trickle of blood, the buzz of tattoo machines and happy chatter surrounded Dutch artist Sander van Bussel as he sat in the middle of Pansodan Scene gallery.
Human Rights Tattoo, a project participating in the Human Rights Human Dignity International Film Festival, had invited people to the downtown Yangon venue to have a letter from the United Nations' Universal Declaration of Human Rights tattooed on their skin.
"Would you give a square centimetre of your skin for human rights?" asked van Bussel, quoting the project's slogan that decorated the walls of the gallery.
Van Bussel launched the project in 2012 after the murder of fellow artist Steven Nyagah in Nairobi. Since then van Bussel and his tattoo project team have travelled across several continents, with Myanmar being their first stop in Asia, an opportunity the project's communications manager, Ms Niki van Rooij, has described as "a dream".
"We were at a festival in Prague when we met the director of the [Human Rights Human Dignity International Film Festival]. She made it clear that she wanted to invite us over," van Rooij said. "That was the starting point."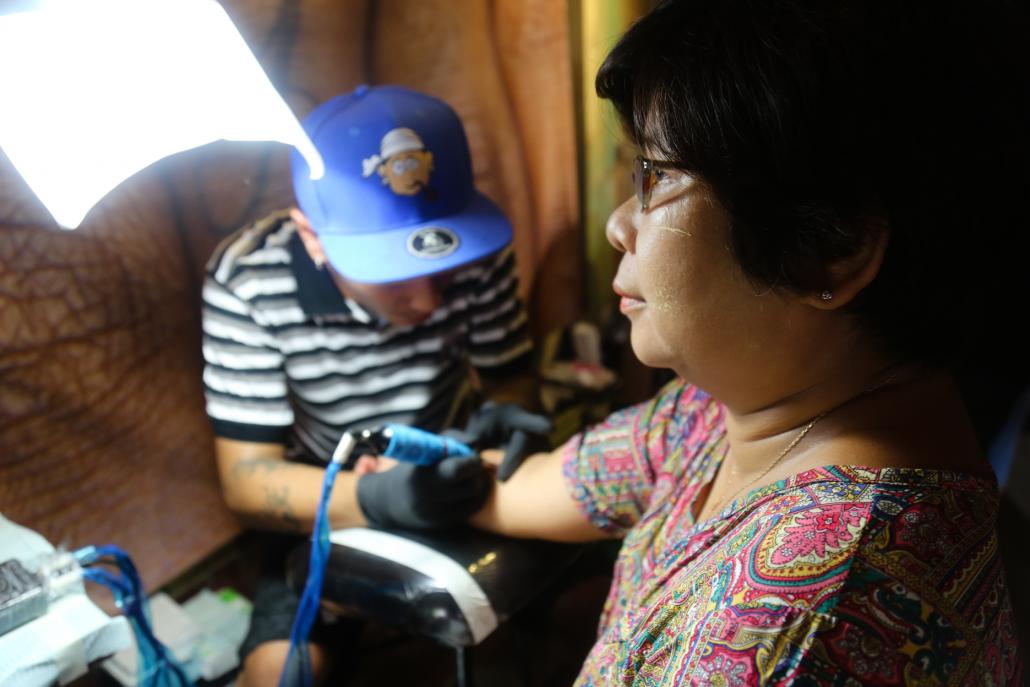 The event on June 18 and 19 saw 120 people receive tattoos on a first-come, first-served basis. Participants were free to choose where the tattoo was placed on their body but had a limited choice of fonts, a decision van Bussel said was deliberate.
"We didn't want anything too artistic," he told Frontier. "We wanted it to be very readable, very universal; just like the Declaration."
Across the room, perched on an elevated platform, sat tattoo artists Ko Aung, Ka Gee and Ko Hman Gyi of Hledan Ink Tattoo. They were hunched over a group of people with different limbs stretched out as they waited to be tattooed.
"They're been moving very quickly, tattooing so many people," van Rooij said. "We've been quite happy to work with them."
Participants were also asked to fill out a card explaining what the tattoo meant to them, with the responses and photos of the tattoos to be posted on the organisation's website.
Ko Yu Par Mo Mo said his reason for choosing to be tattooed with an "e" was simple.
"I like tattoos and wanted something to represent my freedom of expression," he said. "My letter represents that to me."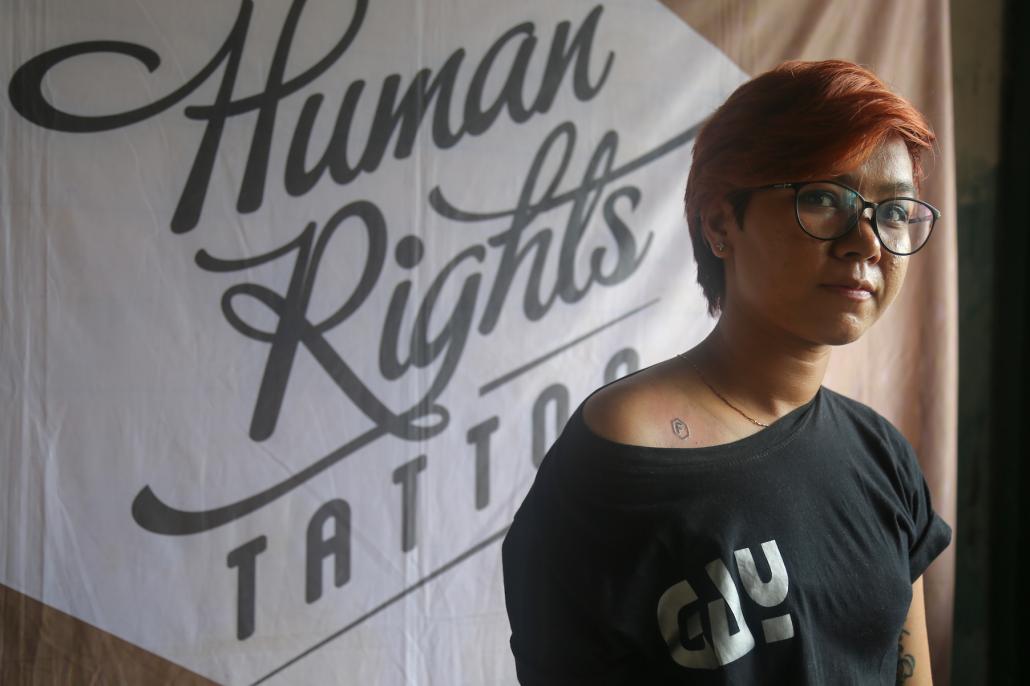 Van Rooij sat at a desk and looked around the room where those who had been inked compared their letters, snapped selfies and searched for their letter in the Declaration.
"People around each other share their stories with one another," she said. "These tattoos are a small signs for themselves, their friends and people they meet. They stand for something they really believe in."
There are 6,773 letters in the Universal Declaration of Human Rights. At last count the Human Rights Tattoo team had inked 2,959 people.
A gallery of completed tattoos is available at the Human Rights Tattoo website.