Words & photos by HKUN LAT | FRONTIER
Yangon's neighbouring inner downtown townships of Pabedan and Kyauktada are among the most densely populated urban areas in the country, but the usual bustle on their streets has been banished by the spectre of COVID-19 and community lockdowns.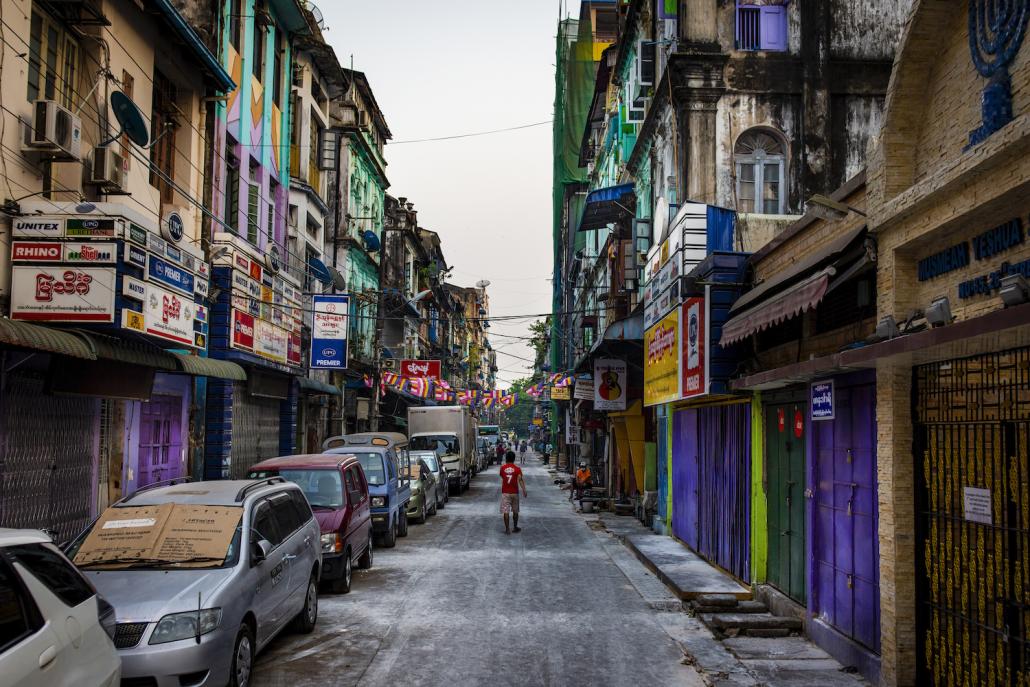 Pabedan and Kyauktada are in Yangon's Western District of nine townships, which, as of April 25, accounted for 30 of the 112 confirmed coronavirus cases in Yangon Region. Bahan accounted for most cases, with 12, followed by seven in Pabedan, including one death. There had been two cases in Kyauktada.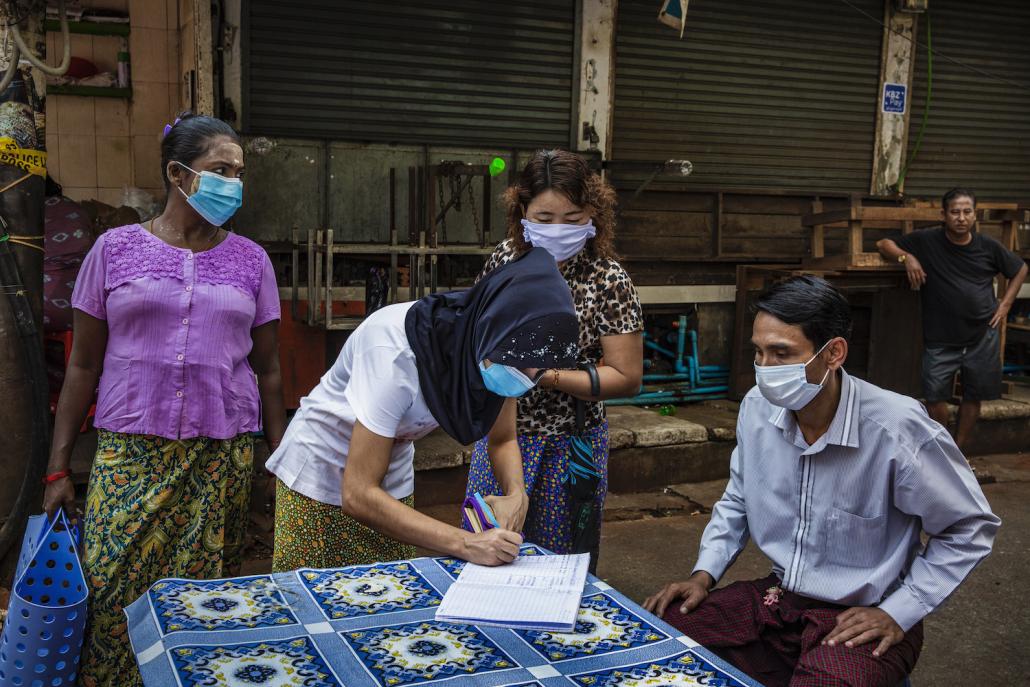 Pabedan was the only downtown township included in the lockdown of seven Yangon townships ordered by the Ministry of Health and Sports on April 18. The lockdown order quickly emptied streets. It requires all residents to stay at home, except public servants, company employees and factory workers who have to work, stipulates that only one person in each household can go out to buy necessities, and allows only vehicles ferrying passengers to and from workplaces to pass through townships.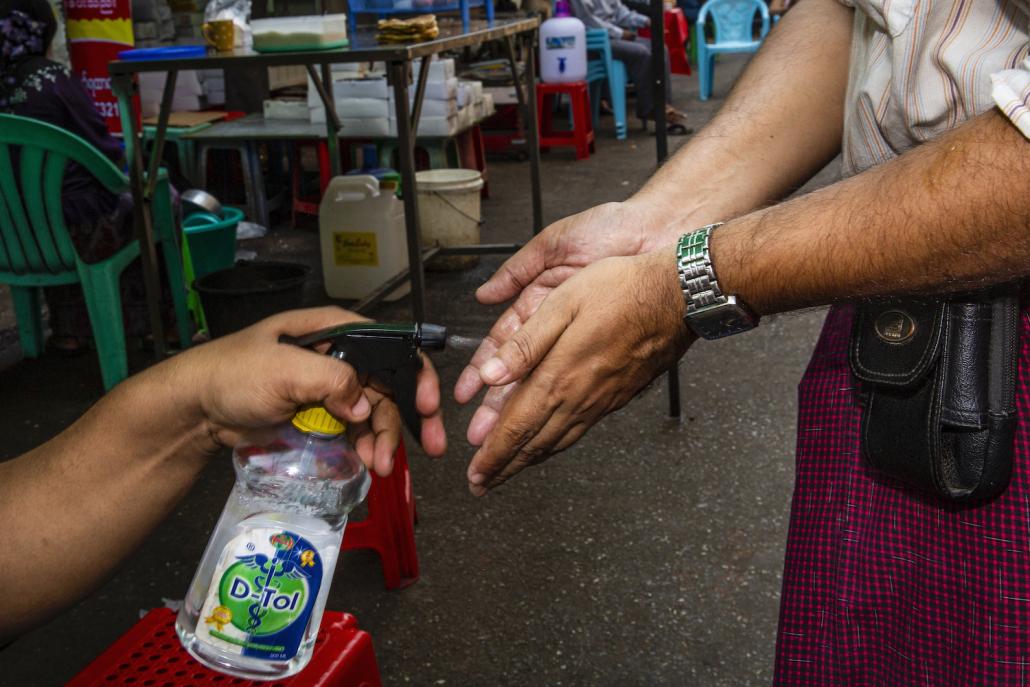 In Pabedan, checkpoints to monitor and record the movement of people have been established at the entrance to every side street. Most of these were introduced spontaneously by residents, and some predated the lockdown order.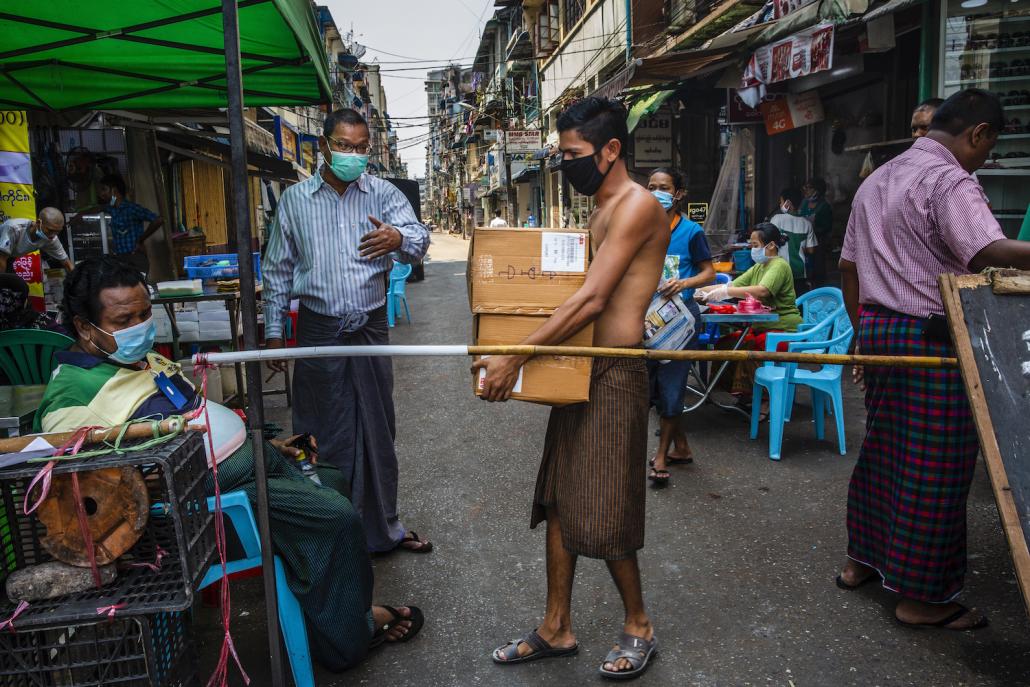 The makeshift checkpoints, fashioned from bamboo poles, lengths of crime scene tape, or plastic road or construction site barriers, sometimes used in combination, are manned by six or seven community volunteers, all residents of the block.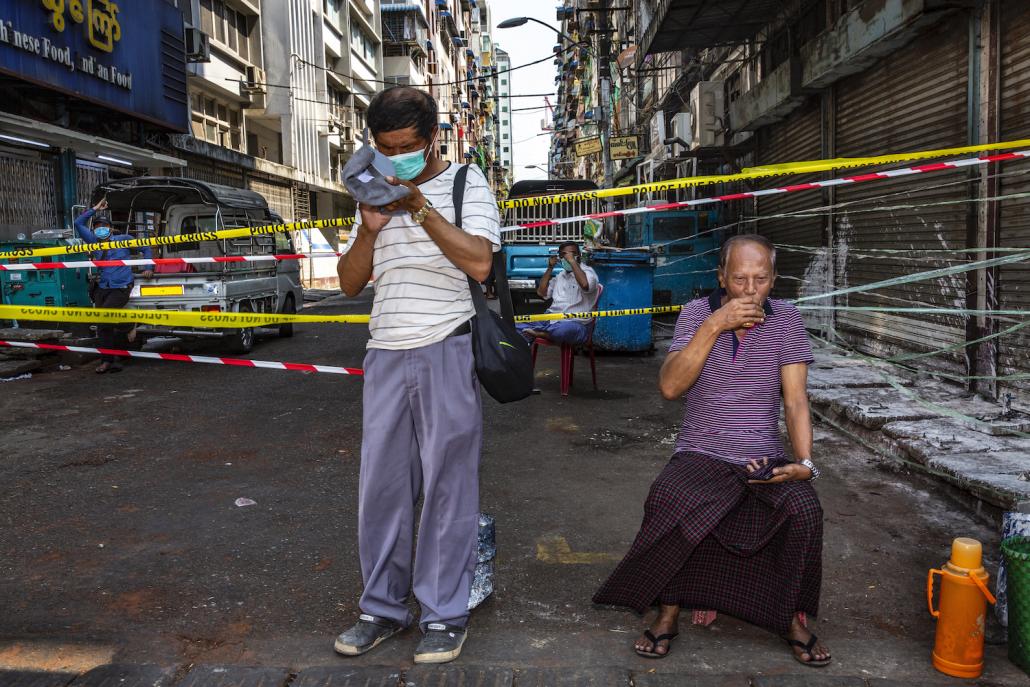 The checkpoint volunteers are rigorous in fulfilling their responsibilities. They record the time when residents leave their homes, which they can do twice a day, and block the entry of outsiders, even if they are hoping to visit relatives. Residents who order a food delivery have to collect it from the checkpoints, which are open from 7am to 10pm.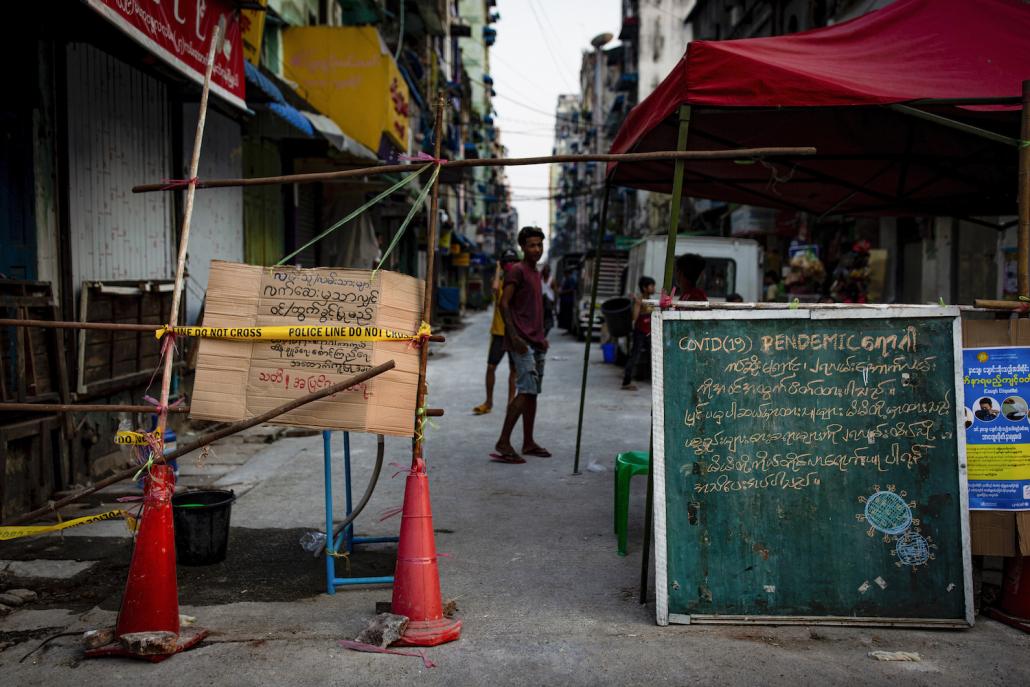 Sometimes, perhaps inevitably, there are arguments. Frontier witnessed a shouting match between a checkpoint volunteer responsible for security, identified by a red "duty" armbands, and a resident angry at being told the technician he had summoned to repair an air-conditioner would not be granted entry.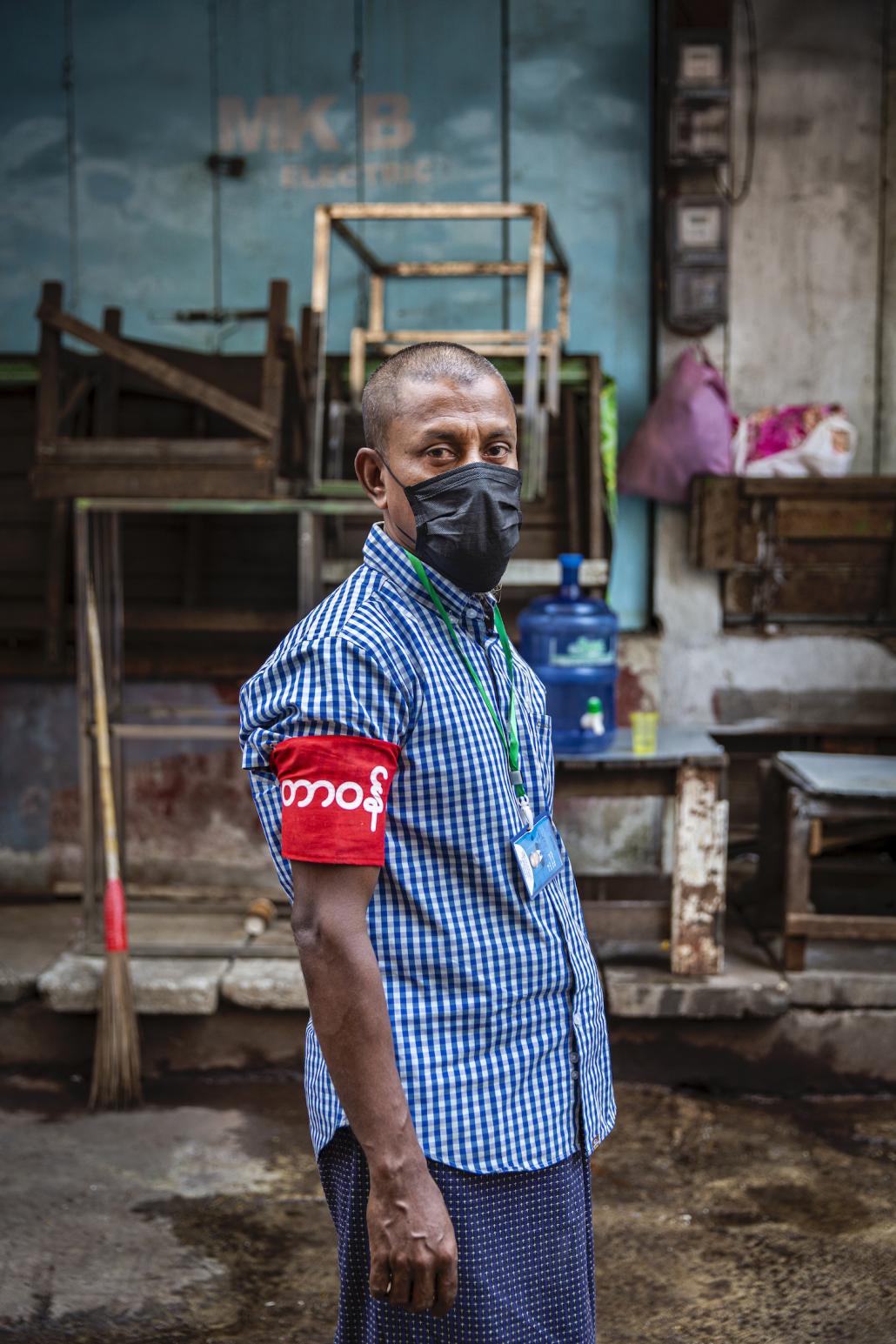 The resident offered to take complete responsibility for the technician but the security volunteer said he would only allow him to enter the block with approval from the head of the ward.
A checkpoint volunteer expressed disappointment that some citizens do not appreciate the need for lockdowns and other community restrictions to prevent the spread of the coronavirus.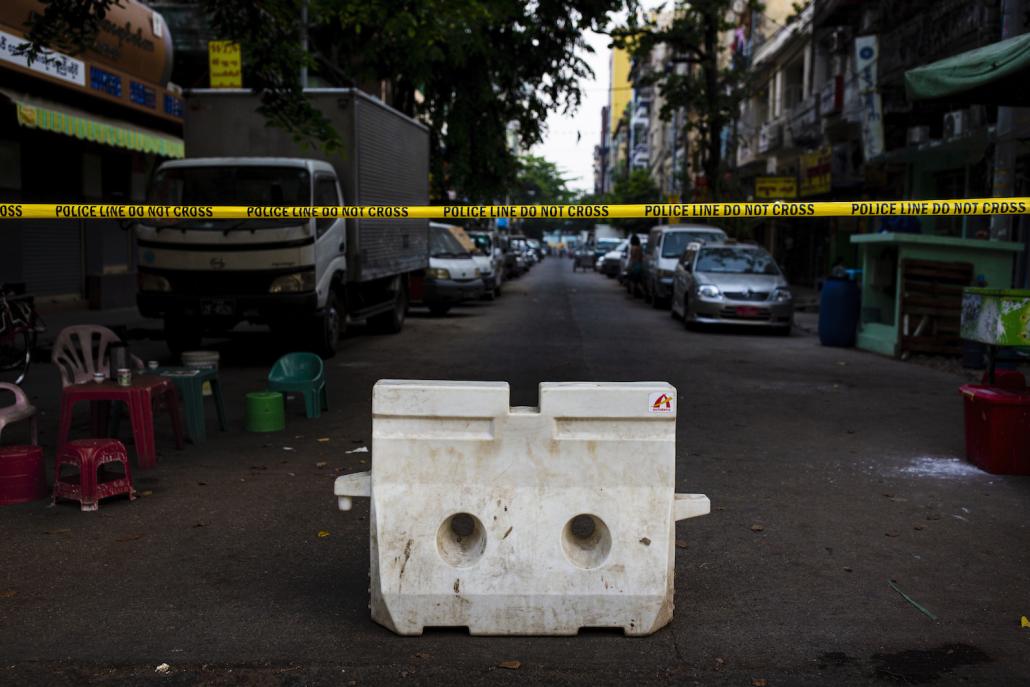 "Some people just don't understand the importance of what we are doing," the volunteer told Frontier.  "We are working hard to keep this area virus-free but they only know how to say bad things back to us."