Life is slowly returning to normal for some residents of northern Rakhine, but everywhere are the remains of villages obliterated by last year's violence.
By MRATT KYAW THU | FRONTIER
THERE'S NOT much left of Myo Thu Gyi village, a once thriving community close to downtown Maungdaw, which was devastated like scores of others in the violence that engulfed northern Rakhine State after the attacks by fighters from the Arakan Rohingya Salvation Army late last August.
The village, about five kilometres east of Maungdaw town on the road to Buthidaung, was the scene of clashes with the security forces when ARSA launched its series of surprise attacks on August 25.
The village was a strategic target for the militants because of its position on one of the main roads entering Maungdaw and the crossroads to the border fence with Bangladesh.
Frontier travelled to Maungdaw Township after the militants' first surprise attacks, on October 9, 2016, and the August 25 attacks, and travelled there again earlier this month.
The area where Myo Thu Gyi village once stood is a desolate wasteland. Almost everything has disappeared. Houses, small markets, trees, even wells, are gone. The levelling of the village has left views unobstructed and recent visitors have noticed they can see to the horizon.
At construction sites throughout the village, workers are busy erecting concrete buildings. Government officials in Maungdaw told Frontier they were not aware of building projects in Myo Thu Gyi.
The road to Maungdaw from the south begins at Ah Ngu Maw on the peninsula in Rathedaung Township where the Mayu River meets the Bay of Bengal.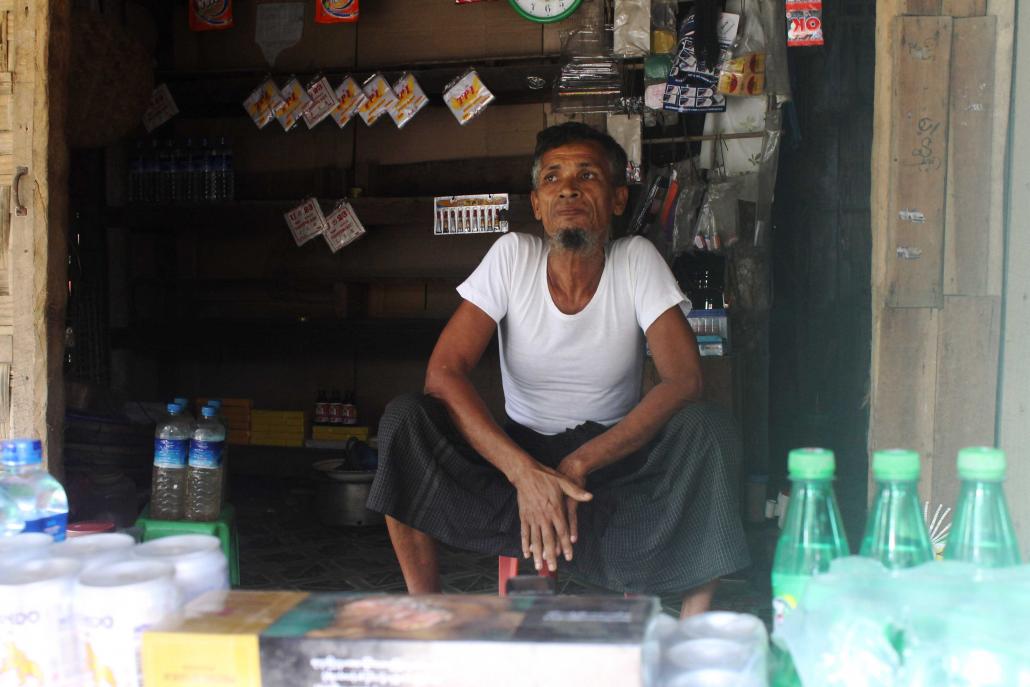 Along the road are the remains of mainly Muslim villages, such as Chain Kar Li, Inn Din, Myin Hlut, and Alel Than Kyaw, where a few areca palms stand sentinel over scenes of destruction such as that which obliterated Myo Thu Gyi.
The Ah Ngu Maw-Maungdaw road, a distance of about 40 miles (64 kilometres) is being upgraded by the country's biggest conglomerate, Asia World Group. Work began in December and is due to be finished by May of this year. 
In the Kyauk Pandu village tract, where security forces say they found five home-made bombs on January 7, the Ministry of Construction is upgrading a crossroads where the Ah Ngu Maw-Maungdaw road is joined by the road to Zay Di Pyin, in Buthidaung Township.
Resettlement
In Koe Tan Kauk village tract, about 20 kilometres north of Ah Ngu Maw, where ARSA militants attacked a police post on October 9, 2016, a new ethnic Rakhine village has been established by 25 families that moved from Thandwe Township, in southern Rakhine.
"We moved here from Sin Gaung village by our own, nobody forced us," U Ba Shwe, 47, told Frontier. "We're catching crabs here and some [fishing] equipment was provided by an organsation," he said.
That organisation is the Ancillary Committee for Reconstruction of Rakhine National Territory in the Western Frontier, which is implementing the resettlement project at Koe Tan Kauk.
Also known as CRR, the committee is headed by a Rakhine historian, Dr Aye Chan, a professor at Japan's Kanda University of International Studies. The committee was formed after the August 25 attacks last year by Rakhine nationalists, and includes some lawmakers. Aye Chan is the co-author with U Shwe Zan of Influx viruses: The illegal Muslims of Arakan, a pamphlet published in the United States in 2005.
U Than Tun, a secretary of CRR, said villages were being established for people willing to move from other townships and insisted that the committee did not touch any land previously occupied by Muslims. He said the organisation scrutinises documents that show how many families live in each village.
"But it's not sure in the future if the government will allow us to build new villages on [that land]," he said.
Asked about CRR's activities, Rakhine Chief Minister U Nyi Pu told Frontier that "we don't let any group control the family data".
The government has also been establishing new villages in northern Rakhine, and their inhabitants have been receiving donations from civil society groups based in Yangon.
Some of the villages are for the Mro ethnic minority, a tribal group also found in Bangladesh and India. ARSA was accused of killing some Mro in the violence after the August 25 attacks.
"We came here to start a new life as we won't be safe if we stay at our original villages because we are afraid of those terrorists," said U Man Kyuen, a Mro leader.
The end of the worst of the violence, construction work in destroyed communities, the establishment of new villages and an influx of people to live in them have contributed to an economic recovery in Maungdaw town.  The markets are bustling with Rakhine and Muslims. Many Muslim shops have reopened.
Business is also picking up at the economic zone being developed at Kanyin Chaung, on the Naf River, about three kilometres from Maungdaw. Boats are arriving every day to unload cement and construction materials from Yangon and load paddy that is shipped to Pyapon Township, Ayeyarwady Region.
"Many boats are going to and from here," said Ko Soe Khaing, a boatsman from Pyapon. "We have been travelling to many areas, but this is the first time [we have come] to Maungdaw this year."
Paddy is abundant in Maungdaw because many of the 655,000 Muslims who fled to Bangladesh after the violence began last August were farmers preparing to harvest their crops. State-run newspapers carried frequent reports in November and December about "reaping ownerless paddy in Maungdaw".
The government took charge of harvesting the deserted fields of paddy, which grows well in Maungdaw because of fertile soil.
Devastated Muslim villages also line the road north from Maungdaw town to Kyein Chaung, though some mosques can be seen. Curiously, some well-developed Muslim villages along the road are still intact, with people still going about their daily lives.
Not far from Kyein Chaung, the Ministry of Construction is upgrading the road leading to Taung Pyo Let Wae, on the border with Bangladesh, where camps have been established for repatriated Muslim refugees.
Camps have also been erected at Ngakhu Ya village for Muslims accepted for repatriation, which had been due to begin on January 22.
"We can probably start the repatriation process on January 23," Nyi Pu told Frontier.
"Although we are ready to accept them back, we have to wait and see what the other side is doing," he said, referring to Bangladesh.
Frontier was unable to travel north from Kyein Chaung because of security concerns. On January 5, six soldiers were hurt when an explosive device damaged a Tatmadaw truck at Terain, a village south of Taung Pyo Let Wae.
TOP PHOTO: AFP