After almost five years, it is time for me to leave Myanmar and sell a half decade's worth of accumulated items.
By JARED DOWNING | FRONTIER
IKEA Lamps (4 lakh each)
If you're asking, "400,000 kyat for a lamp?" then you are clearly new to Yangon's lamp market. Finding sleek, minimalist light fixtures completely free of faux crystal, fake gold veneer or porcelain seashell embellishments is almost impossible in the city. Foreigners will have the online equivalent of a back-alley knife fight over a plain white crepe-paper lamp from IKEA.
Guitar (K20,000)
I bought this guitar from a shop in Bogyoke Market when I first arrived and spent countless evenings on my balcony trying to become the Yangon expat Bob Dylan. I would charge only K10,000 for it, but this guitar is the one on which I composed the following song, my magnum opus:
Bus seats and doorways are slight, for tiny people, packed tight
So if you go to Loikaw, be small
It don't pay to be tall in Loikaw
In stature, there's really no draw
Pallet sofa (K30,000)
This simple sofa made of wooden loading pallets is a bargain. Five years ago it would have fetched a much higher price. Indeed, my housemate at the time was one of the few foreigners who knew where to get pallets, and he literally auctioned it off to his friends, earning enough money to buy at least two IKEA lamps. Inspired, I spent several weekends scouring the city for pallets, industrial spools and other materials to make trendy Pinterest-style furniture, and then made the mistake of publishing all of these DIY secrets in Frontier. Now foreigners will barely pay more for a pile of wood pallets than the value of a pile of wood pallets.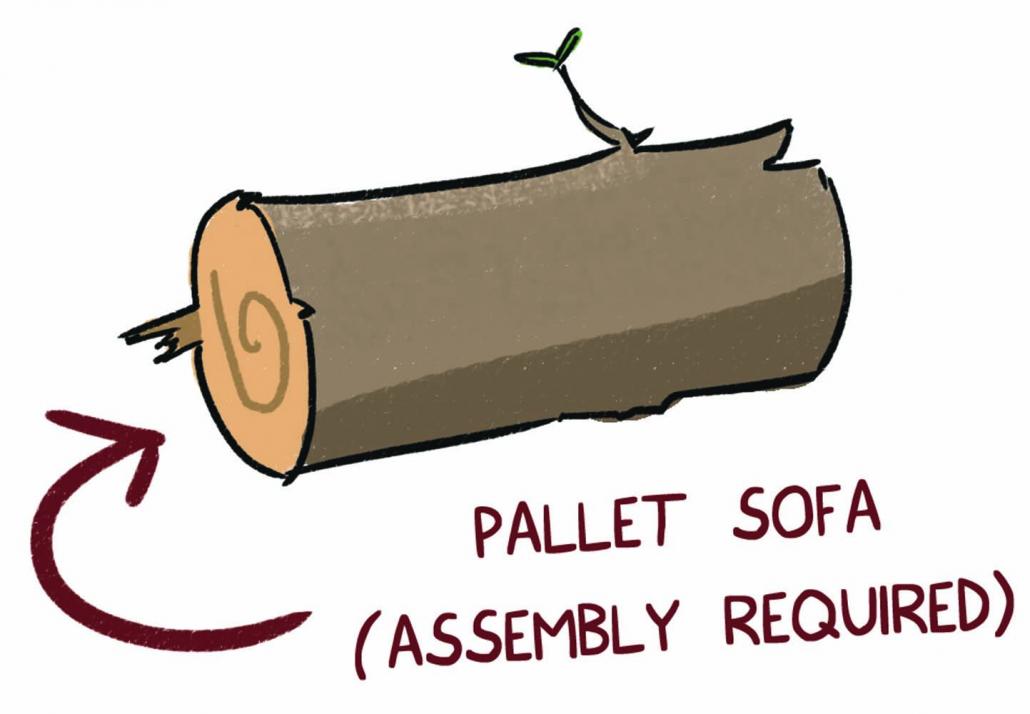 Miniature whisky barrel with "Jared" engraved on it (K7,500)
This barrel was gifted to me by a friend. Why would anyone else want it? I don't know, but apparently a thief did. I had not realised this item had even been stolen until I stepped into a Sanchaung café and, lo and behold, there was a small whisky barrel bearing my own name displayed behind the counter. I went back to my apartment, and sure enough, several worthless yet sentimental knickknacks had vanished from my living room, pawned to a nearby antiques broker, who had already sold them off. I don't know where my plastic Han Solo action figure, pocket-sized edition of The Taming of the Shrew or brass compass (also engraved) have got to, but I hope whoever lifted them at least got a good deal.
Various tailored suits (K2,000 each)
I never knew that I had an addictive personality until I discovered Liberal Tailor, a place in Bogyoke Market that will make a fully tailored suit for around US$100. It started with a dark suit. Then, later, why not a navy one? Five years later, my wardrobe includes suits in cream, checked grey, burgundy, textured rust and bright blue, as well as a houndstooth blazer, a metallic grey blazer, and a blazer with interwoven shiny green and orange thread that changes colour as you move. Now I've finally been able to look myself in the mirror and admit that I have a tailoring problem, which they say is the first step to recovery.
Framed occupation-era neurotoxin spy makeup kit (K5,000)
I found this old lipstick tube and vanity mirror at one of the junk sellers on Bogyoke Road. I had them mounted in a museum-style display case and devised an elaborate story about how they were provided to a Rangoon socialite-turned-spy during the Japanese occupation who used it to knock out high ranking officials and steal their correspondence. Honestly, I forgot I had it, and now I don't know what's more dangerous: Being caught with a stolen museum artifact, or being caught potentially altering Myanmar's historic record. Anyway, it's yours for K5,000.
Refrigerator (will pay you K9,000 to take)
This refrigerator does not belong to my landlord. He believes I owe him this refrigerator because I broke the one that was already in my apartment, but it was broken when I moved in. If he asks about it, offer him my genuine occupation-era neurotoxin spy kit as repayment.