Crowded conditions in camps, meagre services, and restrictions on access and movement have left communities displaced by conflict more vulnerable than most to the coronavirus pandemic.
By KYAW LIN HTOON | FRONTIER
ALTHOUGH ALMOST everyone living in Myanmar has been affected in some way by the COVID-19 pandemic, those in crowded camps for people displaced by armed conflict are among the most vulnerable to the threat posed by the virus.
Questions are being raised about whether the government is doing enough to support the hundreds of thousands of internally displaced people, or IDPs, and to protect them from the virus in the congested camps that they would rather not call home.
Officials from various government ministries insist that they are paying attention to health and safety in the IDP camps, and are taking measures to prevent the spread of the virus.
However, domestic and international non-government organisations and civil society groups have reported a big gap between the government's ostensible response and the situation confronting IDPs fearful of being infected.
IDPs in Rakhine State are considered at particularly high risk of COVID-19 for a number of reasons, including the conflict with the Arakan Army and government restrictions on aid. But groups assisting people living in camps in Kachin, northern Shan and Kayin states echoed similar concerns about the vulnerability of IDP populations.
Access for humanitarian organisations has become more difficult and unpredictable in recent weeks because the government has begun limiting visits by aid workers to mitigate the risk of a COVID-19 outbreak. Humanitarian sources say travel authorisation requests are being considered on a "case by case basis", with many requests still being approved.
Camps in non-government-controlled areas of the country, particularly in Kachin State, remain off limits due to government restrictions, while aid groups are also unable to access around half of the camps in Rakhine State set up because of the Arakan Army conflict.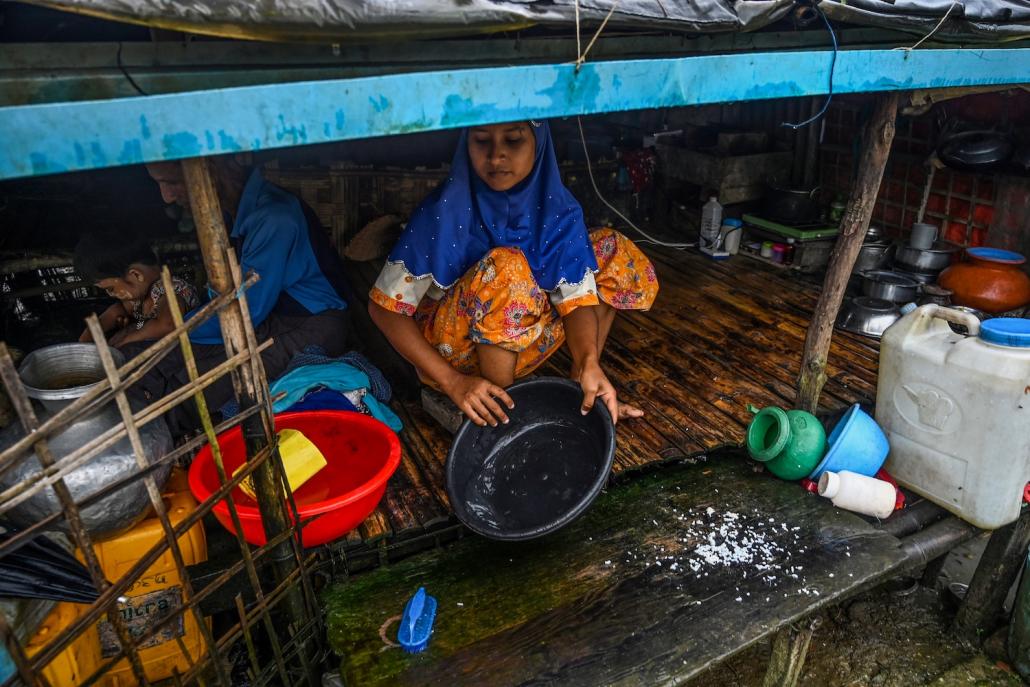 Government measures criticised
Rakhine State has by far the largest number of IDPs in Myanmar. This includes almost 130,000 – mostly Rohingya – who were displaced in communal violence since 2012, and at least another 60,000 who have been forced to flee their homes due to fighting between the Arakan Army and Tatmadaw since January 2019. Civil society groups say tens of thousands more displaced people are sheltering in host communities, in conditions that are often equally deprived and unsanitary.
"The people in the camps are very worried about COVID-19 but still don't have a chance to adopt protective measures. The government officials came and talked to them through a loudspeaker about COVID-19, but then left without giving them so much as a mask or bar of soap," said Mr Brights Islam, country manager of Al-Khair Foundation, a charity based in Britain that provides humanitarian aid to camps in Rakhine State.
A Rohingya born in the Rakhine State capital, Sittwe, in 1995, Islam became an IDP as a result of the communal violence that wracked the state in 2012. While living in the Thet Kae Pyin IDP camp, one of 16 camps in Sittwe Township, he was able to work as a trainer at Bumay Education Center, established by a Sittwe-based NGO, Peace and Development Initiative-Kintha.
One of the rare NGOs in Rakhine that works with both the Rakhine and Rohingya communities, PDI-Kintha focuses on peacebuilding and encouraging social cohesion. It was founded in 2013 by a young Rakhine, Ko Kyaw Hsan Hlaing, who serves as its executive director.
Kyaw Hsan Hlaing believes that government measures to prevent the spread of the coronavirus among IDP camp populations in Rakhine are inadequate. He says there are too many constraints, and these are hampering efforts by national and international NGOs to implement preventive measures.
One of the most crippling is the mobile internet blackout that has affected eight Rakhine townships and one in Chin State. In an unprecedented move, the government blacked out the nine townships last July. The shutdown was lifted in four Rakhine townships and Paletwa in Chin State in September, but was reimposed in early February. On May 3, access was restored in one township, Maungdaw, but the remaining townships are still without mobile internet.
Movement between townships is also becoming harder, often because of conflict rather than the pandemic.
"Just a few days ago we tried to travel [from Sittwe] to Kyauktaw to provide awareness in IDP camps about preventing the spread of the virus, but the military and the authorities did not allow us to enter the township because of the fighting with the Arakan Army," he said on April 30.
"From my perspective, the Rakhine State government does not have the capacity to implement necessary measures and it is taking too much time waiting for detailed instructions from the Union level."
U Kyaw Min, chair of the Democracy and Human Rights Party, which represents the Rohingya community, said there were about 120,000 Rohingya IDPs in Rakhine but the government had done "almost nothing" to implement COVID-19 preventive measures in the camps.
He said the huts in which the IDPs live – which are small, and shared by multiple families – made social distancing impossible. "It's very dangerous for them and all they have to rely on is Allah; only Allah can save them," he said.
Among the groups in Rakhine that work to assist IDPs is the Rakhine Ethnics Congress, which estimates that the number of people displaced by the conflict in the state has reached 164,211.
This is more than 100,000 higher than the state government's figures, which are based on the number of people in recognised IDP camps. The REC says those not officially counted are staying in monasteries, at the homes of relatives or are in unrecognised camps. The UN, which uses state government figures, says that almost 78,000 people have been displaced in Rakhine and neighbouring southern Chin State since January 2019.
"Government officials go to the camps in the towns, but they don't go to camps far from towns or in remote areas, and they certainly never travel to camps in conflict areas," said U Zaw Zaw Tun, the secretary of the REC.
"The government needs to be frank and transparent about its resources, including the size of the budget to spend on IDPs, what it has been doing and what is beyond its capability. Then it needs to collaborate with us, the CSOs and NGOs, but it should not order us around in the same way it issues instructions to public servants," he said.
Daw Khon Ja, coordinator of the Kachin Peace Network, accused the government of neglecting to undertake COVID-19 preparation measures in camps in Kachin State.
Figures from the UN Office for the Coordination of Humanitarian Affairs show that almost 100,000 people were living in 171 camps across Kachin State as of September 30 last year, with almost 10,000 people displaced in neighbouring northern Shan State.
"The government only sent instructions to lock down the camps, but no resources such as food, masks and sanitisers," Khon Ja said.
Ministry of Social Welfare, Relief and Resettlement figures show that while it has sent some COVID-related supplies to camps in Kachin and other areas of the country, the amount has so far been limited. Between April 19 and 28 it send around 3,500 masks and 3,500 bars of soap, as well as seven washbasins and thermometers, according to a May 4 United Nations situation report.
Khon Ja was critical that donations raised in Kachin were being sent to the Union government, which, she said, had given little in return. A Kachin State Hluttaw MP, U Zaw Thin (National League for Democracy, Bhamo-1) and a businessman made similar allegations to Frontier.
"The Kachin State government has asked businesspeople to donate to the fight against COVID-19 and they have complied. But all the funds raised by the state government have been sent directly to the central government and the Union Ministry of Health and Sports," Khon Ja said. "But for the most vulnerable people in Kachin, not even a pack of rice or a face mask have been returned."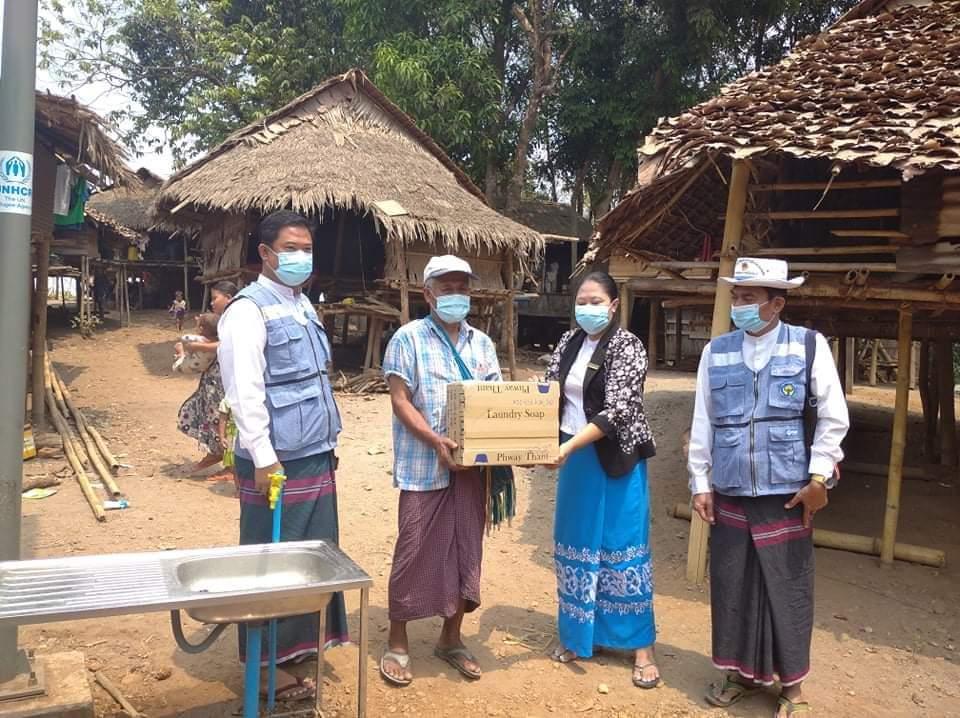 'We are providing enough'
The government's version of what it is doing to support COVID-19 education and prevention measures in IDP camps differs markedly from the situation described by civil society activists and NGOs.
"We are raising awareness and supporting the provision of facilities for washing and other personal protection measures in the IDP camps," said Dr Ko Ko Naing, director-general of the Department of Disaster Management under the Ministry of Social Welfare, Relief and Resettlement. He said the activities were being funded by a K2.4 billion allocation from the ministry, which puts the national IDP camp population at about 250,000.
He rejected accusations that the government is not providing adequate amounts of food or other necessities to IDPs. "We are providing enough," he said.
Ko Ko Naing said government restrictions on allowing NGOs and civil society groups to access the camps were in the interests of the health of IDPs.
"We know that IDPs are very vulnerable, but if they stay in the camps without being contacted by people from outside, especially members of NGOs and CSOs, how can they be infected?"
"We have sent appeals to [the UN and NGOs] to understand why we can't allow them to have as much access as they want."
On the issue of access for foreign aid providers, both the Department of Disaster Management and the International Organizations and Economic Department of the Ministry of International Cooperation say they are collaborating with the international community.
U Chan Aye, director general of the International Organizations and Economic Department, said the department was negotiating with international NGOs and UN agencies to allow greater access for their staff.
The international NGOs supporting the effort to keep the coronavirus out of IDP camps include Oxfam International and Solidarity International, which are working together to deliver masks and personal hygiene kits, conduct information campaigns and install washing facilities in Kachin, northern Shan and Rakhine.
"The biggest challenge for [COVID-19 prevention] is that the camps are crowded, which makes it hard to have social distancing between households and family members if someone gets sick," said Daw Yee Mon Oo, advocacy and campaign coordinator at Oxfam International. "Government healthcare services are not accessible, so if there was a COVID-19 case in a camp, it would be very big trouble."
Reaching the camps was also a challenge because of government restrictions and delays in issuing travel authorisations, she said.
"In the campaign to prevent the spread of COVID-19, no one should be left behind," said Yee Mon Oo. "Whether they are IDPs, or people in rural areas, or anyone, they are all entitled to be cared for, and if the assistance available to any single group is limited, it is very harmful for the whole country."
But conflict is also inhibiting access to some areas for both the government and NGOs. In southern Chin State, heavy fighting between the Tatmadaw and Arakan Army has cut road and river routes into the town of Paletwa, and the World Food Programme says IDPs are being forced to skip meals or forage for plants due to food shortages.
On April 29, a World Food Programme convoy headed for Paletwa was attacked by "unidentified gunmen", resulting in minor injuries to a driver and damage to three vehicles. The convoy was eventually able to continue, however, and WFP began delivering food assistance to 3,700 people in Paletwa on May 3.
"The communities are extremely vulnerable and need sustained support to prevent the food situation from getting worse," said Mr Stephen Anderson, WFP country director in Myanmar.
Salai Tun Tan, one of around 500 people living in a camp in Mee Zar village in Paletwa Township, said food was running low because conflict made travel almost impossible.
"We are getting rice from nearby villages and then we hunt for animals in the jungle, and collect vegetables and mushrooms," he said. "Every day we nominate three to five men to go out to look for food."
Hunting and foraging were dangerous because of the conflict, he added, but the IDPs had no choice. "Of course we are afraid of the fighting, but what can we do?"
He said that amid the conflict few people in the camps were giving much thought to COVID-19, and they had not yet received any information about the disease from the government or other actors. "I think the disease can't reach us," he said, "since we are surrounded by jungles, mountains and an active conflict."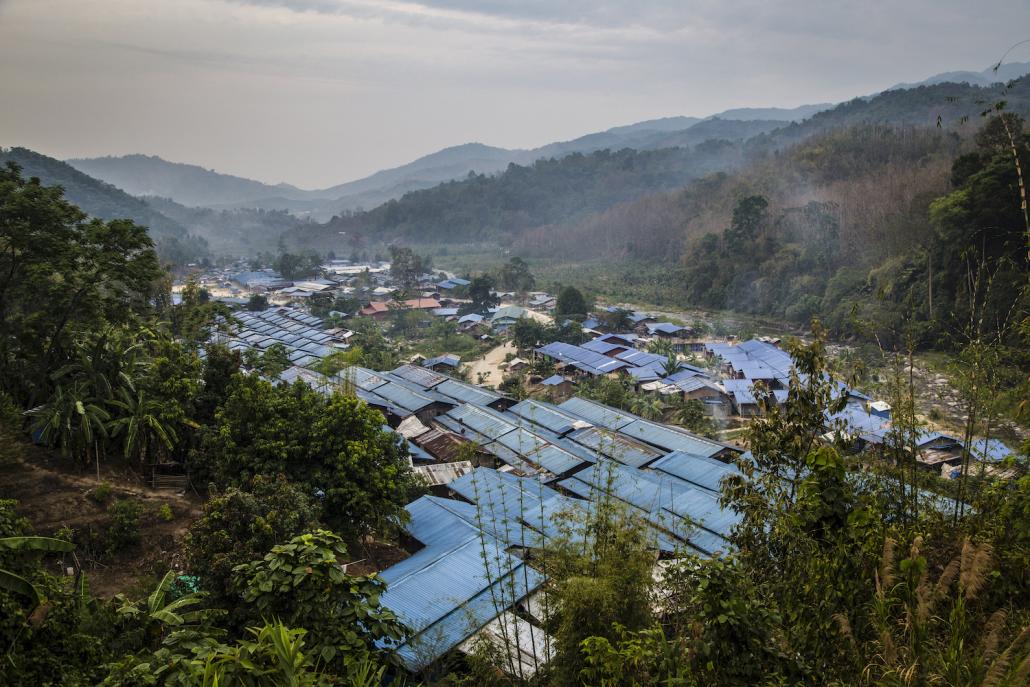 Lockdowns without aid
Another challenge for IDPs is that many camps are effectively under lockdown, with residents often unable to leave the camps to find work. Previously it was common for adults, particularly men, to leave the camp each day to work in agriculture, construction and other sectors.
Ma Roi, 26, from a Kachin Baptist Convention-run camp in Bhamo, Kachin State, works as a tutor but has been unable to leave the camp for about two months.
"I usually go to nearby villages on my motorcycle to see my students, but for the past two months we've only been allowed to leave in emergencies," said Ma Roi, who lives with her older sister and mother. "It has really affected our family's income; we are now totally reliant on donors and have to wait for support."
Humanitarian sources say they are particularly concerned about the approximately 40,000 people living in camps in Kachin Independence Organisation-controlled areas along the border with China. Since August 2016 the Myanmar government has blocked international aid deliveries to these areas and the emergence of COVID-19 has resulted in tighter border controls, hampering the ability of local aid groups to reach the camps.
In Kayin State, a major worry for residents of the one of the biggest IDP camps is food security.
The IDP camp at Myaing Gyi Ngu, in Hlaingbwe Township, hosts more than 5,000 people who were displaced after fighting broke out in the Mae Tha Waw area in September 2016.
Nan Mu, a member of the camp management committee, told Frontier on April 29 that they previously relied on support from the government, the UN and some local civil society groups and individual donors.
Nan Mu said government officials had visited the camp once in late March and had installed three hand-washing stands and distributed soap, but they had not received any support since then.
"We only have enough rice for 20 days," Nan Mu, a member of the camp management committee, told Frontier on April 29. "We have received no indication yet as to whether the government or other donors plan to provide us with any more."
Meanwhile, the meagre livelihoods of Rohingya IDPs are also being hampered by semi-lockdowns ordered in the camps by the authorities as a precaution against the spread of the coronavirus. The increased restrictions prevent many Rohingya from leaving the camps to do casual work to support their families, which was previously common practice.
For those who can leave, the cost is likely to be the price of a face mask – a considerable sum given the low wages on offer.
"Authorities at checkpoints only allow people to pass if they are wearing masks," said Islam. "It's good for their safety, but the cost of a mask has risen to K1,000 which they must spend as an investment to be able to work for a day."
TOP PHOTO: A man wears a mask at his shelter in Maliyang IDP camp in Myitkyina Township, Kachin State, on April 6. (Hkun Li | Frontier)