For two weeks, security forces waged a bloody war on South Dagon Township, where martial law and an uneasy standstill prevails. Frontier spoke to residents who have risked everything to resist military rule.
By FRONTIER
When the shooting began, Ma Lin Lin Myat turned off the lights and lay atop her daughter and son. Just as she was making herself into a shield for her children, a bullet tore through the bamboo-thatched wall of her home, in a slum in Yangon's northeastern South Dagon Township, striking her right hip.
"I felt heat and pain, and then the blood started flowing," Ma Lin Lin Myat, the pregnant mother of a five-year old boy and an eight-year-old girl, told Frontier on April 2 – two days after the event. "I told my mother I'd been shot, but she was convinced it was menstrual bleeding. I had to tell her again, 'Mum, I've been shot!"
The residents of South Dagon had already endured two weeks of brutal crackdowns. Still, at around 8:30pm, after the regime's nightly curfew, a group had massed on Min Ye Kaung Pon Road in a slum in the township's 104th ward. Soon after they'd dispersed and gone home, police and soldiers arrived and began shooting indiscriminately into homes, several witnesses told Frontier.
"After they fired shots, they yelled for all the men in the ward to come out from their houses," Ma Lin Lin Myat said. "Then they started shooting again, in the air and into homes."
She was one of two people shot that night. The other was 37-year-old U Aung Min Htun. The father of three was shot in the chest and shoulder and died on the street as his wife watched helplessly from the side. Security forces also arrested 15 people in the ward.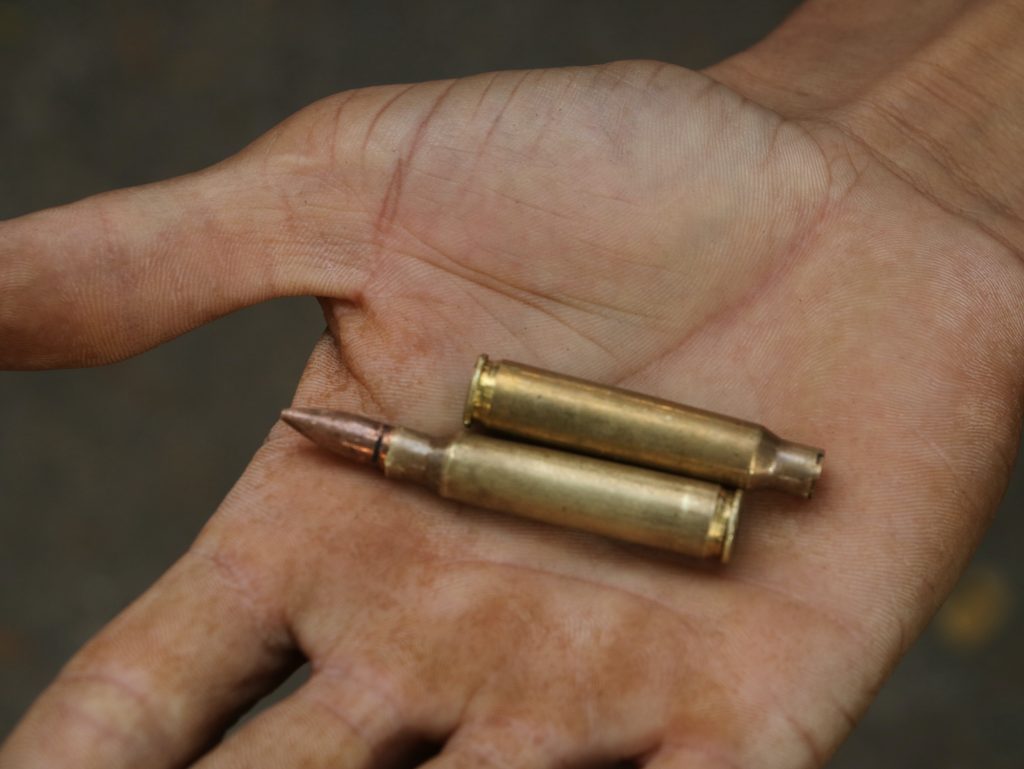 The escalation in violence in South Dagon began on March 14, the day of a massive crackdown in the heavily industrial Hlaing Tharyar Township, on the other side of the city, that left at least 58 people dead and several factories scorched. Amid the crackdown, residents of several Yangon townships, including South Dagon, took to the streets to protest in an attempt to draw security forces' attention away from Hlaing Tharyar. These protests in turn sparked a savage response. Within 24 hours, the junta had placed five Yangon townships under martial law, including Hlaing Tharyar and South Dagon.
But the residents of South Dagon had been preparing for such savagery since February 6, when they began organising a network of volunteer medics and guards to treat the injured and protect the wards. The network has also been working to document the military's atrocities.
At least 70 people have been killed in the township since March 14, according to residents, volunteer medics and a local reporter. Hundreds more have been arrested.
After clashes broke out between rifle-armed soldiers and protesters armed with slingshots, swords and Molotov cocktails on March 28, soldiers returned the following day and launched rocket-propelled grenades from armoured vehicles, setting the sandbag barricades that residents had erected to slow their advance on fire.
After the shooting on March 31, Lin Lin Myat's neighbours wanted to take her to a hospital, but she refused to go.
"I didn't want them injured or killed while taking me, so I decided to stay home – even if it meant I'd die from blood loss," she said.
She was treated the next day at a private hospital in neighbouring North Dagon Township, where she said doctors have pledged to offer her maternal and obstetric care pro bono.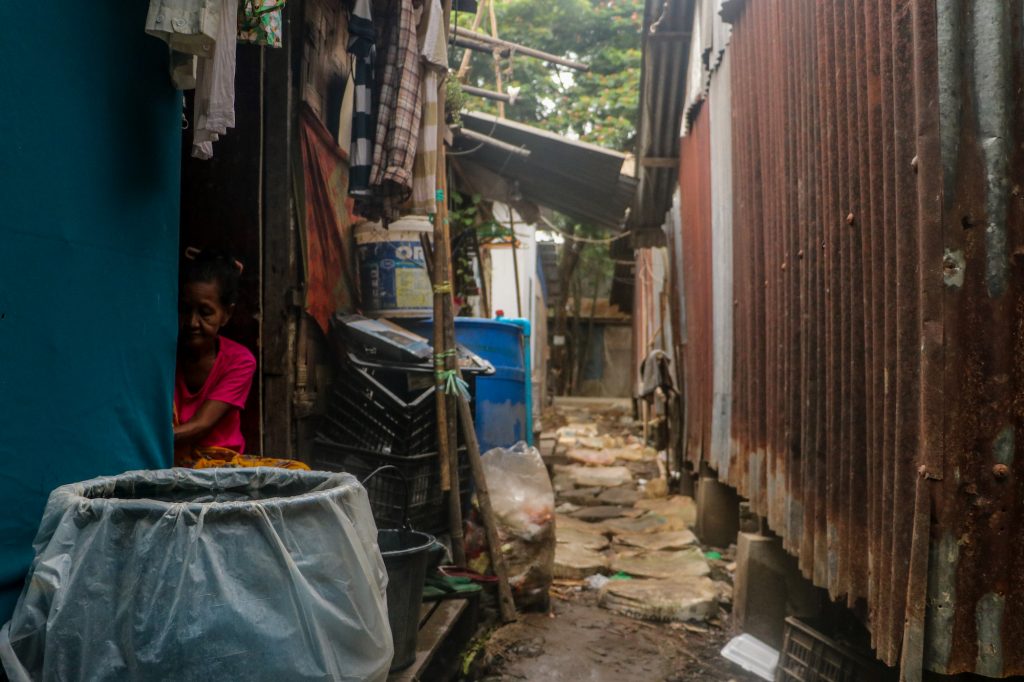 A township in mourning
As Lin Lin Myat lay atop her children, 29-year-old Ma Hla Theingyi was cooking. It was to be a memorial meal she would offer monks the next day in memory of her brother, Ko Aung Htun Aye, who at 32 years old was shot dead near the ward market on Bandoola Street at around 1am on March 27. He was on overnight guard patrol, and was armed with a slingshot and rocks, when he was hit three times in the left thigh. It took rescue workers two hours to reach him, then get him to Sanpya General Hospital in Thingangyun Township, across the Pazundaung Creek from South Dagon. There, at 4:40am, he was pronounced dead.
"I will forever mourn his loss," Hla Theingyi told Frontier on April 2.
A fellow guardsman was shot in the head and died on the spot.
While Frontier spoke to Hla Theingyi, a mourning ceremony was being held a few alleys over, in a wooden home raised on stilts, for Aung Min Htun, the 37-year-old who was shot and killed on March 31 in front of his wife, Daw Myint Myint Than.
Aung Min Htun had not participated in the protest that night, but he had gone outside to see what the commotion was and was rushing to get back inside when security forces arrived, Myint Myint Than said. He was first felled by a shot to the shoulder, before soldiers approached and began kicking his limp body. Myint Myint Than said she watched as they then dragged him across the road and, standing over him, fired one last, fatal shot into his chest.
Aung Min Htun served as a polling station volunteer in the November general election, which the military annulled the results of with its February 1 coup.
"My heart is broken," Myint Myint Than said, sitting beside a portrait of Aung Min Htun as relatives and friends streamed in to pay their respects. "The children are too young for this."
Her eldest, a 23-year-old son who asked not to be named, said he just hopes the killings end soon.
"I don't want any more families to suffer what we're suffering," he said.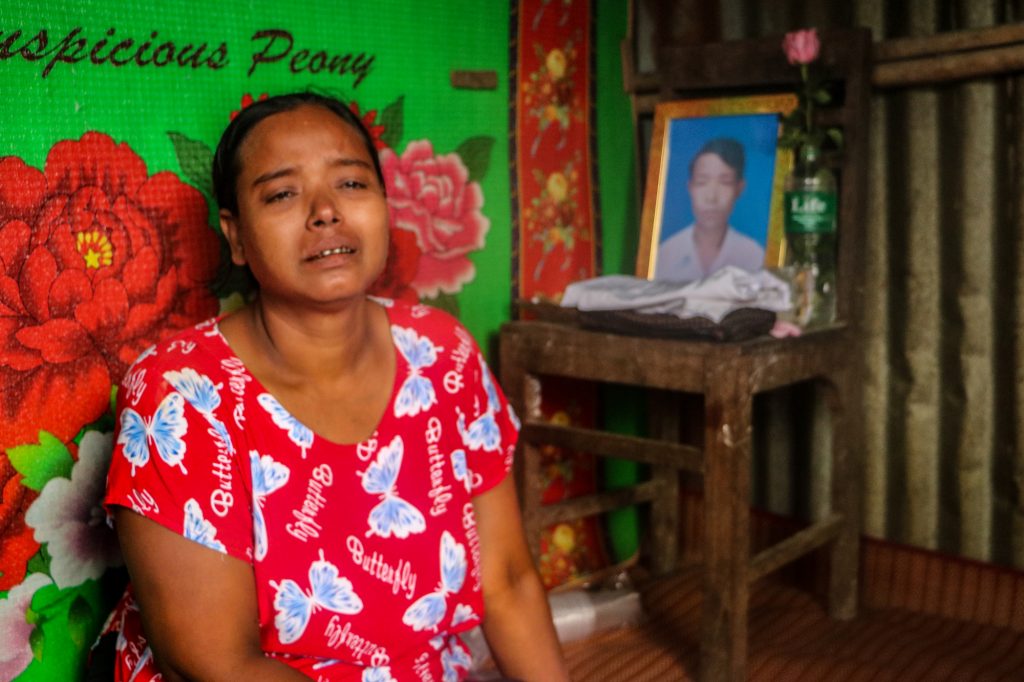 Local heroes
Frontier was at the Sanpya hospital, a canary-yellow square of moldering concrete between Thingangyun's Yadanar and Lay Daungkan roads, when the crackdown began on the evening of March 14, and watched as dozens of people from nearby townships rushed to its emergency room.
South Dagon was not the only township where residents bravely tried to draw security forces away from Hlaing Tharyar that day. In Thingangyun they started to protest in the late afternoon. The crackdown there was earlier than in South Dagon – around 5:30pm – and even more lethal, leaving seven dead and about a dozen detained. From there and surrounding townships, more than 40 arrived at Sanpya that night – many of them already dead.
Ma Zuu Wint Wah died instantly when she was shot in the head on South Dagon's Ayerwun Road at 7pm. She was 15. In a hallway outside of the emergency room, her father, U Tin Ko Ko Oo, sat beside her corpse, which was laid out on a portable hospital bed, begging passersby to take photos and share them online so that people would know what the military had done.
Zuu Wint Wah had taken part in anti-coup protests as soon as they began in early February. She was among the more than 300 youths arrested at a demonstration in Tarmwe Township on March 3 and locked up in Insein Prison. She was held there for a week, but left determined to continue protesting. South Dagon residents now call her the township's first hero of the "Spring Revolution".
"My daughter told me not to cry if she dies," said a sobbing Tin Ko Ko Oo. "I'm so proud of her. I will never forgive her killers."
In the days that followed, more heroes would emerge in South Dagon.
Thirty-one-year-old Ko Phoe La Pyae was fatally shot in the chest on March 30 while manning a barricade close to his home in the township's 107th ward. Roses and messages of love and grief are now strewn about the spot where he fell. As Frontier snapped a photo of the makeshift shrine, a woman shouted, "Phoe La Pyae is the hero of the 107th ward!"
Residents described Phoe La Pyae as friendly and brave, and an active volunteer who was always ready to help in his community. He met his wife, Daw Ohnma, 48, 12 years ago and, despite the age difference, they fell madly in love. Two years later they had a daughter, who is now 10 years old.
"I just want to bring him back," Ohnma told Frontier at their home.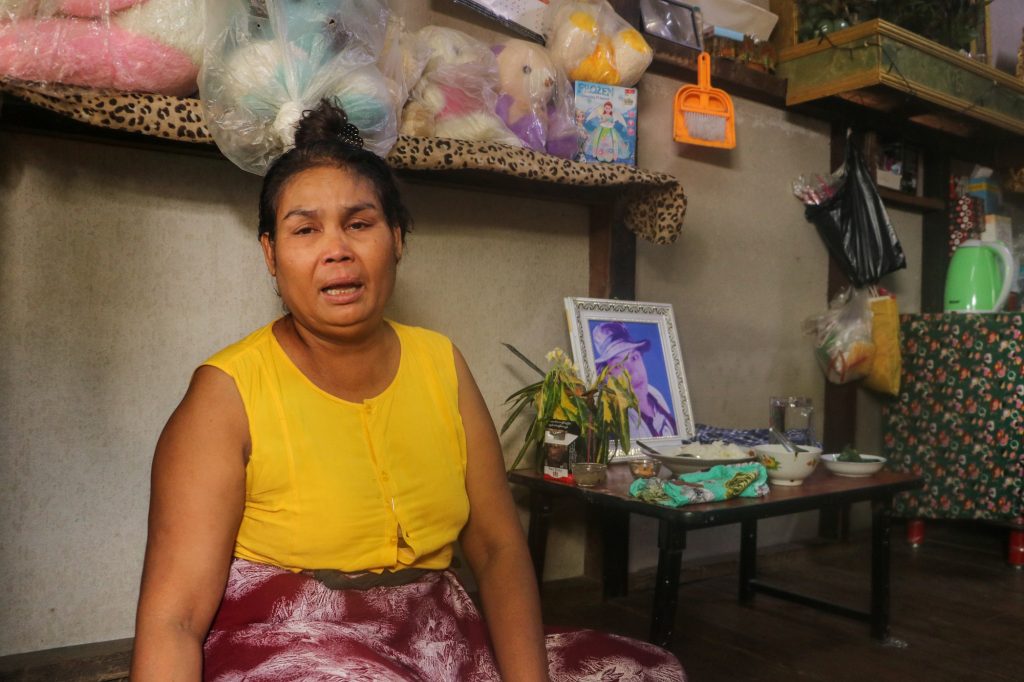 Laying low
Nights are unusually quiet now in South Dagon. Residents, exhausted, do not even bang pots and pans most nights. They've avoided the nightly ritual – practiced throughout Myanmar at 8pm as a show of anti-military defiance – since March 30, when soldiers and police first began shooting into homes at any noise they heard.
The ritual was revived for one brief moment on April 1, however. At about 1pm, as CNN correspondent Ms Clarissa Ward drove through the neighbourhood ­– ensconced in a heavily-armoured military convoy that residents feared would shield the international reporter from the reality of Yangon at war ­– residents stepped into the streets or out onto their balconies and banged whatever was to hand.
With the world watching, the soldiers held their fire that day.
Ko Min, 45, a leader of the guards' network in South Dagon and a former member of an ethnic armed group that is a signatory to the Nationwide Ceasefire Agreement, knows Myanmar's resistance is being broadcast on international news most nights.
"I just wonder why the world is not taking effective action yet," he said. "We, the people, cherish democracy. We want it so much. That's why people are sacrificing their lives. Isn't that enough for the international community [to intervene]?"
The day after Ward drove through South Dagon, Frontier observed a massive deployment of security forces throughout the township, with their vehicles parked at several protest sites. Dozens of army trucks were also stationed at the Government Technical Institute, and small convoys carrying soldiers and police patrolled the township every hour.
On April 9, residents told Frontier the deployments are still in place. They say the military is now trying to consolidate control by re-opening ward administration offices that had shuttered after the coup, and appointing its own administrators to run them.
"We've been expecting this. After cracking down with weapons, they are opening administration offices in the wards; the next step will be to check homes against the household registration lists. They will find and arrest more people," said a 34-year-old, one of the township's volunteer guards who asked not to be identified.
Still, like others, he remains defiant.
"Even though people have been killed, we don't think we've lost. We are determined to continue resisting, but right now we've decided to lay low," he said.
"We have to be careful for a while," said a 38-year-old woman, who also saw the township's recent quietness as only a tactical retreat. The mother of three has protested with her 15-year-old daughter and patrolled her ward at night with her 20-year-old son, a Dagon University student.
"How can we compete against their weapons? We have to compete with our morale."