A survey of living standards in Myanmar has revealed that the national quality of life is improving, but there are glaring inequalities in ethnic minority and rural areas.
By FRONTIER
GOVERNMENTS NEED data on how people live to make good policy decisions but for decades Myanmar didn't collect such information. For this reason, the 2014 census, while flawed, was a milestone.
Now, the Ministry of Planning and Finance has published the initial findings of a nationwide survey that is the first to use earlier data to show how living conditions in the country compare geographically and have changed over time.
Conducted with support from the United Nations Development Programme and the World Bank, the survey covered 296 of the country's 330 townships, excluding northern Rakhine State and the Wa Self-Administered Division.
The results – on people's jobs, how much they earn, and how they use their income to meet food, housing, health, education and other needs – will be used as the baseline for the Myanmar Sustainable Development Plan, which the government is finalising.
Not all the survey results have been published, but the breakdown of available non-monetary indicators gives a flavour of life across the country.
Energy
Improved access to electricity has transformed Myanmar since 2005. The expansion of the national grid and the rise of affordable off-grid solar options has contributed to strong growth, almost all of it concentrated in rural areas.
In 2005, 20.3 million people were using candles and kerosene for lighting; this had fallen to about three million in 2017. In the same period, the number of households that used electricity for lighting doubled.
Solar has been a major driver of electricity access. In 2017 just over a quarter of all households used a solar system to light their houses, compared to a baseline of zero in 2009.
Forty-two percent of households are connected to the national grid; almost double the 22.7 percent in 2005. But this is still the lowest rate in Southeast Asia and in rural areas, 63 percent of households are in villages that are yet to be connected.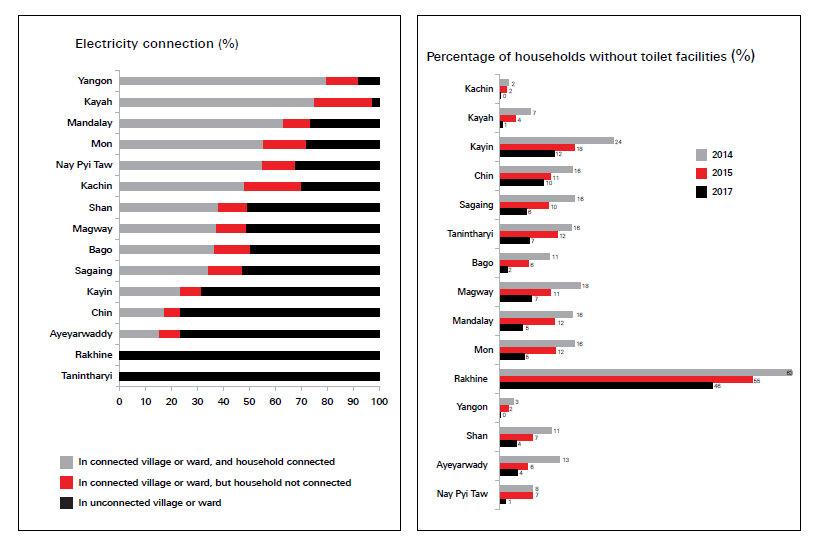 Water and sanitation
Access to improved water, an important factor in reducing infant and child mortality and malnutrition, has risen from 65.6 percent in 2005 to an average of 83.4 percent in 2017 (79.4 percent in the dry season and 87.4 percent in the rainy season).
This growth has been driven by increased sales of bottled water from the private sector, rather than increased and more sustainable use of piped and groundwater sources. In urban areas, bottled water accounted for 6 percent of all drinking water in 2005; by 2015 it accounted for nearly half.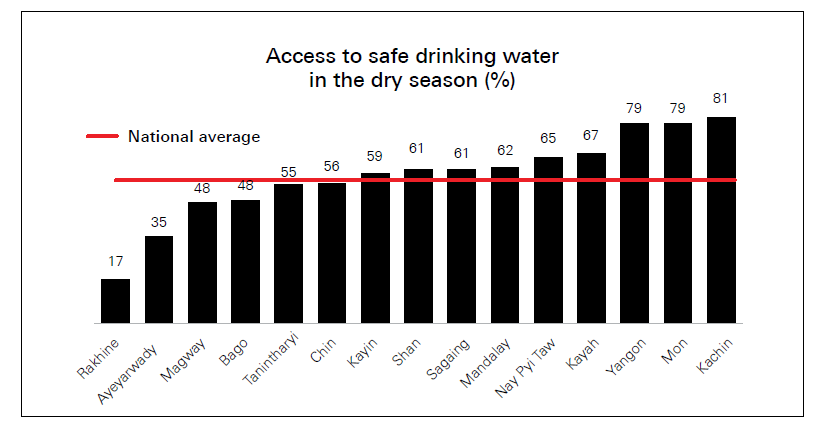 Yangon Region and Kachin and Mon states have the highest rates of access to water sources, with eight in 10 people having access to water on their premises, compared to just two in 10 people in Rakhine.
The percentage of households without toilets has halved since 2014, from 14 percent to six percent. The anomaly is Rakhine, where nearly half of all households have no toilet facilities.
Education
Literacy has increased across generations, driven by rising female literacy, which has risen from 80 percent among those aged 60 to 64, to 96 percent among 15 to 19 year olds. The literacy gender gap in the younger age group is now effectively zero.
The national literacy rate of 88.9 percent puts Myanmar close to Thailand, where 93 percent of the population is literate, and well above Cambodia and Laos. Numeracy has also improved, to an average of 91.2 percent in 2017.
However, these high figures mask large discrepancies between states and regions. About half of the 14 states and regions have literacy rates at 90 percent or higher, while the other half hovers at 80 percent or lower.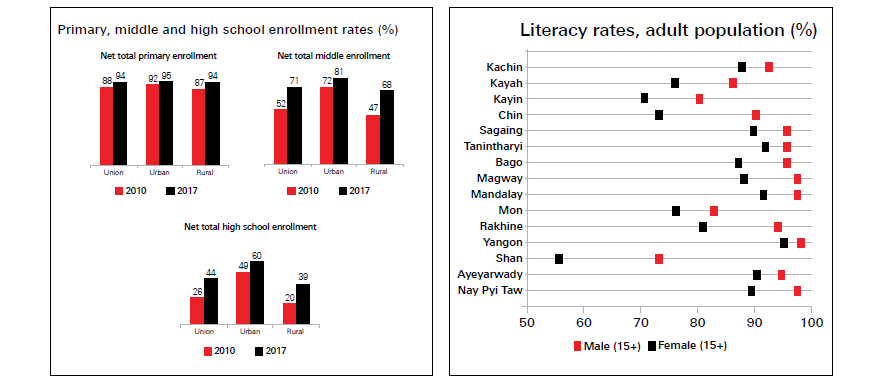 Kayin and Shan states have the lowest literacy rates in the country, at 75 percent and 65 percent respectively. A third of the adult population in Shan reported not being able to read or write a simple sentence in any language.
About 3.9 million of those aged 15 and over describe themselves as illiterate. Of these, a third were in Shan and 70 percent were women.
Although school enrolment rates have increased nationally, one in ten children of primary school age are not in school in Shan, Mon and Rakhine.
Employment
More women are working: 55 percent compared to 49 percent in 2005. There are 9.8 million women in work and 11.9 million men.
Child labour has fallen, with more children going to school in 2017 compared to 2005, and staying in school longer. The percentage of 10-14 year olds in school rose from 58 percent in 2005, to 91 percent in 2017.
A greater share of the labour force is working in industry and services, and there has been a rise in the number of households earning money from non-agricultural work
Consumer spending
For the first time, more than half of households reported owning televisions and motorcycles in 2017. In 2005, 25 percent of households owned televisions and just 9 percent owned a motorcycle.
Phone ownership has soared, from 0.1 percent in rural areas and 0.4 percent in urban areas in 2005 to 76.7 percent in rural areas and 93.4 percent in urban areas in 2017. Phone ownership is lowest in rural areas, particularly in Chin and Rakhine states, where the network is yet to cover the entire population.
There is a gender gap in mobile phone and internet usage. The data shows that 57 percent of women aged 15 and above reported using mobile phones, compared to 68 percent of men; for internet usage the figures are 19 and 29 percent.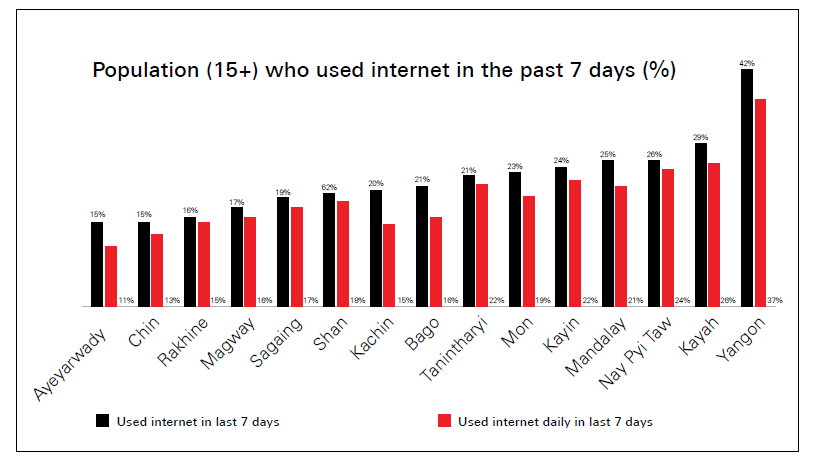 Once a person starts using the internet they tend to use it at least once a day, but this varies by state and region; in Kachin only 70 percent of internet users use it daily, versus 93 percent in Rakhine, Tanintharyi and Nay Pyi Taw.
TOP PHOTO: Motorcycle ownership increased nearly five-fold between 2005 and 2017, a recent survey revealed. (Steve Tickner | Frontier)