By AFP
SHWE GU NI, Mandalay — The medium spins around in a frenzy of red and gold while glugging from a bottle of whisky, part of an age old ritual to honour Myanmar's spirit guardian of drunkards and gamblers.
Every year thousands of people pour into Shwe Gu Ni, a small village southwest of Mandalay, for a two-week festival. Many are packed into boats clutching bags of food and bedding or pulling up on rickety old bullock carts.
The event honours Ko Gyi Kyaw, one of Myanmar's best-loved 37 Nat spirits and is known for his penchant for booze, dancing and cockfights.
"He is the unrivalled Nat and the king of Nats, the master of Nats," said prominent medium Ko San Hlaing Tun, his huge diamond and ruby rings glinting.
Most people in Myanmar are piously Buddhist, but many in this hugely superstitious nation turn to mischievous local deities for help with everything from business deals to car engines.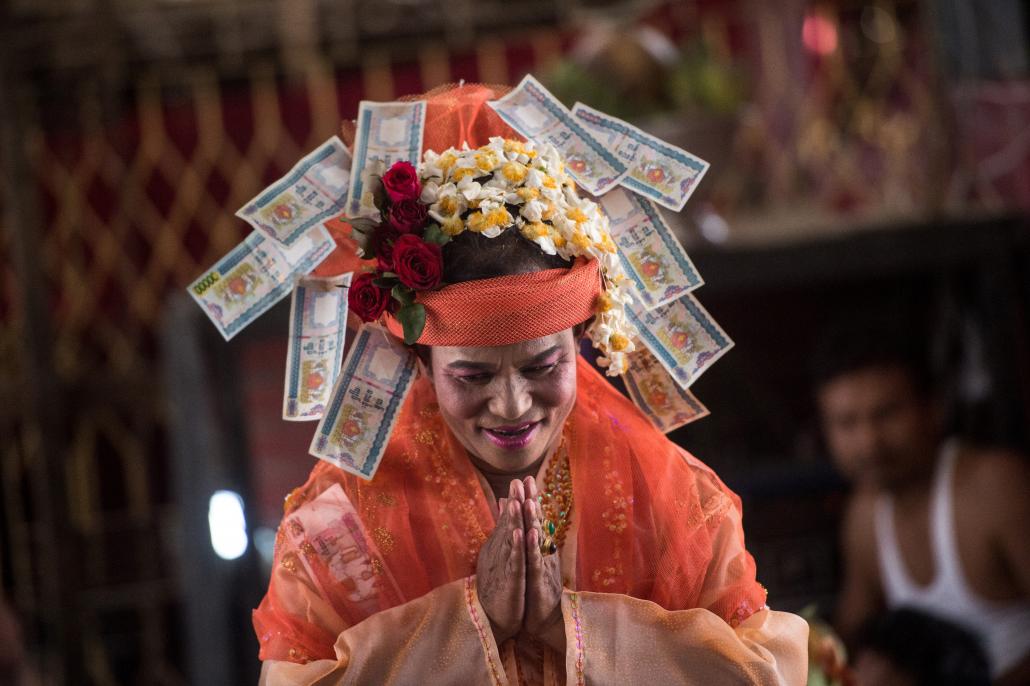 Each day of the two-week festival worshippers hold different events to honour Ko Gyi Kyaw, from bathing and gilding his statue to raucous cockfights.
Beggars dressed up as Nats and clutching wooden bowls line the road seeking donations from the devotees.
Dozens of stalls sell his favourite food — roast chicken — to help sober up followers who over-indulged in their whisky-fuelled worship.
Others flock to small pop-up shrines dotted around the village to make offerings of flowers and bananas, while the rich throw handfuls of money into the air.
Inside one small hut medium Ko Naing Naing sits dressed as Ko Gyi Kyaw in a sparkling red and gold outfit, including a headdress bedecked with pink orchids.
"I came here from Yangon to pay respects to the Nat and it was an arduous journey to get here," he said, his face caked with lipstick and eyeliner.
"I really love the Nat and I pay my respects to the Nat with all that I am. Anyone who loves and believes in the Nat will surely be looked after."
Moments later he leaves his flower-filled grotto to begin the ritual.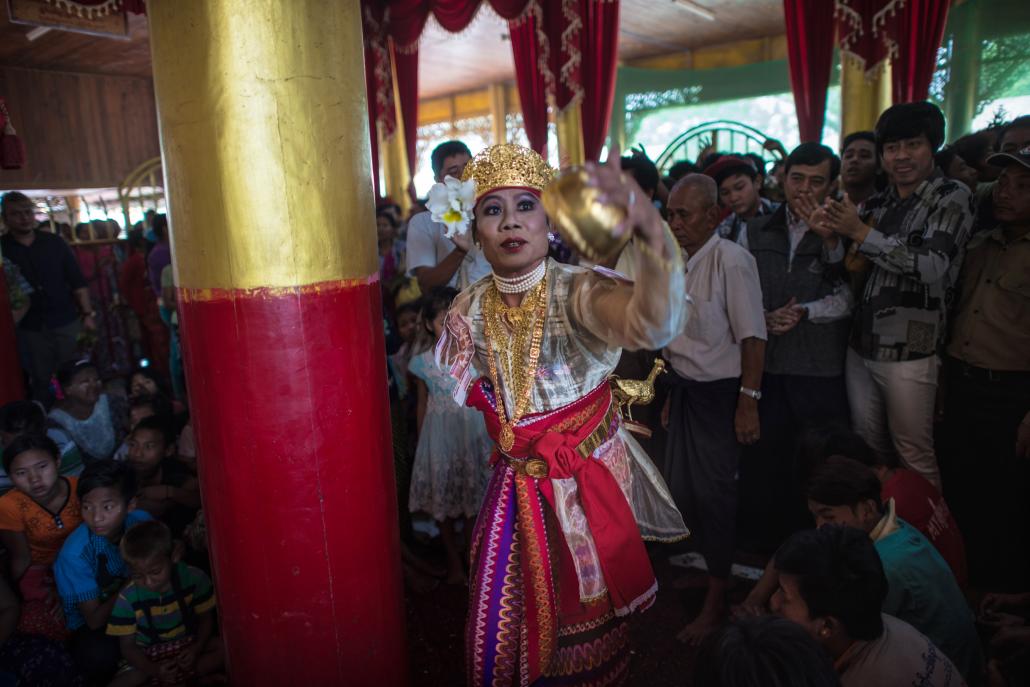 Standing at the centre of the crowd in one of the shrines he begins to dance clutching Ko Gyi Kyaw's symbols: a statue of a chicken and a bowl that symbolises a gambling pot.
Soon they are discarded in favour of a bottle of whisky, which he glugs and pours into the mouths of his gleeful followers who tuck cash into his hat.
But for true believers the festival is about more than just fun and debauchery — it is a chance to improve your fortunes for the future by making merit.
"This is our culture and custom," said Daw Tin Hlaing, 73, who has come to the festival every year since she was six. "He (Ko Gyi Kyaw) always takes care of us."
TOP PHOTO: Devotees scramble to grab banknotes thrown into the crowd by wealthy participants inside a shrine in Shwe Gu Ni village during the Ko Gyi Kyaw Nat festival. (Ye Aung Thu | AFP)