Alleged links to 'terrorist organisations' prompted the Ministry of Education to file a case against the international school for not having a licence, even though it is not eligible for a school licence under Myanmar law.
By HEIN KO SOE | FRONTIER
HORIZON International School is facing the threat of closure after the government filed a complaint to police that it was operating without a Ministry of Education licence – despite the school neither requiring nor being eligible for such a licence.
The case appears to stem from the international school's alleged links to Turkey's opposition movement.
Dr Zaw Win, deputy director general of the Basic Education Department, said the decision to file a complaint to police under the Private School Registration Law was based on "national security" concerns.
He said the authorities wanted to close the school down before the next academic year begins, but refused to say whether a decision had been made on its future.
Dr Aung Kyaw Sann, a Horizon director, said the Ministry of Education had already investigated the school last year and cleared it of any wrongdoing.
"They found that we hadn't broken any laws," he told Frontier. "They said we are not registered, but we don't need to register with the ministry. We are already registered with the Directorate of Investment and Company Administration."
He said the school was still accepting enrolments for the next academic year, which begins in June.
Established in June 2000, the school has two campuses in Yangon and one in Mandalay, as well as kindergartens in Yangon, Mandalay and Nay Pyi Taw.
'Terrorist' links
Zaw Win said that a Ministry of Home Affairs investigation last year had accused the school of links to "terrorist organisations".
The investigation was launched by Myanmar police shortly after a failed coup against Turkish President Recep Tayyip Erdogan in July 2016. The coup attempt prompted Erdogan to launch a massive crackdown on political opponents, particularly those linked to Fethullah Gülen, a US-based cleric.
Zaw Win said that the investigation team had informed the Ministry of Education that they had found a gun at the school.
The Ministry of Home Affairs then submitted a report to a state security, stability and rule of law committed headed by Minister for the President's Office U Kyaw Tint Swe, said Zaw Win.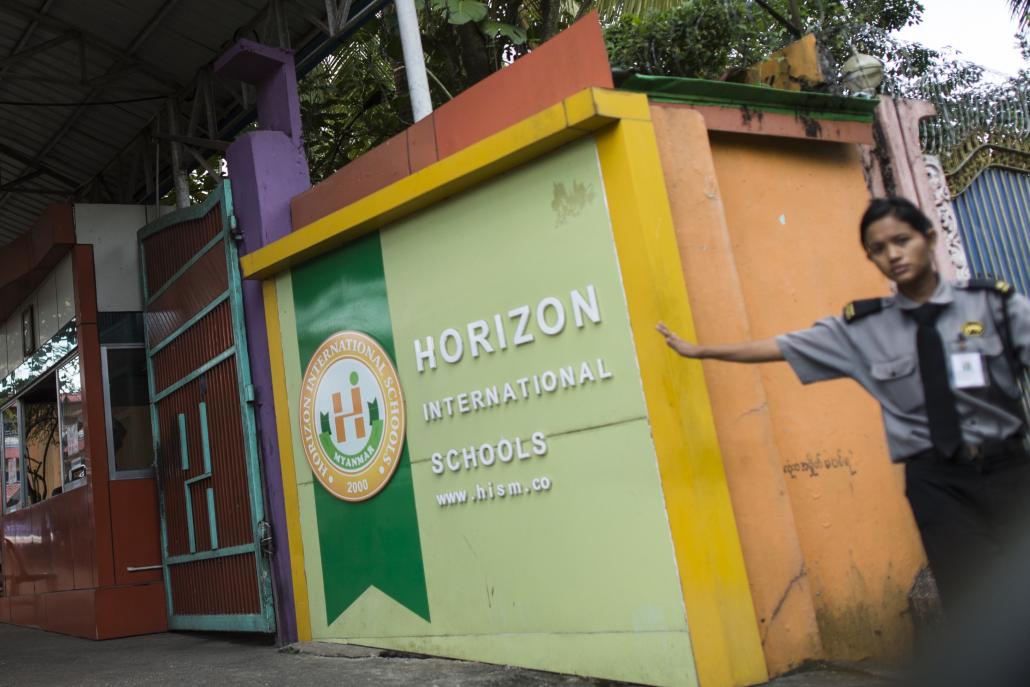 Established by President U Htin Kyaw last April, the committee also includes the ministers for home affairs, defence, border affairs, social welfare, and social welfare, relief and resettlement. The permanent secretaries of the Attorney General's Office and the ministries of information, and labour, immigration and population are also members, while the police chief is the committee's secretary.
The committee instructed the Ministry of Education to press charges against the school.
The Ministry of Education then conducted its own investigation, after which it filed a case to police in Thaketa Township on April 28 under section 33 of the Private School Registration Law, for operating a private school without a licence. Those found guilty face a prison term of up to three years, as well as a fine of up to K300,000.
Thaketa police confirmed to Frontier on May 2 that they were investigating the complaint.
Ministry of Labour, Immigration and Population permanent secretary U Myint Kyaing said he was unaware of the decision to charge the school. "I have missed so many of these committee meetings since last April," he said.
President Office's spokesman U Zaw Htay declined to comment, saying it was "internal news of government".
No licensing system
Zaw Win conceded that the school was not eligible for a licence under the Private School Registration Law, as the licensing system only applies to schools that teach the Myanmar curriculum.
Section 2(a) of the law defines a private school as a "basic education school established privately and that teaches according to the subjects contained in basic education curriculum and syllabus prescribed by the Ministry of Education".
Those with foreign investment, such as Horizon, are also precluded from receiving a licence under section 7(a)(ii) of the law.
Zaw Win said there are more than 100 international schools in Myanmar. The lack of a regulatory framework means they are not overseen by the ministry and instead registered as businesses with DICA.
Asked why the ministry had only filed a case against Horizon and not other unlicensed international schools, Zaw Win reiterated that the ministry was not responsible for regulating the sector.
However, he added that the ministry has drafted a new law to register international schools and this would soon be sent to the parliament.
DICA director Daw Nilar Mu confirmed that Horizon's parent company, Mediterranean International Education Services Co, Ltd, was registered with the directorate. She said that as part of the police investigation into Horizon DICA had confirmed that the company was in compliance with company rules and regulations.
Editor's Note, 9/5/2017: Subsequent to publication, Horizon International School director and spokesman Dr Aung Kyaw Sann contacted Frontier to provide further information for this story.
"Ministry of Home Affairs has never searched our schools. There was a preliminary enquiry about our schools led by Ministry of Education. The enquiry was basically about our company registration, taxes, licenses, international accreditation, registration, curriculum and school activities. There was no investigation by the Ministry of Home Affairs regarding security matters.
"None of our staff was implicated in any of security related offences. None of our staff was ever arrested on security grounds. We always cooperate and coordinate about our foreigner staff and teachers with the Ministry of Home Affairs. All of our staff are routinely cleared by the relevant agencies.
"It is obvious that if there was no search, no arrest how can one claim there was a gun and some people were implicated with terrorist links."