The geographical isolation of many Rakhine State farmers means they lack access to both markets and paddy strains that can help double yields and ensure food security.
By JENNIFER MACINTYRE | TAT LAN
U Mg Kyaw Than, a farmer in Myebon township, is recognised by his Ka Paing Chaung community as an expert paddy grower. Training to become a certified seed producer, the 58-year-old farmer is doing his bit to generate food security and income for his people. For the past three years he has successfully harvested Sin Thwe Latt, a high yield variety paddy seed. Despite two seasons of flooded fields, he maintained a 20 percent increase in yield by transplanting seedlings.
Practising new farming techniques that he learned at Tat Lan Farmer Field Schools (FFS), Mg Kyaw Than employs 12 labourers to plant his seed bed and then transplant the 20-day-old seedlings into measured rows 20 centimetres (8 inches) apart – about 140,000 plants per acre.
Compared to the traditional method of broadcasting seeds, transplanting is a costly, labour intensive way to plant paddy. But as Mg Kyaw Than has shown, the rewards are encouraging. His seed beds are close to his paddy fields, so men can pull the seedlings and women can transplant them quickly, reducing damage to young roots. An advocate of new techniques, he says: "I have learnt about pest control, effective fertilisation, weeding and HYV paddy seeds that are stronger than our local varieties."
The Tat Lan food security and livelihood programme in Myebon, Minbya, Pauktaw and Kyaukphyu townships has assisted communities in 246 climate change vulnerable villages to achieve sustainable food security through farmer field school activities that increase the yield of paddy harvested.
Resilient paddy seed
In 2014, the International Rescue Committee (IRC) invited 815 farmers to participate in a seed multiplication project growing high-yield variety paddy seeds. The farmers produced 6,767 baskets of HYV seeds, including salt-tolerant Sin Thwe Latt Saltol and flood-resilient Shwarna Sub 1. These seeds were distributed to 4,511 farmers in 2015 – the same year that floods from Cyclone Komen devastated 667,000 acres of paddy land throughout Myanmar. Many of the farmers were initially sceptical about using the seeds. Later, though, they were surprised to see 90 percent of their Tat Lan seedlings had survived the floods.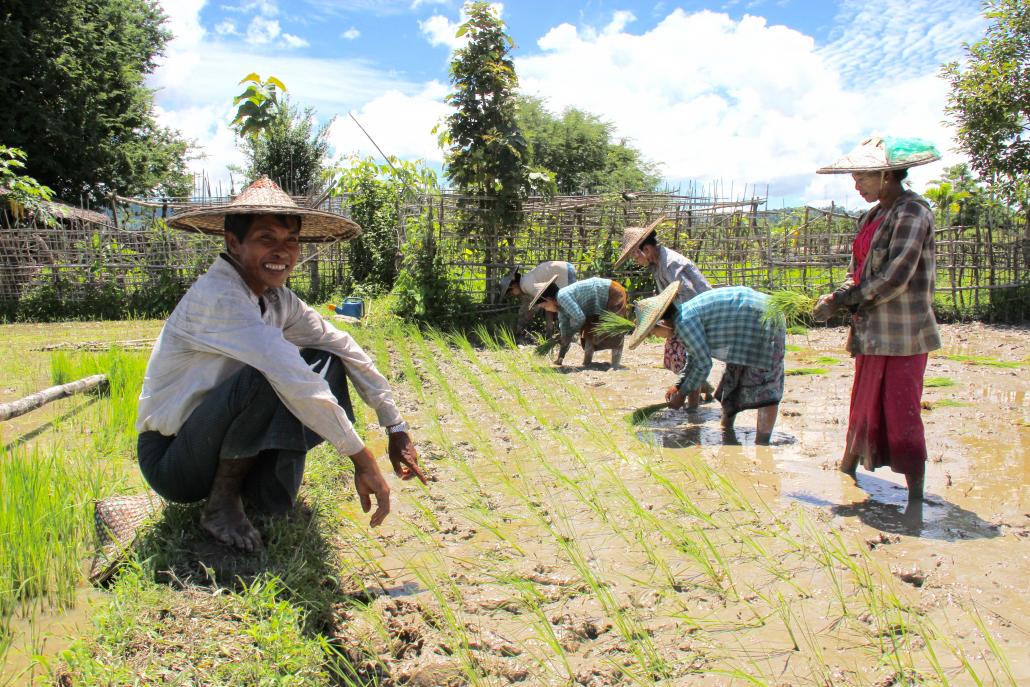 Climate change is expected to increase these extreme weather events, so equipping farmers to adapt to flooding is critical. Consequently, the IRC Tat Lan programme is supporting 45 farmers to become certified by the Department of Agriculture as seed producers. This will provide Rakhine State farmers with long-term access to pure HYV paddy seed that is flood resilient or salt tolerant, depending on their geographic vulnerability.
For certification, farmers must produce pure seed with an 85 percent germination rate, and no infection, weeds or pest impurities. This requires mechanical threshing, because buffalo crush and contaminate grains when they trample paddy. Threshing 55 baskets an hour, a mechanical thresher is half the cost of five buffaloes working for three days to thresh 45 baskets.
Farmer Field Schools for paddy production
Since the programme began, 9,031 farmers – one third of whom are women – have participated in village-based farmer field school activities conducted in partnership with the Department of Agriculture, whose staff support farmers to practise what they have learnt when they return home. This encourages uptake of knowledge and the sustainability of new agricultural technology when the Tat Lan programme ends.
At home, farmers trained in new methods of paddy production grow new varieties of high-yield variety paddy seeds in village demonstration plots, so farming neighbours can compare the growth of HYV paddy seeds with their own traditional varieties. Typically farmers only trust and plant seeds they have produced themselves, so demonstration plots are crucial to advance knowledge.
To support village livelihoods and enable vulnerable farmers to pay for labour, Save the Children provided 229 farmers with $250 cash grants. Evidence recently published by CARE International shows that providing a cash grant and financial education increases farmers' commitment to practise new farming techniques, because they can afford to employ people to select seeds, plant seed beds, transplant seedlings and thresh paddy. However, while this initiative increases casual employment, it is increasingly difficult to access labour due to migration – one third of families say a family member has migrated.
When it comes to long-term sustainability of food security and increased paddy production after Tat Lan, CARE's research found the most essential new technologies for farmers to practise was seed selection, the effective use of fertiliser, use of machinery and air-tight storage to reduce post-harvest loss.
While Mg Kyaw Than expects his four acres of transplanted paddy will produce 420 baskets of paddy seed, his financial returns are still small. Limited access to markets means each 21kg (46lb) basket of paddy is worth only K3,000. Despite his best efforts, the farm still does not provide enough to cover his family's living costs, especially the education of his five children. "We depend on money from my oldest son, who is a graduate working in Malaysia, and from my daughter, who is training as a nurse. The farm only feeds us," said Mg Kyaw Than, whose youngest child is in Grade 8.
In Rakhine State, farmers need to be resilient to survive on a subsistence paddy farm.
The Tat Lan programme is building resilience in 259 vulnerable Rakhine State villages through an integrated programme aimed at improving food security, livelihoods, water, sanitation, nutrition, community participation and governance. The programme is funded by the Livelihoods and Food Security Trust Fund (LIFT).