The mountaineers who brought pride to the nation by being the first Myanmar to summit Mt Everest are turning their attention to promoting climbing in the snow-capped peaks of the far north.
By HTUN KHAING | FRONTIER
Photos NYI NYI AUNG
When Ko Win Ko Ko and Ko Pyi Phyo Aung reached the summit of Mt Everest at about 7am local time on May 19, they earned the distinction of becoming the first Myanmar to climb the world's highest mountain.
Summiting Everest is the ultimate dream of most climbers, but for Win Ko Ko, 36, and Pyi Phyo Aung, 34, the achievement was the first step toward their goal of developing and promoting mountaineering and ecotourism in Myanmar.
"We won't go again to Mt Everest. The money spent on Mt Everest will be invested in developing mountaineering on snow-capped mountains within Myanmar," Win Ko Ko said.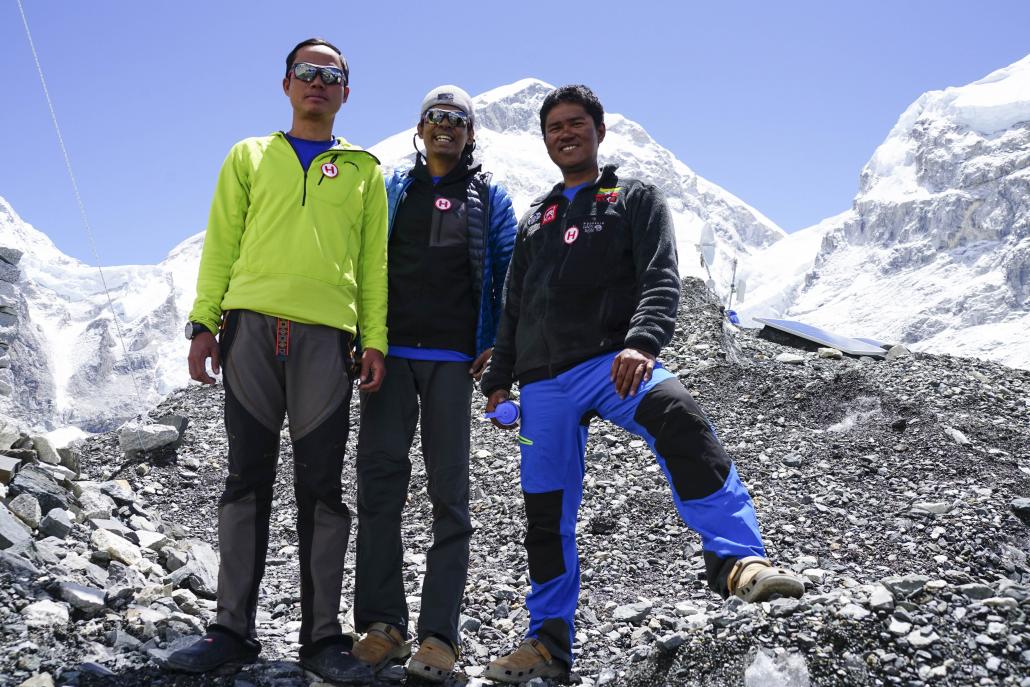 Mountain climbing was introduced as an organised sport in Myanmar 56 years ago when a Hiking and Mountaineering Association was formed. However, mountaineering has never been popular in Myanmar. This is despite having an abundance of alpine areas, including the Himalayan foothills in the far north, that are ideal for mountaineering and ecotourism.
Of the 57 peaks in Southeast Asia higher than 3,000 metres (9,843 feet), about a quarter are in Myanmar. Myanmar is the only member of the Association of Southeast Asian Nations to have snow-capped peaks higher than 5,000m (16,404ft). They are in the far north of Kachin State, where Khakabo Razi, at 5,881m (19,295ft), is the highest peak in mainland Southeast Asia. Other peaks in northern Kachin include Gamlang Razi (5,870m, 19,259ft), Madoi Razi (4,616m, 15,144ft) and Phangran Razi (4,328m, 14,199ft). In the Naga Hills on the border between Myanmar's Sagaing Region and India, Mt Saramati, reaches an elevation of 3,826m (12,552ft).
Seven years ago, a group of mountaineering enthusiasts formed the Technical Climbing Club of Myanmar. Since then the club's members have successfully climbed most of the country's snow-capped peaks, except Khakabo Razi. However, the climbing successes of the TCCM received little attention and few knew of its exploits except the friends and family of members and their mountaineering colleagues.
That situation changed abruptly with a proud nation's crescendo of publicity over Win Ko Ko and Pyi Phyo Aung's feat on Everest. Popular interest in mountaineering and mountaineers has soared.
"People's interest is the highest in the 56-year history of mountaineering in Myanmar. The media, social media and the government have all begin to take an interest in mountaineering," said Ko Nyi Nyi Aung, 29, a member of the Everest expedition.
"Previously, hoisting the flag on a mountaintop was regarded as government propaganda by the people; now they realise that mountaineering is a sport," he said.
The 20-member TCCM planned to launch an attempt to climb Everest in 2014 but climbing was cancelled that year after an avalanche in April claimed the lives of at least 16 Sherpa guides and porters. The Sherpas refused to work for the rest of the season as a mark of respect to the victims. Halfway into the climb, the TCCM expedition had no choice but to turn back.
Two years later, the TCCM seized another opportunity to launch a costly attempt to summit Everest.
Win Ko Ko, Pyi Phyo Aung and Nyi Nyi Aung left Yangon for Kathmandu on March 26. The two-month expedition was sponsored by the Htoo Foundation of prominent tycoon U Tay Za, a mountaineering enthusiast who has been generous in his support of the country's mountain climbing fraternity.
On May 17, the climbers and their Sherpa porters completed four-fifths of their gruelling expedition when they reached Camp 3, at 7,200m, from which they had a view of the summit. While at Camp 3 Nyi Nyi Aung began exhibiting symptoms of potentially deadly altitude sickness caused by a shortage of oxygen. His pulse was not normal and the oxygen content in his blood had fallen to 57 percent of normal levels.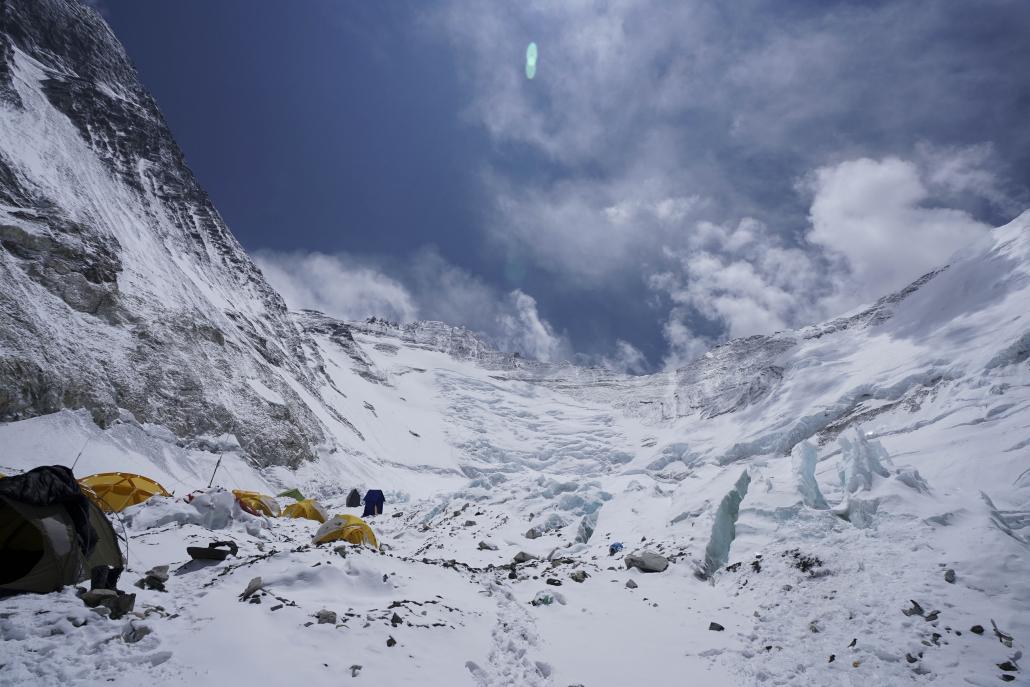 After hours of discussion, Nyi Nyi Aung made the difficult decision not to continue. It was based on an unwritten understanding that the team's main objective was for at least one of them to set foot on the summit.
"We could not fail in our goal," said Pyi Phyo Aung.
After another two days of arduous climbing, Pyi Phyo Aung and Win Ko Ko were able to fly the national flag on the summit of Everest.
Their next challenge is closer to home.
"We hope to climb Khakabo Razi in 2020," Pyi Phyo Aung told a news conference in Yangon on May 27. Khakabo Razi is expected to be more challenging than Everest because of difficult access and lack of climbing infrastructure.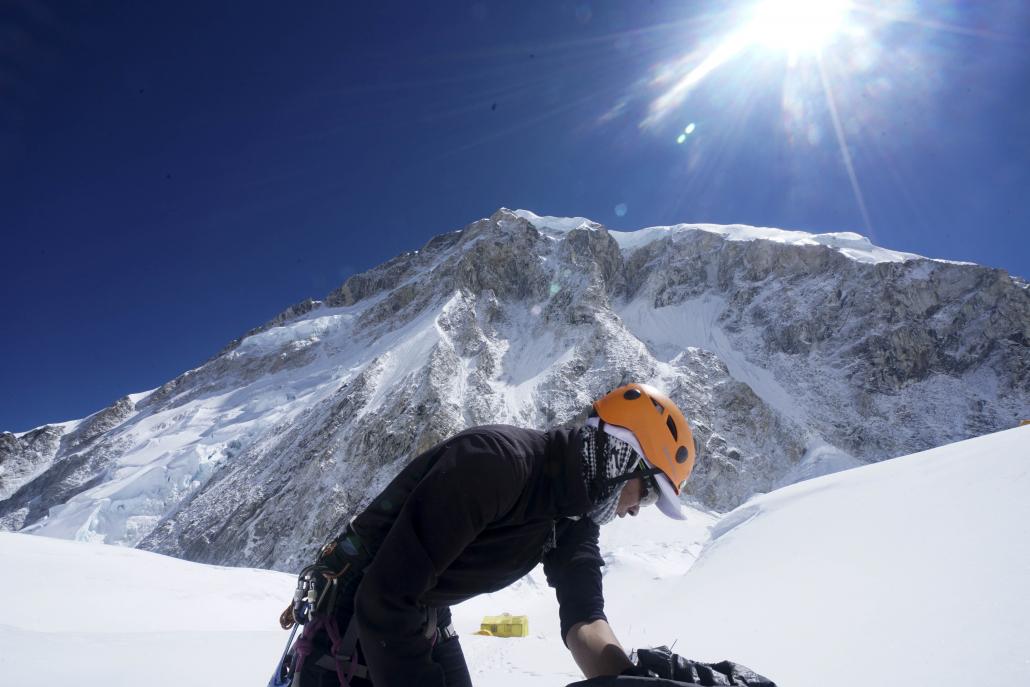 It has been scaled only once, in 1996, by Japanese climber Mr Takashi Ozaki, and a Myanmar of Tibetan descent, U Nyima Gyaltsen, also known as U Aung Tse.
Ozaki, who in 1980 made the first ascent of the north face of Everest, died on the mountain's south face in May 2011 after developing health problems.
After returning from his successful attempt on Khakabo Razi, he told Asia Times that it was the toughest mountain he had climbed. "I can say absolutely that Khakabo Razi is one of the most difficult and dangerous mountains in the world. I was never scared before, like this time – I wanted to always run away from this mountain," he was quoted as saying.
In August 2014, two members of a Myanmar team are believed to have ascended the mountain, but disappeared shortly after making radio contact from the summit, sparking a months-long rescue and recovery operation. Their bodies were never retrieved, and one rescuer died in a helicopter crash.
Later that year, a National Geographic Society team sought to summit Khakabo Razi to measure its height definitively, using global positioning satellite technology. The team was forced to turn back at 5,742m – which they estimated was about 240m below the summit.
One of the reasons why Myanmar climbers have been keen to attempt Everest is to learn more about mountaineering-related tourism, one of the main foreign exchange earners in Nepal, so they can use the knowledge at home.
"It may happen in Myanmar one day," said Pyi Phyo Aung.
The TCCM's strategy for popularising mountaineering and ecotourism includes plans for talks to students at basic education high schools.
The club plays down concerns among some parents who do not want their children becoming interested in mountaineering because of the dangers involved.
"I just want to tell the parents that climbing Khakabo Razi is not as dangerous as travelling to Nay Pyi Taw on a highway that has claimed more than 600 lives and left 4,000 people injured in seven years," said Pyi Phyo Aung.