A new wave of small business incubators and accelerators are giving promising entrepreneurs a leg up in a market that can be difficult for newcomers.
By JARED DOWNING | FRONTIER
U NAY OO, the CEO of Natural Fresh Farms Myanmar, believed he had found a better way to dry chillies.
The problem was moisture. Industry studies revealed that, in order to preserve weight, farmers and transporters were not completely drying their produce. This was creating the perfect habitat for a particular type of fungus that produces aflatoxin, a family of toxins that are highly carcinogenic and can cause liver cancer. In 2016, Myanmar's Food and Drug Administration announced that 60 percent of 651 chilli powder samples it collected – both brand and generic varieties – were tainted with aflatoxin.
"At the markets, people were afraid of chilli," said Nay Oo. "They imported the chilli from [South] Korea, Vietnam and even Singapore."
The solution was high-tech solar drying machines. Nay Oo's company, based outside of Mandalay, began drying chillies thoroughly and hygienically, before grinding and packaging them on site.
The clean chillies were a hit – but only a local hit. Nay Oo had a vision of distributing throughout the country and expanding his range to include turmeric and ginger. The business would turn a profit while promoting healthy, hygienic food, but he wasn't sure where to start and didn't have the US$150,000 investment required.
Through the Asian Venture Philanthropy Network, Nay Oo found a possible benefactor: Rockstart Impact, a social enterprise-focused version of European business accelerator Rockstart. Its programmes provide entrepreneurs with training, mentoring and, most importantly for Nay Oo, contacts with impact investors – that is, those who want to promote philanthropic causes while they make money.
Next month, Nay Oo will join a group of entrepreneurs in Rockstart Impact's inaugural Myanmar programme. He will spend 100 days under the mentorship of local and foreign business experts, learning cash flow management, organisation building, marketing and other skills befitting the high-powered CEO Nay Oo aspires to be. If Fresh Farms Myanmar manages to secure the investment it needs through the accelerator, Rockstart Impact receives a 10 percent "success fee", capped at $10,000.
Rockstart Impact is the latest in a small wave of accelerators and incubators, including Phandeeyar, Kanaung Hub, SPRING, Micro Empire and Impact Hub Yangon, that aim to make money by giving Myanmar entrepreneurs a leg up.
While the methods and details vary, the basic philosophy is the same: help grow Myanmar businesses using a for-profit model.
"We are making a bridge between the capital and knowledge that is out there in the world and projects that are financially self-sustainable but make an impact on people's lives," explained Mr Robbert Groenen, country manager for Rockstart Impact Myanmar.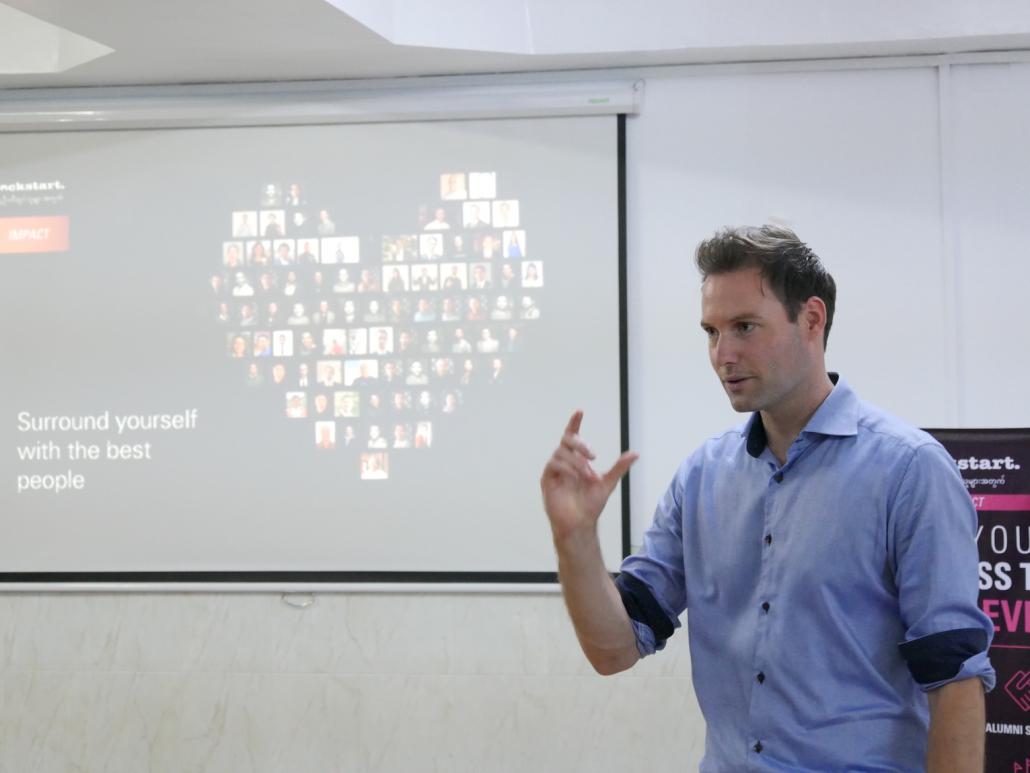 In contrast to an incubator, which helps start businesses from the ground up, Rockstart Impact is an accelerator: its programme only takes on entrepreneurs whose companies are up and running. Rockstart Impact looks for businesses that have potential but their growth is being stifled by bureaucratic dysfunction, corruption, lack of access to finance and other obstacles endemic of Myanmar's business world.  
The organisations are usually foreign or backed by foreign partners (Rockstart Impact, for example, is based in Nepal and its progenitor was founded in Amsterdam), and participants have access to foreign resources, expertise and network of investors.
The idea is to create an oasis of development within Myanmar's underdeveloped economy, explained Mr João Dutra, accelerator director for Phandeeyar.
Phandeeyar is a tech-focused social enterprise that launched Myanmar's first small business accelerator in 2015. Its programme both mentors and invests in tech startups. The initial batch of four is all up and running, and two have received an additional round of investment.
While Phandeeyar is a social enterprise, it doesn't give preference to startups with a social impact component in their business models, as Rockstart Impact does. Although those socially minded businesses may be on the radar for NGO support, Dutra argued that the for-profit system brings certain advantages to the business development game that are often missing from NGO grants or microfinance loans.
First, it selects businesses based on their potential appeal to investors rather than panel of development experts. (Indeed, Rockstart Impact chooses only startups that are already up and running.) In the investment world small businesses can access a broader range of funding sources, such as convertible loans and equity sharing, while social enterprises may have to rely on rigidly structured grants.
"When you get a private investor, you get a dynamic of investment that is more challenging for entrepreneurs," Dutra said, emphasising the high level of accountability for success that comes with private investment. "On the other hand, these investors can enable more rounds of investment and access to other actors in their own networks."
Groenen added that participants in the Rockstart Impact accelerator aren't necessarily weak at networking or negotiating: rather, there may simply be no other way for them to access capital in a market like Myanmar. Rockstart Impact, unlike Phandeeyar, provides no funding of its own, but instead relies on its own network of angel investors.
Beyond funding, a lack of access to customers and international market also stunts the growth of Myanmar's startup scene.
U Ye Kyaw Zin, an entrepreneur who also applied for the Rockstart Impact's programme, has spent the last four years networking with European customers for his agricultural export company Bayin Foods. He found it a lengthy exercise in red tape and politicking: something as simple as international money transfers required a herculean effort.
"If you want to export products to Europe, first you have to apply for the licence at the government office. Even the government didn't know how to do that. My first licence took eight months – for one licence," Ye Kway Zin said.
Groenen said that a chief asset of the for-profit accelerator and incubator system is that it not only connects entrepreneurs to investors and customers but also to one another, allowing entrepreneurs to exchange knowledge and resources.
Ideally, the network should also include NGOs, CSO, microfinance agencies and other traditional development actors, he said.
"Accelerators, investors, sponsor organisations, from other countries and from other backgrounds … it benefits every single party if you align all of this," he said.
For example, he said, a microfinance institution might give an agricultural startup like Natural Fresh Farms some initial capital, and then an accelerator might help the company scale up its operation, enabling the company to begin working with international investors.
But before Myanmar can benefit from international resources, they need to improve their business skills, argued Mr Martin Pun, CSR manager for Singapore-listed Yoma Strategic Holdings and a member of the ASEAN Mentors for Entrepreneurs Network (AMEN), which connects new entrepreneurs with mentors throughout Southeast Asia.
"Because of sanctions and because of all the prior [conditions], young men [in Myanmar] have not had a chance to learn things and gain the exposure that those in other countries have had," Pun said.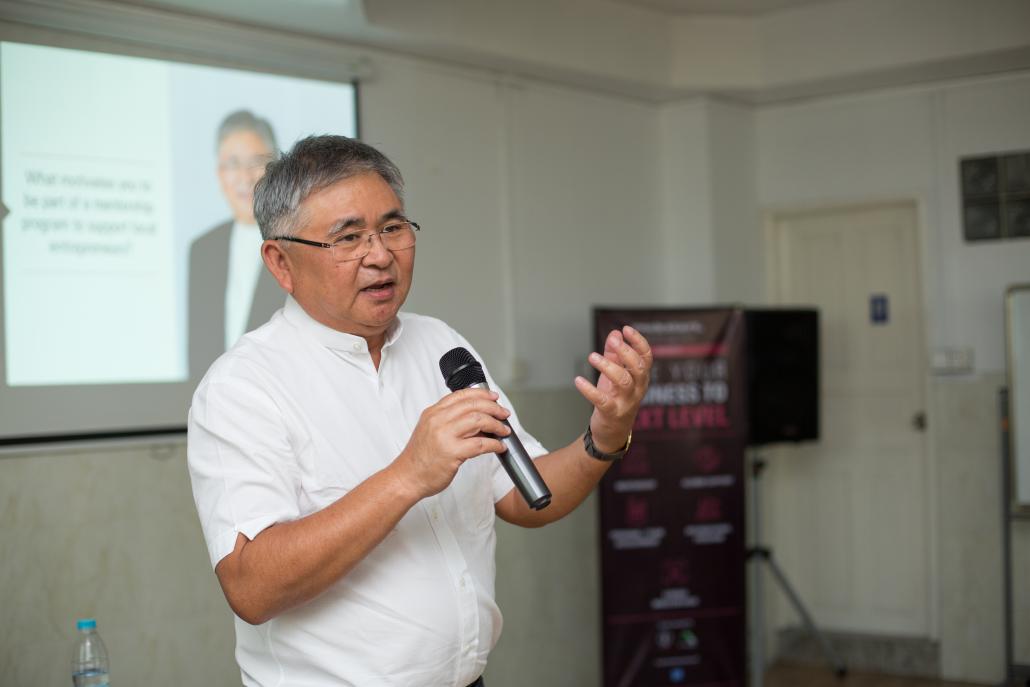 Myanmar entrepreneurs often lack a basic understanding of skills such as networking, team building, cash flow management and marketing.
"All of [the entrepreneurs] are excited about doing something, but understanding how to brand yourself and how to promote that brand is key knowledge that young people need," he said. "And at the same time, [how] to scale up instead of competing in pricing. Everyone can sell something that is cheaper."
As a member of AMEN, Pun will lend his expertise to the Rockstart Impact programme and possibly help Nay Oo brand and scale up his clean chilli enterprise.
Although the future mentee has not run a business on a national scale, he already possesses an important asset: courage.
Pun argued that a willingness to take risks and not give up is scarce among businesspeople in Myanmar. He blames this on the military regime; entrepreneurs were, in his words, "beat up for 30 years".
"Passion is only the engine," Pun said, "but you need courage to start the engine."
TOP PHOTO: Htike Ko Ko Aung