By HTUN KHAING | FRONTIER
YANGON — The trial of Ko Aung Ko Htwe has begun, with a small but raucous crowd of supporters greeting the former child soldier as he arrived at the Dagon Seikkan court on Friday morning.
Outside the court, around 20 political activists and family members shouted their support to the accused and condemned his prosecution by the military.
Daw Nay Zar Tun, the defendant's sister, said that the military had never made amends for her brother's suffering after he was forcibly recruited in 2005, at the age of 14.
"The people obey the rule of law. We will be punished by the law if we break the law," she told reporters. "If these military generals break the law, who will take legal action against them?"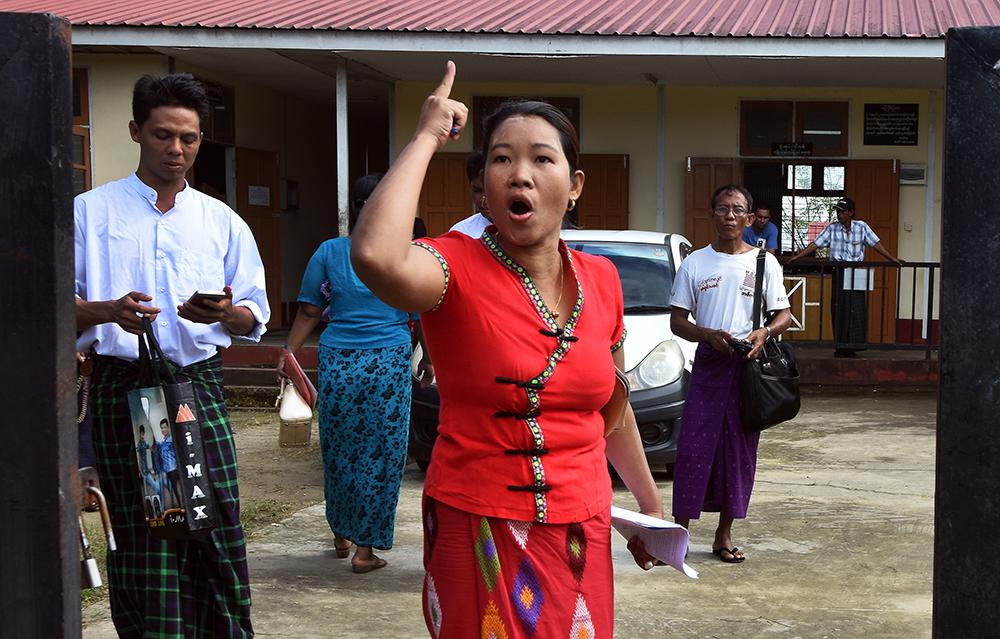 Aung Ko Htwe, 26, has been in detention since August 18 and faces a possible two year sentence under Section 505(b) of the Penal Code, an incitement clause, for granting an interview on his time as an underage soldier to Radio Free Asia.
He had attempted to desert in 2007 and was accused of involvement in the murder of a motorbike rider during his escape. Sentenced to death, his punishment was commuted in 2013, and he was released in early July of this year.
As soon as the police van carrying Aung Ko Htwe arrived at the court, his supporters loudly demanded his release.
The crowd complained that a number of military officials had attended Friday's proceedings without registering themselves with court officials, contrary to regulations. Officers present refused requests from reporters after the hearing concluded.
Family members were briefly hopeful that charges against him would be dropped, after it was reported on Friday that the military would withdraw charges against six journalists and two political activists "as a token of recognising their cooperation in serving the interests of the nation."
Aung Ko Htwe was nonetheless returned to custody at Insein Prison after the trial concluded. His next hearing will take place on September 8.
The International Labour Organization has told Frontier that the military may have violated an agreement on the demobilisation of child soldiers in its ranks with Aung Ko Htwe's arrest. 
"Any charges against [Aung Ko Htwe] related to his claim/complaint would be subject to legal protection," ILO deputy liaison officer Ms Piyamal Pichaiwongse told Frontier in August.