After a fire gutted a market in Yangon's Sanchaung Township on January 11, residents are hoping to rebuild from the ashes.
By ANN WANG & JARED DOWNING | FRONTIER
Photos ANN WANG
All that remains of the apartments near Gwa market, in Sanchaung Township, are a few blackened facades. In a corner sit sacks of rice, bright white against the charred beams, twisted metal and piles of ash. Even the rice that survived the fire that tore through the market is tainted with ash and melted plastic.
"It is only fit for pig feed now," said one young employee as she tried to salvage whatever was left.
As flames devoured the tight cluster of decades-old wooden houses, panicked residents were too busy trying to save their stock to properly raise an alarm, authorities reported after investigating the January 11 blaze. In the end, fourteen houses were razed, five people were hospitalised and most of the precious merchandise was left behind to feed the flames.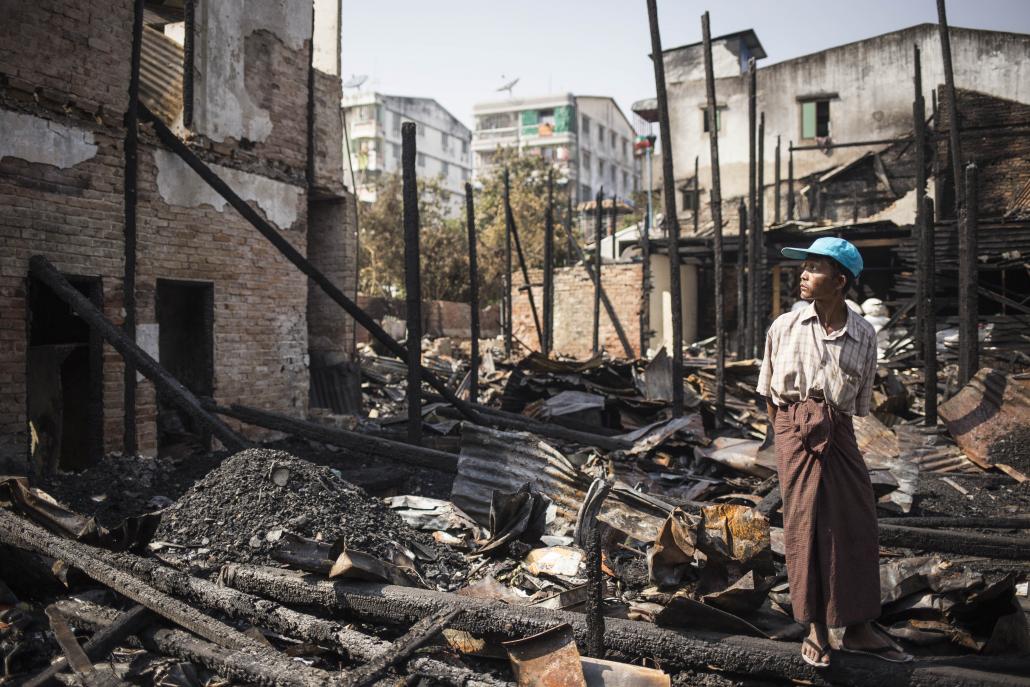 Daw Myat Nwe Naing is suffering from cancer. Her family was too busy carrying her to out of the building to save their belongings. They lost the ingredients for their yoghurt shop as well as savings worth K5 million, which they were using to buy medicine for Daw Myat Nwe Naing.
The family is currently staying in a nearby monastery along with other people displaced by the fire. Among the shrines and golden images milling around on mats are volunteers counting money and organising supplies, medical staff in red and white uniforms, journalists and other victims of the fire.
U Myo Lwin Oo, deputy director of the Sanchaung Township Administration Department, under the Ministry of Home Affairs, one of the relief coordinators, said donations have been between K20,000 and K50,000 per day for each victim of the fire.
"We have received so many donations. Food, water, clothes, a lot of money," he said.
Some have lost a place to stay. Others, like Daw Myat New Naing's family, lost their ancestral homes, their entire stocks for their business and their life savings – stacks of kyat hidden away in a dusty corner.
Daw Myat Nwe Naing's family said life in the monastery has been secure and comfortable, but it remains to be seen when they will be able to open their yoghurt shop, if ever.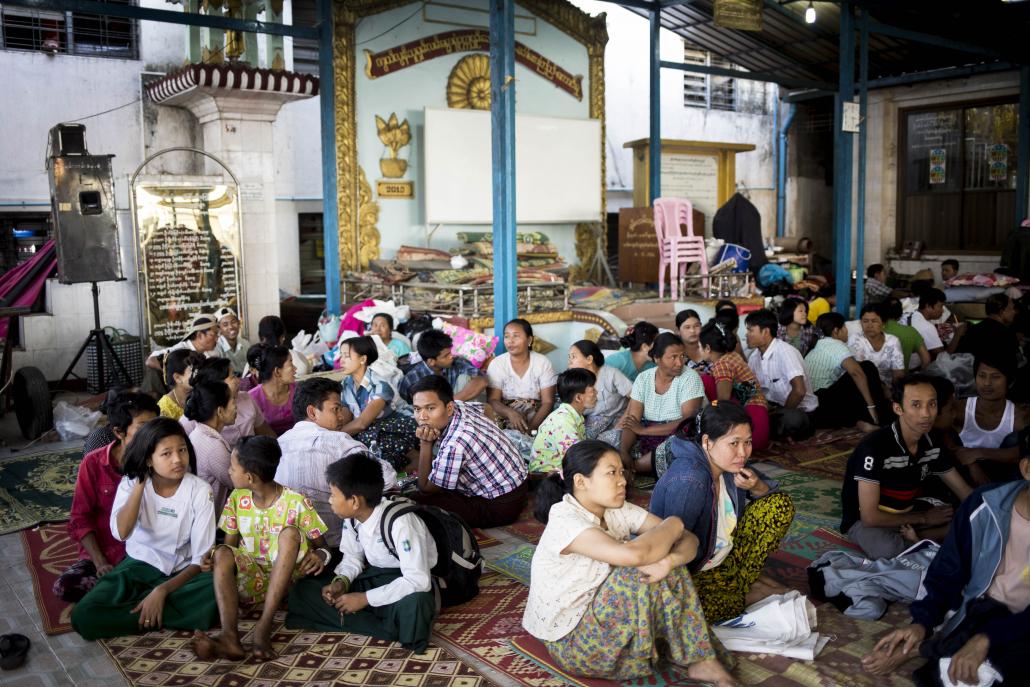 Long term solutions haven't been discussed extensively, said U Myo Lwin Oo. Officials have mainly discussed food distribution or whether or not to move those displaced to another monastery. Real action could be weeks away, he said. He believes the government will eventually rebuild the lost homes, or at least provide new housing for the landlords.
It is expected that the government will take care of the situation, but less clear is an understanding of which officials will be responsible. This is just one of the many questions posed to police officer Captain Mi Mi Aye as she patrols the site.
"There is a plan but I don't know it. They ask me to investigate the fire, but I tell them, 'I'm just here to keep security,'" she said.
The Gwa market had previously caught fire in 2012, prompting township administrators to install fire hydrants and issue families with fire extinguishers, said U Aung Khine Zin, an official from Sanchaung Township's Kyundaw North Quarter.
One 68-year-old resident near the market had run a family tea shop for eight years downstairs in his home until it was engulfed in the fire. He argued that preventative measures were tainted with favourism.
"When the township office distributed fire extinguishers to the shops and houses, my shop didn't receive one," he said, blaming the oversight on an old grudge between himself and a township administrator.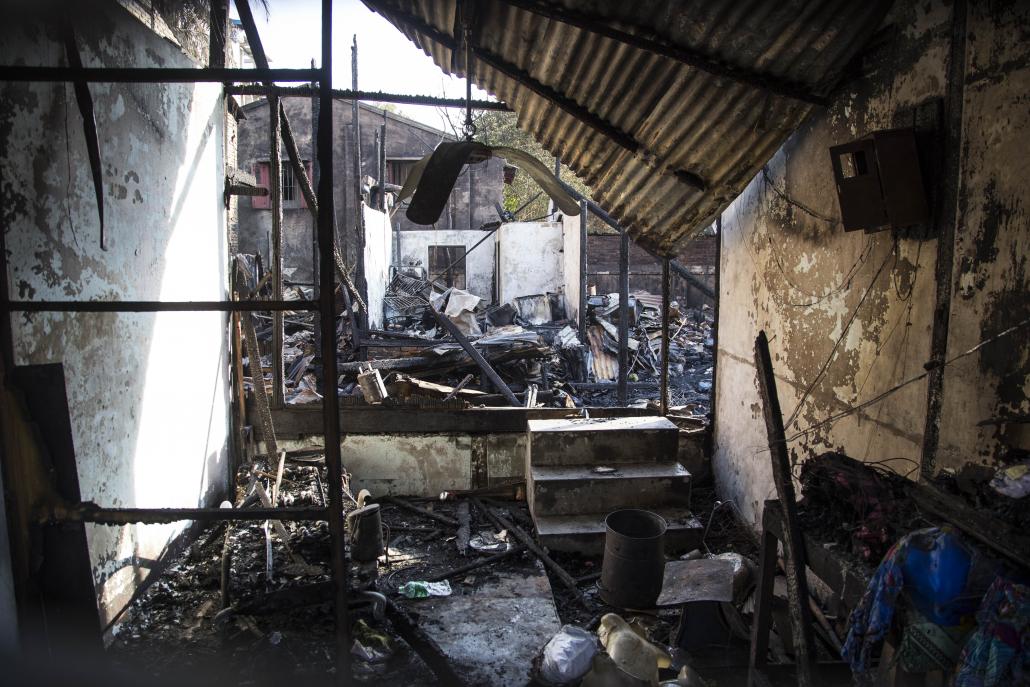 Like the others, he believes the government will do something to help out his situation, but is not sure exactly when and in what way. He says the land still has some value and he hopes to be able to cut a deal with a construction company, but in the end he views the situation with the stoicism of a man who has lost more than one building in his lifetime.
"I blame myself. If I had been behaving well, this never would have happened. I was guilty in the past (life), so I am suffering now," said the devout Buddhist.
In the meantime, Daw Myat Nwe Naing's family will rely on the only insurance they have ever had: their community. She says she will call on her friends, distant relatives and a son who is working to send enough money for her cancer treatment until she can get back on her feet, whenever and however it will happen.
"Wait and see," she said in English. "Wait and see."
Mratt Kyaw Thu also contributed to this report.