The Ministry of Social Welfare plans to introduce a by-law that will require businesses to allocate two percent of their jobs to people with disabilities or face heavy fines – but some question whether the target is realistic, or even advisable.
By SU MYAT MON | FRONTIER
IN A move that could deliver a major shake-up to private sector workplaces and hiring policies, the government is planning to set a job quota for people with disabilities.
Employers will need to ensure that two percent of all jobs are filled by people with a disability, a Ministry of Social Welfare, Relief and Resettlement official has confirmed to Frontier.
Social Welfare Department director Daw Yu Yu Swe said the government plans to enact the by-law for the Rights of the Persons with Disabilities Law at the end of March, ahead of the start of the 2017-18 fiscal year.
The by-law is being drafted in consultation with disability rights groups, particularly the Federation for Persons with Diability, and some private businesses.
The ministry has also sought feedback from the country's peak business body, the Union of Myanmar Federation of Chambers of Commerce and Industry, as well as other government departments, Yu Yu Swe said.
Much remains unclear about the quota, however. Yu Yu Swe said that while the draft of the by-law was complete, it was being reviewed by government departments and other stakeholders.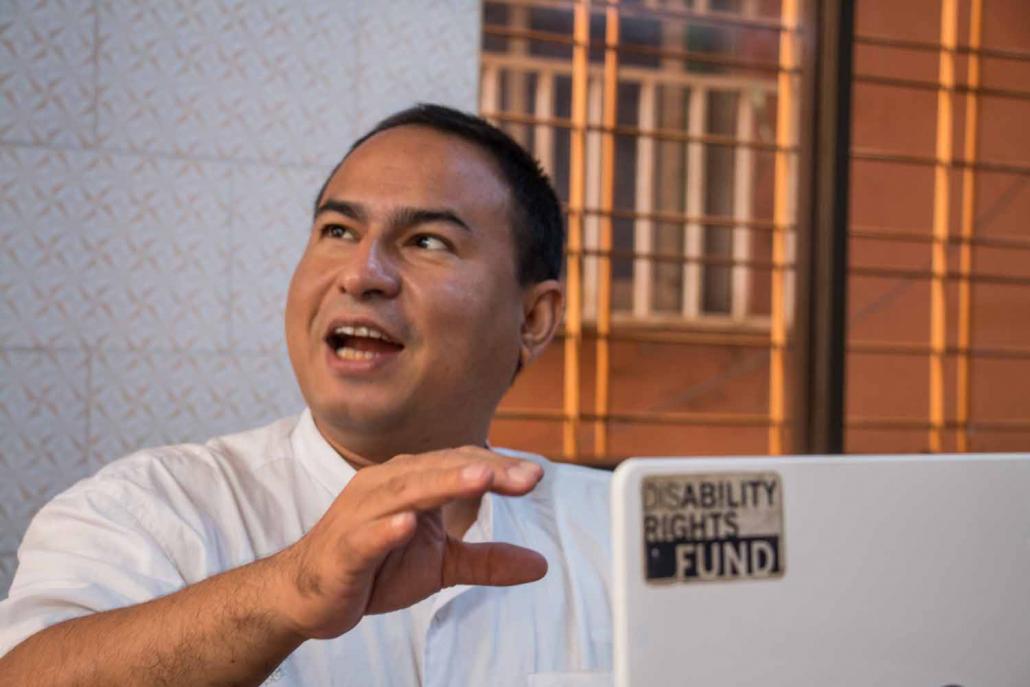 She would not say if the quota applies to all businesses under the current version of the by-law, or whether some businesses – based on size or sector – would be exempt or have a reduced target. It's also unclear how long businesses would be given to comply.
Asked whether the proposed quota would be viable for all employers, Yu Yu Swe responded emphatically. "Of course it will be possible for them to work in accordance with the two percent quota," she said.
However, she said that it would also require programs to upgrade the skills of people with disabilities.
The Rights of the Persons with Disabilities Law was enacted in June 2015. Section 36(b) requires employers to "employ the persons with disabilities with employability for appropriate work depending on the type of employment in accordance with the quota for the number of people with disabilities" specified by the National Committee on the Rights of Disabled People.
While the committee has not yet been formed, a proposal to establish it has been drafted and is waiting Union government sign-off, Yu Yu Swe said.
Under section 36(e), companies that are unable to meet the quota will instead be required to pay an amount of money into a fund "related to the rights of the persons with disabilities".
The fine will be the equivalent of the salary of the person or persons that they could not or did not hire, Yu Yu Swe said.
U Zaw Lin Htun, a member of the Federation of Persons with Disabilities, said that the previous government had promised to enact the by-law by the end of March 2017.
The federation has been working with the new administration to continue the by-law drafting process. Zaw Lin Htun said the by-laws were drafted at government-organised workshops aimed at promoting the economic independence of people with disabilities.
While he welcomed the quota, he said the government would need to work with both employers and disabled people to ensure it was met.
He noted that some companies, including KBZ Bank and some of the large hotels, were already trying to provide employment to people with disabilities, but said more government support was needed.
"Disabled people always have difficulties; I don't think it's easy for disabled people to work because our government doesn't give them any social protection or ensure the infrastructure is there to support them."
Concerns have been raised about the drafting of the by-laws and whether businesses were sufficiently involved in the process, particularly given the potentially far-reaching effects of the quota.
Myanmar Centre for Responsible Business director Ms Vicky Bowman said the government should take a cautious approach on the issue and hold wider consultations.
She questioned whether a quota was even suitable at all, noting that while they were used in some countries the "jury was still out" on whether they resulted in increased employment of people with disabilities.
"A quota is a charity approach to disability, as opposed to a human-rights based approach," Bowman said. "Government should also encourage, rather than force, businesses to employ people with disabilities, and make the positive business case for it.
"The most positive thing people usually say about quotas in other countries is that quotas raise funds for organisations that work with people with disabilities, something which is certainly needed," she said.
"Alternatively it leads to 'ghost' workers on the payroll, people with disabilities who get a monthly pay cheque but don't have real jobs. Their income is increased, but not their dignity."
Bowman warned of the risk of a "backlash" against people with disabilities if a two percent quota results in heavy financial penalties for businesses.
"We would like to see government, business and the organisations of people with disabilities under the [FPWD] come together for a discussion about the practical challenges and come up with a credible and realistic approach which gets more people into work and combats discrimination."
The government also needed to do more to support people with disabilities, through access to education and improved accessibility to public spaces, buildings and public transport, she said.
"Many companies we've spoken to on this issue say 'No problem, tell us where to find qualified people with disabilities who want to work with us, and we will recruit them'. But the supporting environment is not there, including for people with disabilities in rural areas who may not – and whose families may not – want them to move to the city."
According to the 2014 census, 4.6 percent of the population had a disability in at least one of four categories: seeing, hearing, walking and remembering/mental.
Ko Wunna Kyaw Zwa from the Shwe Min Tha Foundation said he attended one workshop on the by-law hosted by the Ministry of Social Welfare, Relief and Resettlement in Nay Pyi Taw. Few of the business groups who had been invited to the workshop attended, he said.
"When we saw that just a few of the smaller business groups attended, it was very disappointing and deflating for disability rights groups," he said.
He said that government also needed to change its education policies so that people with disabilities could attend mainstream schools and develop the skills they need to enter the workforce.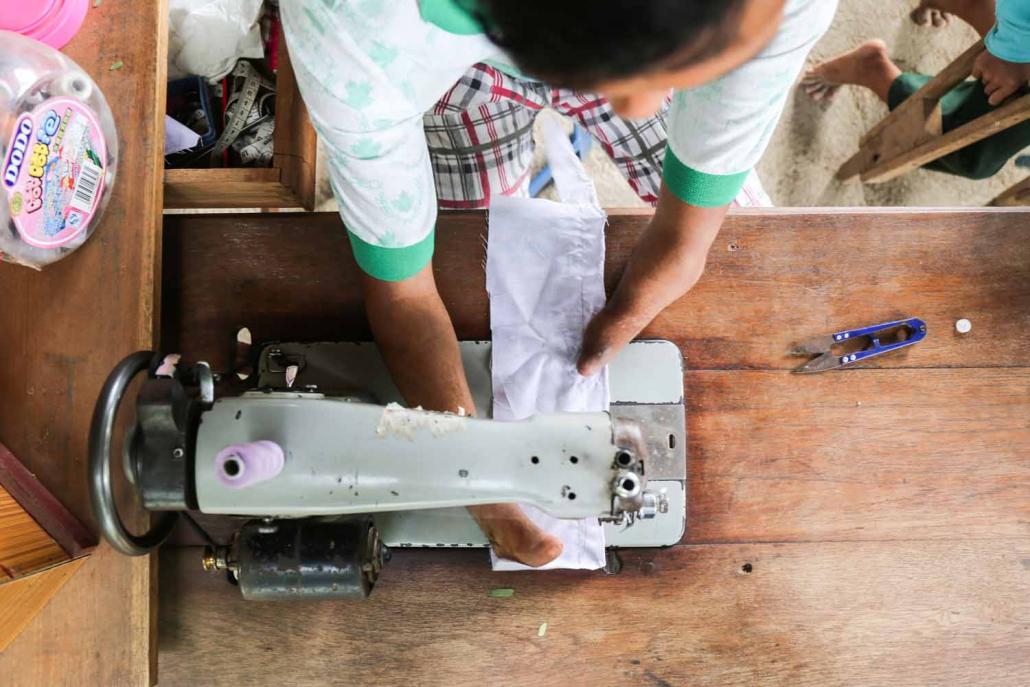 UMFCCI general secretary U Aung Pyi Soe said that while he generally supported the policy he believed it would be difficult for businesses in some sectors of the economy to comply.
"It will be workable depending on the sector," he said. "From our point of view, we want the government to support the needs of disabled people so that they have the skills employers need.
He said that this was an issue across the workforce, not just for people with disabilities.
"Frankly speaking, we need much better skilled and motivated workers," he added.
There are also questions about the government's own preparedness to comply with the quota. According to the Law on the Rights of Persons with Disabilities, it would apply not just to the private sector but also the ministries.
Recent notices from the Ministry of Education and Union Election Commission that appear to discriminate against people with disability suggest that some will struggle to comply.
The notices, which were undated but appeared to be from late 2016 and were recently shared on social media, stated that people with a disability would not be considered for computer programmer positions at the UEC or allowed to enroll in teacher training at Pathein College, Ayeyarwady Region.
Wunna Kyaw Zwa said the Myanmar Federation for Persons with Disability planned to submit a formal protest to the Ministry of Social Welfare, Relief and Resettlement, Ministry of Education and UEC over the notices.
"I personally cannot accept the statement and I believe it defames all disabled people," he said.
"We have discussed over the phone on this case [with our members] and we [the federation] will soon respond to the statement," he said, adding that they were also considering holding a press conference.
Pathein College, under the Ministry of Education, issued a notice concerning teacher training programs for 2016-17 in which it said that applicants with a disability would be "sent back to their home" if they sat for an interview to enroll in the course.
Further, the UEC said in a job vacancy notice for computer programmers that only people who do not have a disability would be considered for employment.
Neither the Ministry of Education nor the UEC responded to requests for comment.
The notices appear to violate multiple sections of the Law on the Rights of Persons with Disabilities, which was enacted in June 2015.
The law states that people with disabilities shall have "equal rights on an equal basis with others". Specifically, they will enjoy "the right to access education on an equal basis" and employers are required to provide equal rights and opportunities.
While this is "based on employability of the persons with disabilities", it raises doubts about an outright ban on a person with a disability applying for a position.
Meanwhile, section 349(a) of the constitution states that all citizens "shall enjoy equal opportunity" in public employment.
Ko Han Ko Lin, a private English teacher from Kyaukphyu, Rakhine State, who suffers from a physical disability, said he broadly supported the idea of an employment quota because it recognised that people with a disability could play an important role in society.
However, he expressed concerns about how the ministry would implement the quota and whether companies would be able to find enough workers to meet it.
"If there are not enough disabled people who are up to the employer's standards, it will cause a problem," he said. "So the two percent quota should be flexible for both parties.
TOP PHOTO: Ko Wunna Kyaw Zwa from the Shwe Min Tha Foundation, which helps people with disabilities become self-reliant. (Nyein Su Wai Kyaw Soe / Frontier)