In the remote mountains of Kachin State, rare earth elements used in everything from wind turbine generators to television screens are being mined illegally with seemingly toxic chemicals.
By RONJA PILGAARD, JAUMAN NAW and EMILY FISHBEIN
Along a remote and mountainous stretch of border with China, something is disfiguring the pristine forests of Kachin State. Satellite images and photos seen by Frontier show that trees have been cleared and replaced by adjoining pools that contain a milky liquid. In some places, mountainsides near the pools are peppered with holes linked to networks of pipes above and below ground.
These scars on the landscape in eastern Kachin's Chipwi Township, in an area under control of a Tatmadaw Border Guard Force and Tatmadaw-aligned militia led by Kachin warlord Zahkung Ting Ying, are evidence of illegal mining for rare earth elements. Multiple sources told Frontier and Danwatch, an independent investigative news outlet that partnered with Frontier for this piece, that the region accounts for nearly all of Myanmar's rare earth mining. According to the United States Geological Survey data, Myanmar is now the world's third-largest producer, based on official figures.
The extraction of rare earth elements in Myanmar, as in other parts of the world, leaves the soil barren and the groundwater contaminated, local sources confirmed to Frontier and Danwatch.
But rising global demand means illegally mined rare earth elements from Kachin are almost certainly ending up in European-made products, this investigation has found.
Rare earth elements are used in a wide range of everyday technologies, including computer hard disks and monitors, mobile phones and TV screens. They are also highly sought after for their utility in weapons production, as well as in wind turbine generators and electric and hybrid vehicle motors.
Due to the illegal nature of rare earth mining in Kachin and its location in areas under control of armed groups, few outsiders have visited the mining sites. In 2019, Frontier interviewed two rare earth mine workers from Kachin while they were visiting the state capital, Myitkyina.
Seng Awng, the pseudonym for a young man from Myitkyina township who began working at one of the mining sites in 2019, told Frontier in December 2019 that his job involved digging holes, dissolving a powder into a liquid, and pumping the liquid into pipes which ran through the mountains.
After the liquid passed through the mountains and came out of pipes at the bottom, it was transported into reserve tanks where workers dissolved another powder into it, he said. When the liquid had evaporated, workers like Seng Awng burned the leftover substance in a fire.
It is not clear what chemicals were being used. Seng Awng said workers were not told what they were handling but his experience left him in little doubt that they were harmful for health and the environment.
To bathe, he said, the workers used water brought in from other places, fearing that local groundwater could harm their health in an area where few animals could live. "In the areas we worked on the mountains, there's nothing left, not even a small bird. Anything that drinks the liquid we put in the mountains will die. Nothing can live there."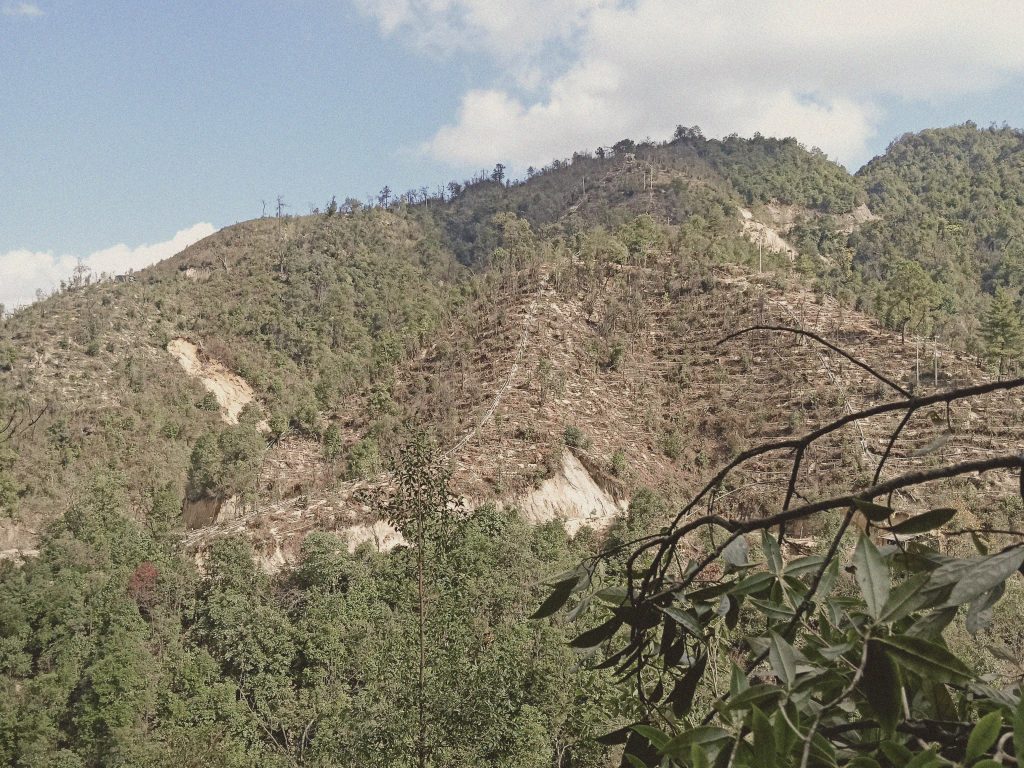 Post-coup surge
China has for decades been the world's top official producer of rare earths, but the destructive impact of rare earth mining on the environment prompted Beijing to introduce tighter regulations that have resulted in a decline in official mining, especially since 2015.
This has driven an increased demand for imports, and Myanmar has emerged as an important supplier.
China officially imported 300 tonnes of rare earth elements from Myanmar in 2014, figures from the UN Comtrade Database show, but this rose to 19,900 tonnes in 2018, and 35,500 tonnes in 2020. This puts Myanmar behind only China and the United States globally.
Ms Clare Hammond, Myanmar researcher with London-based environmental watchdog Global Witness, noted that official trade data is likely to show just a fraction of the total mining output from Myanmar, due to the illegal nature of the industry and porous border with a large presence of armed actors.
Since the Tatmadaw seized power on February 1st, the trade has shown little sign of slowing down. Numerous sources told Frontier that rare earth mining in Myanmar was likely to have increased.
Mr David Merriman, a specialist in rare earth at London-based Roskill Information Services, a consultancy that deals with supply chains of critical raw materials, said China's imports of rare earth elements had accelerated since the coup.
Merriman believes the increase has been driven by rising prices for rare earth elements as well as the unregulated nature of the sites in Kachin. "This has meant that all sorts of companies have been able to move in," Merriman said.
A representative for Transparency and Accountability Network Kachin State, a local civil society group, noted that even after the COVID-19 pandemic reached Myanmar in March 2020, the transport of rare earth across the China border had continued. In contrast, other Myanmar exports to China have declined dramatically due to border closures aimed at controlling the spread of COVID-19 into China. 
The TANKS representative, who spoke on condition of anonymity, said the coup offered an opportunity for those involved in the rare earth mining business, including armed groups, to operate "more freely," and predicted that rare earth mining would dramatically increase.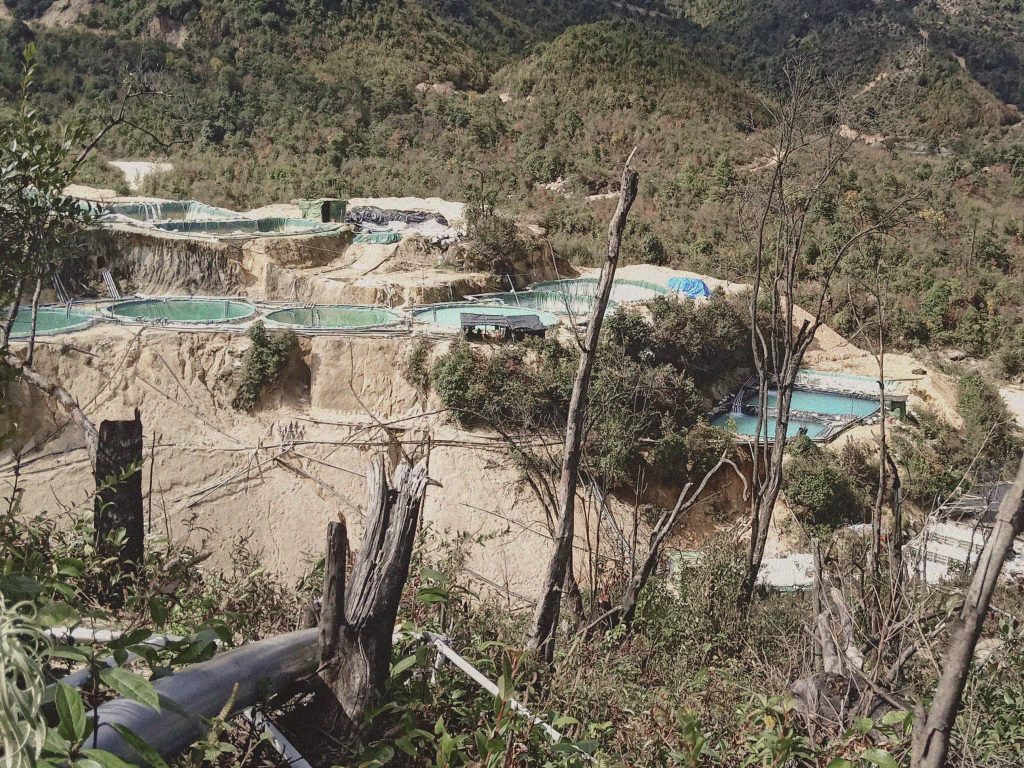 A Chinese presence
Local activists and civil society groups told Frontier that they were unable to officially identify the companies and businesspeople mining rare earth elements in Kachin, but that they were sure they were from China and operating through agreements with Zahkung Ting Ying's border guard force and militia.
"Most of the extraction is jointly owned by Chinese businessmen and the local armed group. Zahkung Ting Ying and Zahkung Ying Sau dominate the mining industry," said one Kachin State-based activist. Zahkung Ying Sau formerly served as a senior commander in his father's armed group and in 2020 was elected to a seat in the state hluttaw under a newly formed political party, the New Democracy Party (Kachin).
Another activist in Kachin told Frontier that companies were likely to be mining rare earth elements under more general mining exploration permits or by paying off the local armed groups.
Seng Awng said his job at one of the mining sites was arranged by a friend and while he does not know the name of the company that employed him, it was run by Chinese managers. He said the bosses at his mining site were from China and that there were many Chinese workers, who had higher positions than the Myanmar workers and also got paid more.
It was a similar experience for Sut Hting, the pseudonym for a 60-year-old Kachin man who began working at a rare earth mine in December 2017, repairing pipes and clearing land to build roads.
"I don't even know the name of the company that I was working for, but I am sure that it was a Chinese company," Sut Hting told Frontier in December 2019 . "I saw a lot of signboards in Chinese language, and the bosses and workers' leaders were also Chinese people … The company had an interpreter to communicate with us."
He added that few of the Chinese workers would accept the jobs which involved handling chemicals, while Myanmar workers who did, didn't last long in those jobs.
Sut Hting only lasted five months. "I don't want to go back there because I'm getting old. I'm going to stay here and work random jobs. Even though I don't get much income, I have family here," he told Frontier from the displaced person camp where he and his family have lived since fleeing fighting between the Kachin Independence Army and Tatmadaw in 2011.
With no processing facilities in Myanmar, all of the rare earths mined in Kachin State are transported across the border into China, sources told Frontier and Danwatch.
Merriman from Roskill Information Services said that three of China's biggest state-owned rare earth companies are buying rare earths produced in Myanmar: China Southern Rare Earths Group, Chinalco, and Guangdong Rare Earths.
"One can almost call what is happening in Myanmar a substitute for production of heavy rare earth in southern China; now they are importing from Myanmar, and the environmental challenges of extracting heavy rare earths have been exported," he said.
Of the seventeen rare earth elements, seven are classified as "light," and ten as "heavy," based on their atomic weight and properties. Heavy rare earth elements are less common and more valuable, and are used in, among other things, high-tech weapons production; most of the rare earth mined from Myanmar is classified as heavy.
Strategic metals and minerals consultancy Adamas Intelligence, which has offices in Canada and the Netherlands, said half of China's supply of heavy rare earth elements is actually extracted from Myanmar, although on paper a lot of it is shown as originating in China.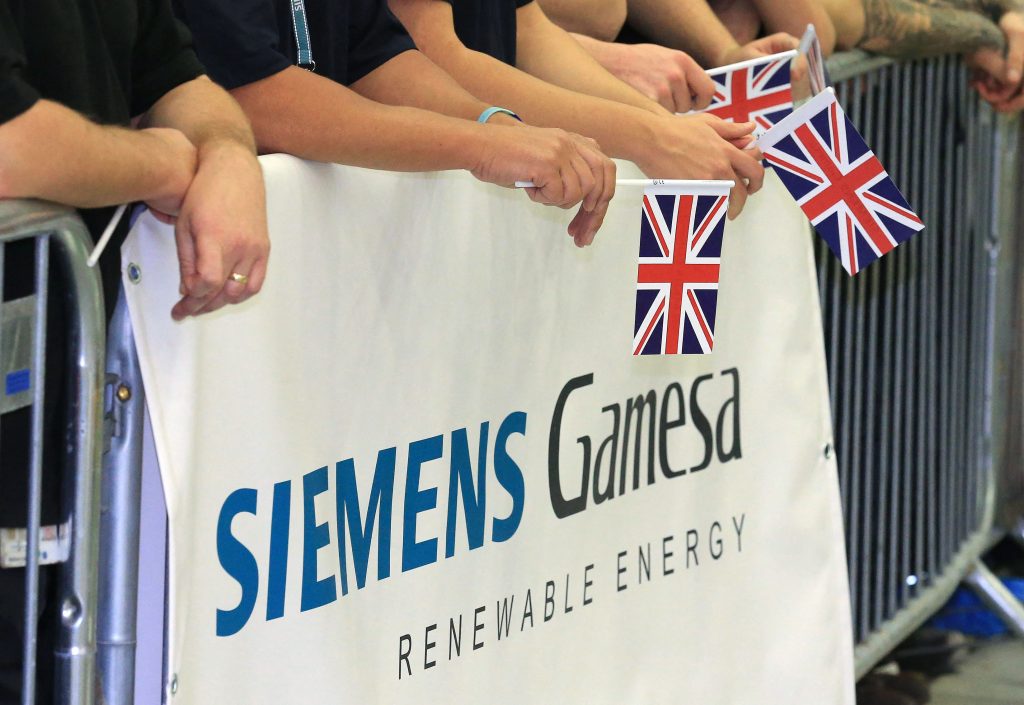 Everyday products
Tracing the supply chain for rare earth elements mined in Myanmar is complicated by a lack of transparency, but Danwatch's investigation found there was a high likelihood that rare earth elements from Kachin State were ending up on the European market.
In particular, European companies buy permanent magnets from China that contain rare earth elements and are used in a range of common products, including offshore wind turbines, computer screens and electric vehicles.
Merriman from Roskill Information Services said it is "almost certain" that these magnets contain rare earth elements from Myanmar, because Myanmar has significant deposits of two heavy rare earth elements, terbium and dysprosium, that are not mined in large quantities anywhere else in the world. "Right now, it seems that most of the world's heavy rare earths are from Myanmar. China has shut down or suspended most of its extraction of heavy rare earths and replaced it with imports from Myanmar," he said.
But he added that it is difficult to trace the origin of rare earth once it crosses the border from Myanmar because China is a "black box", with material mined from different sources all mixed together.
"Everything gets a stamp indicating that it comes from a company that has complied with China's environmental regulations, and then the magnets get an export certificate before they are either sold in China or internationally," he said.
Mr Per Kalvig, chief consultant at the Knowledge Center for Minerals and Materials at the Geological Survey of Denmark and Greenland, told Danwatch that he also believed it likely that rare earth elements from Myanmar were going into European products, but like Merriman, said it was not possible to estimate the volume because of the mixing process.
He said that four of the 17 rare earth elements – neodymium, praseodymium, dysprosium and terbium – are used to make the magnets found in products sold in Europe.
In Denmark, the companies Vestas, Grundfos, Danfoss and Siemens Gamesa are among those which use permanent magnets, and are therefore possibly products containing rare earth mined in Myanmar.
However, they seemed reluctant to discuss the issue. Despite repeated inquiries, Vestas did not return calls and emails from Danwatch, and Grundfos and Siemens Gamesa declined to comment.
Danfoss told Danwatch that it had contacted its suppliers and been informed that the permanent magnets they buy do not contain rare earth from Myanmar, or from the Chinese companies China Southern Rare Earths Group, Chinalco and Guangdong Rare Earths that Merriman said buy most of the rare earth mined in Myanmar.
Mr Kasper Elbjørn, communications manager at Danfoss, said the company requires that all suppliers sign a code of conduct and it subjects them to constant due diligence, but acknowledged it was challenging to monitor the entire supply chain for products containing rare earth.
Asked about claims that illegally mined rare earth could be ending up in the permanent magnets sold to European companies because of the mixing of rare earth from various sources, Elbjørn responded, "I have been in contact with our internal experts over the past few days, who confirm that this is a matter to be aware of, and that it can be part of the ongoing due diligence process."
'Even the insects leave'
Residents of areas of Kachin State where rare earth is mined are left to face the environmental consequences.
After companies finish mining a site, they move on and leave behind a barren landscape, said a Kachin State-based environmental activist who spoke on condition of anonymity.
"The mountains cannot be used for anything after rare earth is mined. The soil is depleted, the trees die and even the insects disappear," they said.
They expressed dismay that by restricting rare earth mining due to the environmental consequences within their own borders, China and other countries had simply pushed the industry and its problems into Myanmar. "Other countries would not tolerate the consequences that come with extraction, such as massive environmental damage and polluted groundwater." – Additional reporting by Jaw Tu Hkawng