From north to south, east to west – much of the produce that is available to Yangon's residents has travelled from far-flung corners of the country.
By SU MYAT MON | FRONTIER
Photos NYEIN SU WAI KYAW SOE
TAKE AN early morning walk down almost any street in the commercial capital and it's likely you'll stumble upon a group of street vendors laying out their wares for the day ahead. These stalls sell the fruits and vegetables that Yangonites – both native and adopted – consume on a daily basis.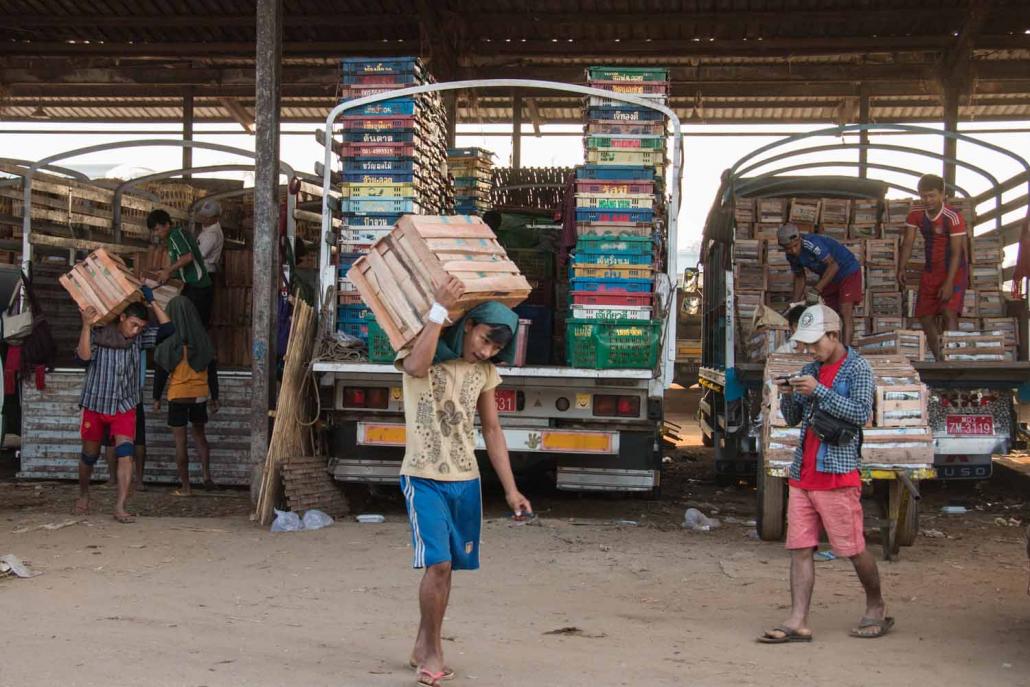 But where did their produce come from and how did it get here? Frontier travelled to the bustling Thiri Mingalar Market in Hlaing Township, one of the largest wholesale bazaars in the city, to find out.
Pumpkin – shwe hpayoun thee
Anyone who has sampled a local-style pumpkin curry will be able to vouch for how good the fruits are in Myanmar (and, yes, technically pumpkin is a fruit). According to vendor Ma Ni, the best in the country are grown in Pindaya, Shan State, and Kyonpyaw, Ayeyarwady Region.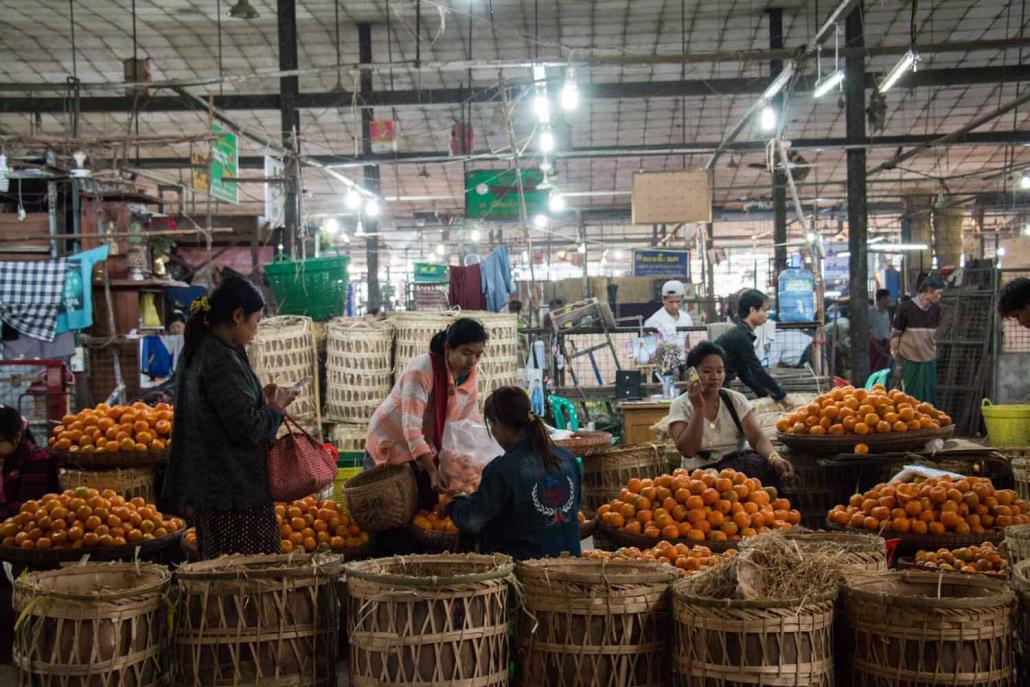 Ma Ni sells the pumpkins for about K200 per viss (1.6 kilograms), but increases the price to K300 for the same weight when demand is high. The best time to sell them is during rainy season when she typically goes through 70 to 80 sacks per day, with each sack weighing about 40kg.
She sells other vegetables too, including ladyfingers, tomatoes and cucumbers. Unlike most of the vendors at Thiri Mingalar, the majority of her customers are not from Yangon, but Ayeyarwady and Tanintharyi regions.
Chilli – ngayoke thee
For vendor Ko Kyi Lwin, the country's best chillies are grown in the lush fields of the Ayeyarwady Delta.
"There is nowhere you can get [such high-quality] chillies apart from Ayeyarwady Region," he told Frontier.
He said at this time of year, the supply of locally grown chillies in most other parts of the country is very low.
"That is why we are selling chillies from Yangon to many different parts of the country," he said.
Lime – thanpayar thee
Traditionally, the best limes in Myanmar have been planted in Ayeyarwady and Bago regions, as well as Kayin and Mon states. But it's only in the coastal town of Ye, in southern Mon State, that the fruit is produced year round, said vendor U Nyein Chan Aung.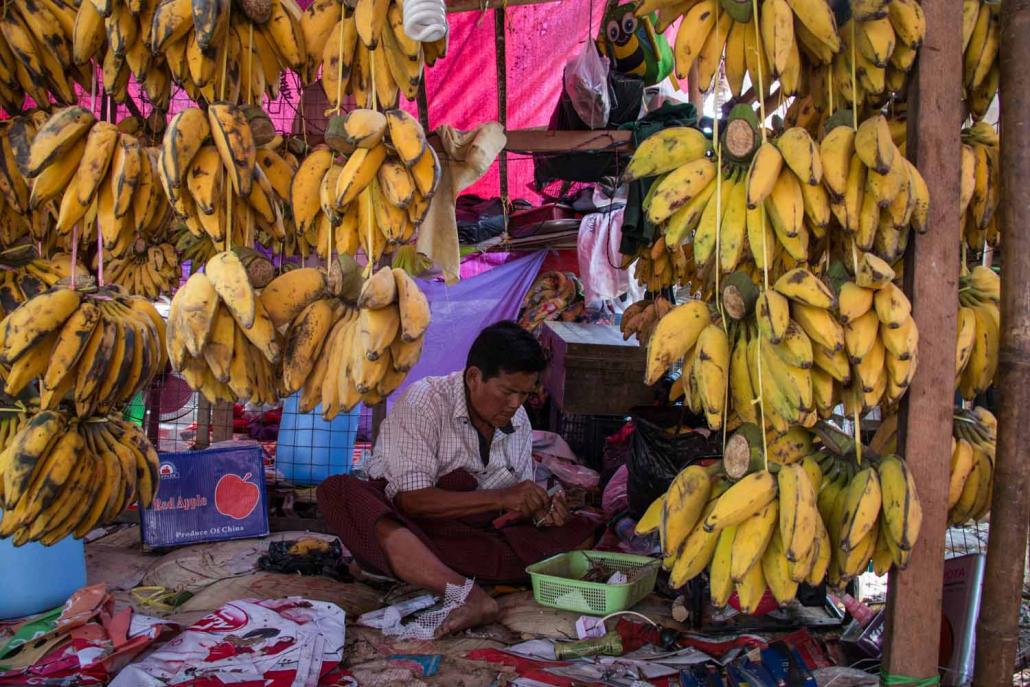 Lime prices hit their annual peak during the hot season, when a sack weighing about 25kg typically sells for K100,000. During the rainy season the limes are much larger but sell for less: about K50,000 per sack.
Watermelon – hpaye thee
Watermelon dealer Daw San buys her stock from Kayan Township, in eastern Yangon. She said this rural region produces the best watermelons and they are transported all over the country.  
Much of her produce is sold to China. When business is good, each day she can send one large truck loaded with about 2,000 watermelons to the border town of Muse, in northern Shan State.
Recent fighting near Muse between the Tatmadaw and a coalition of ethnic armed groups known as the Northern Alliance caused a spike in the price of watermelons in January. Things have now started to return to normal, Daw San said.
The frantic pace of business sometimes makes it difficult for her to keep up with how many she has sold.
"We cannot know the profit at the time because of continuous loads [being sold] every day. However, we know how much we have earned at the end of the year," she said.
Although she has some customers in Yangon, she sells products to most others parts of the country, except Ayerarwady Region, where many watermelons are grown locally.
"The best time for the watermelon trade is during March and April."
Pineapple – narnat thee
For Ko Shan Lay, who works in his mother's shop at Thiri Mingalar Market, Myanmar's best pineapples come from the towns of Hsipaw and Tangyan in northern Shan State. They take about four days to be transported to the market in Yangon, he said.
Pineapples are divided into two types – sweet and sour. Sour pineapples are grown during the hot and cold season, while sweet pineapples are grown during the rainy season.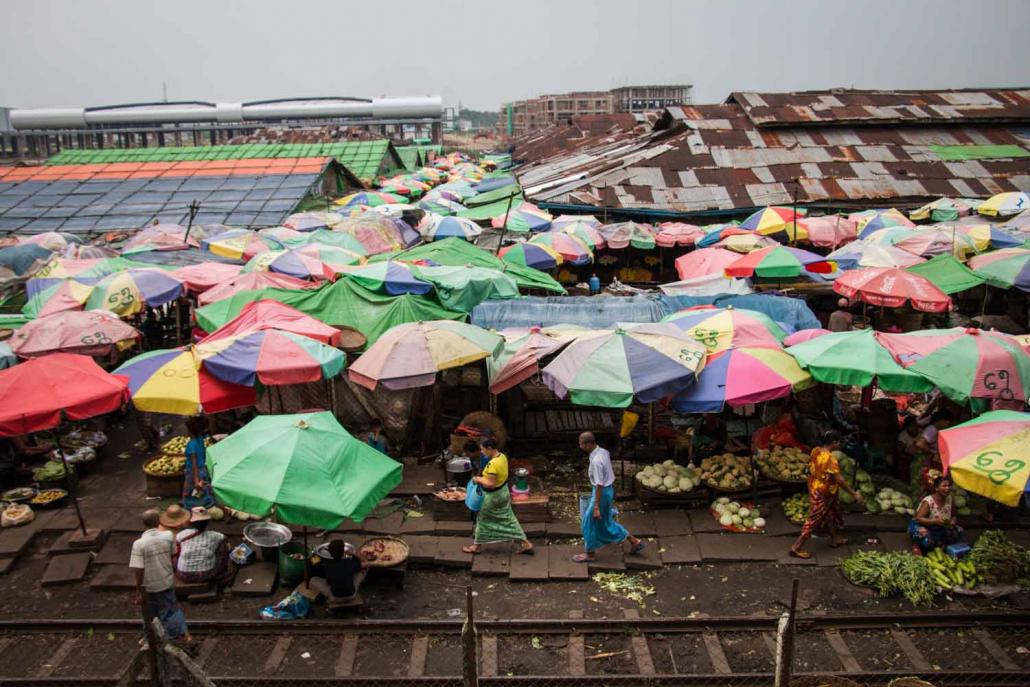 Many of Shan Lay's clients come from Yangon's downtown, while others are based in Ayeyarwady Region, Pyay in Bago Region and Mawlamyine, the Mon State capital.
"Since the Thiri Mingalar Market operates all day long, the clients are coming all the time and we are always busy," he said.
Orange – lainmaw thee
At this time of year, fruits such as apples, grapes, pears and small oranges that are sold in Yangon mostly come from China. The larger, better quality oranges are grown in Hsipaw in northern Shan State, said fruit vendor Ma Moe Moe.  
The small oranges from China, known as pya lainmaw in Myanmar language, are cheap and considered less nutritious. The Shan State oranges are thought to be healthier but are more expensive, she said.
"The quality of oranges from Myanmar is better than the ones from China," said Moe Moe.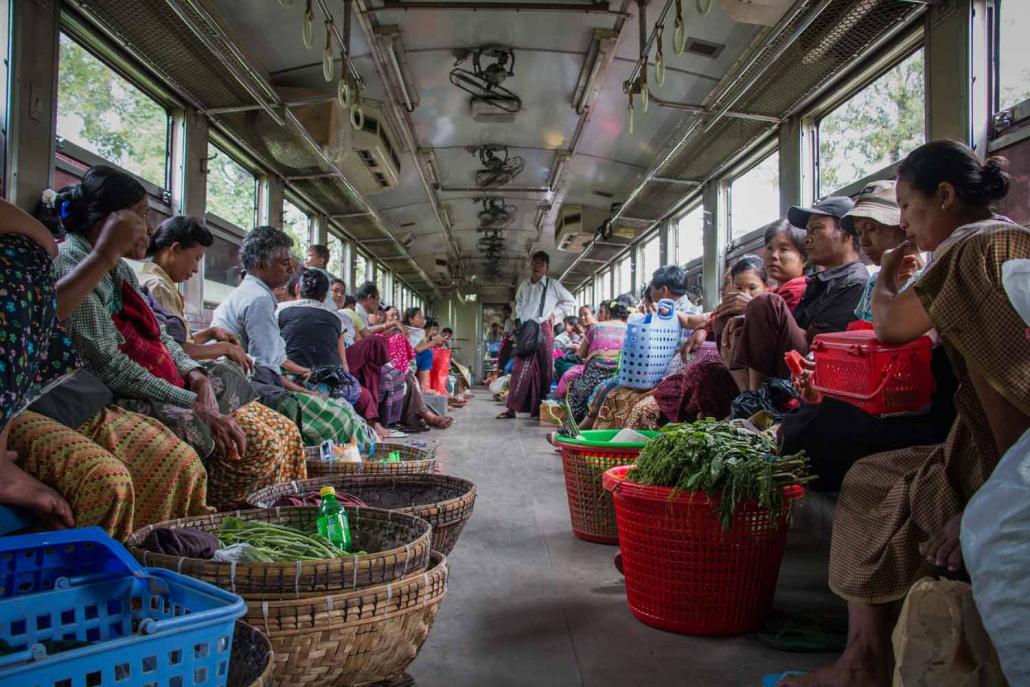 She sells about 40 boxes of oranges per day (each stacked with about two dozen oranges) in various grades. The lowest grade, known as a "6", sells for about K23,000 per box, while the highest grade, a "9", sells for about K32,000 per box.
"The best time of selling oranges is during the Thadingyut period [in October and November]," she said.
Honeydew Melon – thakhwarmhwe thee
Daw Bote Sone buys most of her melons from Kyaukse in Mandalay Region. She trades them as part of a commission system, for which she receives K10,000 for every K100,000 sold.
When demand is high, she sells her stock of 1,500 melons within four days, but when trade is slow it can take as long as a month to sell her supply.
Most of her customers are restaurant owners in Yangon, she said.
Jackfruit – painnae thee
Daw San Tin gets most of her jackfruits from the areas around Mandalay and the price depends on the size and quality, ranging from K3,000 to more than K10,000 for a single jackfruit.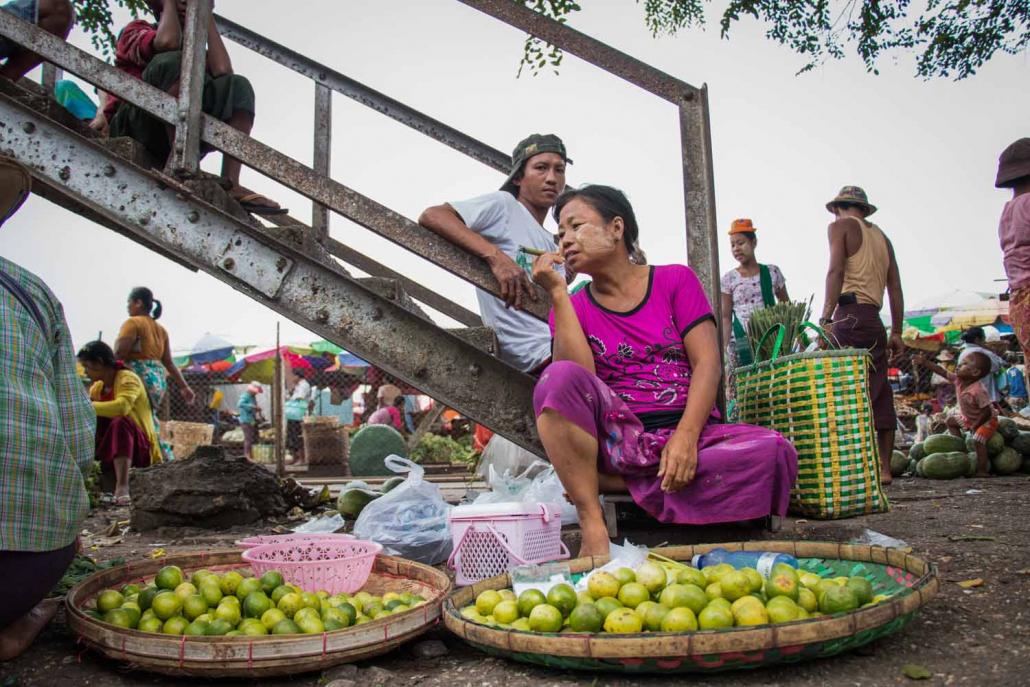 For the more expensive jackfruits, most of her customers are from downtown Yangon. Cheaper ones are typically sold to customers from Yangon's suburbs, such as Thanlyin, Hlaing Tharyar and Pazundaung townships.
"Thingyan period [in April] is the best time for selling jackfruits, as they are the most ripe and customers come and buy them straight away," she said.
Pomelo – kywegaw thee
The best pomelos in Myanmar come from Mawlamyine, in Mon State, and Taikkyi in northern Yangon Region, said vendor Daw Sann Tin.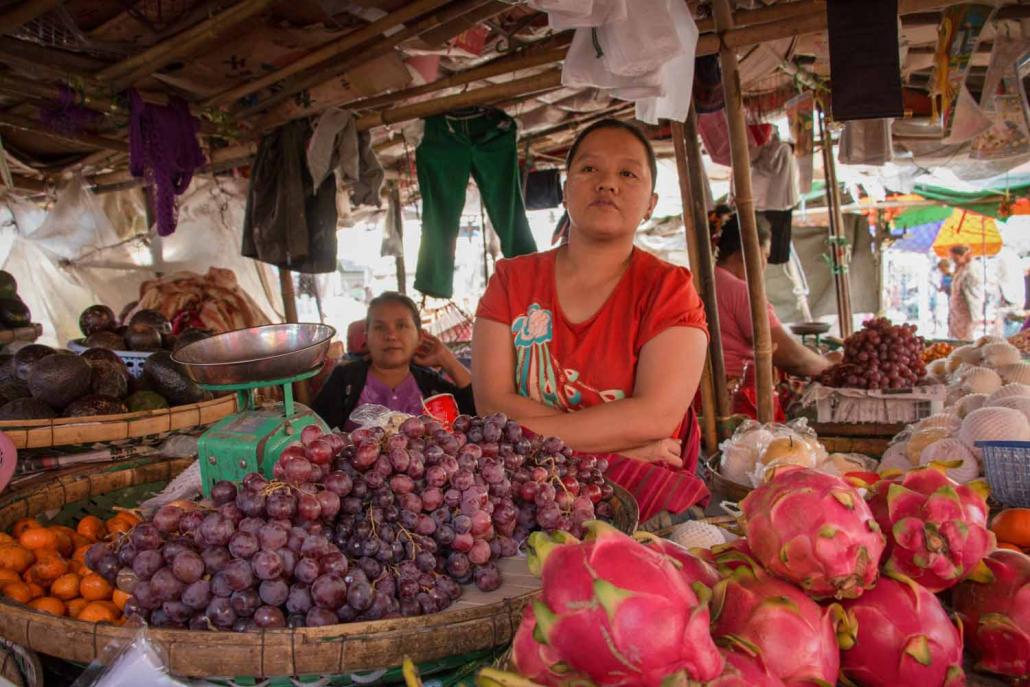 During Thadingyut, more pomelos are produced in Mawlamyine and traded to Yangon, she said.
Depending on the size and season, pomelos sell for between K200 and K1,500 each.
TOP PHOTO: Soe Lwin | Frontier