Frustrated by a lack of reform, 11 activists are competing as independents in the election in a bid to secure a voice in parliament for workers and farmers.
By PYAE SONE AUNG | FRONTIER
Eleven aspiring election candidates who intend to represent industrial workers and farmers as independent, non-party-affiliated members of parliament were introduced to the public at a news conference in Yangon on July 6.
The independents plan a challenge in seats that the National League for Democracy won convincingly in its 2015 landslide. They told the news conference it was time that workers and farmers were given a proper parliamentary voice, and pledged to support the reform objectives of the grassroots organisations they belong to, such as the Confederation of Trade Unions of Myanmar and the Myanmar Farmer Union. These objectives range from ensuring land rights for smallholder farmers to overhauling the system for resolving workplace disputes in a way that protects workers and punishes abusive employers.
The NLD's apparent failure to address the longstanding grievances of industrial workers and poor farmers, and the strict discipline it enforces on members, is partly responsible for the emergence of new, non-ethnic parties.
These include the People's Party, which was founded by 88 Generation student leader U Ko Ko Gyi after the NLD rejected him as a candidate in the 2015 election, and the People's Pioneer Party, headed by former NLD MPs Daw Thet Thet Khine and U Kyaw Zeya.
The 11 independents decided to contest the election because they are unhappy with what they describe as a poor record of labour and land reform, and the weak enforcement of laws that protect the basic rights of workers and farmers under the NLD government.
Betrayal
Lawyer U Htay, one of the independents who intends to compete for the newly created Pyithu Hluttaw constituency of Hlaing Tharyar-East, a major factory hub in northeastern Yangon that is being split into two townships, has been active in labour rights since 1988.
U Htay has worked closely with unions and civil society groups involved in workplace reform under both the Union Solidarity and Development Party and NLD administrations, and said the NLD was less open to cooperation than its predecessor. Whereas the USDP government had consulted outside professionals and activists such as himself in drafting laws and policies, the NLD had largely shut them out.
"We faced many difficulties when trying to work with the hluttaw [committees] on drafting bills because of their limited ability to comprehend the [demands] of unions and civil society groups," U Htay said. "When bills were submitted to parliament to be enacted as labour laws, our demands were not included."
"Existing labour laws fall short of protecting labour rights and enforcement is very weak under the current government, so it has become clear that we need to raise our voice in the hluttaw," he said. "We held a series of discussions with unions and civil society groups from last November to March, which led to the decision to contest this year's election as independent candidates."
---
---
Many union activists echo U Htay's sentiment that the government has betrayed the interest of workers, particularly in its refusal to introduce prison terms in amendments passed last year to the Settlement of Labour Dispute Law as a punishment for employers who refuse to cooperate with arbitration councils or abide by their rulings. Union activists feel that the current cash fines under the law are a poor deterrent for employers who prefer to pay up rather than engage with workers' demands.
They also say that the arbitration bodies for workplace disputes that exist at various administrative levels often decide in favour of employers, despite including labour as well as government end employer representatives.
Myanmar Farmer Union founder and leader Daw Su Su Nway was planning to run for the Pyithu Hluttaw seat of Kawhmu in rural Yangon Region. However, she is now reconsidering her options ahead of the August 7 candidate registration deadline because the NLD announced on July 23 that State Counsellor Daw Aung San Suu Kyi, whom Su Su Nway describes as being "like a mother to me", would contest the Kawhmu seat.
Su Su Nway said she wants to be a voice for farmers because of the many hardships they face, such as land grabs, falling crop prices and insufficient government subsidies. She said her years of activism had given her intimidate knowledge of their plight.
"Farmers are in a helpless situation," Su Su Nway said, citing the lack of protection for the rights of smallholder farmers in land laws. "No one is working in the interests of farmers despite the fact that Myanmar's economy largely rests on agriculture."
"Most Myanmar people are farmers and they don't know who to turn to when confronted by hardship. This is why I believe the hluttaws need MPs who will speak for farmers."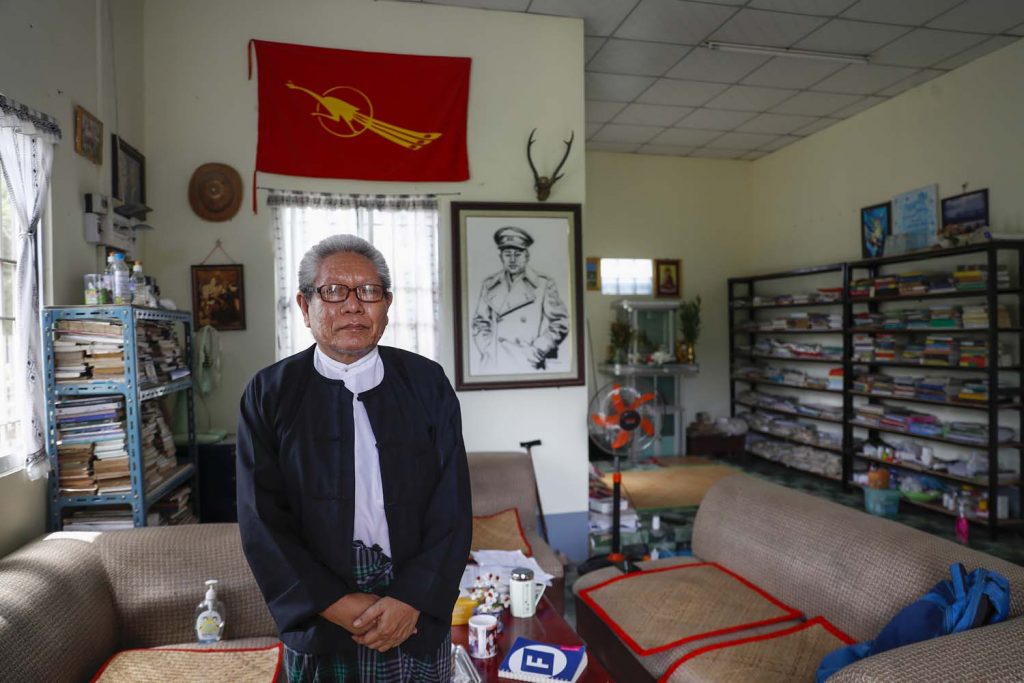 The right time?
U Htay's son and campaign manager Ko Nandar Sitt Aung, who directs labour activist group WE Generation Network, told Frontier that the labour activists vying for seats in parliament represented a "next step" for a workers' movement that was operating under serious constraints.
Nandar Sitt Aung said strikes and protests by industrial workers in recent years were a symptom of the failed labour dispute resolution process. He said taking to the streets was a last resort because protests could cost unionists dearly.
"When workers protest being sacked without a reasonable explanation, [criminal] charges are lodged against them," he said, describing an environment in which most forms of peaceful protest are unlawful under the harsh terms of the Peaceful Assembly and Peaceful Procession Law.
"Because we have encountered legal and institutional deadlocks to our efforts to further advance the legal rights of employees, we have devised a new strategy and it is to defend workers in the hluttaw," he said. "Whenever labour laws and policies are discussed, we want our voices heard in the hluttaw through our representative. We will submit bills and amendments through him."
But not everyone involved in labour activism is in favour of the push for parliamentary representation. Ko Thurein Aung, director of Action Labor Rights, which works to form and strengthen trade unions at Hlaing Tharyar and Shwepyithar townships in Yangon, said, "It is inevitable that labour activists want to enter parliament to advance the cause of labour unions, but this is not the right time."
"There are other issues that need to be prioritised," he told Frontier, "such as the peace process and the unelected Tatmadaw representatives who hold 25 percent of hluttaw seats."
Thurein Aung said the independent candidates could potentially split the vote "and if our least favourite party wins, it will be our loss".
He added that it is in the interest of labour rights advocates to build trust with government authorities. If the independent candidates were defeated and resumed their jobs as labour representatives, the government would likely regard them with suspicion. Trust would therefore be damaged and collaboration would be difficult, Thurein Aung said.
However, Nandar Sitt Aung said it was important to explore all options. "We are just testing the water and making the point that we will use every means within our reach to overcome the stalemates in the process," he said.
Party averse
The 11 independent candidates are backed by an alliance of 11 labour unions and civil society groups representing industrial workers and farmers. The independents decided against forming a political party because of concern that a party, once formed, would be less accountable to the members of the alliance.
"There were suggestions among us to form a political party, but labour rights have not been realised even with the presence of over 90 registered parties with different labour and agricultural policies," said Nandar Sitt Aung. "Normally, the interests of a party, and those workers and farmers on the ground, end up being in conflict."
Entanglement with political parties had been a recipe for division among trade unions during the tumultuous post-independence years of multi-party democracy, before the military coup in 1962, he said. "The best policy for protecting labour rights and interests is for labour unions to work independently [from political parties]."
---
---
Another reason why the 11 independents chose not form a party is that they want to maintain their status as independent activists even as MPs, which would allow them to advance draft laws submitted by unions without having to contend with party whips or rules.
U Htay said that, as independent activists, they could pursue a double strategy to gain leverage by both speaking out in the hluttaw and teaming up with unions for street activism.
"Even if we all won, we would be few in number," he said. "At times we will not be successful in pushing the laws we want in the hluttaw, but the support of labour unions will give us the strength to pressure the hluttaw into enacting the laws we favour."
Echoing his comments, Su Su Nway said that if she is elected and laws and policies that benefit farmers are blocked in the Hluttaw, "you will see the face of an MP in the resulting protests".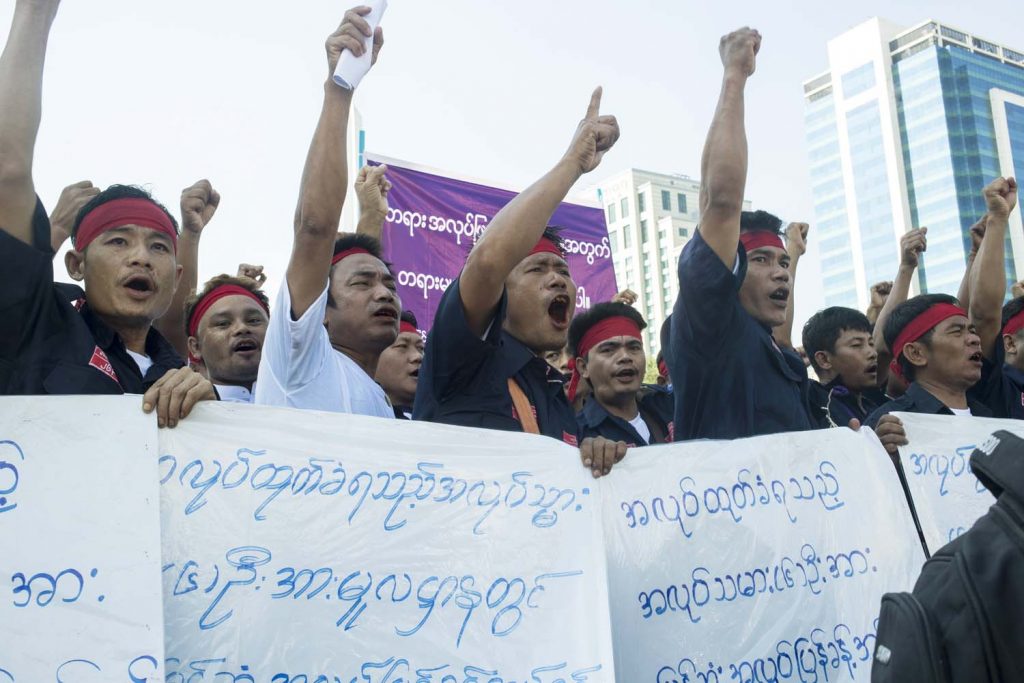 Building the base
While the prospect of a small number of MPs setting the parliamentary agenda might sound far-fetched, the networks they have formed in the course of their years of grassroots activism could provide a powerful voter base, and their organisations could quickly mobilise their thousands of members to raise funds and campaign on their behalf.
Sai Myat Kyaw Htay, who intends to contest a Yangon Region Hluttaw seat in Htantabin Township, is a central executive committee member of the Confederation of Trade Unions of Myanmar, which has more than 80,000 members. He is also a central executive committee member of the Agricultural and Farmers Federation of Myanmar.
"We will appeal for votes from our members, their family members and their communities. We will communicate with all the unions under the CTUM to expand our base," he said.
The Federation of Garment Workers Myanmar, comprising more than 6,000 factory workers, has also agreed to support the independent candidates, said FGWM leader Ma Moe Sandar Myint.
"Our union did not nominate any candidates, but we are part of the [alliance] and attend the regular meetings about the election" she told Frontier. "We will support and help them to win."
Independent candidates in some constituencies will be relying heavily on the support of factory workers, and will need to ensure that these workers are registered to vote.
Because the election commission compiles the voter list based on household member data kept by local administrators, most voters do not need to actively register.
However, many of the workers in Yangon's industrial zones are migrants, meaning that they need to submit forms to ward administration offices in order to be added to the voter list in the township they are living in. These forms need the signatures of their employers or the local administrator to attest that they have been residents for more than 90 days.
U Htay said the independents would form a team that will try to ensure that every migrant worker in Hlaing Tharyar is registered to vote locally.
Another team will raise campaign funds from union members and supporters of organisations in the alliance. Nandar Sitt Aung said they would potentially accept funds from any source, "but we will not accept any donations with conditions attached".
U Htay said that to improve their chances and increase their public profile, the independents were also considering teaming up with two 88 Generation parties.
"The NLD is apparently not interested in any form of alliance, so we will form an alliance with what I call the 'third force' parties, which are the 88 Generation student parties, the Democratic Party for a New Society and the People's Party, before and after the election," he said.
Su Su Nway is already working closely with the People's Party, in which her husband is a member. The Myanmar Farmer Union and the People's Party offices share a compound in Kawhmu Township, their flags side by side.
People's Party members who will be campaigning for Su Su Nway's independent run were present when Frontier was interviewing her. U Nyan Lynn, who directs labour affairs at the People's Party, confirmed the alliance with the independents.
U Htay said the alliance would include agreeing not to run candidates against each other in the same constituencies and supporting each other's campaigns, but would also extend to joint approaches after the election to issues such as the peace process and constitutional change.
"The NLD has hardly achieved any significant change in these matters because it has refused to cooperate with other parties," he said. "I am willing to collaborate with any party with similar origins and which is on a similar journey as me."