The recent arrest of a man who gave an interview about his past as a child soldier has brought the issue to a wider audience ­but also raised fears about the military's commitment to ending underage recruitment.
By HEIN KO SOE | FRONTIER
Ko Aung Ko Htwe's taste of freedom was brief. Barely a month after completing a 10-year prison sentence, he was re-arrested on August 18 and remanded the following day in Insein Prison.
His alleged crime was speaking about his experience as a child soldier to the media. The interview prompted an officer from Yangon Region Command to file a complaint directly to Dagon Seikkan Township Court under section 505(b) of the Penal Code, which applies to an act with "intent to cause … fear or alarm to the public". If convicted, he faces up to two years in prison.
The arrest has generated concerns that the military is trying to suppress reports of underage recruitment­, and may even be backtracking on commitments to try and stamp out the practice. It's an area where even the Tatmadaw's fiercest critics agree progress has been made.
"Attempting to silence Aung Ko Htwe with dubious criminal charges for speaking out about his experience flies in the face of Myanmar's obligation to end the use of child soldiers," said Mr Tim Molyneux, child rights programme manager at Child Soldiers International.
"Instead of punishing victims, the government should be supporting them to make a full recovery and making greater efforts to hold the perpetrators of child recruitment accountable."
The arrest could thus have a chilling effect and make tackling underage recruitment more difficult.
"This arrest can only serve to heighten fears that underage recruits may have, which may undermine efforts to identify and release them," he said. "If the Tatmadaw is serious about implementing sustainable reform, it needs to systematically investigate and prosecute perpetrators, irrespective of rank. The arrest of former child soldiers for speaking to the media is the exact opposite of what needs to happen."
The military's lack of transparency makes it hard to determine exactly how much progress has been made on underage recruitment, but the gradual reduction in complaints suggests that fewer boys are entering the Tatmadaw.
The number of child soldiers – including adults who were recruited as children – who have been discharged from the military is easier to track.
Since the military government and International Labor Organization established a forced labour complaints mechanism, which covers underage recruitment, in 2007, about 860 people have been discharged out of 2,040 cases received.
Another 850 have been released under an action plan signed by the Ministry of Defence and United Nations in 2012.
Further publicity
The irony of the military's heavy-handed response to Aung Ko Htwe's interview is that it has only brought further publicity to his story, which is now well known.
In 2005, Aung Ko Htwe was abducted at Yangon's central railway station and forcibly recruited into the Tatmadaw. He was just 14 at the time, his family says.
Two years later, he tried to desert with two other soldiers; during the escape attempt, a motorbike rider was killed. The trio was charged with murder and found guilty; all received the death sentence, despite Aung Ko Htwe being just 16 at the time.
In 2013 though the sentence was to commuted life imprisonment. Aung Ko Htwe was released in July after serving 10 years.
In the interview with Radio Free Asia, Aung Ko Htwe detailed how a sergeant took him to a recruitment centre in Yangon, but the captain in charge refused to accept him because he was too young. He was then taken to another centre, where he was accepted. He also alleged that, while the case was being heard at the military court, he was tortured in a range of ways, including being forced to eat rice mixed with sand, and had a rolling pin applied to his shins with force.
Aung Ko Htwe is far from the first former child soldier to speak out about his experience, but he appears to be the first to face legal action for doing so. Unsurprisingly, his arrest received significant media coverage.
Among those who heard about his case was Ma Tin Sandar Win from Pyay Township in Bago Region, whose brother had joined the Tatmadaw in 2000, at the age of 15. Although he enlisted voluntarily, his family tried to stop him; the Tatmadaw, however, accepted him despite his age.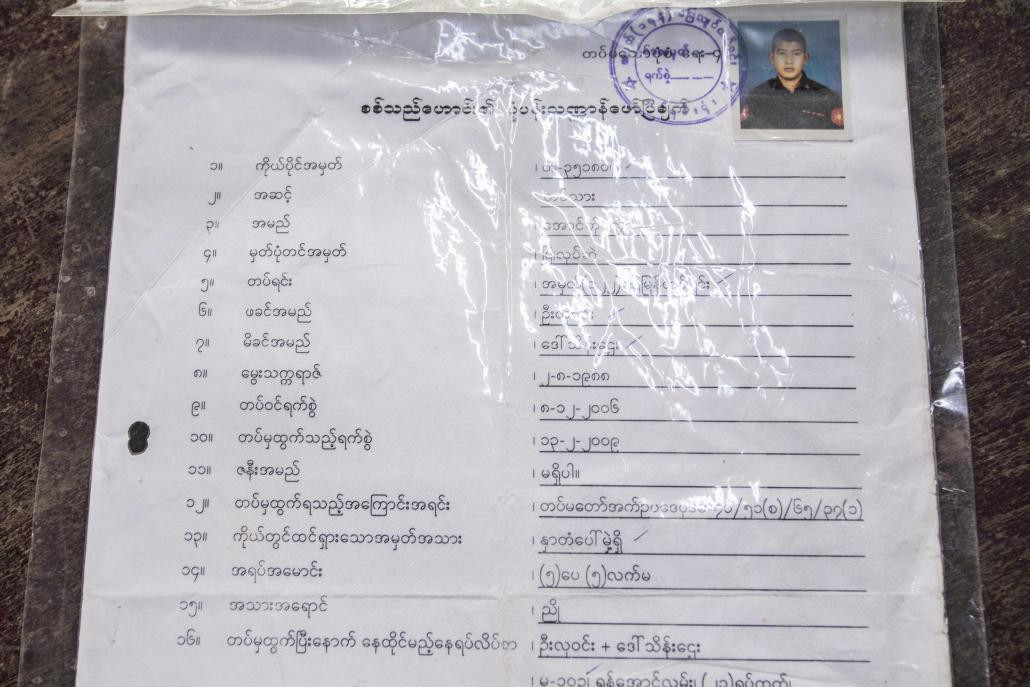 He is now in Thayet Prison in Magway Region. After hearing of Aung Ko Htwe's arrest, Tin Sandar Win contacted Aung Ko Htwe's sister, Ma Nay Zar Tun, to ask for advice on how she could lobby the authorities to release her brother.
Tin Sandar Win said her brother, Ko Kyaw Kyaw, is serving a death sentence handed down when he was 17.
According to his version of events, he was serving on the frontline when some of the sergeants in his battalion killed their commanding officer, a major. Kyaw Kyaw said he was not involved in the killing of the officer, but the senior sergeants had threatened to shoot anyone who did not join them. They all tried to run away but the military caught them and they were found guilty of murder.
Tin Sandar Win only learned what happened to her brother four years ago, when he was transferred from Mandalay to Thayet. At the prison he met a monk from Pyay and asked him to pass on a message to Tin Sandar Win.
She said that after visiting Nay Zar Tun in Yangon she had secured the services of a lawyer to help her fight for her brother's freedom.
"I don't know what can I do exactly," she said. "When we meet my brother in prison he always says that he wants to find a way out."
'I'm worried the military will pressure the court'
Ward 91 in Yangon's Dagon Seikkan Township is mostly home to factories. But it was here that Aung Ko Htwe came when he was released in July, to live with his sister, Nay Zar Tun.
Inside her home – a small dwelling with a corrugated iron roof and tarpaulin walls – she told Frontier how her brother went missing back in 2005. During the school holidays, Aung Ko Htwe had gone to Nay Pyi Taw with a friend to visit relatives.
They had taken the train back to Yangon. At the station, a sergeant threatened to arrest them with loitering if they didn't go with him. Aung Ko Htwe's friend managed to escape and informed Nay Zar Tun, but by the time she got to the station Aung Ko Htwe and the sergeant had disappeared. She said the police at the train station told her that it was common for boys to be forcibly recruited there, and she should wait for the military to contact her.
For three years the family waited for news of his whereabouts. The military finally contacted them in 2008, shortly before Aung Ko Htwe was sentenced.
Angry at his treatment, they began to lobby for his release, enlisting an activist lawyer named U Aung Thein who was well known for working on underage recruitment.
In 2009, they submitted his case to the ILO's complaint mechanism. (As a result, the recent case brought by the military against Aung Ko Htwe might violate the terms of the "supplementary understanding" agreement signed by the military regime and the ILO, as it grants legal protection to complainants.)
Aung Thein is today an Amyotha Hluttaw representative (National League for Democracy, Bago-12) and is no longer Aung Ko Htwe's lawyer. But Aung Thein told Frontier that the military's recent complaint against Aung Ko Htwe was a violation of his rights.
"The constitution guarantees his right to freedom of speech," he said. "I do not think his speech has defamed the state or the military – it's simply telling the truth about what is happening on the ground."
One of Aung Ko Htwe's local parliamentarians, U Htay Oo (NLD, Amyotha Hluttaw, Yangon-5), agrees. He told Frontier that Myanmar's "dark past" of underage recruitment needed to be brought out into the light.
"I think the charge against him is neither fair nor suitable," he said, adding that he plans to take up Aung Ko Htwe's case.
When Aung Ko Htwe appears in court on September 1, he will be represented by U Zaw Win Naing from the Myanmar Lawyers' Network.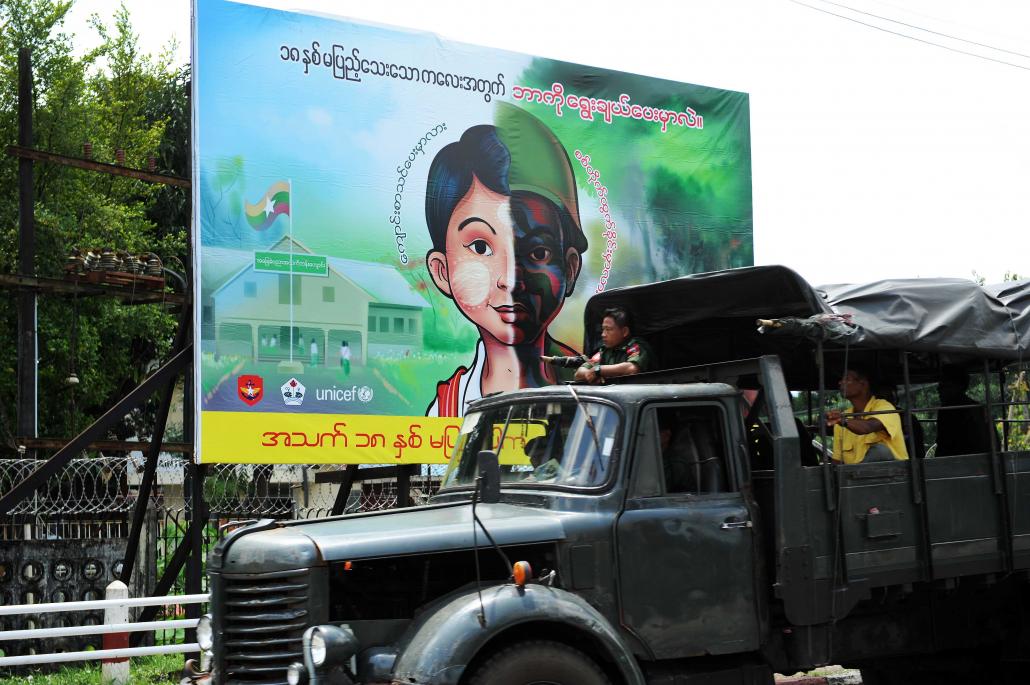 Zaw Win Naing said he was preparing an application for bail, but that this is not normally granted in section 505(b) cases.
But Nay Zar Tun said she has little hope that he will receive bail or be found not guilty. With the military as the complainant, she thinks only one outcome is possible.
She pointed to the fact that the court held a special session on August 19 – a Saturday morning – so he could be remanded to Insein, rather than held at the police station in Dagon Seikkan Township. Aung Ko Htwe had no legal representation because police only contacted the family after he was remanded to let them know he was now in Insein Prison.
"When the police came to our home, they said that he had been transferred to Insein on the instructions of their superiors," she said. "I'm afraid the military will pressure the court and they will put him in prison again."
Arrest may violate forced labour agreement: ILO
The military may have violated the terms of an agreement with the International Labor Organization when it arrested former child soldier Ko Aung Ko Htwe, the ILO office in Yangon has told Frontier.
Aung Ko Htwe's family submitted a formal complaint to the ILO's forced labour complaints mechanism in October 2009, alleging that he was recruited into the military when he was 14.
The complaints mechanism was established through an agreement known as the Supplementary Understanding, which was signed by the ILO and military government in February 2007.
Section nine of the understanding guarantees complainants, as well as their relatives and representatives, protection from "judicial or retaliatory action" arising from complaints.
ILO deputy liaison officer Ms Piyamal Pichaiwongse said that protection "continues to apply" and the organisation plans to take up Aung Ko Htwe's case with the government.
"Any charges against [Aung Ko Htwe] related to his claim/complaint would be subject to legal protection," Piyamal told Frontier last week.
"Under the Supplementary Understanding the ILO now has a responsibility to review the facts as they stand and are known, and subject to the outcome of that review to work with the government to ensure that the rights and protections under both the constitution and the Supplementary Understanding are respected."
An ILO investigation at the time of the complaint suggested that Aung Ko Htwe had been recruited as a minor and his case was submitted to the High Level Working Group on Forced Labour Elimination but the military refused to release him.
"The case remains open in our system as there are disputes on number of principle-related issues," Piyamal said. "As such the ILO is not in a position to agree/negotiate/compromise."
TOP PHOTO: Ma Nay Zar Tun shows a photo of her brother, Ko Aung Ko Htwe. (Teza Hlaing | Frontier)