A Briton and three Indian nationals arrested two years ago on suspicion of making fraudulent ATM withdrawals have had hundreds of court appearances in a case some describe as "an injustice".
By HTUN KHAING | FRONTIER
IN YANGON on the morning of December 7, Mr Niranjan Rasalingham, a Briton, did something he's had to do about 300 times in the past two years.
He alighted from the police van in which he had travelled from Insein Prison and entered a court in Botahtaung Township for the latest hearing in a case that activist group Burma Campaign UK has described as "an injustice in and of itself".
Rasalingham is a suspect in an ATM fraud case.
The arrest in November 2014 of Rasalingham and three Indian nationals on suspicion of fraudulent withdrawals from ATMs was reported in the state-controlled Global New Light of Myanmar on December 23, 2014. The reason for the delay in reporting the arrests is not known. Another suspect from India is at large, according to police.
The four detained suspects have been accused of making 58 fraudulent withdrawals from the ATMs of six private banks. They have each pleaded not guilty.
The Myanmar Police Force says the arrests resulted in the seizure of 35 fraudulent ATM cards, two memory cards, an iPad, a laptop computer and about K25.2 million in cash.
The December 7 hearing at the Botahtaung court – like those before it over the past two years – was adjourned for two weeks.
The defendants are waiting on a decision by the Union Supreme Court in Nay Pyi Taw on their application to combine the charges into a single case.
It is one of numerous procedural delays that have resulted in the men being held for more than two years without charge.
In November 2015, Rasalingham's former lawyer, U Yan Naing, applied to the High Court combine cases spread across eight township courts. The application was rejected but in mid-2016 the High Court agreed instead to transfer most cases to Botahtaung Township Court. Although this automatically required a retrial, hearing 15 cases together should have still sped up the process.
However, for reasons that are not clear, Rasalingham's former lawyers did not include all cases in the request to the High Court. As a result, there are still four being heard at Dagon and two at Lanmadaw township courts. Meanwhile, in December 2016 police also opened a new case against the defendants at Tarmwe Township Court in which they are accused of breaching the Electronic Transactions Law.
Rasalingham's latest lawyer, Daw Hnin Win Aung, has appealed to the Supreme Court to overrule the earlier High Court decision and combine the cases. While the application is being heard, the hearings are unable to proceed because the case documents are at the Supreme Court.
But the defendants still have to attend four separate hearings every two weeks, travelling in a police van from Insein Prison to the various township courts to hear judges issue yet another order for an adjournment.
It's a trip the defendants are accustomed to: Rasalingham has attended nearly 300 court hearings since his arrest, according to Hnin Win Aung.
The charges against the four suspects include fraud, theft, breaching electronic transaction laws and immigration offences, which all carry the possibility of prison time. The alleged cases of ATM fraud involve a range of banks, including KBZ Bank, CB Bank and Asia Green Development Bank.
Lawyers for the defendants have declined to comment on why the case is taking so long, though they acknowledge that it is complicated and that hearings have been affected by difficulties arranging interpreters.
"There is no interpreter," said Hnin Win Aung.
"The court had previously employed a [Myanmar-to-English] interpreter but the interpreter doesn't understand legal terms because of a lack of training," she said, adding that it was impossible for Rasalingham to follow the case without an interpreter.
It had also been difficult to find an interpreter for the Indian citizens, who only speak Tamil.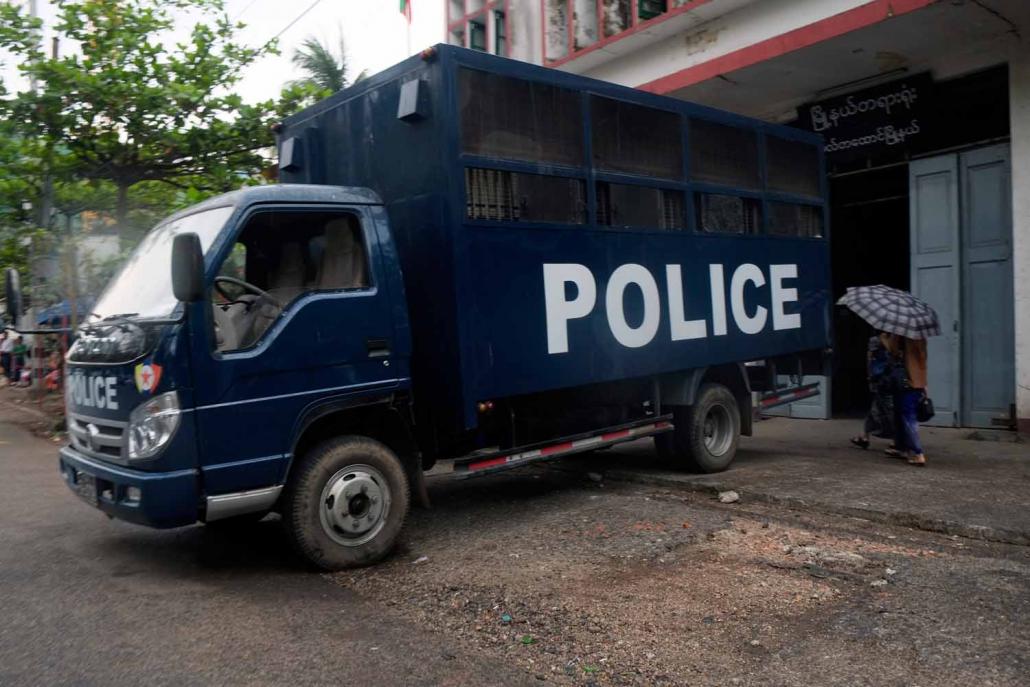 Mr Aravind, brother of Mr Pandian Balu, who was arrested with Rasalingham, told Frontier through a Tamil-Burmese translator that Balu's family was "worried" about him, particularly because they were unable to regularly visit Myanmar to provide support. He said the case had placed a high financial burden on Balu's relatives because it had dragged on for so long.
Hnin Win Aung told Frontier that Rasalingham had also complained of not receiving enough assistance from the British embassy.
She said Rasalingham had wanted to go on a hunger strike to draw attention to his situation. He told her that embassy officials had advised him against doing so.
U Tin Soe, a Tamil speaker who met Rasalingham while serving a one-year prison sentence at Insein for selling pirated DVDs, also said the British national had complained of a lack of support from his embassy.
Since his release in early 2016, Tin Soe has helped the defendants by receiving money from their relatives abroad and using it to cover their legal fees and other expenses.
"He [Rasalingham] said he was disappointed about the British embassy's role. At first the embassy helped a lot but now he feels they didn't give enough support," Tin Soe told Frontier.
He was also upset at a new case had been filed against him more than two years after his arrest.
"He wants to go on hunger strike, but his lawyer said not to," Tin Soe said.
A Foreign and Commonwealth Office spokesman said the embassy had been providing consular support to Rasalingam it was made aware of his detention in December 2014, including regular consular visits to check on his welfare.
"We have also raised this case with the Burmese government on a number of occasions, setting out our concerns over his health and delays in the legal process. While we cannot directly intervene in the judicial process of another country, we will continue to urge for progress in taking this case forward and will remain in close contact with Mr Rasalingam's lawyers," the spokesperson said.
While Rasalingham's current and former lawyers have been careful not to criticise the judicial process, some international observershave questioned whether the trial is proceeding fairly. In a two-page statement on the case issued on November 24, Burma Campaign UK said Rasalingham has spent two years in jail despite not being convicted of any crime and was not receiving a fair trial.
It said Rasalingham, an accountant from Croydon, south London, had travelled to Myanmar to investigate opportunities in the travel industry.
The December 23 report in the GNLM said police arrested Rasalingham while he was trying to withdraw money from an ATM with a fake card. The Burma Campaign UK statement says he was stopped and questioned by the police while walking outside his hotel and later taken to his room. It quoted Rasalingham as saying he had never previously met the other detained suspects.
"The arrest related to withdrawals made at an ATM owned by KBZ Bank," BCUK said.
It said Rasalingham claimed to have travelled to Yangon with 10 pre-paid cards, worth a total of £6,000 (about K10.2 million at current rates), to pay for office rent "as there are limits on cash which can be brought into Burma".
The cards were bought at a Tesco supermarket. "British police have confirmed the transactions [Rasalingham] made with the cards were genuine," the statement said.
BCUK said police are blaming KBZ Bank for the delay in the case, and the bank is blaming the police.
It said that after two years in Insein Prison, "no end is in sight" for Rasalingham.
"He is being let down by his government and denied his rights by the Burmese government," the statement said."If the authorities in Burma are not able to give [Rasalingham] a swift and fair trial, he should be released. The police and justice system in Burma is committing an injustice."
A spokesperson for KBZ Bank said that it could not comment on details of the case or the efficacy of the judicial system.
"However, suffice to say, KBZ would not have proceeded with it without having convincing evidence which has been independently examined in Singapore. It is now in the hands of Myanmar's institutions to deal with the case," the spokesperson said.
"It is not in KBZ's interests to prolong this process. A rapid conclusion to the judicial process is in the interest of all parties. Meanwhile KBZ has endeavoured to ensure representation and speedy provision of evidence whenever requested in respect to this case.
"KBZ is obligated to report such crimes and not to do so would be contrary to any banking practice. Confidence in the banking system is a vital pillar in the country's growth and the future strength of Myanmar."
A former lawyer for Rasalingham, who asked not to be named due to the sensitivity of the case, said the hearings had only proceeded slowly due to procedural issues and the "unusual" nature of the case.
The lawyer noted that during the eight-month period while the application was submitted to the High Court – with the consent of the defendants – township-level hearings effectively came to a halt. The decision to transfer all of the cases to a single court resulted in a retrial. All of the witnesses had to be called again.
The lawyer rejected suggestions that the legal process had been unfair.
"The laws are very difficult to apply because there are so many cases at many different courts," the lawyer said. "But these judges are very good to the foreigners [in the case]. They always prefer and give first priority.
"If you say the law is unfair and you want fair laws, you need to change them in the Pyithu Hluttaw. You cannot change them in the court only … The court is not above the law, it is under the law."
For Rasalingham and his co-accused, long-promised reforms to Myanmar's creaking legal system can't come soon enough.
Top photo: Maro Verli / Frontier