After a recent lull in refugee arrivals, Bangladesh has seen another influx from northern Rakhine State.
By OLIVER SLOW | FRONTIER
EXPERTS SAY a new wave of refugees who arrived in Bangladesh from northern Rakhine State last week is being driven by food shortages and hardship as much as violence and security concerns.
After a relative lull in refugees crossing the border since early September, an estimated 10,000 to 15,000 people – mainly Muslims who identify as Rohingya – arrived in Bangladesh through the Anjuman Para border crossing in Bangladesh's Ukhia district between October 15 and 17, according to the United Nations.
"Many say they had initially chosen to remain in their homes in Myanmar's northern Rakhine State, despite repeated threats to leave or be killed," Mr Andrej Mahecic, spokesperson for the UN High Commissioner for Refugees told reporters on October 17.
"It was unimaginable, I couldn't believe the scale of it," said a foreign photojournalist who was reporting at the border crossing at the time. "There were thousands and thousands of people all rushing as quickly as they could down paddy field paths. People were exhausted and hungry. No one was talking."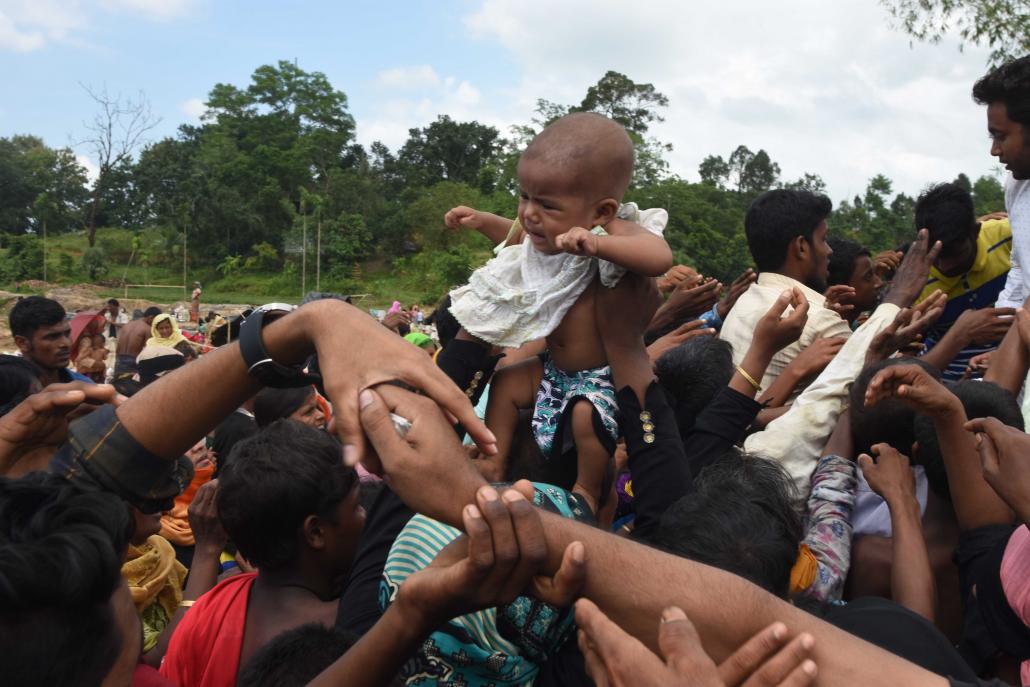 Drone footage released by UNHCR on October 18 also shows lines of thousands of people making their way through flooded paddy fields. UNHCR said the footage shows Muslim refugees arriving in Bangladesh.
The UN estimates that more than 600,000 people have fled to Bangladesh since the latest violence erupted in northern Rakhine in late August. The spark was an August 25 attack by the Arakan Rohingya Salvation Army on 30 police outposts and one military camp that killed about a dozen security personnel. An estimated 30,000 non-Muslims – including Rakhine, Mro, Daingnet and Hindus – have been displaced within the state, but have mainly sought refuge in government-controlled areas.
The crisis is causing a humanitarian catastrophe on both sides of the border.
In Bangladesh, the majority of new arrivals are staying at the Kutupalong Expansion Camp, about an hour's drive south of Cox's Bazar. The camp has a population of 413,102, of which 313,397 have arrived since August 25.
During a visit to the area last week, Mr William Lacy Swing, director general of the International Organization for Migration, called the women and children refugees in Bangladesh "among the most vulnerable in the world".
"The arc of misery that exists between northern Rakhine State and Cox's Bazar is deeply upsetting – too many people suffering desperately with too little support," he said. "I saw women carrying small babies, only a few days old, sometimes born while their young mothers were fleeing deadly violence in torrential rains. I saw young children, who had lost not just their parents, but any remnants of hope."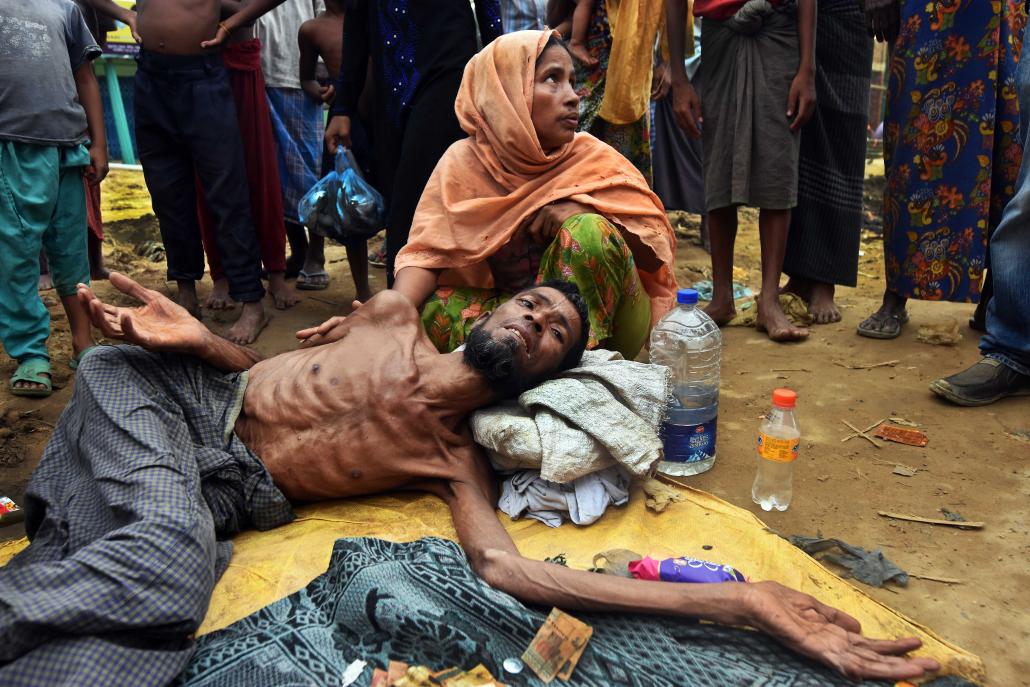 While the world's media attention has understandably been on the plight of new arrivals in Bangladesh, back in Myanmar's Rakhine State the situation is perilous for all communities.
On October 20, the International Committee of the Red Cross in Myanmar said they had provided emergency assistance to more than 28,000 people in Rakhine State since August 25, in a joint response with Myanmar Red Cross Society and the International Federation of Red Cross and Red Crescent Societies.
"As you can imagine, it is a challenging operational environment due to security risks, remote locations of people in need and poor infrastructure," an ICRC spokesperson told Frontier. "The Red Cross … is expanding the current humanitarian operation in Rakhine to respond to the scale of the crisis in order to reach all communities affected by the violence."
The spokesperson said the group plans to reach more than 180,000 people inside Rakhine State by the end of the year.
A Muslim man displaced by the violence in northern Rakhine said that people in his community were not receiving any food rations and that many people, particularly women and children, were increasingly suffering ill health.
"Please help us. Please give us food. Please give us protection," he said through the messaging service Whatsapp. Frontier spoke briefly to him on the phone on October 16, when he said he could see helicopters flying overhead.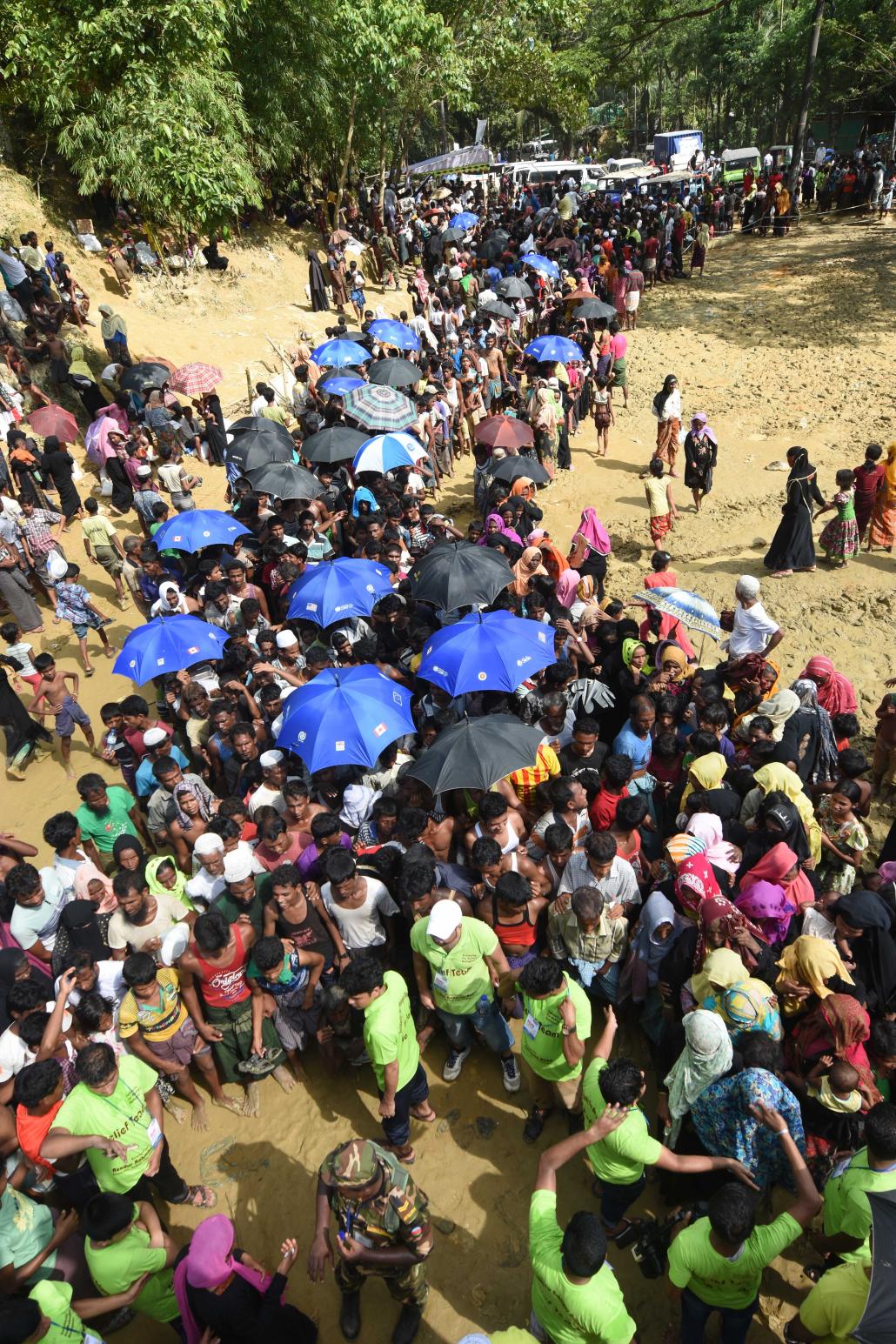 Speaking to Frontier before the latest influx to Bangladesh, Mr Pierre Peron, spokesperson for OCHA in Myanmar, said that people in northern Rakhine are not only fleeing direct violence, but also "hardship, isolation and fear".
"Those who remain are facing increasing hardships due to ongoing violence, movement restrictions, economic pressure and intimidation," Peron told Frontier by email on October 13. "These communities are increasingly isolated and increasingly unable to freely access livelihoods, markets or essential services, including healthcare. New refugees in Bangladesh are also reporting food shortages and intimidation among the reasons for their departure."
Ms Gabrielle Aron, an analyst who focuses on Rakhine affairs, said that food shortages in northern Rakhine were contributing to the continued displacement of people to Bangladesh.
"The majority of those arriving over the border [into Bangladesh] in the last week or two have come from areas where we haven't seen significant fighting or clearance operations since August," she told Frontier. "Many new arrivals are from Buthidaung, with the primary cause for migration being hardship. There are severe limitations in access to food or healthcare, partly because of tightened movement restrictions."
Aron added that heightened mistrust between communities in northern Rakhine State was also contributing to people fleeing, with many Buddhist employers now hesitant to employ Muslim labourers, either due to security fears or concern they will face backlash from their own community.
"So it's a combination of all these factors, compounded by the fact that food insecurity has long been a problem for all communities in northern Rakhine," she said. "It is difficult for [residents of] particularly vulnerable villages to remain in the area under the present conditions."
TOP PHOTO: Steve Tickner | Frontier