The first state-run tertiary education college to open in Chin State since independence is trying to stem local brain drain and nurture a new generation of professionals.
By JARED DOWNING | FRONTIER
IF YOU'RE not careful, you might miss the site of Chin State's first tertiary education institution.
The campus of Hakha College, on a ridge at the end of a winding, unpaved road outside the state capital, Hakha, consists of a few pristine white buildings and an open-air canteen. The campus is so new that grass has not had time to grow in its grounds.
The state-run college, which opened last December with an intake of about 200 students, offers bachelor degree programmes across eight majors, including geography, chemistry and Myanmar.
The principal, Professor Aye Aye Ngun, says the college it will not be enough to halt the brain drain that has deprived Chin State of the teachers, engineers, journalists and other educated professionals it needs to develop, but is a good start.
Until now, students who wanted to continue their education after matriculation had no choice but to travel to Kalay, just over the border in Sagaing Region. Many would go further, to Mandalay or Yangon, where they often chose to live and work rather than return to Chin, one of the country's most undeveloped states or regions. 
Chin State, which has a population of about 500,000, has the fourth-highest unemployment rate in Myanmar at 5.4 percent (after Rakhine, Kayin and Mon states), according to the 2014 census.
But Aye Aye Ngun said the unemployment rate was not just driven by a lack of jobs. It's also due to a shortage of educated people capable of performing them.
"We need the highly qualified human resources, so we need higher education very much," she said. "[But while] every other and state and [region] had at least one university, only this state had no college or university."
Although the college is yet to offer master's degrees or doctorates, that it managed to open at all was an accomplishment. Aye Aye Ngun described a long and tedious political battle as each of the state's major townships vied for the privilege of hosting its first tertiary education institution.
But the infighting stopped when Hakha College finally opened.
"Now everybody wants to help develop this college, all Chins," Aye Aye Ngun said.  
Among the inaugural intake of students is Ma Tial Vang Men, 20, who is majoring in Myanmar.
She was among a handful of students hanging around in a classroom during a free period. It seemed like a typical college scene, but the Hakha native admitted to Frontier that she had expected something closer to the Hollywood movie version of campus life, where people lounge on lawns, wear logo sweatshirts and don't arrive at lectures covered in dust from a motorbike ride.
Nevertheless, Tial Vang Men said she is glad to be studying in Chin. She had opportunities to study in Mandalay or Yangon but chose to remain in the state.
"I want to become a teacher to help with [the state's] development," she said.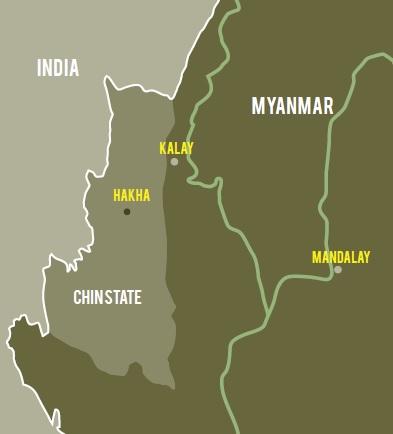 Teaching is one of the most common career goals among the college's students, said Aye Aye Ngun, adding that as well as Hakha College, the Chin State government has also been discussing establishing an education college, midwife college and technical university.
In the meantime, Hakha College is working to enrol more students, recruit more academic staff and expand its course offerings as part of a long-term goal of becoming a university.
The Reverend Thawng Bik, pastor of Falam Baptist Church and founder of the non-profit Chin Institute of Social Science, is proud of Hakha College, but is wary of putting too much emphasis on the trappings of a tertiary education.
"We definitely need a college here, but [a] college adapted from the standards of the international community, not a college using the old system from Myanmar," he said.
Thawng Bik did not say that Hakha College is not up to international standards, only that the quality of an education should take precedence over any title or degree – even if that means students do not study in Chin State.
The CISS, which cooperates with the state and Union governments, offers a free, one-year programme in which students study topics such as politics, environmental science and journalism – subjects that, prior to the institute's opening, had not been available in the state.
It is designed to equip young people to become community leaders and inspire them to seek further education, said Thawng Bik. Indeed, CISS encourages its alumni to further their education in places such as Yangon, Chiang Mai and Singapore.
Thawng Bik said it was "hard to say" whether students who go abroad to study were likely to return home. "I can't [expect] that they all will come back to Chin State, but we try. … Recently, some students already came back and worked together with us. So this shows us [those] who have a patience for Chin State development will come back."
Indeed, Thawng Bik argued that vocational colleges are more important, though less glamorous. As well as teachers and other professionals, Chin State also needs mechanics, plumbers and builders – a strong foundation of practical skills and basic knowledge that goes down to the primary school level.
"It needs to start from the beginning," Thawng Bik said. "We need quality schools. … Who can go to the college if they don't have the quality education even to attend the college?"
Finding qualified students will be critical for the future of Hakha College. Becoming a full-fledged university is still a distant dream; for now Aye Aye Ngun is worried about the college being financially viable.
She said the government was prepared to support the college for five years; after that, it will be on its own. "It will have to become an autonomous [institution]. It will have to stand by itself."
Aye Aye Ngun believes the mere existence of Hakha College, or any college in Chin, is a positive first step; it means that tertiary education will no longer be a foreign and exotic concept for the state's people.